Discover the delicious world of homemade ice cream with these Cuisinart Ice Cream Maker recipes – from classics to unique flavors you can make at home!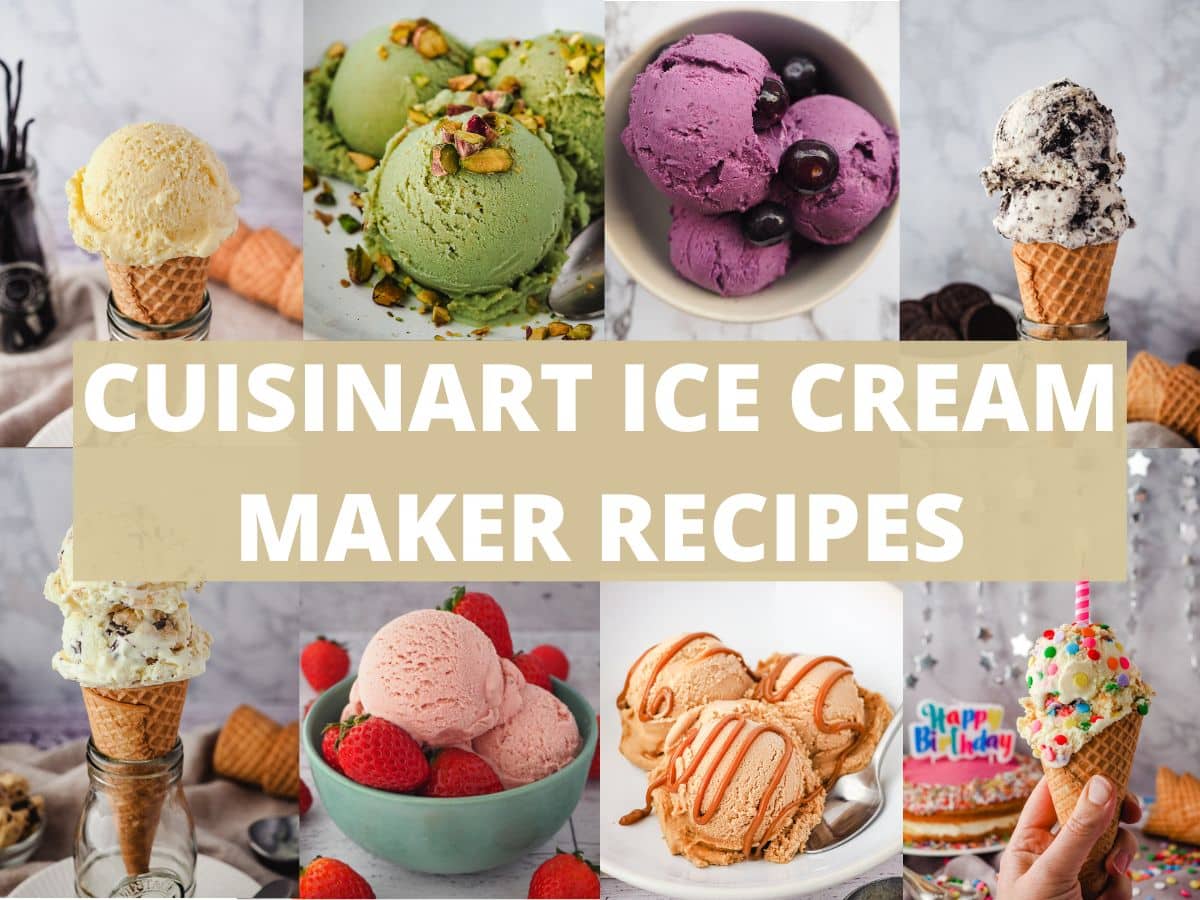 Jump to:
Cuisinart ice cream makers are one of the most popular brands of ice cream makers. Cuisinart® is a registered trademark of Conair LLC. This post is not sponsored or endorsed by Conair LLC in any way, however, I'm a huge fan of Cuisinart ice cream makers. They are what I use personally at home, however all of my recipes will work in any brand of churning ice cream maker.
From creamy classics such as vanilla bean and chocolate chip cookie dough ice cream, to luscious fruit ice creams such as strawberry, to complex flavors like pistachio and Pina Colada, all of these ice cream recipes have been extensively tested in a Cuisinart ice cream maker and taste delicious!
Types of Ice Cream you can make in your Cuisinart Ice Cream Machine
There are many ways to make ice cream, both with and without a churner or ice cream machine.
Traditional ice cream recipes have a custard base and involve cooking milk, cream, egg yolks and sugar before churning in your ice cream maker. The most classic custard-based ice cream recipe is a vanilla bean ice cream. It's rich and decadently creamy thanks to the egg yolks and flavored with indulgent real vanilla bean.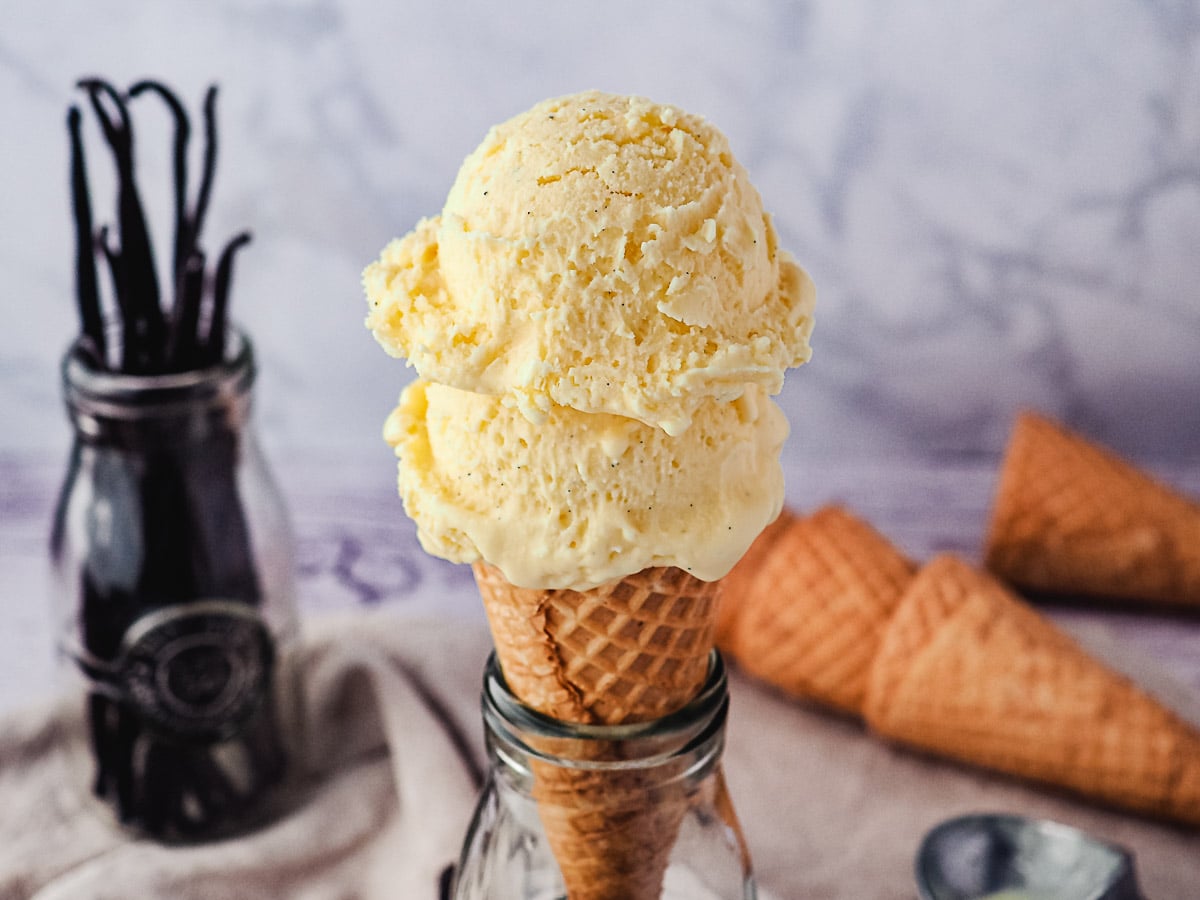 Philadelphia-style ice creams on the other hand are simpler in that they don't involve making an egg custard first. Unlike custard-based ice cream recipes, you don't always have to cook the base before churning (but I recommend you do, it helps everything mix together and gives you better, smoother ice cream).
I am a big fan of Sicilian-style Philadelphia ice cream such as my Italian pistachio ice cream, which is made with tapioca or cornstarch instead of eggs. Philadelphia-style lets the natural flavors of the pistachios shine. It's worth tracking down pure pistachio for the best color and flavor!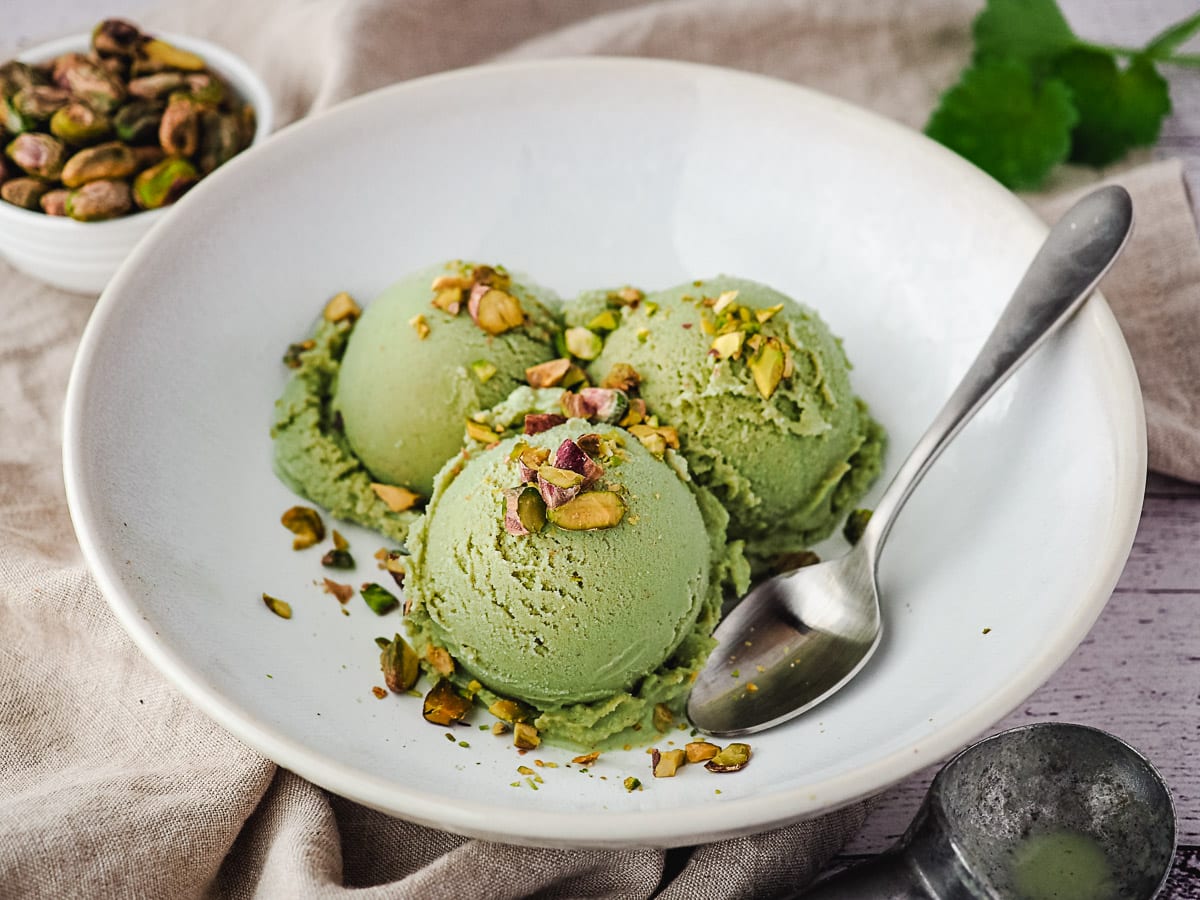 You can of course make ice cream without an ice cream maker at all, which can make it easier to layer fun colors together, such as in my rainbow ice cream. All of my no churn ice cream recipes can be made without an ice cream machine.
You can also manually mix the ice cream as I talk about in my 3 ingredient ice cream recipe. This method will work with any ice cream recipe but won't give you as smoother texture compared to churning it in an ice cream maker.
Types of Cuisinart Ice Cream Makers
Cuisinart ice cream makers come in a few different types, the most common being freezer bowl and self-freezing.
Freezer Bowl Ice Cream Makers
Such as the Cuisinart Cool Scoops ice cream maker, have a large bowl-like canister that needs to be frozen before making your ice cream.
Pros: affordable, easy to use and relatively compact. They are great entry-level machines.
Cons: The bowl needs to be frozen for several hours, ideally overnight before you can use it, so you need to plan ahead. The bowl can take up a large amount of freezer space. They can usually only make one or two batches of ice cream at most.
Self-Freezing Ice Cream Makers
Such as the Cuisinart ICE-100, have a built-in compressor that freezes the ice cream directly without the need to pre-freeze the internal bowl.
Pros: convenient. No need to prefreeze your bowl. You can make multiple batches of ice cream back to back such as for my Oreo ice cream cake.
Cons: these machines are more expensive. Due to the built-in compressor the machines are larger, heavier and take up more bench and storage space.
I started off with a freezer bowl machine and moved on to a self-freezing ice cream maker as I started making more and more ice creams. In fact purchasing my Cuisinart Ice-100 was one of the things that inspired me to start Keep Calm and Eat Ice Cream all those years ago!
All of my churned ice cream recipes from Philadelphia style, custard-based and fruit ice creams have all been extensively tested in my Cuisinart ice cream maker.
Of course, all of my churned ice cream recipes will work in any other brand of canaster or compressor ice cream makers, but be sure to check the manufacturers' instructions for your particular brand of machine.
Ice Cream Recipes
My regular ice cream recipes for a Cuisinart ice cream maker cover a range of delicious cozy flavors from classics such as easy eggless vanilla ice cream and mint choc chip, to unique flavors such as sour cream ice cream or Biscoff ice cream to tempt your taste buds!
As always, all have been extensively tested in my Cuisinart ice cream machine.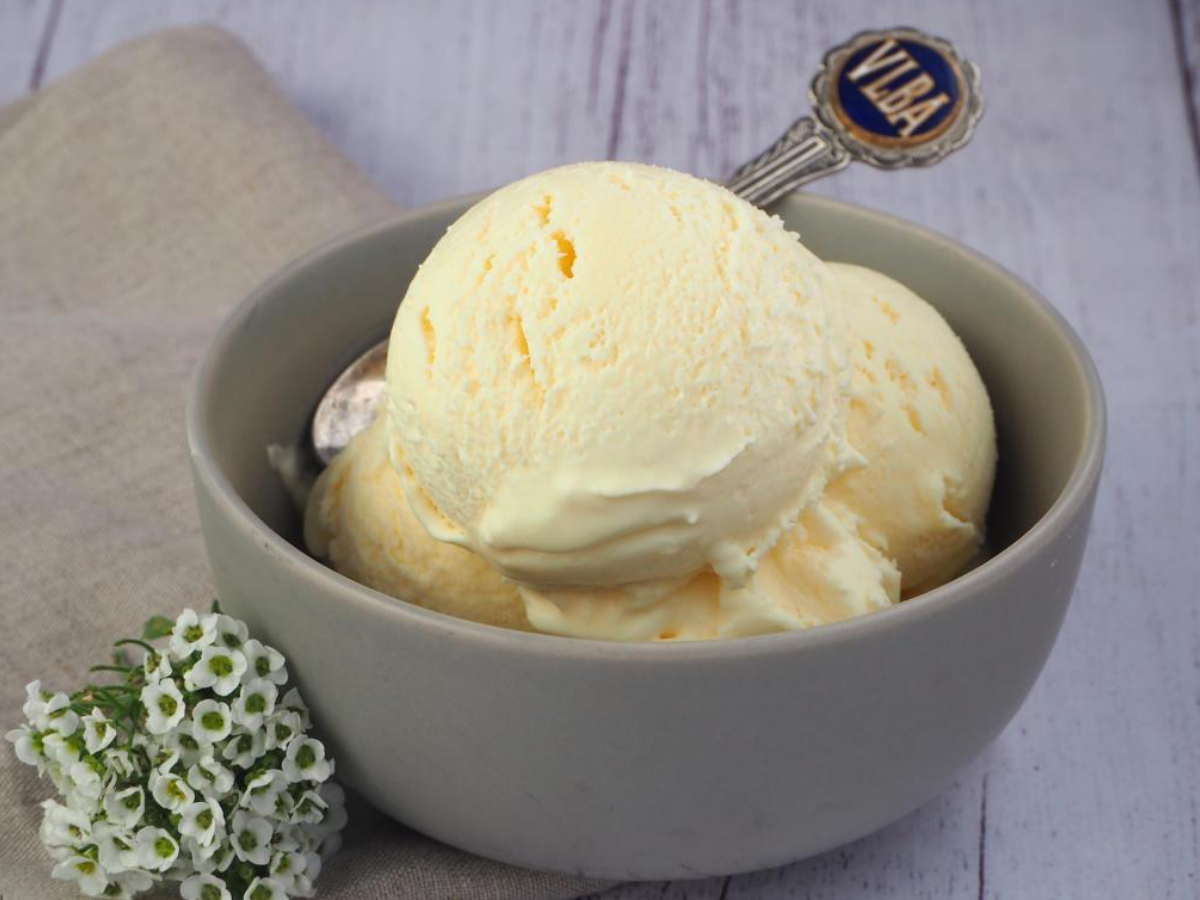 Vanilla ice cream. Time and time again voted the most popular flavor in America, this ice cream flavor pairs perfectly with everything from cozy stewed pears to the base for an epic ice cream sundae. My easy eggless vanilla ice cream is one you need to have in your ice cream recipe repertoire and is a great one for beginners to start with!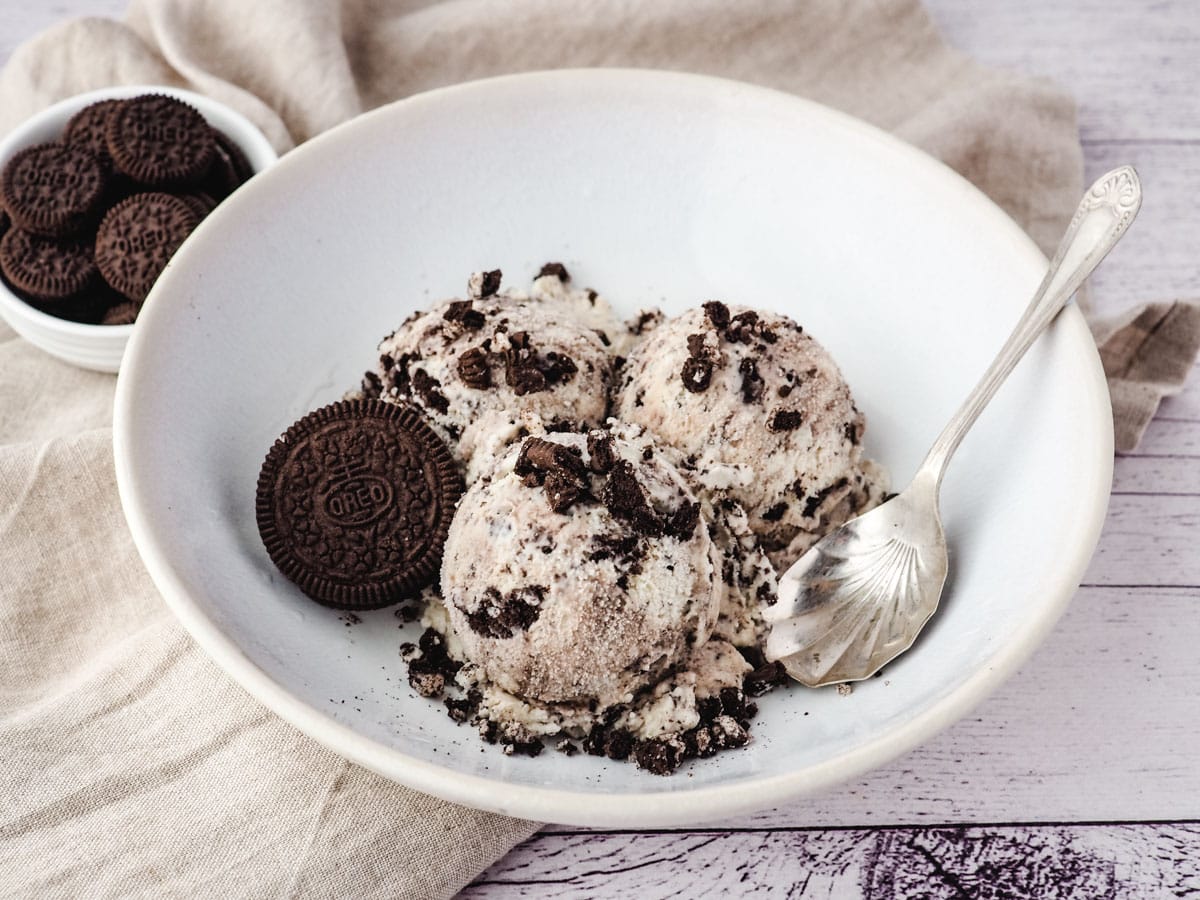 Also known as cookies and cream ice cream, Oreo ice cream is a delicious mix of creamy vanilla ice cream with delectable chunks of cookies.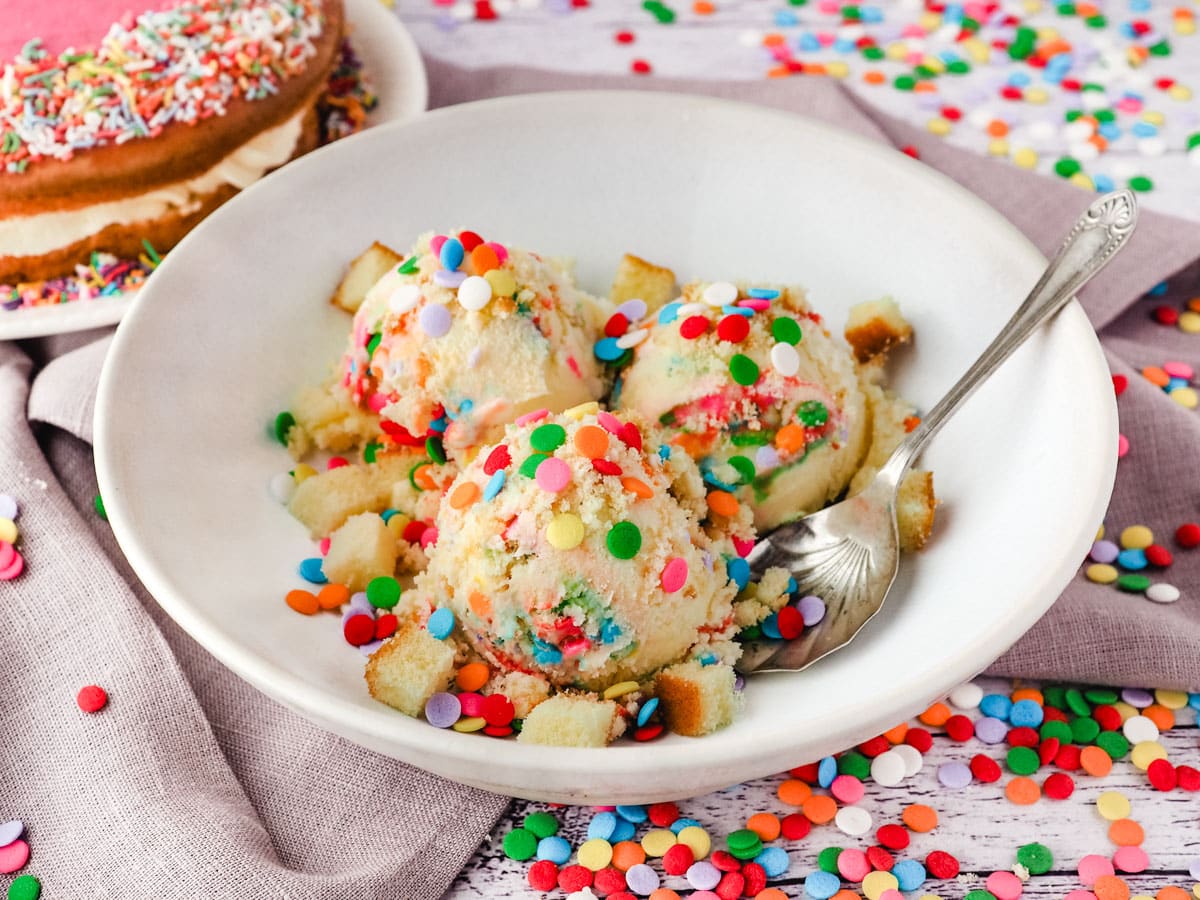 Possibly one of the most fun ice creams, Birthday cake ice cream combines rainbow-colored sprinkles with plenty of delicious birthday cake pieces. You won't want to wait for your birthday to make it!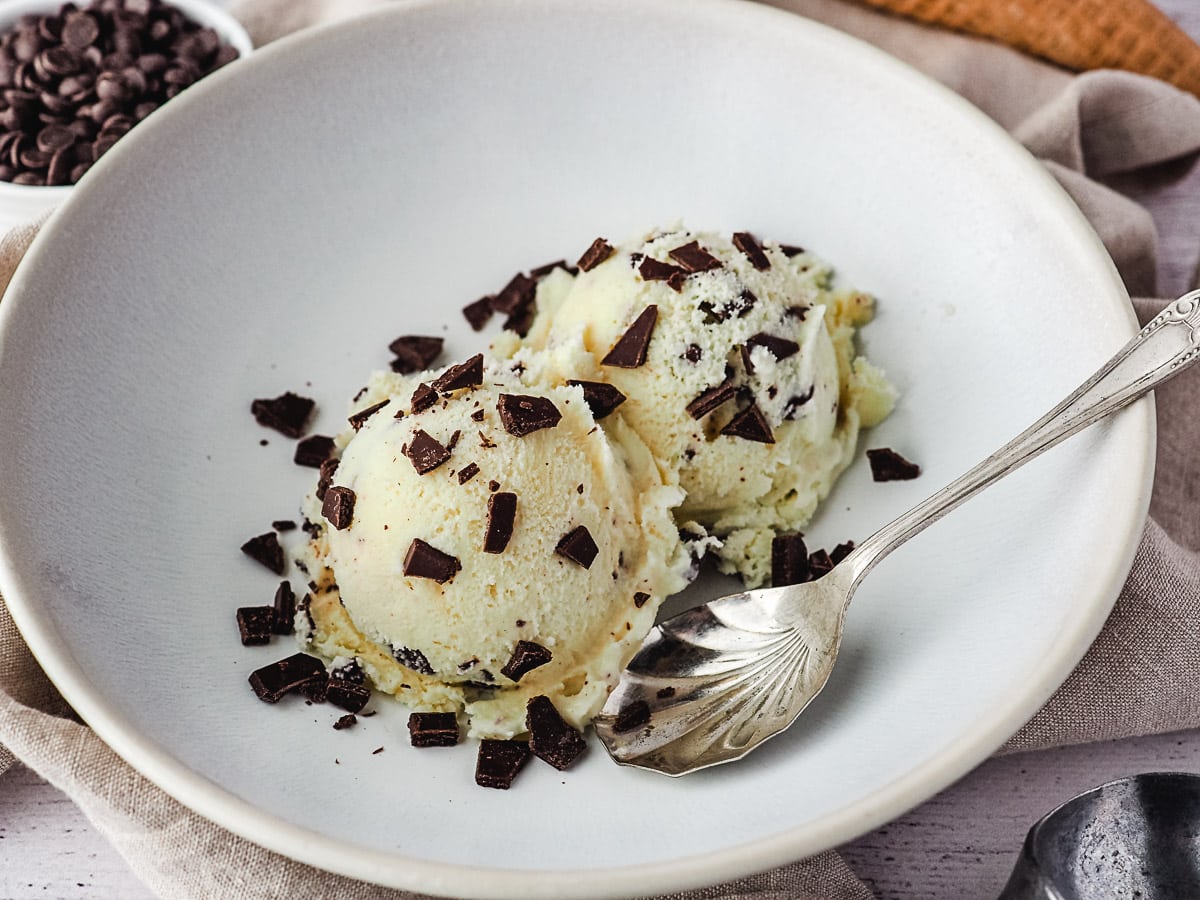 Chocolate chip ice cream combines classic vanilla ice cream with melt-in-your-mouth homemade chocolate chips. It's a little extra effort but totally worth it!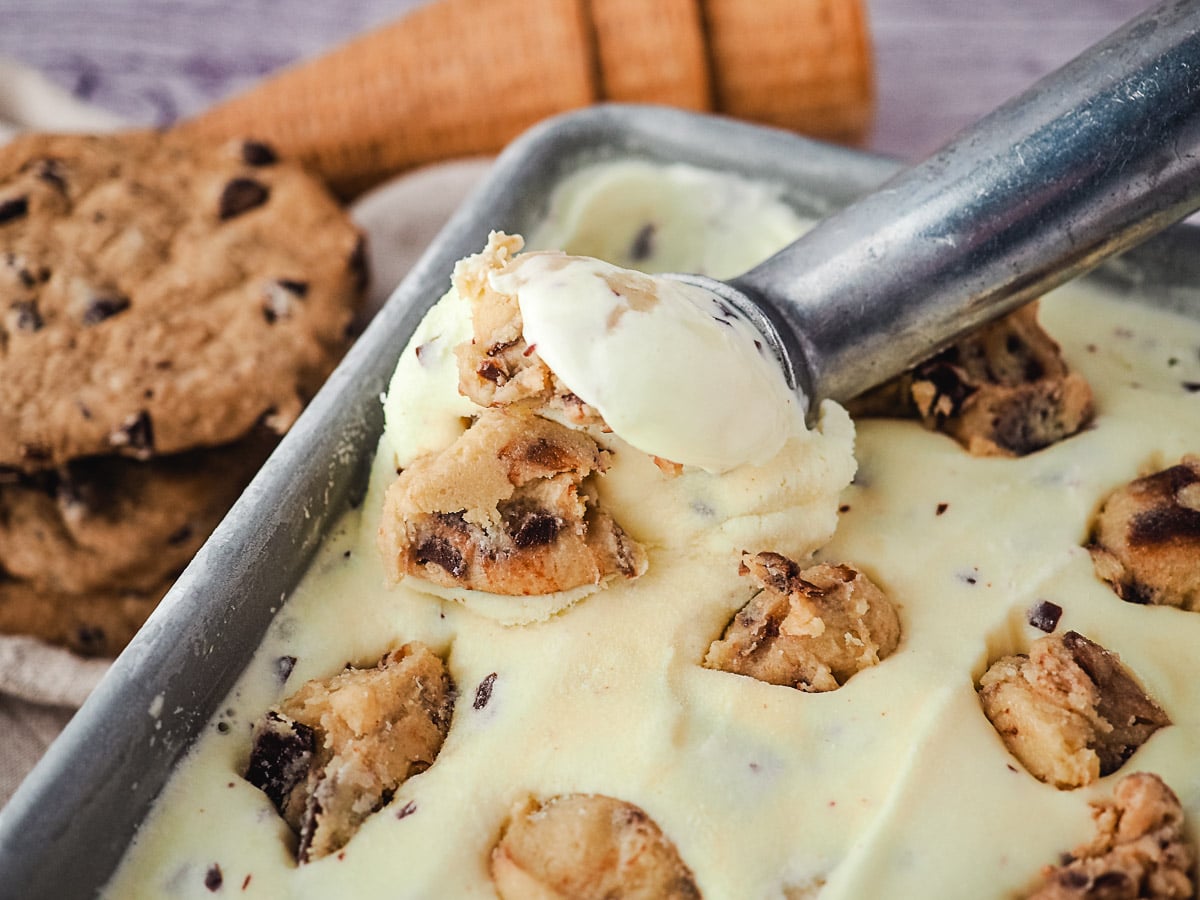 Homemade cookie dough ice cream takes the aforementioned homemade chocolate chips, but adds chunks of delicious edible chocolate chip cookie dough pieces - and yes, you can just eat the cookie dough pieces without adding them to the ice cream if you want, drool!
This peanut butter ice cream is luscious and creamy with an abundance of irresistible peanut butter. Enjoy it on its own or pair it with a delightful strawberry sauce for a PB&J vibe.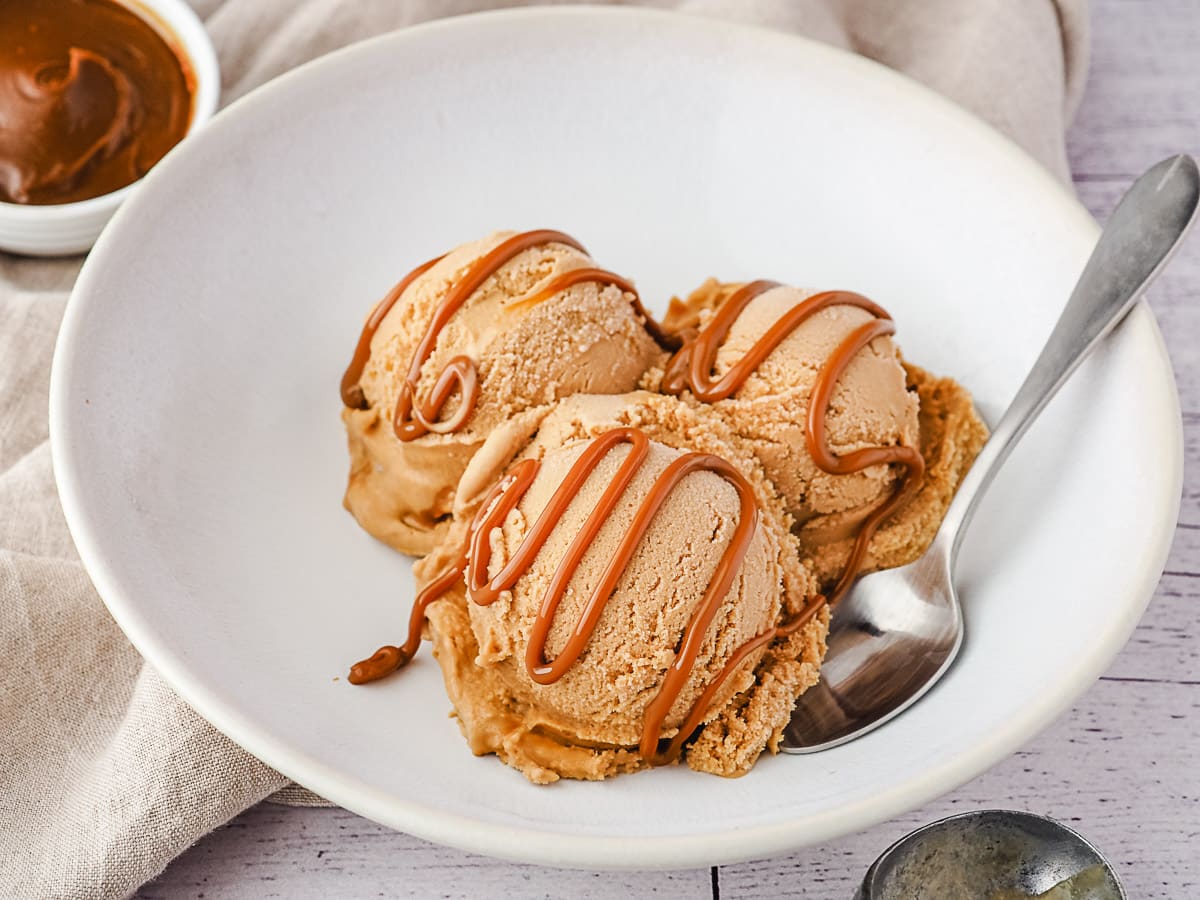 This homemade Dulce de leche ice cream is simple to make and full of luscious dulce de leche flavor. Make it with store-bought dulce de leche for an easy option, or elevate it with homemade dulce de leche!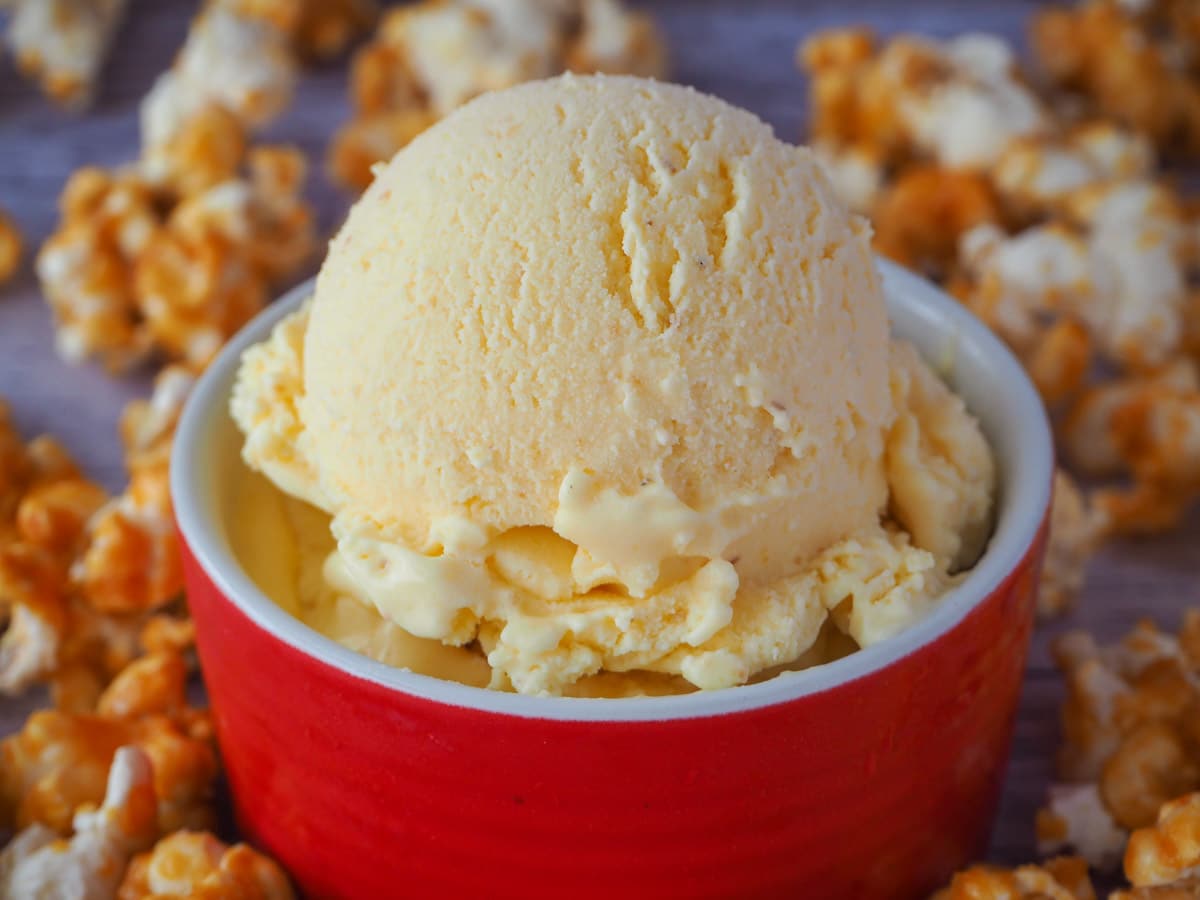 Ever eaten a bowl of delicious butter popcorn and thought to yourself 'Man, this is popcorn delicious, but it would taste so good in an ice cream'? If you have, you're my people, if not you're going to have to trust me. Popcorn ice cream is delicious and perfect for your next movie night!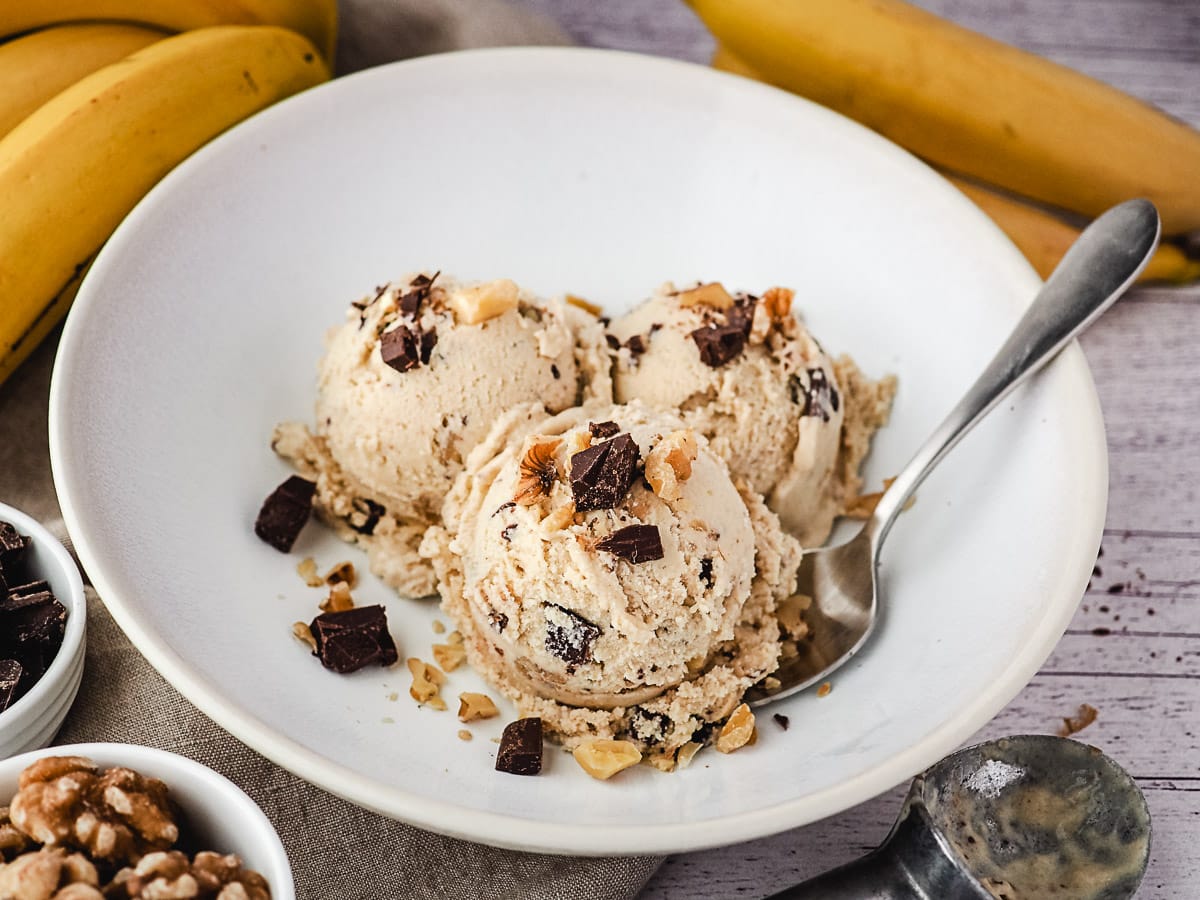 Craving chunkey monkey ice cream ice cream but can't find it in store? Now you can make this cult flavor at home. My copycat recipe is made with banana ice cream studded with generous chunks of semi-sweet chocolate and toasty roasty walnuts.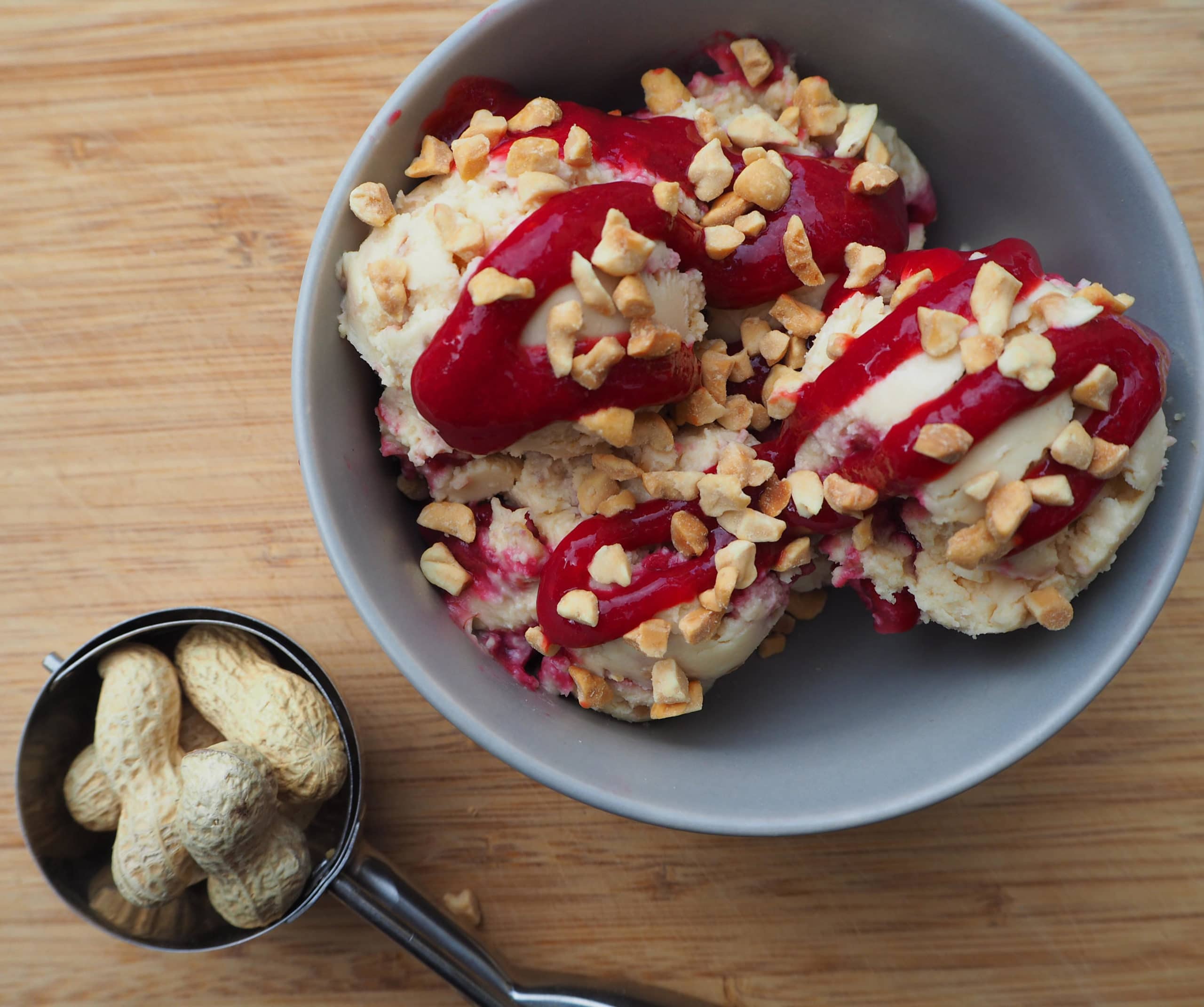 Your favorite sandwich filling in a delicious ice cream? Yes please! This peanut butter and jelly ice cream is a cream combination of salty peanut butter with tangy homemade jelly. It's sweet, salty, creamy and delicious!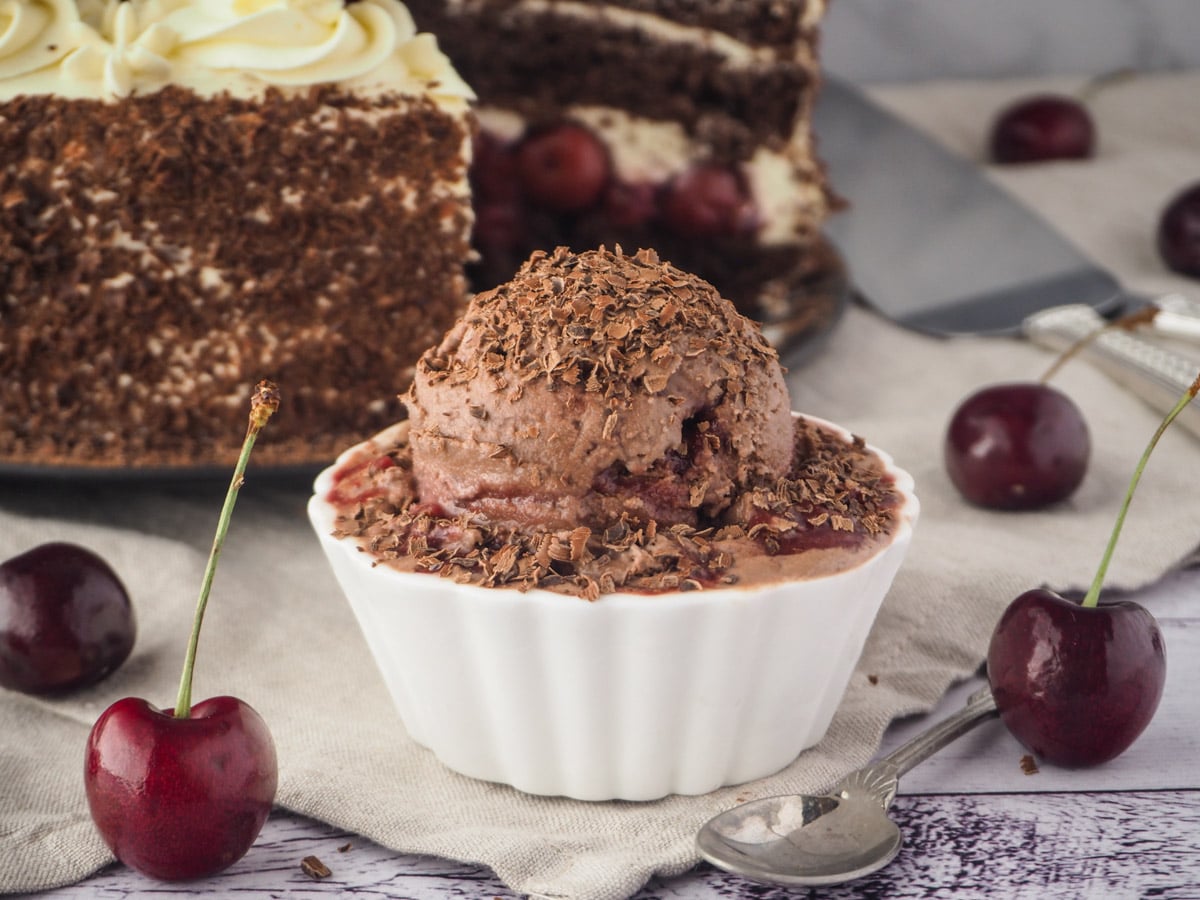 This black forest ice cream takes the flavors of black forest cake and transforms them into a decadent ice cream. Chocolate ice is swirled with tangy sour cherries and a hit of boozy kirschwasser. Pass me the ice cream scoop!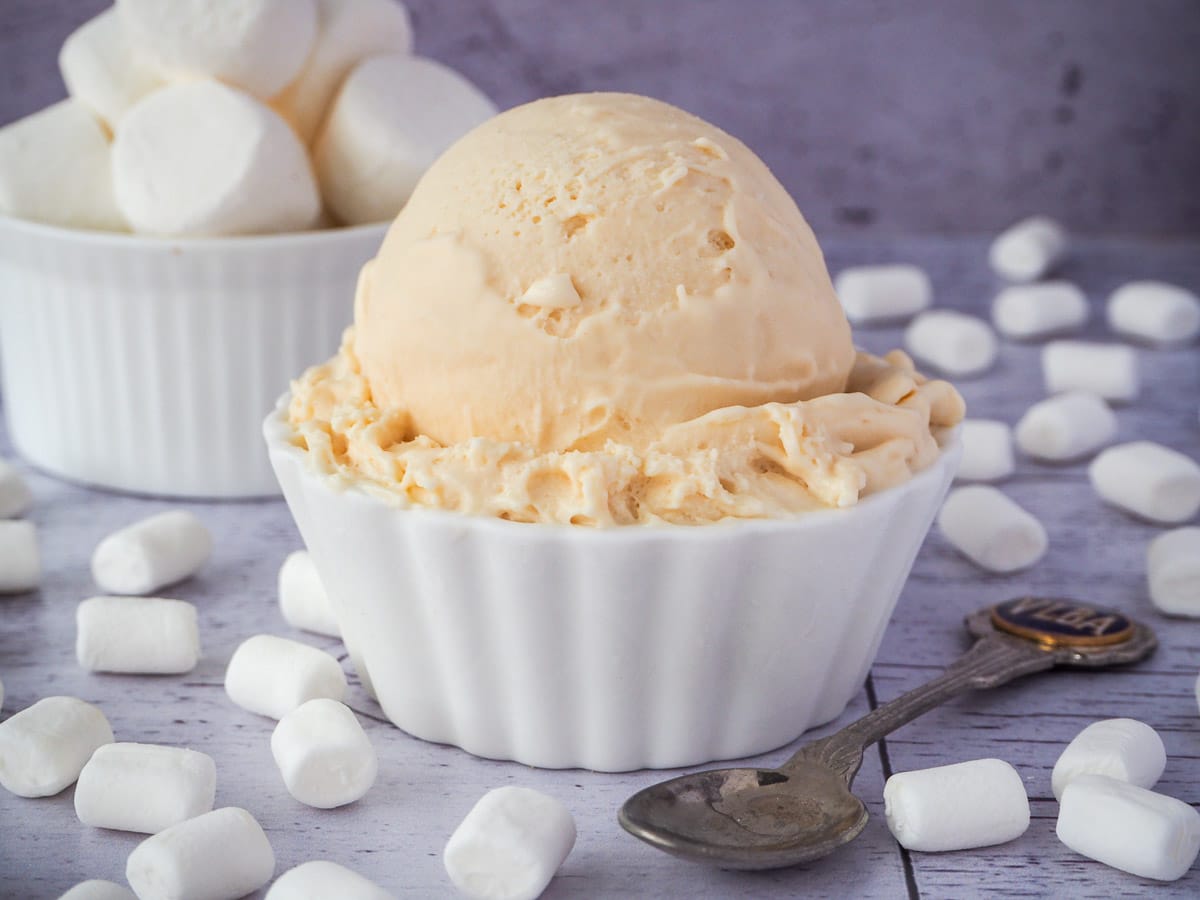 Loaded with an abundance of marshmallows, this toasted marshmallow ice cream is a delightful reminiscent of cherished campfire cookouts. Eat it on its own or add some graham crackers and chocolate fudge sauce for a cool smores-inspired dessert.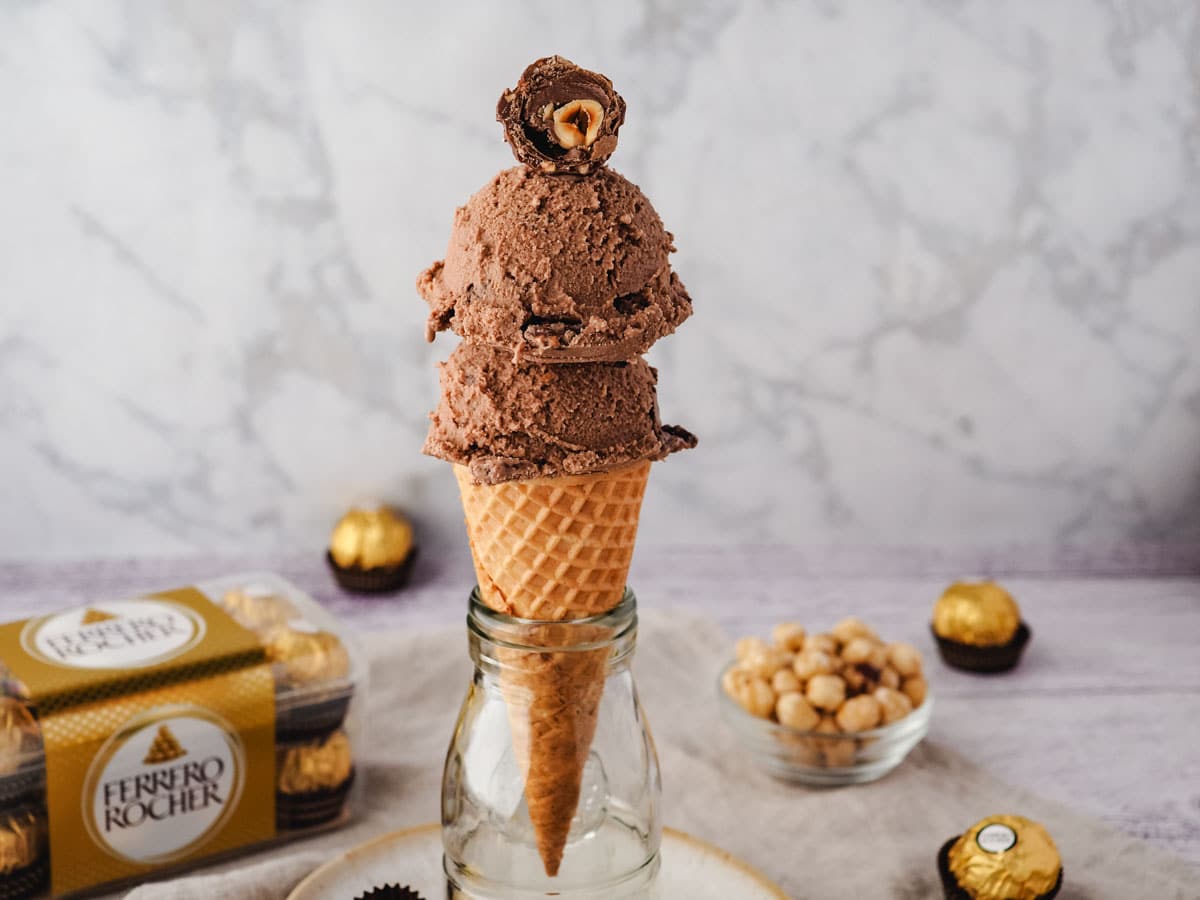 Where are my Ferrero chocolate lovers? This Ferrero Rocher ice cream takes your favorite Ferro Rocher chocolates and transforms them into a decadent ice cream. With a creamy chocolate Nutella and plenty of pieces of hazelnutty Ferrero Rochers.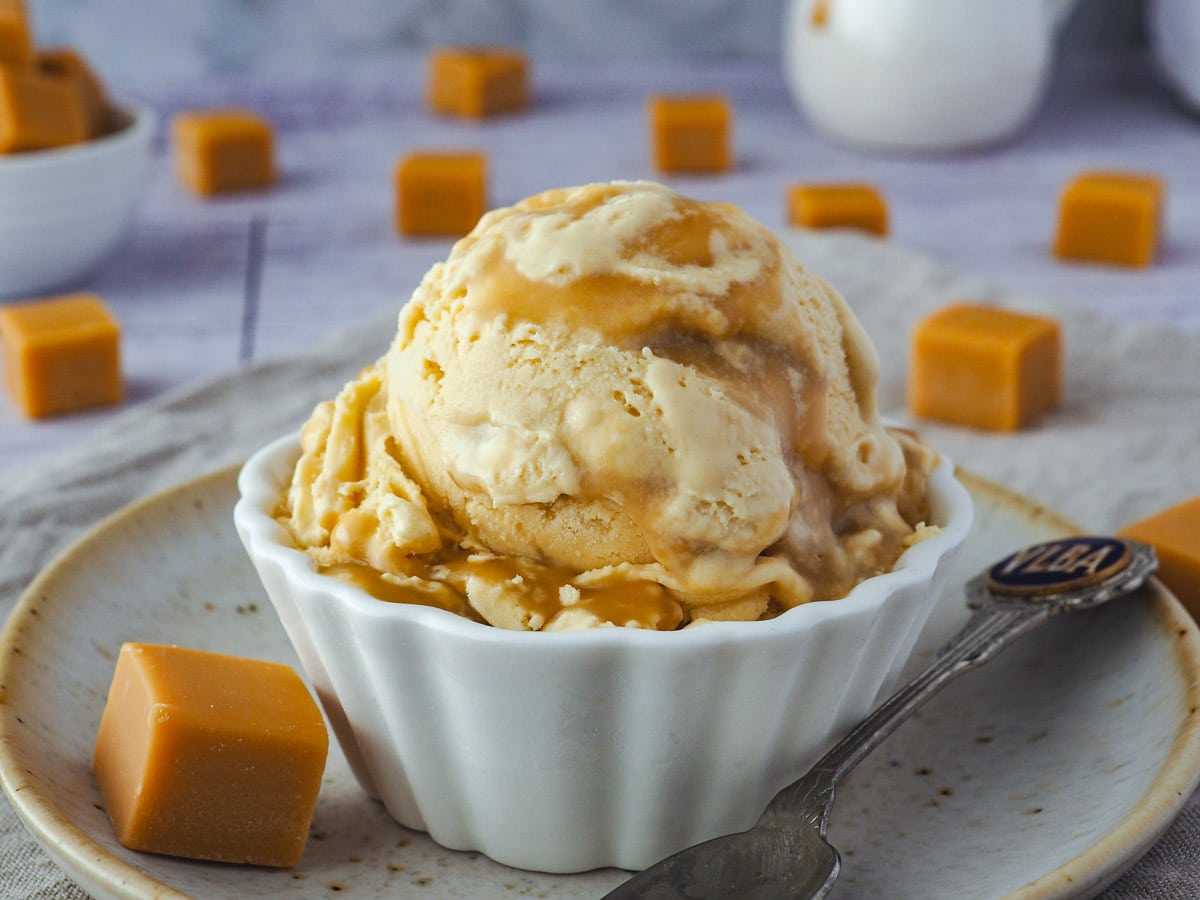 This homemade butterscotch ice cream is elevated with a decadent Bourbon butterscotch swirl that will make your taste buds do a happy dance!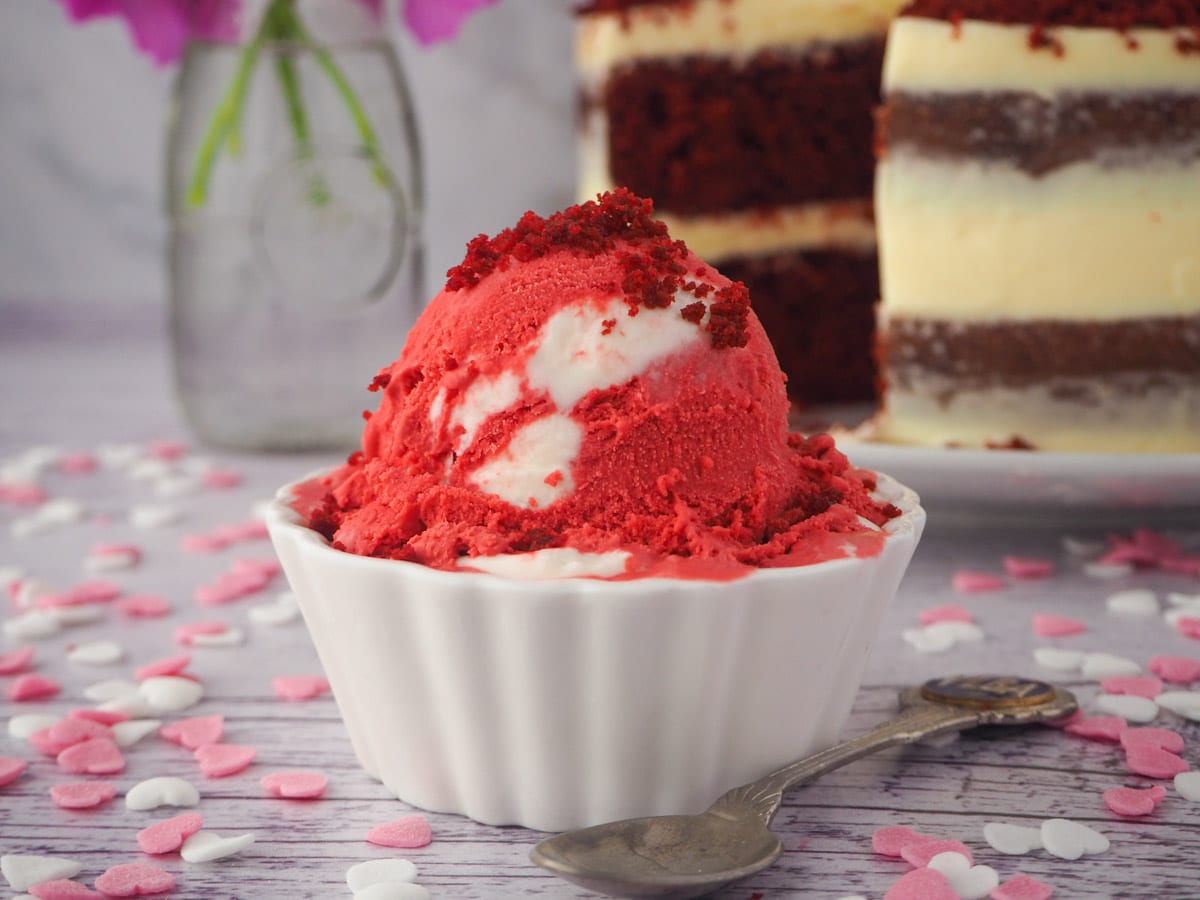 This red velvet ice cream is inspired by the classic chocolate red velvet cake. With a unique blend of vanilla and cocoa ice cream in signature fire engine red, swirled with smooth, tangy cream cheese frosting. The result is a creamy, slightly tangy, and very pretty ice cream!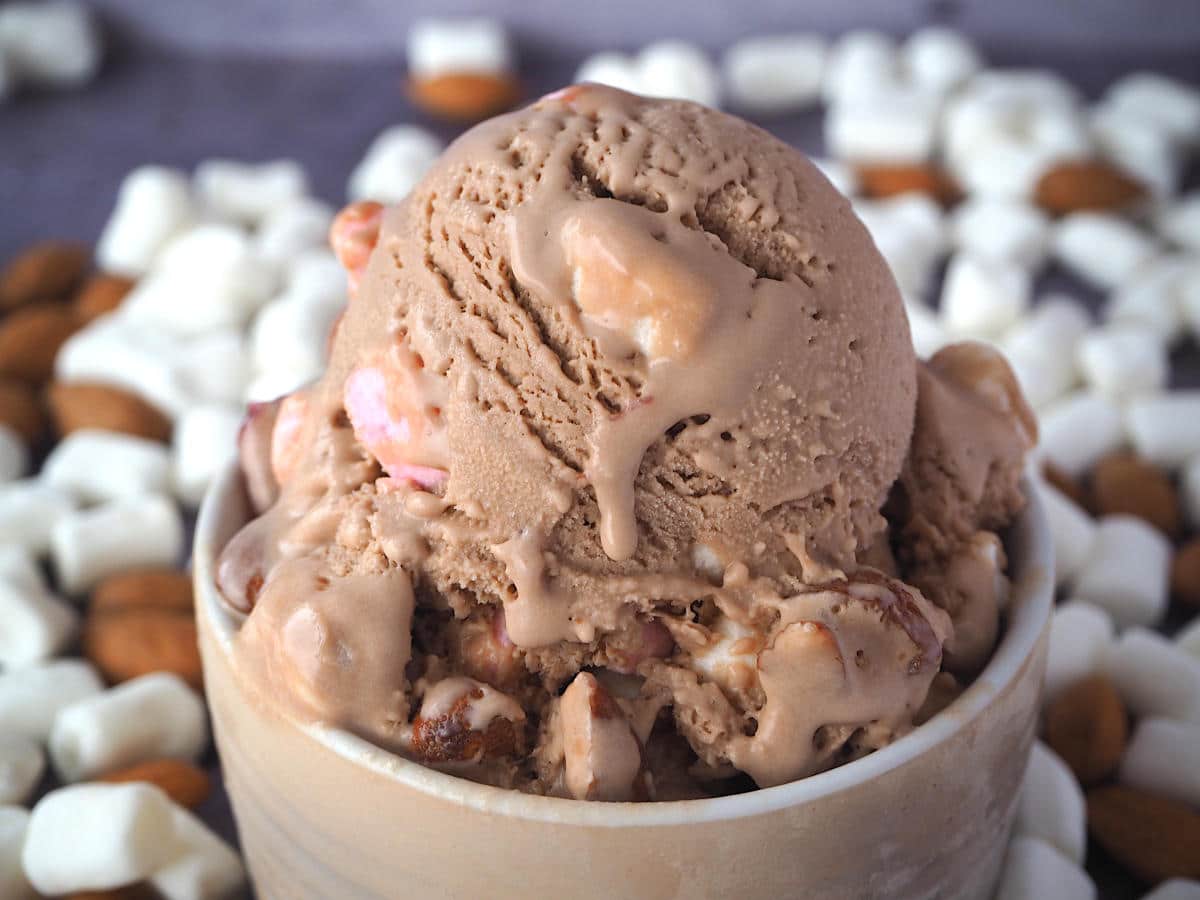 This rocky road ice cream combines delicious milk chocolate ice cream with classic rocky road elements of marshmallows and toasty roasty almonds.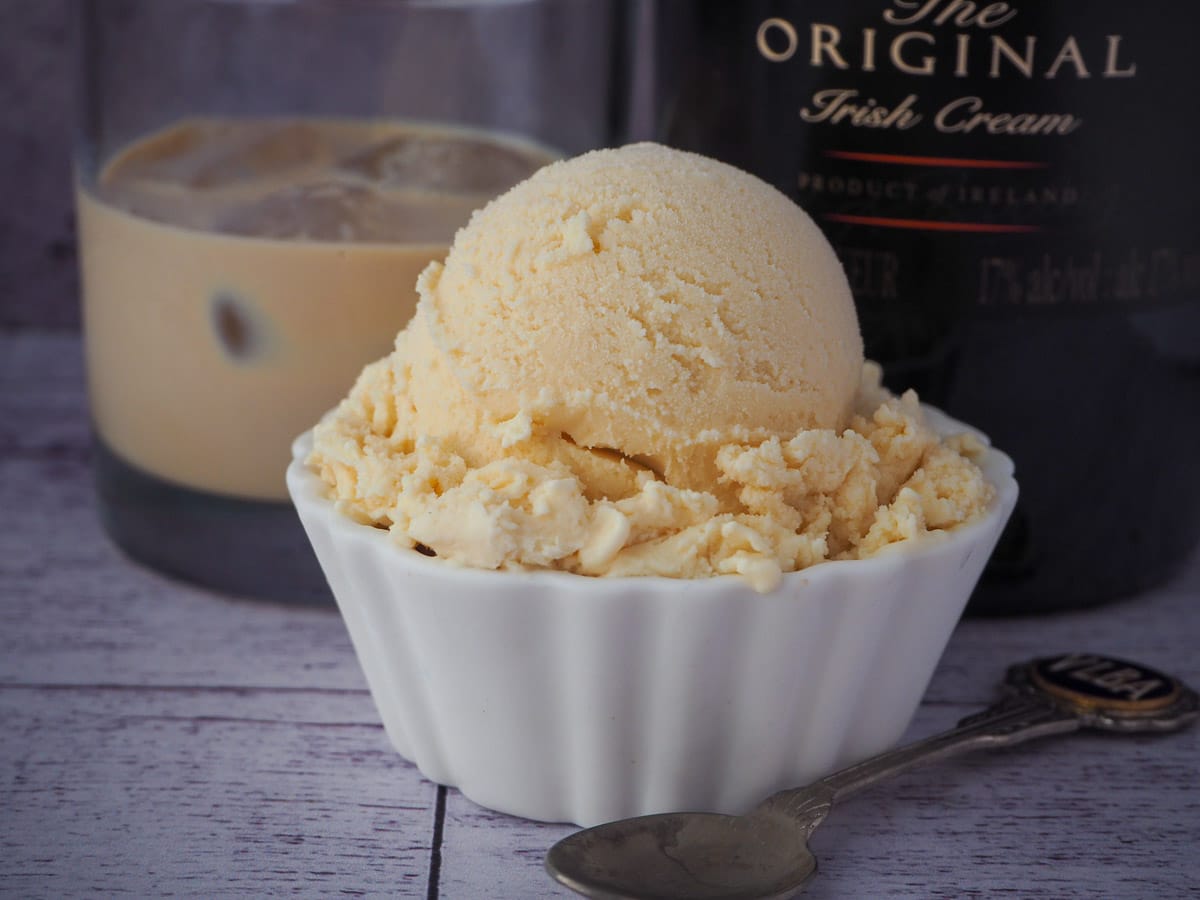 With just five ingredients this Baileys ice cream is easy to make and full of indulgent, boozy Baileys flavor. Why should kids have all the fun?
But wait, there's more! Why not try making one of my other delicious ice cream recipes such as
Matcha Ice Cream - this green tea ice cream sings with matcha flavor and is a beautiful natural green color.
Earl Grey Ice Cream - reminiscent of a cup of freshly brewed Earl Grey tea, this Earl Grey ice cream has the aromatic flavors of black tea with bergamot and a hint of citrus.
Milo ice cream - an Australian classic, this Milo ice cream takes the nostalgic malt chocolate flavors of Milo and packs it into a creamy ice cream.
Masala Chai Ice Cream - this chai ice cream has all the warming flavors of a cup of aromatic spice chai latte but in a creamy ice cream.
Gingerbread ice cream- all the warming flavors of your favorite gingerbread cookies in a festive ice cream that's great for the holidays.
Nutella Peanut Butter Ice Cream - peanut butter and chocolate ice cream combine in this pretty and indulgent chocolate peanut butter ice cream.
Hot Cross Bun Ice Cream - with hot cross bun spices and layers of sultanas and citrus, topped with a crunchy hot cross bun topping, it's great for Easter!
Lamington ice cream- transform classic Aussie lamingtons into fun ice cream flavor, with sponge cake ice cream swirled with strawberry and chocolate sauce and layered with coconut and more cake pieces!
Hokey Pokey Ice Cream - also known as honeycomb ice cream, this classic New Zealand flavor has a vanilla bean ice cream base swirled with decent honey caramel sauce and is finished with crunchy pieces of honeycomb.
Fruit Ice Cream Recipes
Fresh, luscious, juicy fruit ice cream is just the ticket on a hot summer's day. My collection of fruit ice creams are bursting with fruit flavors. Like my regular ice cream recipes have all been extensively tested in my Cuisinart ice cream maker.
Classic strawberry ice cream. One of the most popular ice cream flavors and the most popular fruit flavor. My strawberry ice cream is made with plenty of juicy ripe strawberries and bursting with flavor.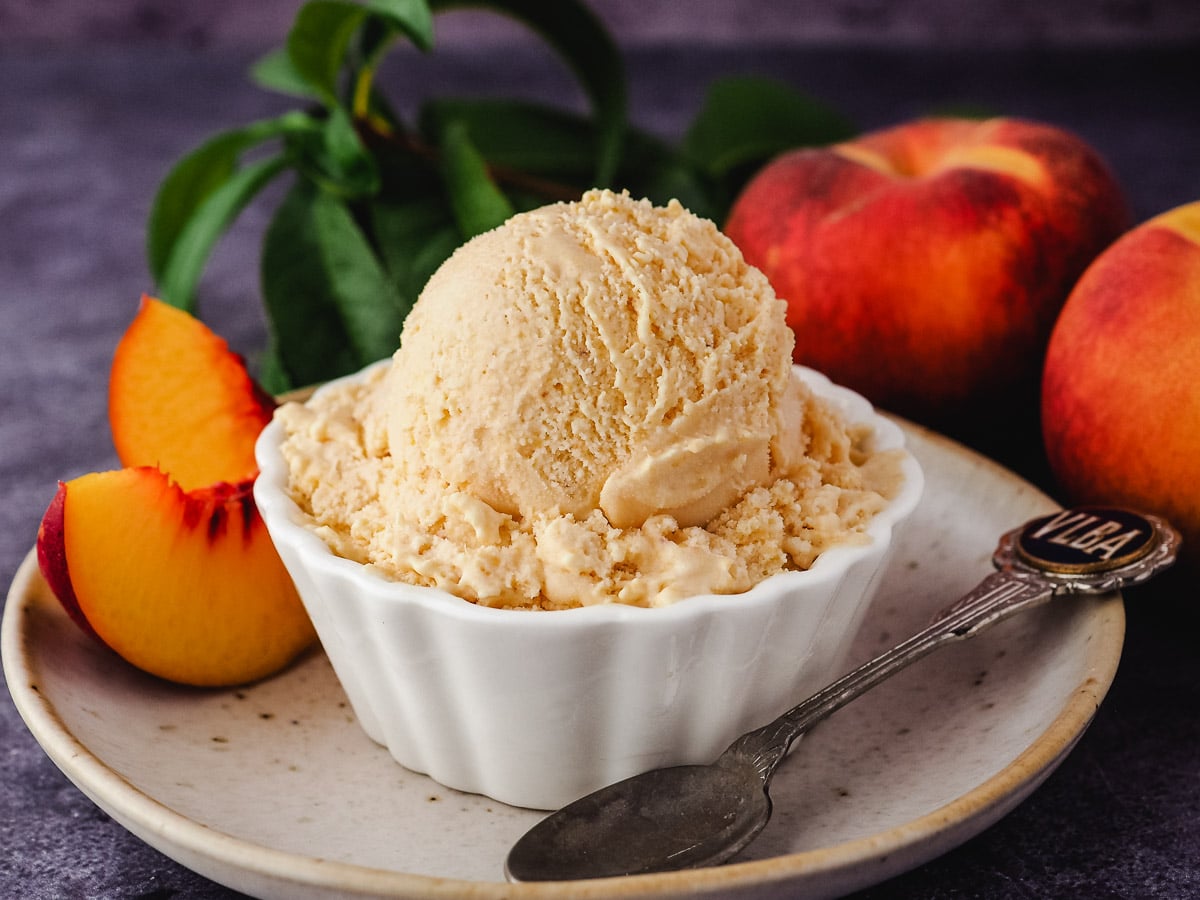 Got lots of juicy ripe summer peaches? Why not make my peaches and cream ice cream. With a hint of sour cream and plenty of juicy peach flavor.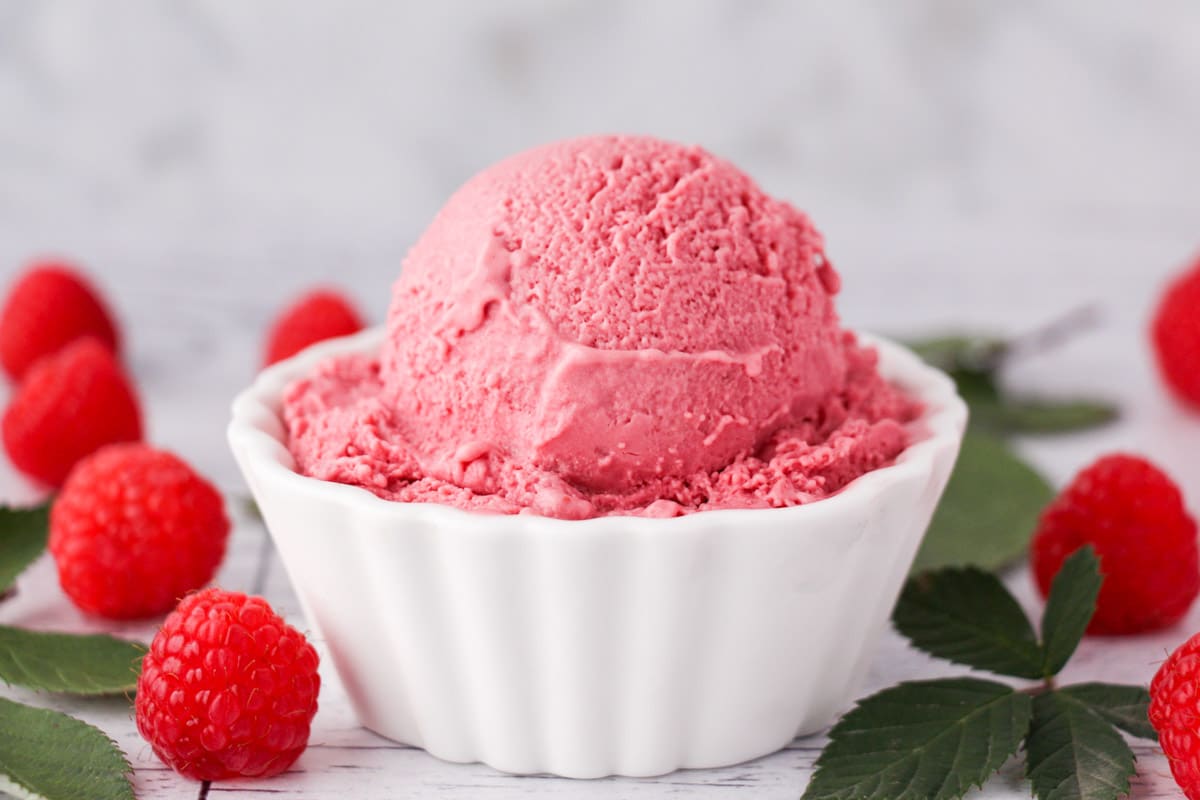 Sweet, tangy and bursting with raspberry flavor this raspberry ice cream can be made with fresh seasonal raspberries or frozen for a year-round treat.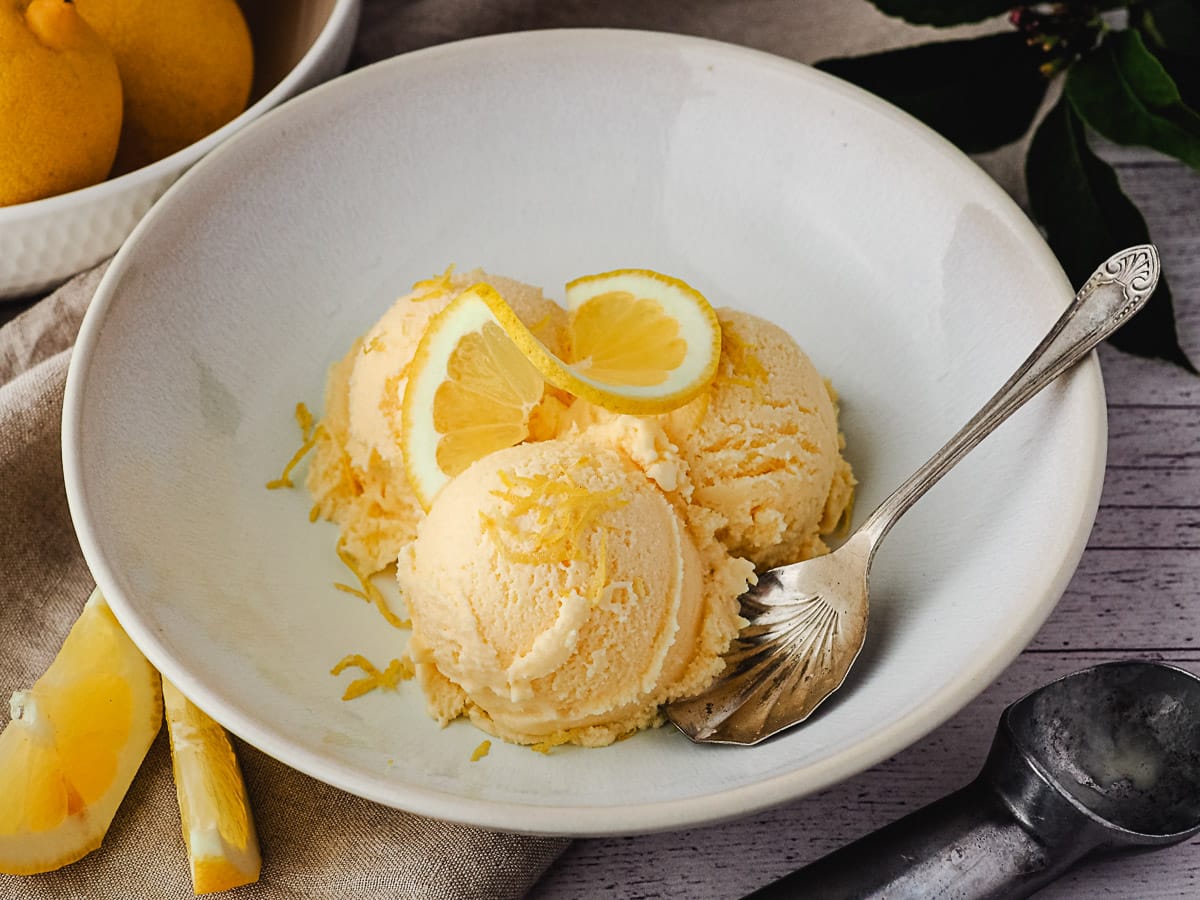 Made with a traditional custard base, this lemon ice cream is bursting with fresh, juicy lemon flavor. Try it with a scoop of my pistachio ice cream for a delightfully different dessert.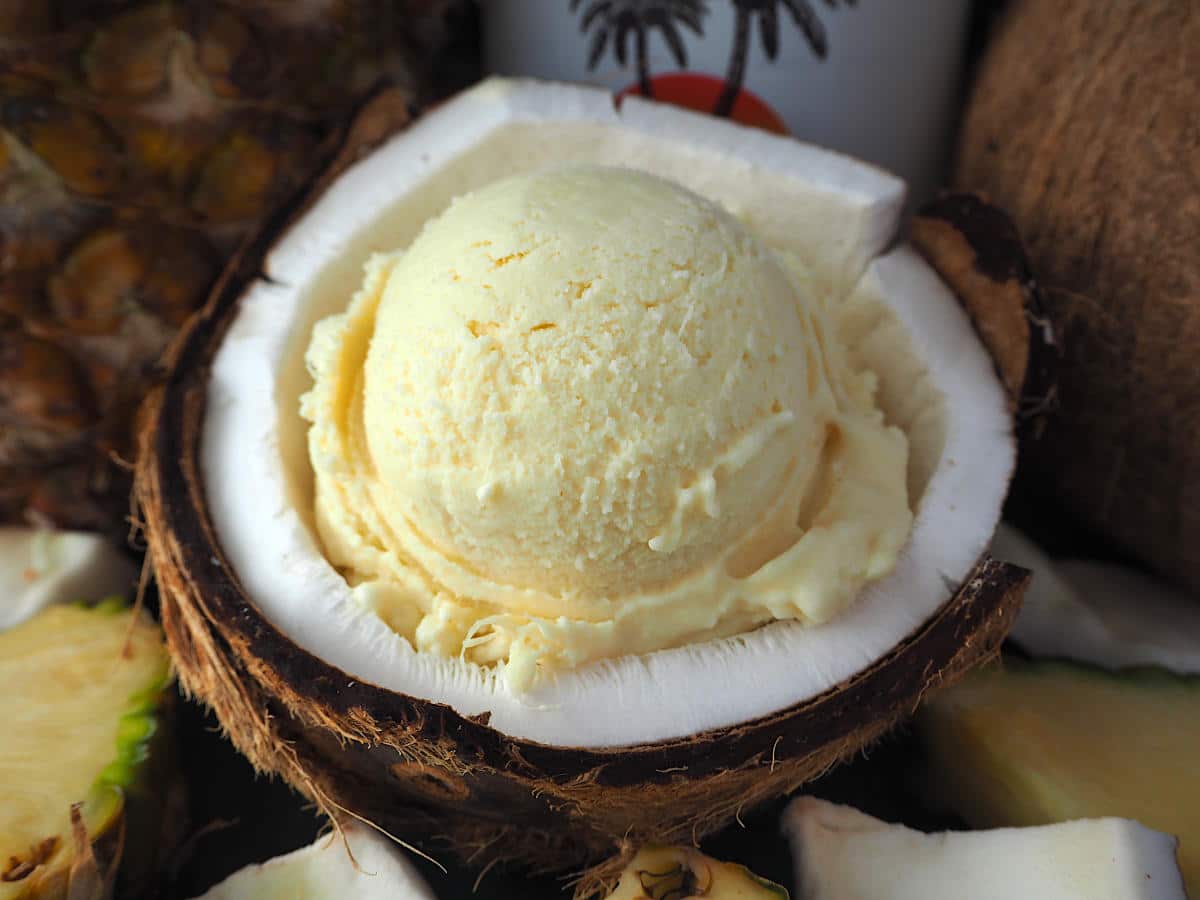 If you like Pina Coladas and getting caught in the rain, then you have to try Pina colada ice cream, with flavors of pineapple and coconut and of course rum!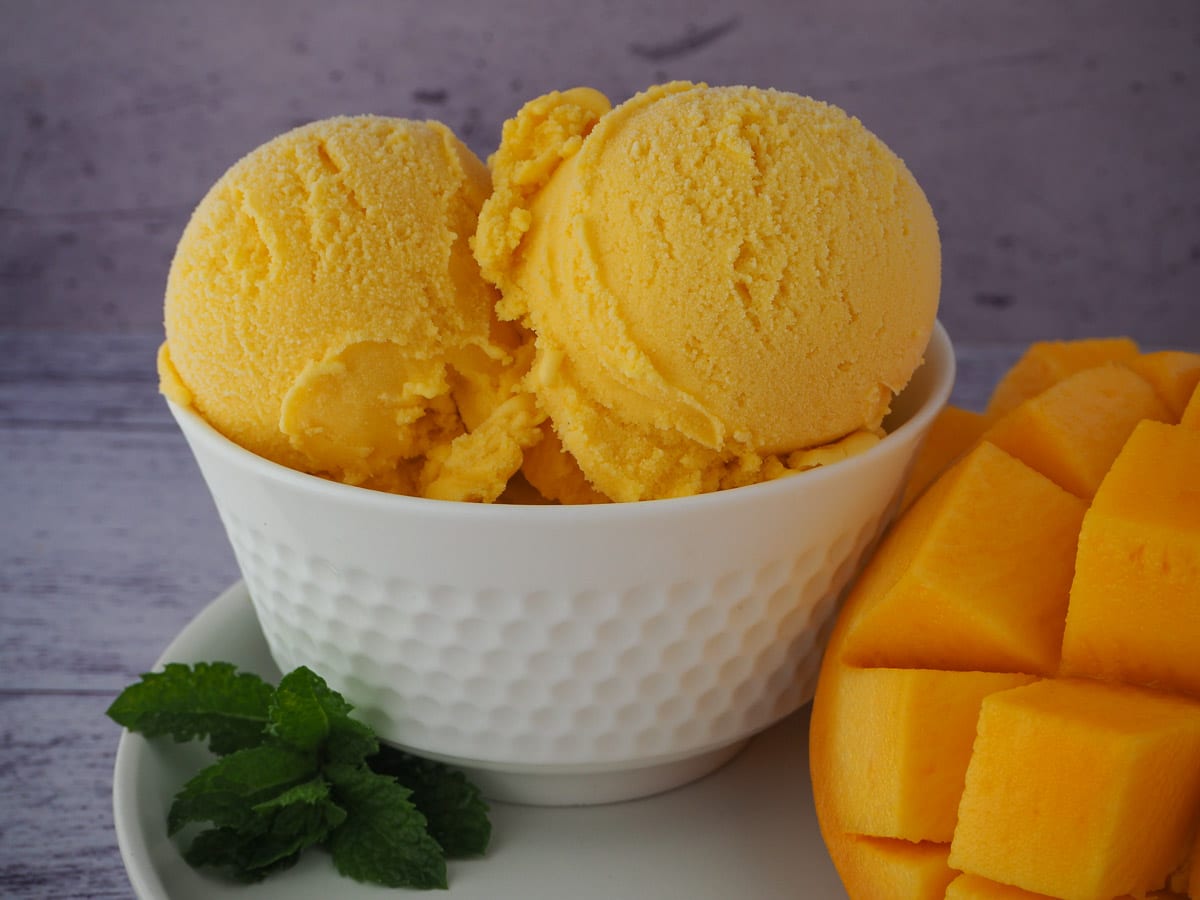 This mango ice cream enhances the natural creaminess of mangos for a fresh, tropical-flavored ice cream.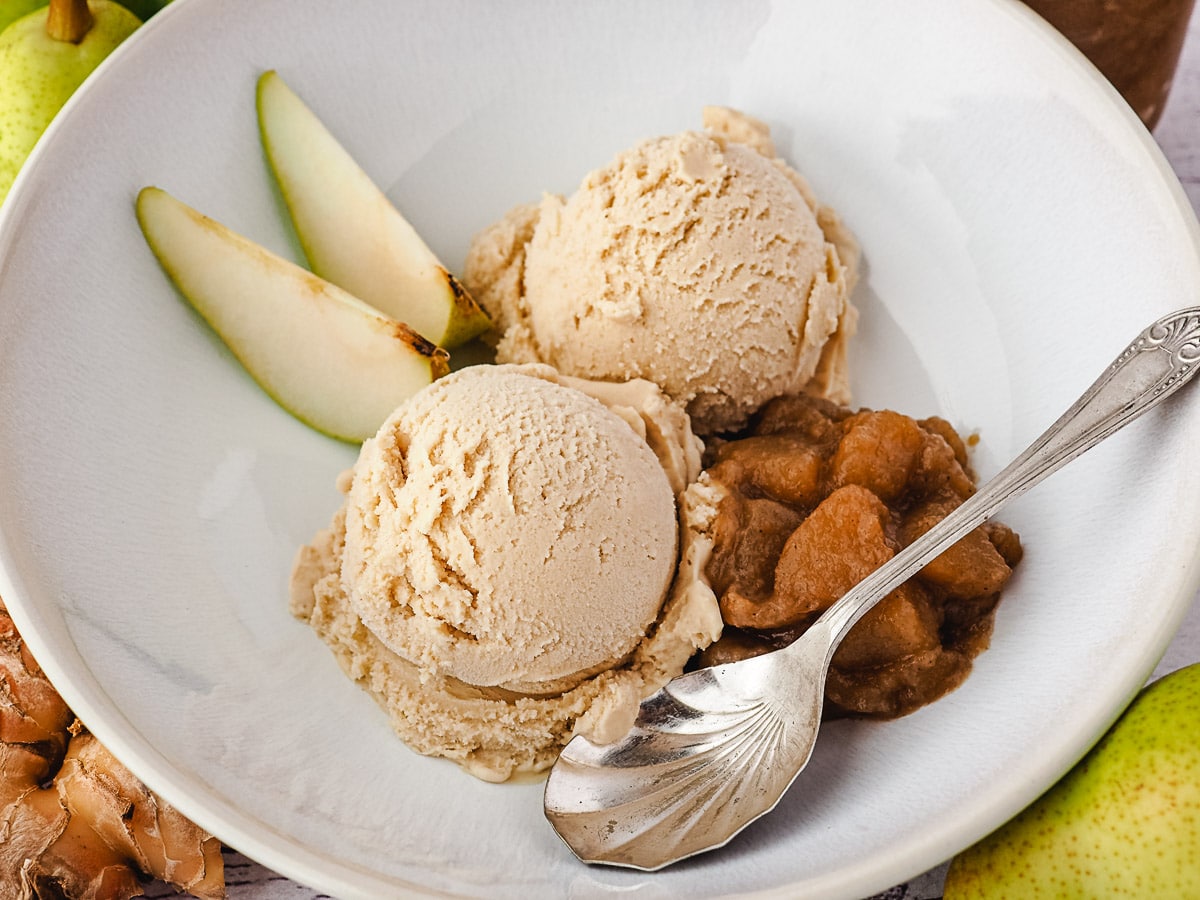 This caramelized pear ice cream is packed with the warming Fall flavors of warming ginger and cozy brown sugar. Delicious on its own or ramp up the flavor by serving it with my pear compote.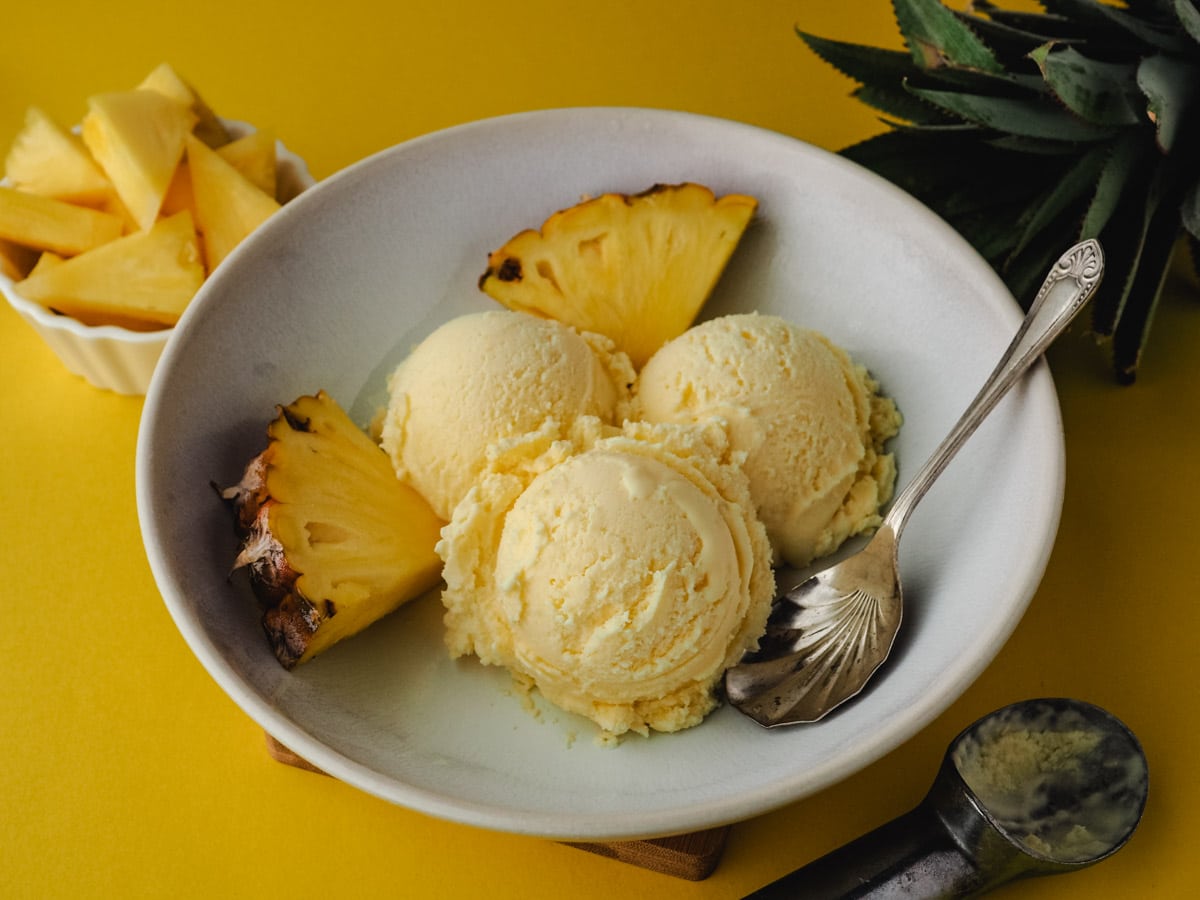 If you love Disney dole whip you're going to love my pineapple ice cream. Full of juicy sweet pineapple flavor it sings of sunshine and summer days!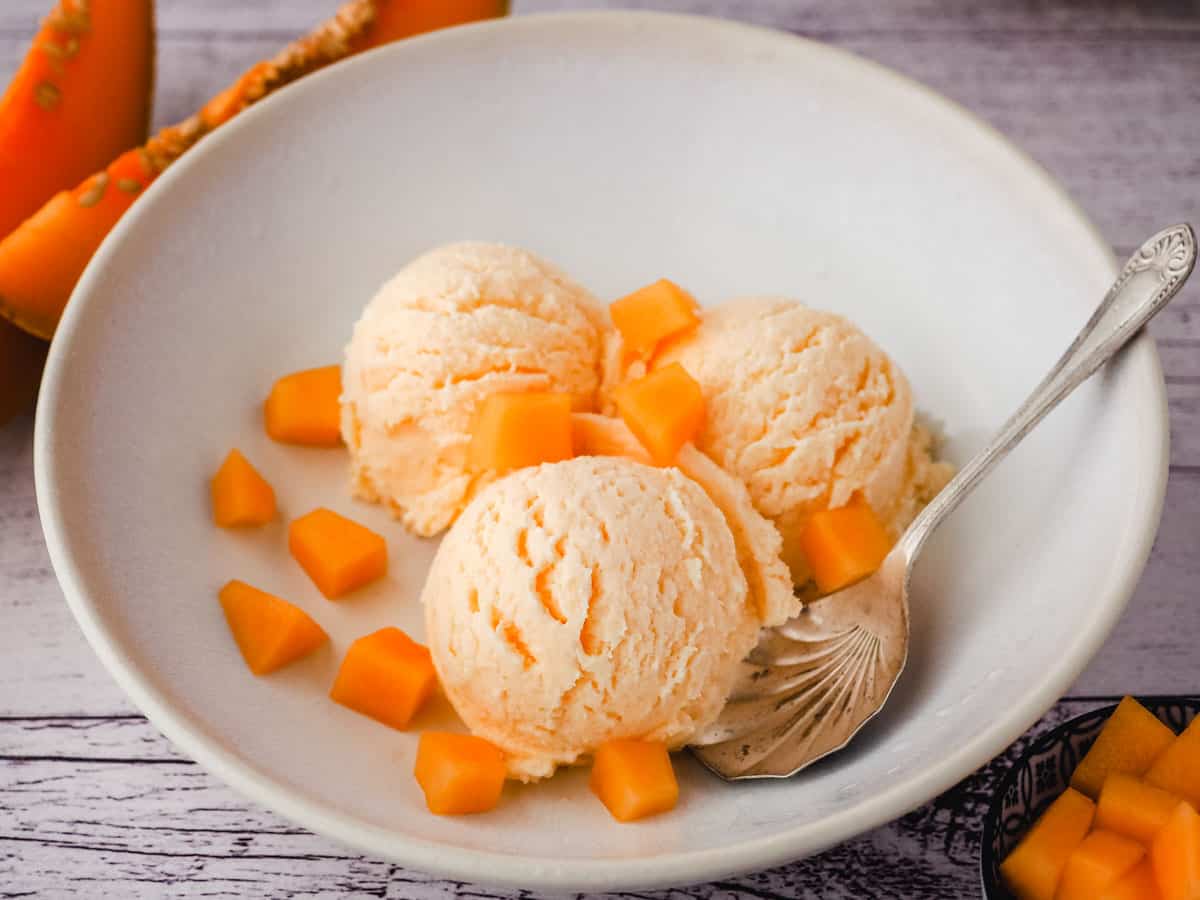 Make this melon ice cream with fresh cantaloupe or rockmelon for a fresh and fragrant ice cream that's sweet and juicy.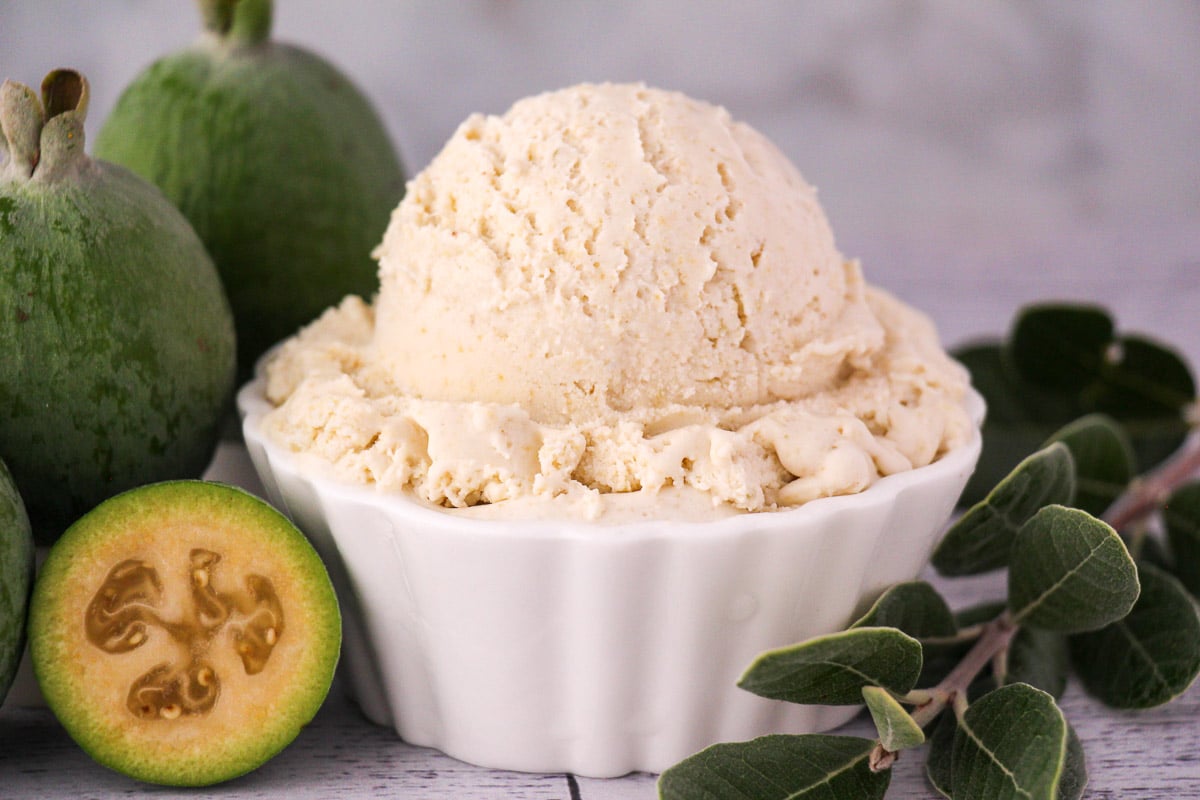 Never heard of feijoas? Now's the time to discover this cute, green and distinctly flavored fruit. This feijoa ice cream is a great way to use up feijoas when you have a glut of feijoas (if you have a feijoa tree you'll know what I'm talking about!).
Looking for some dairy-free ice cream flavors? This blueberry ice cream is packed with juicy blueberry flavor without dairy and is the most beautiful natural purple color.
But wait, there's more! Why not try making one of my other delicious fruit ice cream recipes such as
Cinnamon, Apple and oat milk ice cream - another great dairy-free option and my personal favorite flavor in this category. It's kinda like a bowl of your favorite warming oatmeal but in a delicious ice cream.
Passion fruit ice cream - made with tangy, tropical passion fruit this ice cream is juicy and delicious.
Banana ice cream - the natural creaminess of fresh bananas makes this banana ice cream a joy to eat. And it makes the perfect addition to an epic banana split dessert.
Vegetable ice creams
Sounds weird? Yes! But surprisingly delicious? Also yes! While not fruits, these vegetable ice creams are a close cousin to my fruit ice cream. And as the saying goes don't knock it until you've tried it!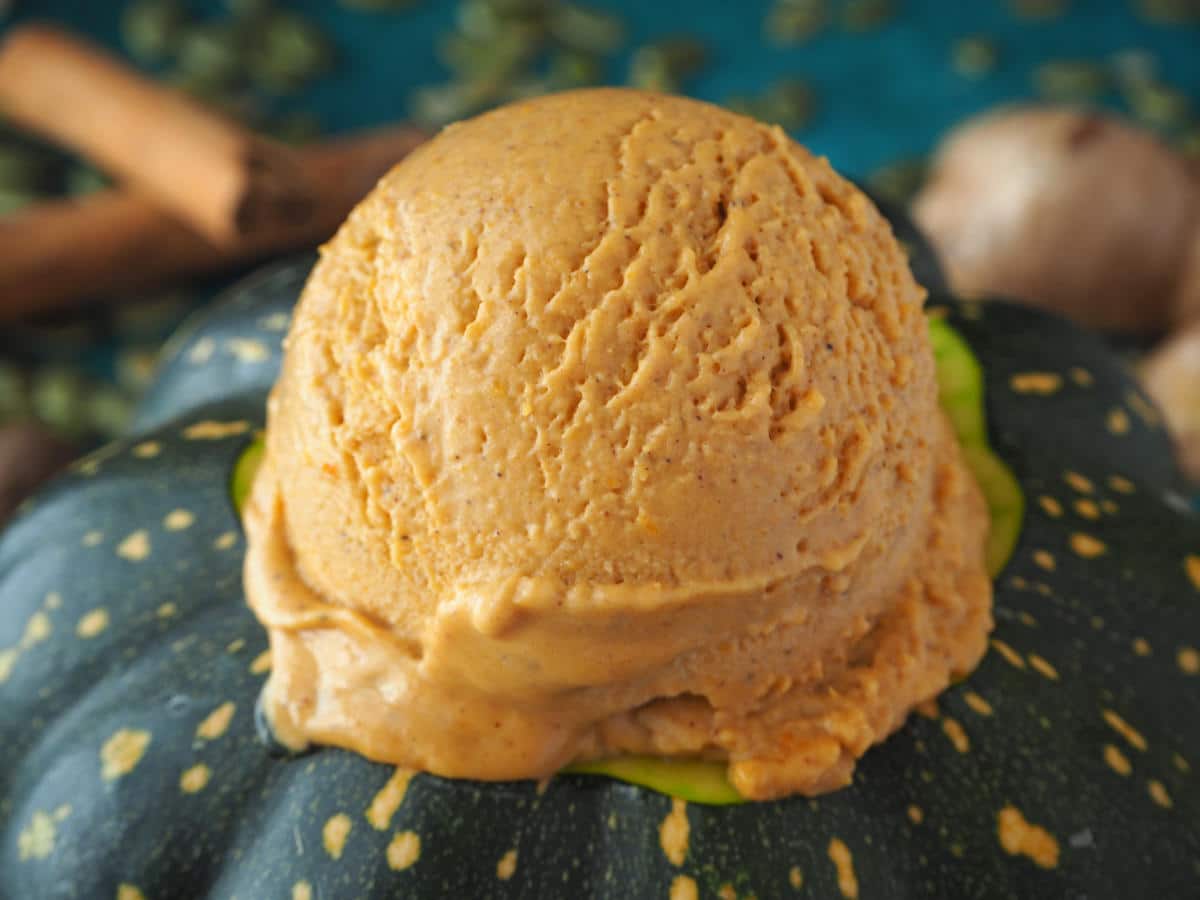 Pumpkin spice ice Cream - if it's good enough for a pie or a latte it's good enough to turn into an ice cream! Everyone's favorite Fall flavor that we hate to love, or is it love to hate? makes an excellent ice cream flavor. Perfect for when you're craving pumpkin spice but Fall hasn't arrived yet and it's still a billion degrees outside. Or just when you want a change from pie.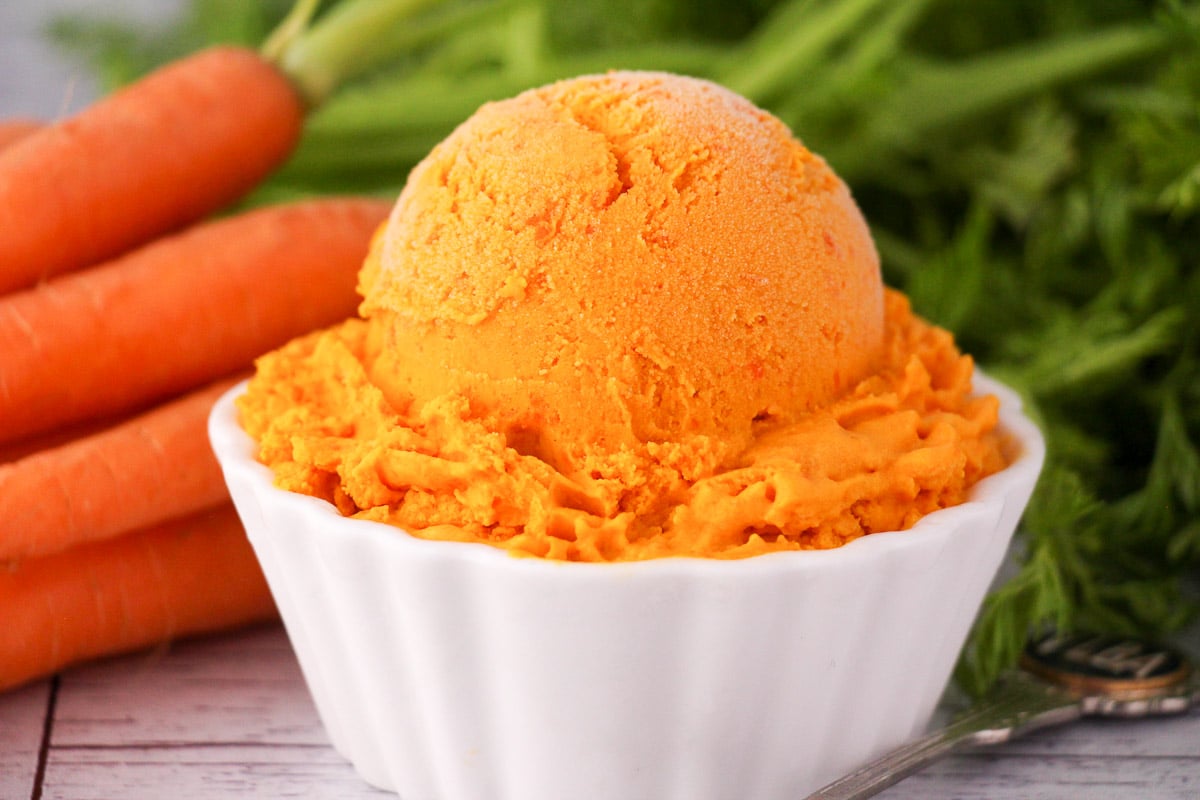 What's the secret to turning crunch carrots into soft delicious carrot ice cream? The answer is roasting. Slow roasting the carrots brings out their natural sweetness and retains their vivid bright orange color. Add some honey and just a touch of cardamon and you have a sophisticated ice cream that practically counts as one of your five a day.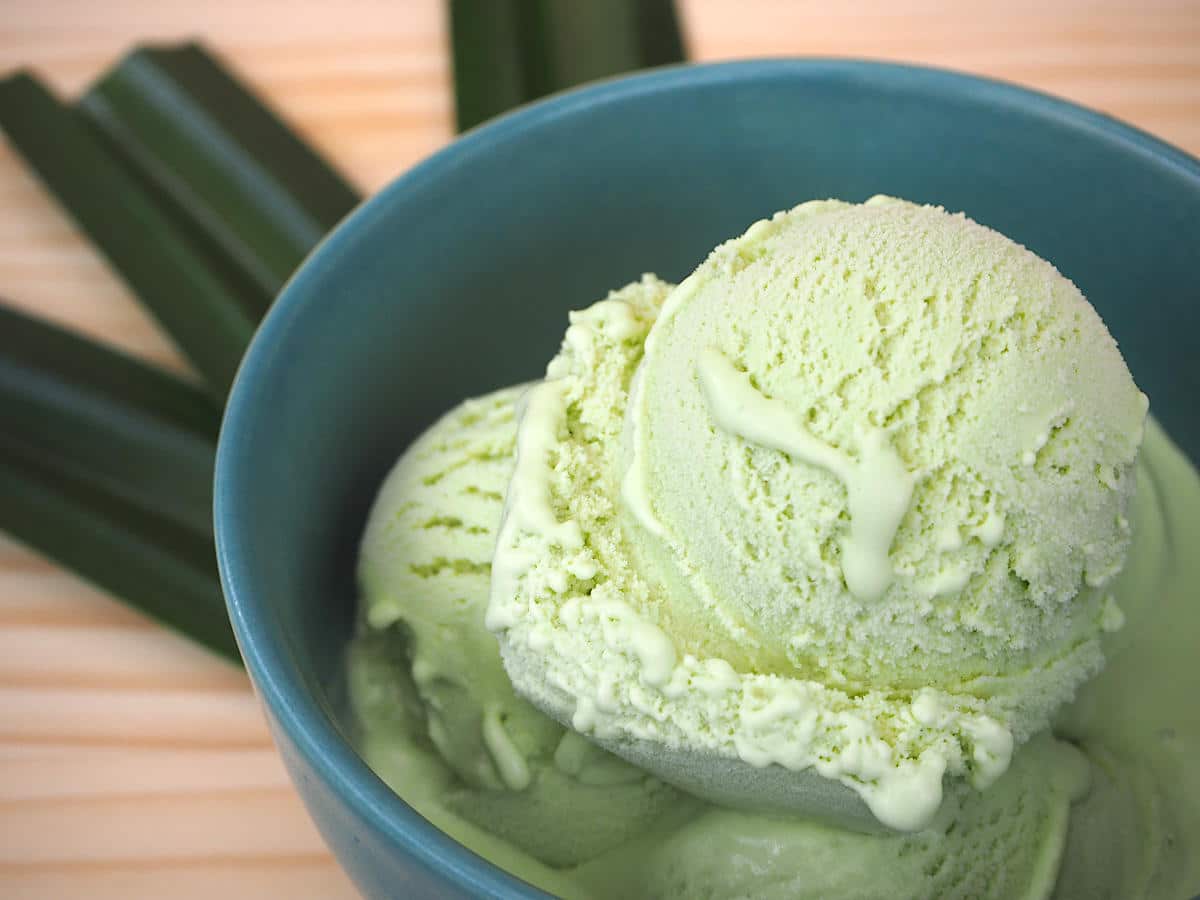 Ok pandan isn't technically a fruit or a vegetable. These long strappy leaves are commonly used to flavor desserts in Southeast Asia, so much so the flavor is sometimes referred to as Asian vanilla essence. This pandan ice cream has a delicate, herbaceous flavor and a beautiful natural green color.
So there you have it, a collection of all my ice cream recipes that are perfect to make in a Cuisinart ice cream maker. Or if you're feeling inspired to do your own flavor experiments you can start with my basic Cuisinart ice cream recipes here, which is the perfect base to add your own flavors to. Happy scooping!
Have you made any of these recipes? Tell me how it went in the comments below and tag me on instagram so I can see your delicious creations! @keep_calm_and_eat_icecream
Or follow me on Facebook or Pinterest for more delicious recipes, including notifications when I bring out a new recipe!
Basic Cuisinart Ice Cream Maker Recipe
📋 Recipe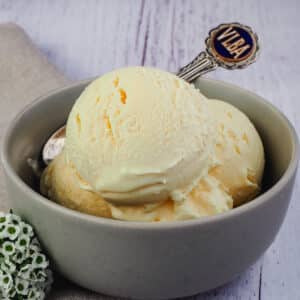 Cuisinart Ice Cream Maker Recipes
This is a base ice cream recipe for a Cuisinart Ice Cream Maker. It will work well in a freezer type or compressor ice cream maker, or any other brand of churning ice cream machine. It provides the perfect base to add your own flavors to.
Equipment
Cuisinart ice cream maker
Ingredients
Cuisinart ice cream maker recipes base recipe
2

flat teaspoons (5 gms)

tapioca starch

1 & ¼

cup (315 mls)

full cream milk

1 & ¾

cups (440 mls)

thickened cream

½

cup (110 gms)

Grandulated sugar

1 & ¼

teaspoons (10 gms)

glucose syrup

*optional
Optional flavor additions:
For vanilla ice cream
2

teaspoons

vanilla extract
For chocolate ice cream
½

cup (50gms)

Dutch cocoa powder
For chocolate chip ice cream
¾

cup (150gms)

semi sweet chocolate chips
Instructions
Put the tapioca starch into a small bowl. Measure the milk. Add a couple of table spoons of milk into the bowl with the tapioca starch and mix well to form a slurry.

Add remaining milk, cream, sugar and glucose syrup to a small saucepan.

Heat on medium-low, gently stirring well until all the sugar is dissolved.

Add tapioca starch slurry and mix well for a few minutes.

Remove from heat and allow to cool for a few minutes.

Transfer to heatproof container, cover and chill in fridge for at least four hours, ideally overnight.

Put storage container into freezer to chill

If using a self churning machine turn it on ten minutes before churning to cool down. Other wise remove the bowl from the freezer just before churning.

Churn the ice cream. It will be the consistency of soft serve when done.

Transfer churned ice cream to chilled container and freeze until firm.

To serve remove from the freezer, scoop and enjoy! Great on its own, in a ice cream sundae or pared with your favourite desserts. Delicious!
Notes
Adding flavors:
This is a base for making Cuisinart ice cream maker recipes. It's perfect for adding your own flavors.
Some fun suggestions include:
For vanilla ice cream - add 2 teaspoons of vanilla extract after you have allowed the base to cool. Mix well.
For chocolate ice cream - add ½ cup (50gms) Dutch cocoa powder when you add the cream, milk and sugar to the post. Mix well.
For chocolate chip ice cream - add ¾ cup (150 gms) semi sweet chocolate chips at end of churning if you have small chips. If you chips are larger, layer the chips into the churned ice cream as you scoop it into the storage container.
This is just a very small selection of the ice cream flavors you can make in your Cuisinart Ice Cream maker.
Have fun experimenting, or for a tried and try recipes where someone has done the experimenting for you try one of my many Cuisinart ice cream maker recipes listed above. Happy scooping!
Ingredient substitutions:
Tapioca starch - substitute with the same amount of corn flour. The texture of your ice cream may start to go icy more quickly if you use corn flour. If you are using corn flour add it to the cream and milk at the beginning of cooking the base, it the corn flour takes longer to cook.
Glucose syrup - helps keep the ice cream soft and scoopable and stop it from freezing like a brick! If you can't get glucose syrup you can try substituting the same amount of light corn syrup.
Nutrition
Calories:
345
kcal
Carbohydrates:
25
g
Protein:
4
g
Fat:
27
g
Saturated Fat:
17
g
Polyunsaturated Fat:
1
g
Monounsaturated Fat:
7
g
Cholesterol:
84
mg
Sodium:
39
mg
Potassium:
140
mg
Sugar:
25
g
Vitamin A:
1094
IU
Vitamin C:
0.4
mg
Calcium:
106
mg
Iron:
0.1
mg
Nutritional Disclaimer
Nutritional information is an estimate based on an online database. The nutritional content of ingredients may vary by brand. If you require accurate nutritional information, you should calculate this based on the specific brands and products you are using.