These traditional gingerbread men cookies are the perfect festive Christmas food. They are full of warming ginger flavor and make fantastic make-ahead Christmas gifts.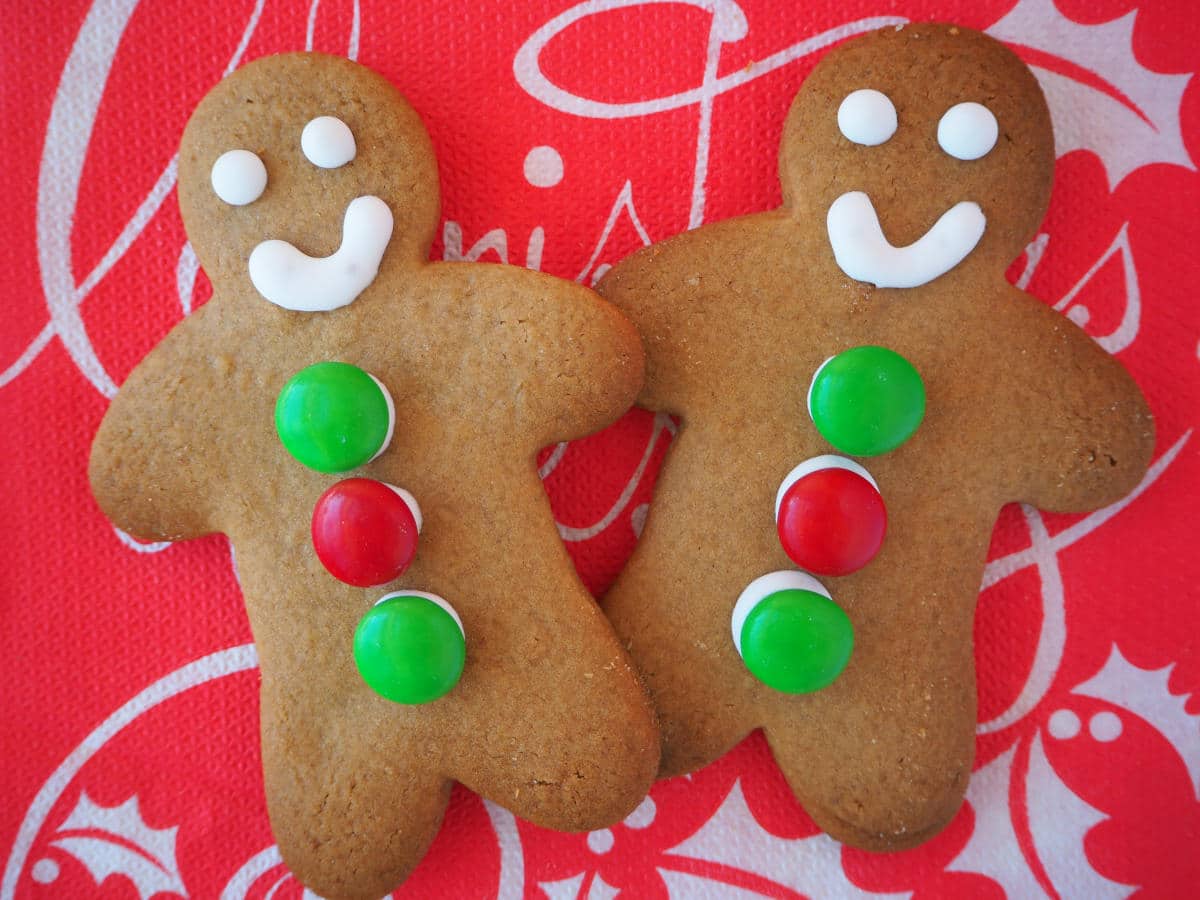 Jump to:
I am so excited to share this homemade gingerbread recipe with you. I couldn't tell you how old I was when I started making this, I have been making it for as long as I can remember. When I was a child every year my Mum and I make bucket loads of these gingerbread cookies for home, friends, and family. The smell of gingerbread wafting through the house and real Christmas trees is synonymous with Christmas for me.
Now that I have my own family I am enjoying sharing my traditional family Christmas recipes with my kids and now with you!
Ingredients
Ground ginger: gives the classic ginger taste to this recipe. I like my gingerbread Very gingery. If you prefer a milder flavored gingerbread I strongly recommend you reduce the amount of ginger to one and a half to two tablespoons.
Golden syrup: adds to the wonderful caramel flavors in this recipe without competing with the ginger. If you can't get golden syrup you could try replacing it with a mild-tasting honey or maple syrup, but it's likely you will be able to taste these different flavors in the cookies.
Brown sugar: also called light brown sugar gives this recipe a lovely caramel note, without overwhelming the ginger.
Butter: regular salted butter is fine in this recipe, but make sure it's at room temperature before you start baking. You could also use dairy-free marge if you prefer.
Plain white flour is fine for this recipe. These cookies are not meant to puff up very much so don't be tempted to use self-raising flour. You can also use all-purpose flour.
Egg yokes: help bind these cookies together. You can use half the egg whites for the optional decorations, or make a small batch of my amaretti cookies or pretty rainbow meringues.
Bicarbonate of soda: also known as bicarb, helps bind these cookies. This is not the same as baking powder and you can not substitute one for the other in this recipe.
Optional decorations
Icing sugar: also called powdered sugar. Other types of sugar won't work for this recipe. And remember to sift it or your icing may be lumpy.
Egg white: helps to bind this recipe together and for it to set solid.
Lemon juice: lemon juice helps the icing set and remain hard. I don't recommend using bottled lemon juice, it may add an unpleasant bitter taste to your icing.
Round candies: are used for the pretty gingerbread men's buttons. I used M&Ms and mini smarties in this recipe but you can use whatever button-shaped candy you like or mix it up with different shapes and types. You could also leave the candies off if you prefer.
How to make gingerbread men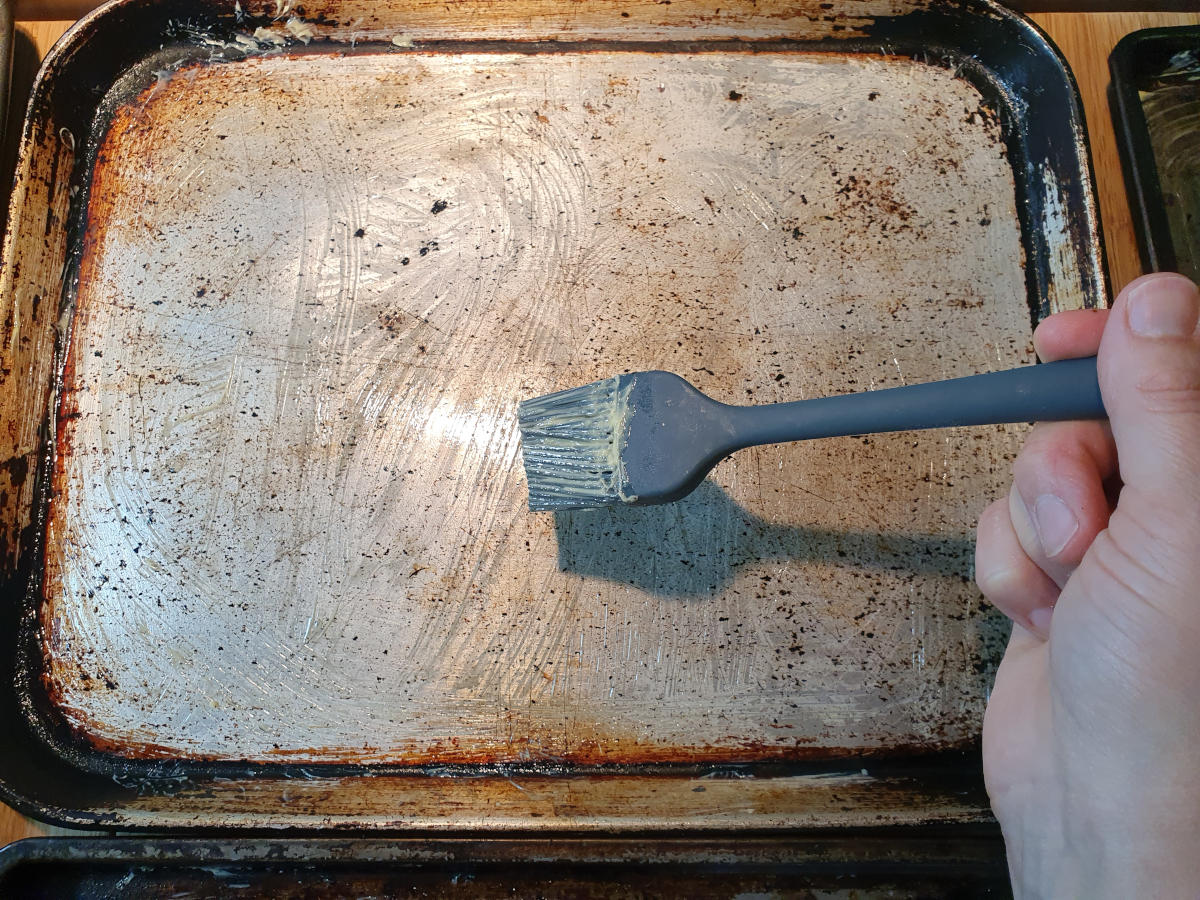 Preheat your oven to 355°F (180°C) (fan forced). Grease about four oven trays with butter or marge. This recipe makes approximately six to eight trays of gingerbread, depending on how big your trays are. I usually grease every tray I have that will fit in the oven, then have a production line going.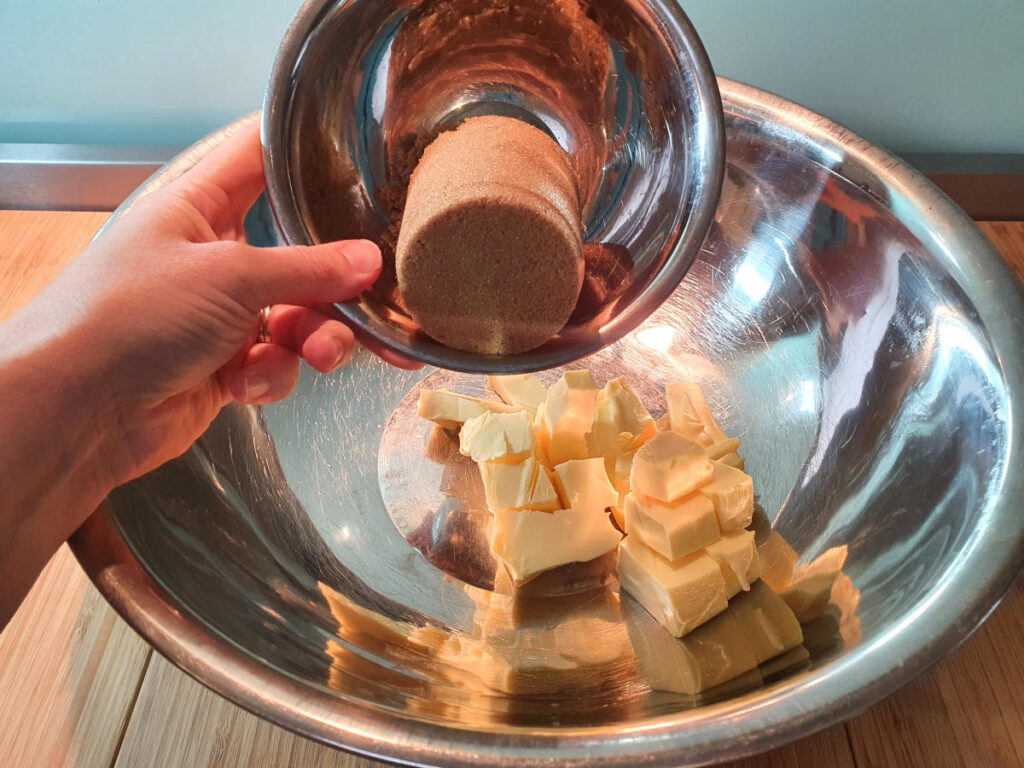 Add the butter and brown sugar to a large mixing bowl. Mix together, either by hand or with hand-held electric beaters or stand mixers. Add the golden syrup, egg yokes, and ginger. Mix well.
At this point, you will need to switch to a large strong wooden spoon, unless your mixer can handle thick cookie dough. I strongly recommend a thick-handled wooded spoon, this recipe has claimed at least two thin-handled wooded spoons!
Add the flour, one cup at a time, mixing well between each addition.
Hot tip: If you don't have a kitchen scale I recommend using the spoon and fill method to measure the flour. Spoon the flour into the cup, then level off with a flat butter knife or spatula.
The dough will become progressively harder to mix. You may need to tuck the bowl in next to your body and give it some elbow grease to mix in the flour towards the end.
Heavily flour a clean workbench and tip the dough onto the bench. Sprinkle with more flour. Cut the dough in half and put half back into the mixing bowl.
Roll the dough out with a rolling pin until approximately 3 to 4 mm thick, sprinkling more flour as needed to prevent it from sticking to the rolling pin.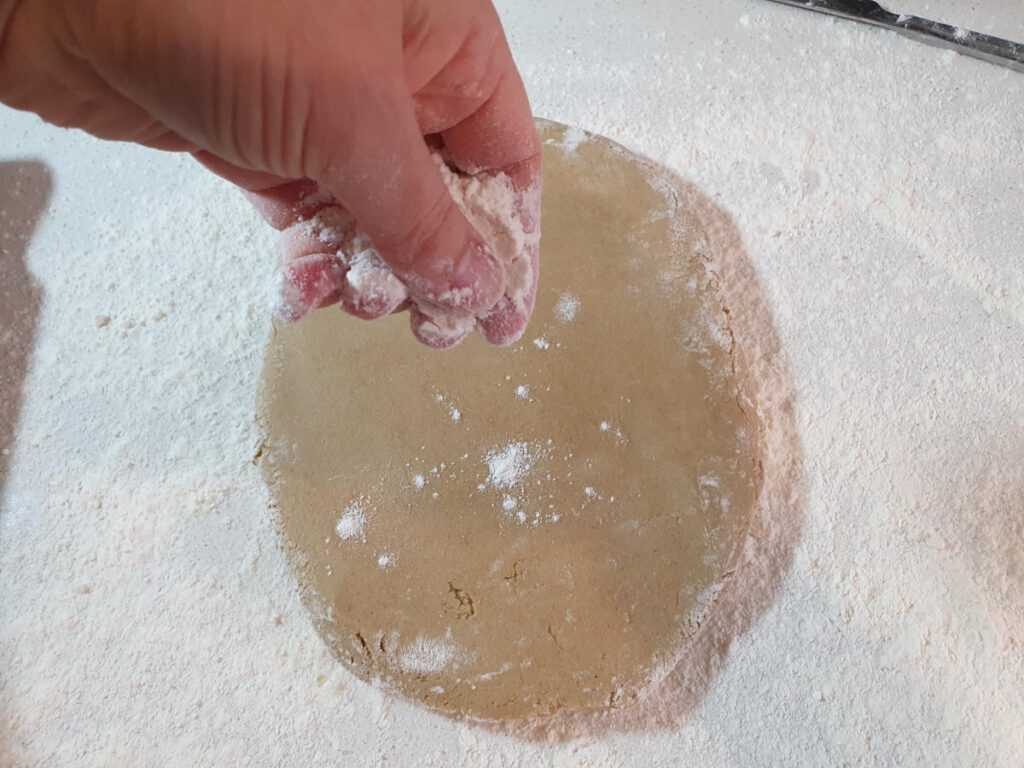 Cut the gingerbread out with the gingerbread men's cookie cutters, transferring each man to a baking tray as you go, leaving about half an inch of space in between each cookie. You also make plenty of other gingerbread shapes. My family has always made gingerbread stars but you can make Christmas trees or whatever cookie shapes you like. One year we even made gingerbread cats and dinosaurs!
Hot tip: These cookies were baked in a fan forced oven at sea level. All ovens can vary, so adjust the time and temperature as needed for your oven and location.
Fill the trays, then bake for about ten to twelve minutes or until just starting to brown around the edges. Remove from oven and allow to cool for a few minutes, before transferring to wire rakes to cool completely.
How to decorate gingerbread men
Sift the icing sugar into a bowl. It is important not to skip this step or you may end up with unpleasant lumpy bits in your icing.
Put the single egg white into a bowl and beat with hand-held electric beaters or a stand mixer until soft white peaks start to firm. Add the icing sugar a bit at a time, beating well between each addition.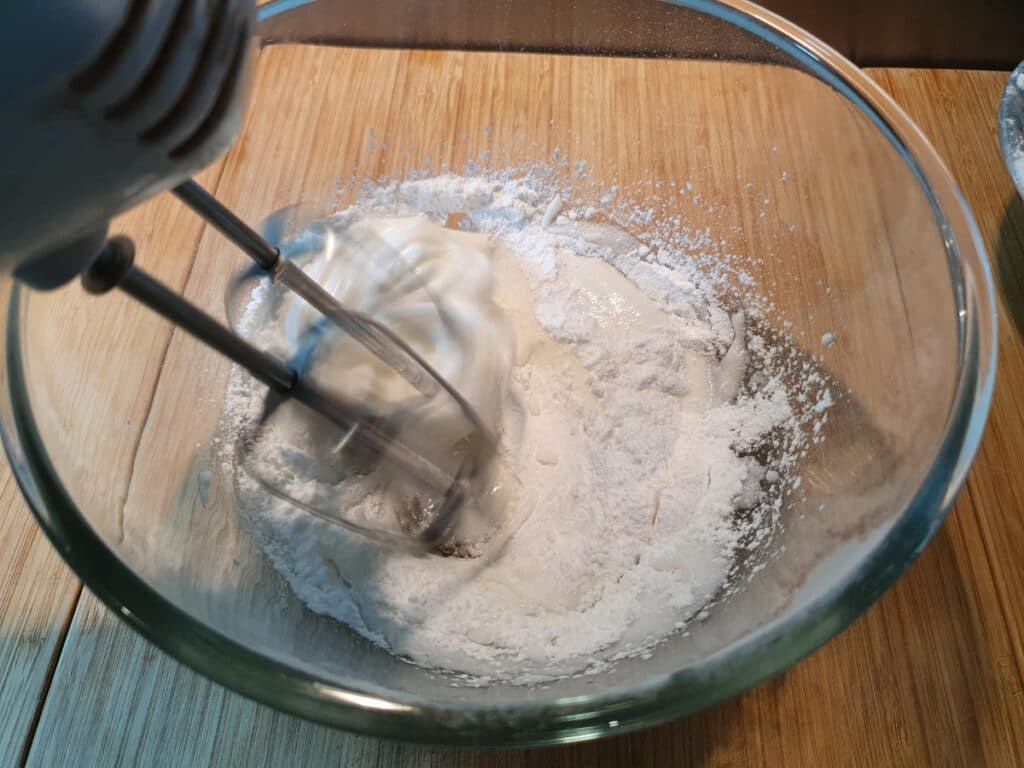 Add the lemon juice and beat well. Transfer icing into a piping bag with a small round nozzle, if using. If you don't have a piping bag you can put the icing mix into a small zip lock bag and cut the corner off to make a temporary piping bag.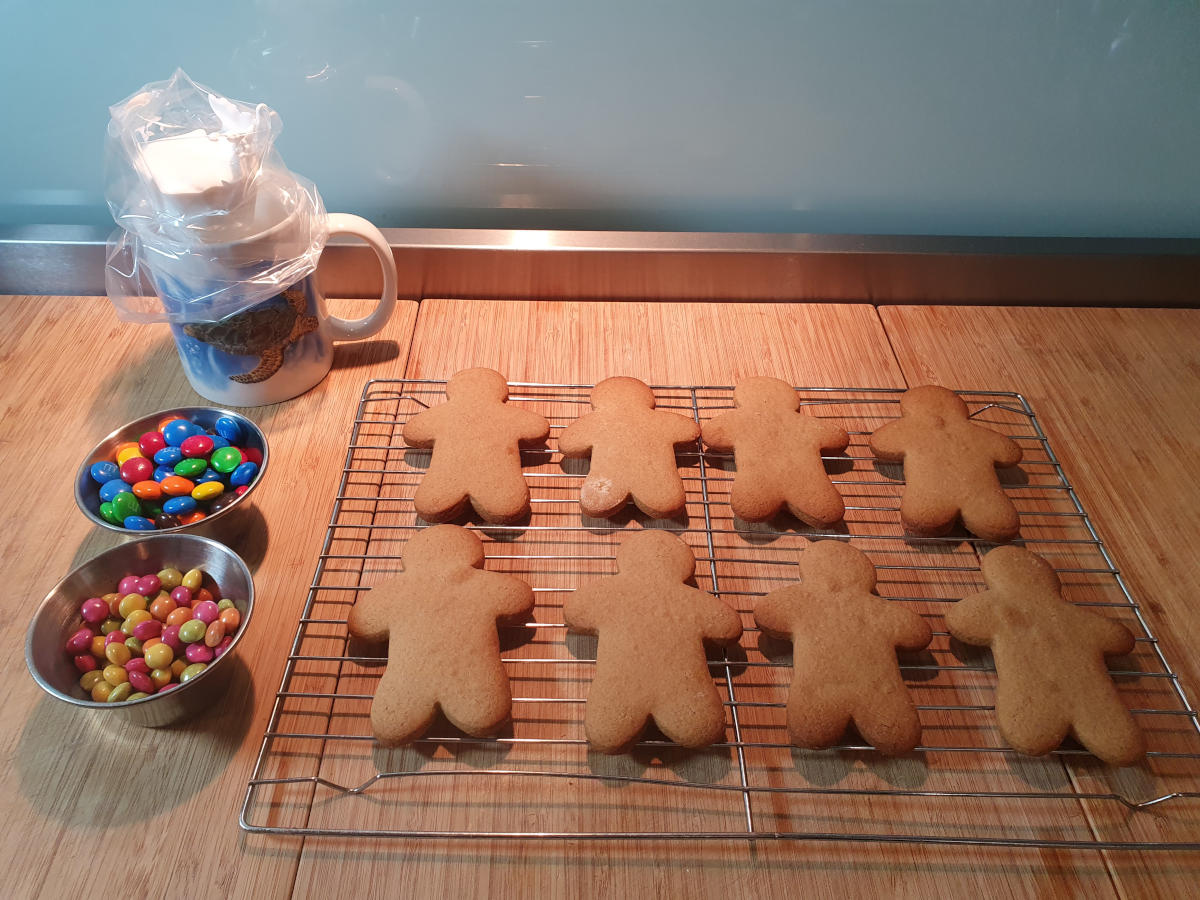 You can rest the piping bag in a mug to make it easier to fill and make sure you fold back the edges of the piping bag before filling to make it easier.
Pipe the icing onto the gingerbread men. I like to keep things classic with little smiley faces and three button dots down the middle. You can use button shapes candies such as M&Ms or smarties or any button-shaped candies if you like. If you are making shapes other than gingerbread men you can decorate them however you like.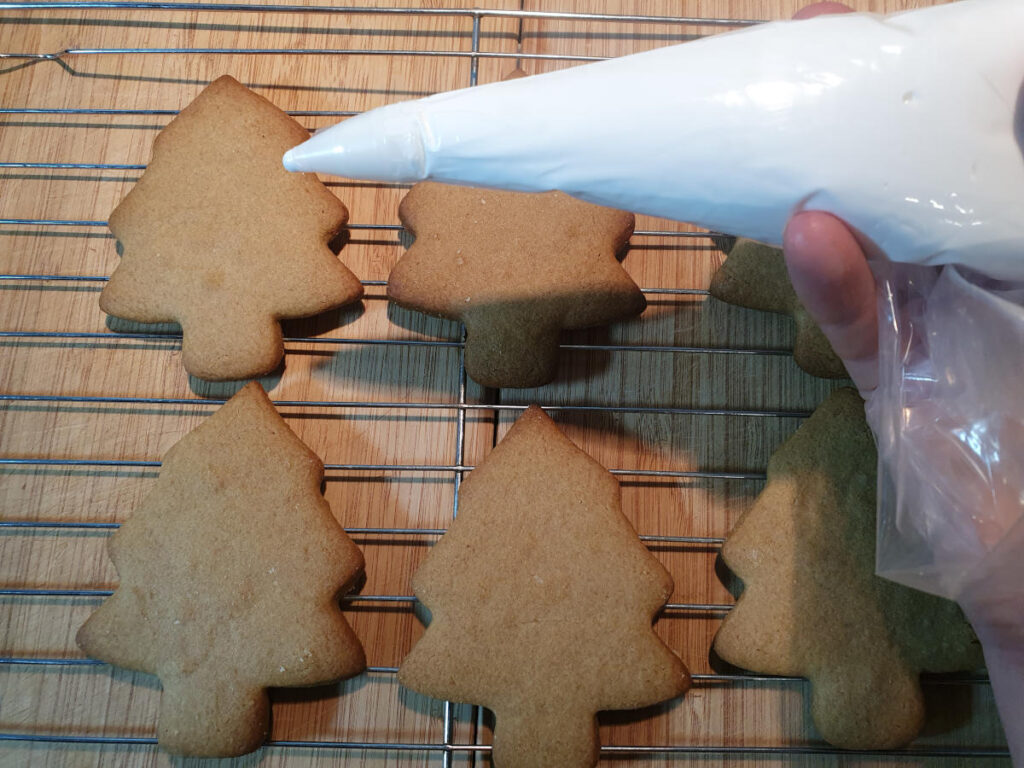 I made some cute gingerbread trees and gingerbread stars, see the photos for some ideas or let your imagination run wild! Note this icing recipe makes a fairly thick, puffy icing so it may be difficult to get finer details.
Allow to dry completely before storing in an airtight container lined with baking paper.
How to make gingerbread men gifts
To make pretty and delicious editable gingerbread men gifts get some clean cellophane bags. Put as many gingerbread men as you like into the bag and add some extra candies to the bag. I like red and green M&Ms for some extra festiveness. Tie the bag firmly with a curling ribbon and curl. The decorated gingerbread men will last for up to a week in a tightly sealed gift bag. For longer shelf life I recommend not decorating the gingerbread, in which case it should last for up to a month in a tightly sealed airtight gift bag.
If you are posting to friends and family put the gingerbread men or shapes into a single layer of the bag, lay it flat, and tape it between two pieces of cardboard. Remember to mark the package as fragile. I have successfully posted these cookies un-iced from Australia to England, although in recent years the postage has become frightfully expensive!
Always check your local laws and restrictions on posting food, especially between countries.
How to serve
These pretty gingerbread men are perfect to serve after a Christmas feast, as part of a festive dessert bar, or when friends and family pop over during the festive season. They also make fantastic make-ahead homemade Christmas gifts.
How to store
These gingerbread men will store well un-decorated in an airtight container lined with baking paper for up to a month and maybe Ok for up to a further month after that. If undecorated they should last for a similar amount of time in a sealed, airtight gift bag.
If the cookies are icing and decorated the storage time is reduced. They should last ok for up to a week in a sealed airtight container or gift bag. After this, they will still taste good but may start going soft and less crispy.
Have you made this recipe? Tell me how it went in the comments below and tag me on Instagram so I can see your delicious creations! @keep_calm_and_eat_icecream
Looking for more yummy dessert recipes
Why not try making
Follow me on Facebook or Pinterest for many more delicious recipes.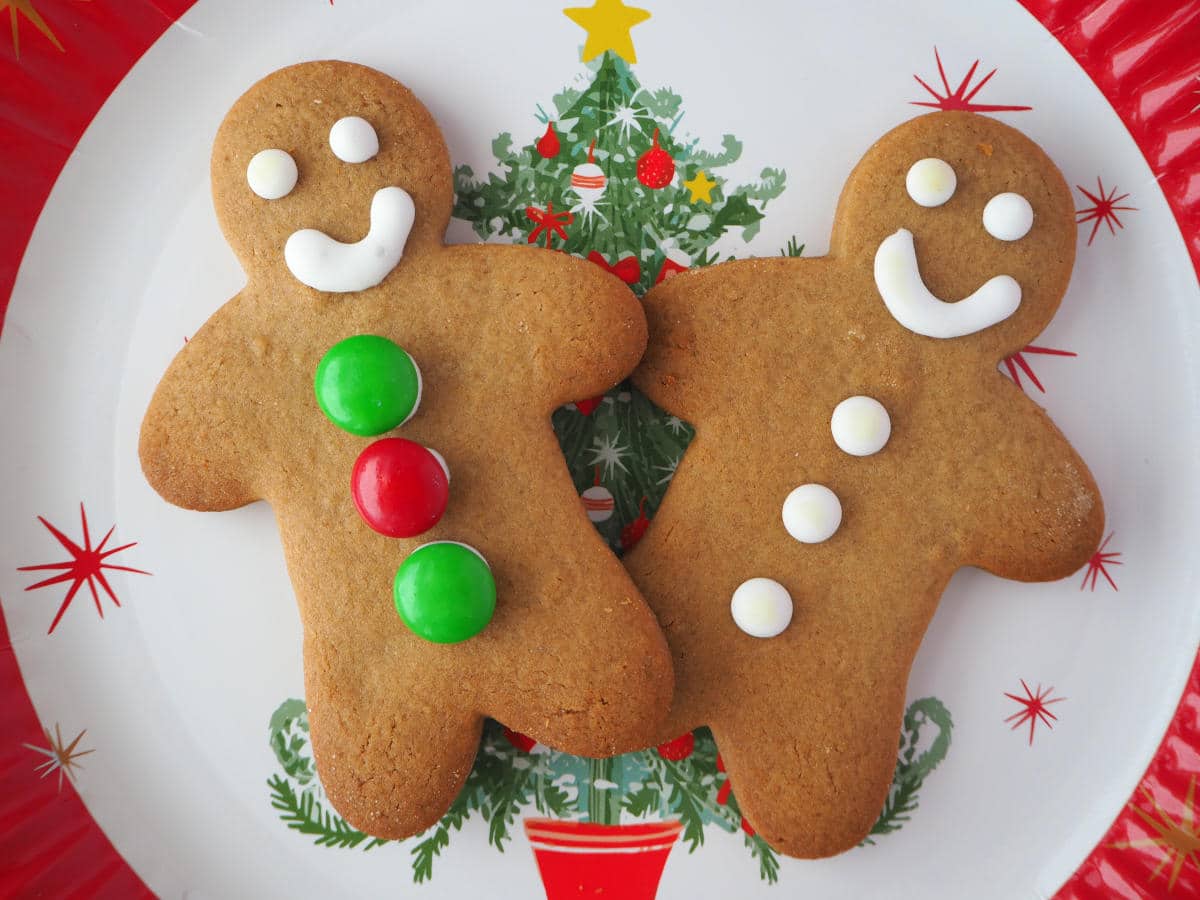 📋 Recipe
Gingerbread men
These traditional gingerbread men cookies are the perfect festive Christmas food. They are full of warming ginger flavor and make fantastic make ahead Christmas gifts.
Equipment
Electric hand beaters or a stand mixer

Baking trays

Cookie cutters in your preferred shapes i.e. gingerbread men, stars, trees etc.

Rolling Pin

Piping bag with fine round tip for decorating (optional)
Ingredients
Gingerbread
extra

butter or margarine to grease several baking trays with.

1

cup (220gms)

tightly packed brown or light brown sugar

2

sticks plus 1 tablespoon (250gms)

butter, room temperature

1

cup (250mls)

golden syrup

2

egg yokes

from large eggs

5

cups (750gms)

plain flour

*or all purpose flour

2

teaspoons

bicarbonate of soda

3

flat tablespoons

ground ginger

*reduce to 1 and a half to 2 tablespoons if you like a milder ginger flavor

extra plain flour for dusting
For optional decorations
1

cup (120gms)

icing or powdered sugar

1

egg white, from a large egg

1

teaspoon

lemon juice

decorations such as M&Ms, smarties or your favorite candy.
Instructions
Gingerbread
Preheat oven to 355°F (180°C) (fan forced).

Lightly grease two to four baking trays with butter or marge.

Add sugar and butter to a bowl and beat together.

Add egg yokes and golden syrup and ginger and beat together.

You will need to switch to mixing with a large wooden spoon at this point.

Sift in bicarb and add flour one cup at a time, mixing well between each addition.

Sprinkle a clean worktop well with flour and turn out dough.

Sprinkle with additional flour and kneed lightly.

Cut dough in half, put half aside.

Ensure workbench is well floured. Roll out half of dough until its about 3 to 4 mm thick.

Cut out shapes with cookie cutters, transferring to pre-greased baking trays as you go.

Try to cut the shapes out on the dough close together to minimize re-rolling. When the first batch is all cut out, ball up the dough and re-roll as needed.

Bake in the oven for ten to twelve minutes or until golden brown.

As the first batch of gingerbread comes out of the oven transfer to wire racks to cool. roll, cut out in the next batch onto bake.

Re-grease the trays and continue to cut and lay gingerbread onto the trays until all the dough is used up.

Cool completely before decorating.
Optional decorations
Put egg white into a clean bowl and beat until soft white peaks form.

Sift icing sugar/powdered sugar into a bowl.

Gradually add sifted icing sugar to beaten egg whites, beating well between each addition.

Add lemon juice and beat well.

Transfer to piping bag if using and decorate gingerbread.

Add candy if using for buttons etc.

Allow to set, then store in an airtight container or put into clean bags with curling ribbon for beautiful homemade gifts.
Notes
NB: The recipe was first published for Christmas 2020 and I know many of you made and loved it. When making it in 2021 I discovered a small error in the plain flour measurements. I had incorrectly transcribed my family recipe from 5 cups ='s 600gms. When making the recipe in 2021 I realized the correct plain flour measurement Should have been 5 cups ='s 750gms plain flour.
It still works with 600gms flour, but the dough is super sticky. 750gms is better, the dough is much less sticky, easier to work with and is a better texture.
So if you made the recipe with 600gms and loved it all good! But I recommend 750gms, its better! And yes if you are not using scales its possible for 5 cups of flour to vary as much between 600gms and 750gms, so you may not have noticed the difference! I really recommend a cheap digital kitchen scale, you will get better, more consistent results.
This gingerbread was baking in a fan-forced oven at sea level. All ovens can vary, so adjust the temperature and baking as needed for your oven.
This gingerbread has a strong ginger taste. If you prefer a milder ginger flavor reduce the amount of ginger to one and half to two tablespoons.
You can decorate the gingerbread or leave it plain as you prefer.
This gingerbread makes excellent make-ahead edible Christmas gifts. It will store well un-iced in an airtight container for up to at least a month and it OK to eat but may become soft for a further month after this.
The time given in this recipe includes the hands-on cooking time and baking for one oven full of gingerbread. It does not include baking time for multiple ovens full (which take about 10 to 12 minutes each), or cooling time between baking and decorating.
Nutrition
Calories:
137
kcal
Carbohydrates:
25
g
Protein:
2
g
Fat:
3
g
Saturated Fat:
2
g
Polyunsaturated Fat:
0.2
g
Monounsaturated Fat:
1
g
Trans Fat:
0.1
g
Cholesterol:
8
mg
Sodium:
59
mg
Potassium:
26
mg
Fiber:
1
g
Sugar:
11
g
Vitamin A:
91
IU
Vitamin C:
0.04
mg
Calcium:
8
mg
Iron:
1
mg
Nutritional Disclaimer
Nutritional information is an estimate based on an online database. The nutritional content of ingredients may vary by brand. If you require accurate nutritional information, you should calculate this based on the specific brands and products you are using.
Pin it for later!