This New Zealand hokey pokey ice cream is a homemade spin on a classic kiwi ice cream flavor.
Hokey Pokey or honeycomb ice cream is a New Zealand classic. A trip to New Zealand isn't complete without trying a scoop or two. Most Kiwis have nostalgic childhood memories of this flavor, my husband, who's from the North Island, included.
Hokey pokey candy, also known as cinder toffee or sponge candy, is a delicious treat that's made by simply heating sugar and golden syrup together and adding bicarb. The bicarb causes a reaction that makes the mix rapidly expand in volume. The mix is then quickly turned out and allowed to set into a sweet crunchy slab that's broken into pieces.
The ice cream version of hokey pokey is thought to have been made with pieces of Crunchie, a honeycomb-coated chocolate bar. The mass-produced version of hokey pokey many are familiar with has pieces of honeycomb toffee in hard crunchy bits, swirled through vanilla ice cream with a caramel sauce.
After the delicious honeycomb ice cream I had at a local ice cream shop last week, I decided to have a go at making a Hokey Pokey ice cream recipe myself.
This recipe combines a creamy vanilla bean ice cream base with a decadent honey caramel sauce and a crunchy fresh honeycomb candy. The three elements come together to make a rich, creamy honeycomb ice cream that my husband assures me is as good as, if not better than the original. Try it for yourself and let me know what your think!
First, make the vanilla bean custard ice cream base. Then make the honey caramel and finally the fresh honeycomb which has the shortest shelf life.
Looking for more classic New Zealand desserts? Why not try making my feijoa cake or lolly slice? Delicious!
In the mood for more delectable ice creams? Check out my full collection of Cuisinart ice cream maker recipes (that work well in other brands ice cream makers too!).
Vanilla bean ice cream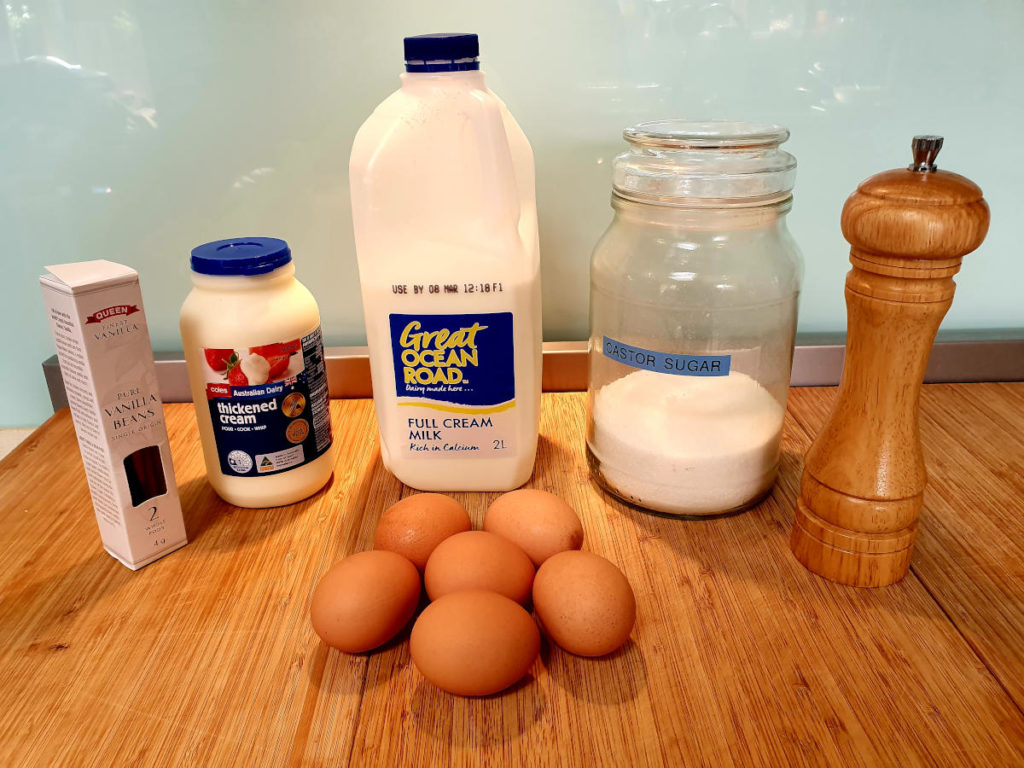 Put the water onto boil for your double boiler if using.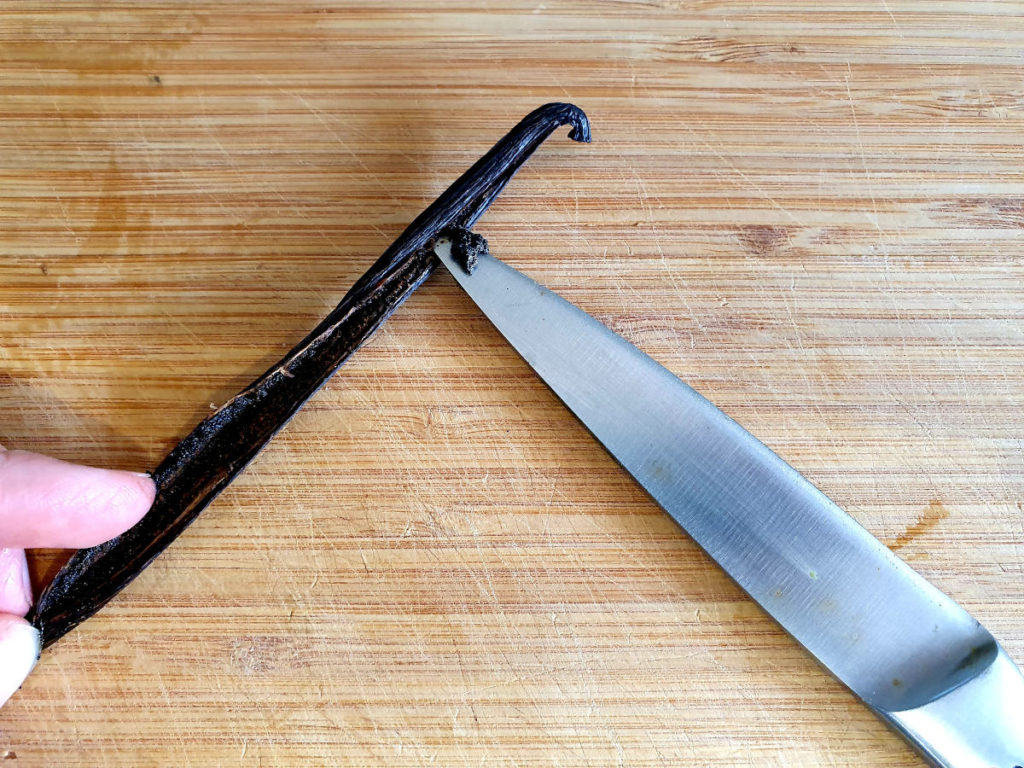 Add milk and cream to a small saucepan. Using a sharp knife carefully split and scrap the seeds out of the vanilla bean and add both the seeds and the rest of the bean to the milk and cream mixture. Mix carefully to separate the seeds and distribute them through the mix. Simmer on low heat for five to ten minutes.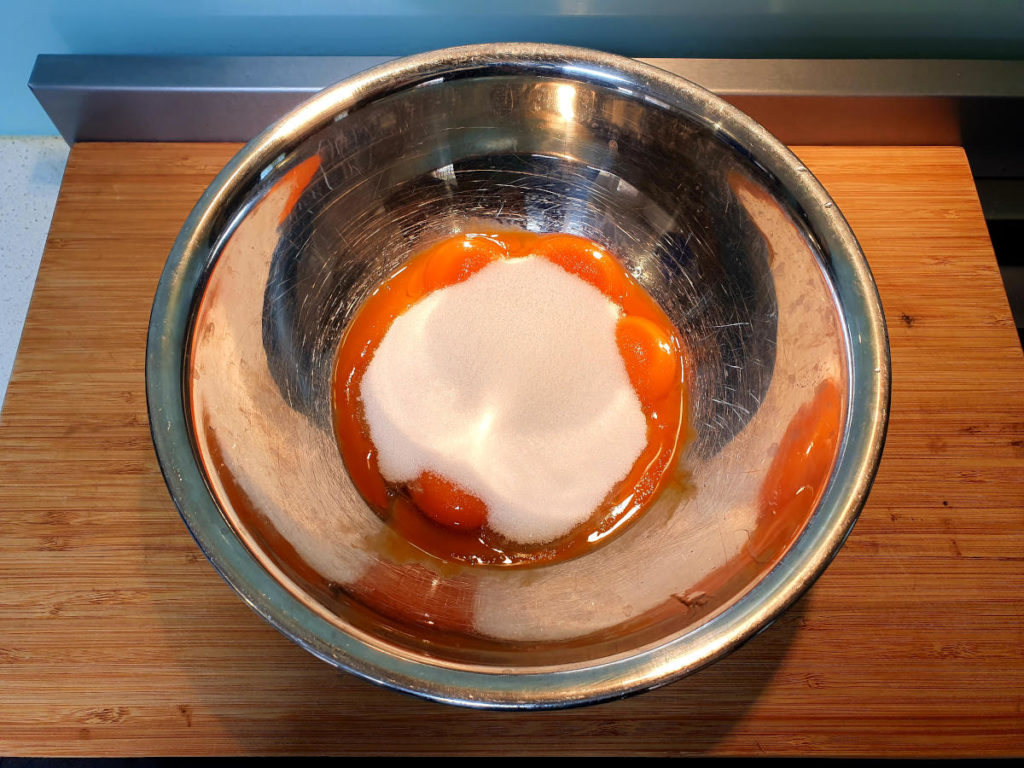 Separate egg yokes and add sugar in a medium heat-proof bowl. Blend together using a hand mixer or mixing bowl until eggs and sugar go pale and foamy.
Carefully pour the milk/cream/vanilla bean mix into the egg and sugar mix a bit at a time, stirring well between each addition.
Hot tip: place heat proof non slip surface under the bowl to help it stop moving, such as a damp tea towel.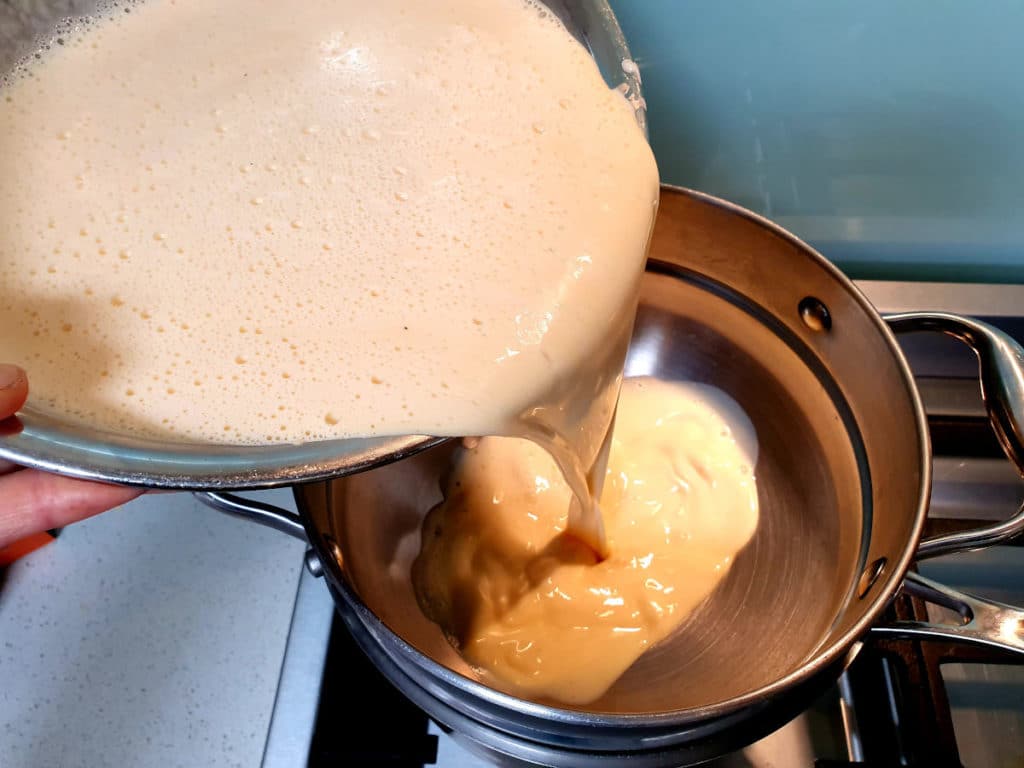 Once combined pour all the mix into the top of a double boiler. Cook over low heat, string frequently, and watch carefully. If you cook the mix at too high heat or for too long you will scramble the eggs. Cook the custard until the mixture is thick and coats the back of a spoon or spatular.
Hot tip: if you don't have a double boiler you can use a regular saucepan, but you will need to watch the mix very carefully to avoid over heating and scrambling the eggs.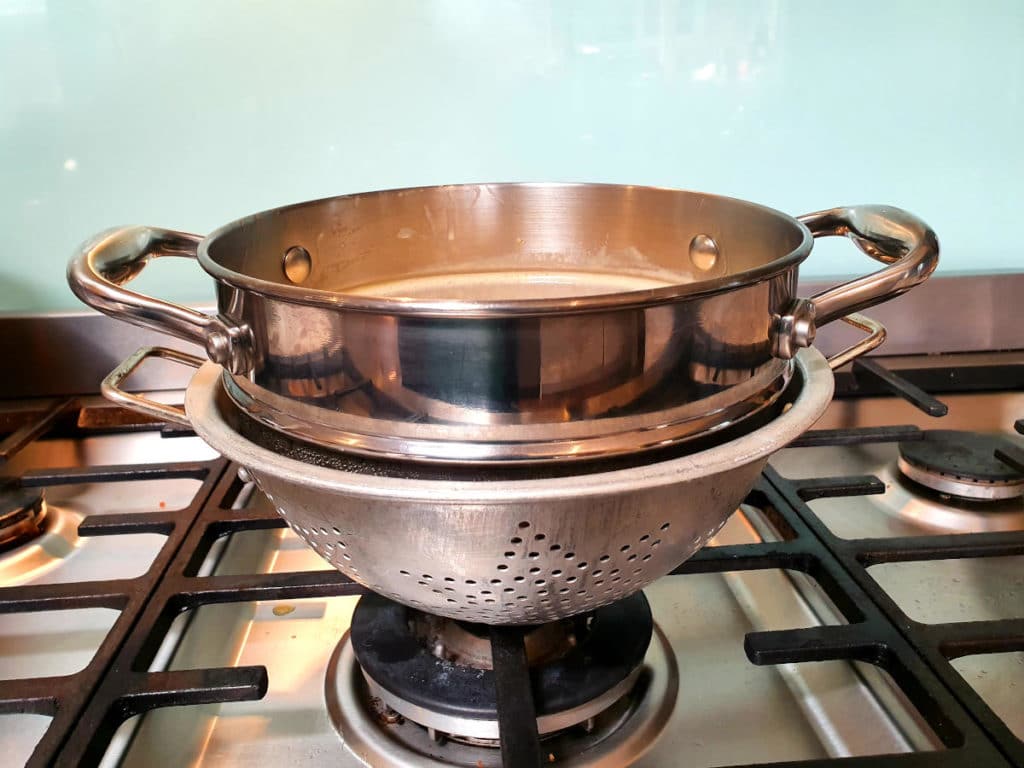 Once the mix is thick enough remove the top of the double boiler and put it on a stable surface, such as a colander to cool off for a few mins. Pour the mix into a container, cover, and refrigerate overnight.
Honey caramel sauce
This sauce is very easy to make and tastes amazing in this ice cream or anywhere else where you want a rich, sticky caramel sauce. I dare you to try and resist eating it straight from the jar with a spoon!
Add honey and brown sugar to a small saucepan. Where ever possible I try to get local honey. It supports local producers (and bees!), which means I know where it comes from and it tastes much better and is more complex than supermarket brought honey. This particular batch came from Holley's Backyard Bees when I did a beginner bee-keeping course recently. The brown sugar gives this a lovely deep tasting caramel but you could use raw or castor sugar if you prefer a lighter caramel.
Mix the honey and brown sugar on low heat until the sugar dissolves and the mix has gone a lovely rich amber color. Add the butter and stir until combined. Add the cream and stir stir stir. Stir over low heat until the sauce is thickened to your liking. I like my sauce nice and thick, so this took about 15 mins over very low heat with constant string to reduce the sauce.
Hot tip: to test how thick your sauce is add a teaspoon to a small freezer proof bowl or saucer and pop into the freezer for a min. The sauce will cool rapidly and you'll be able to see how tick the sauce will be once cooled.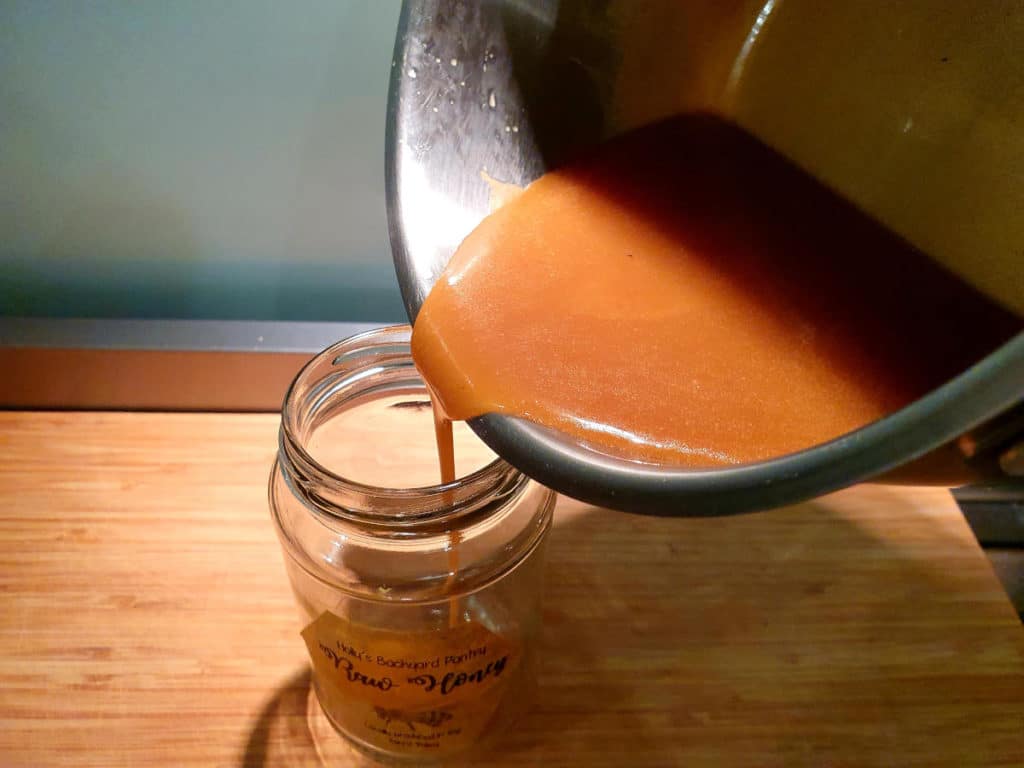 Once the sauce is thick enough pour it into a clean container with a lid. The sauce will keep in the fridge for up to a week, but I doubt it will last that long!
Honeycomb
Honeycomb is impressive but surprisingly easy to make. It's important to have your ingredients and equipment set up first because once you add the bicarbonate of soda you need to move Fast.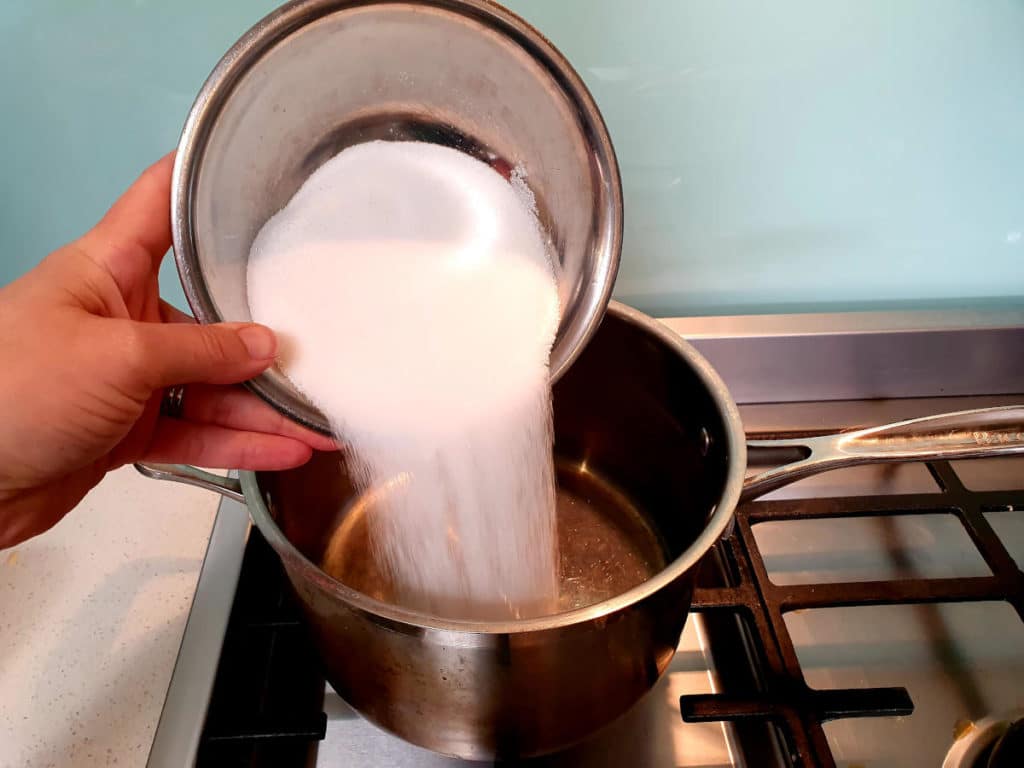 Line a baking tray or pan with parchment paper. Measure out your bicarbonate of soda and give in a stir to remove any lumps. Put both near the stove where you are making the honeycomb, with the tray on a heatproof surface.
Add your sugar and golden syrup to a LARGE pan and stir over low heat until sugar dissolves, about 5 - 10 mins. Turn heat up to medium heat and cook, stirring regularly until a beautiful deep golden color. In theory, you can use a candy thermometer and get it up to 151C. In practice when I tried to do this I burnt the sugar, so I think going by eye and color is fine.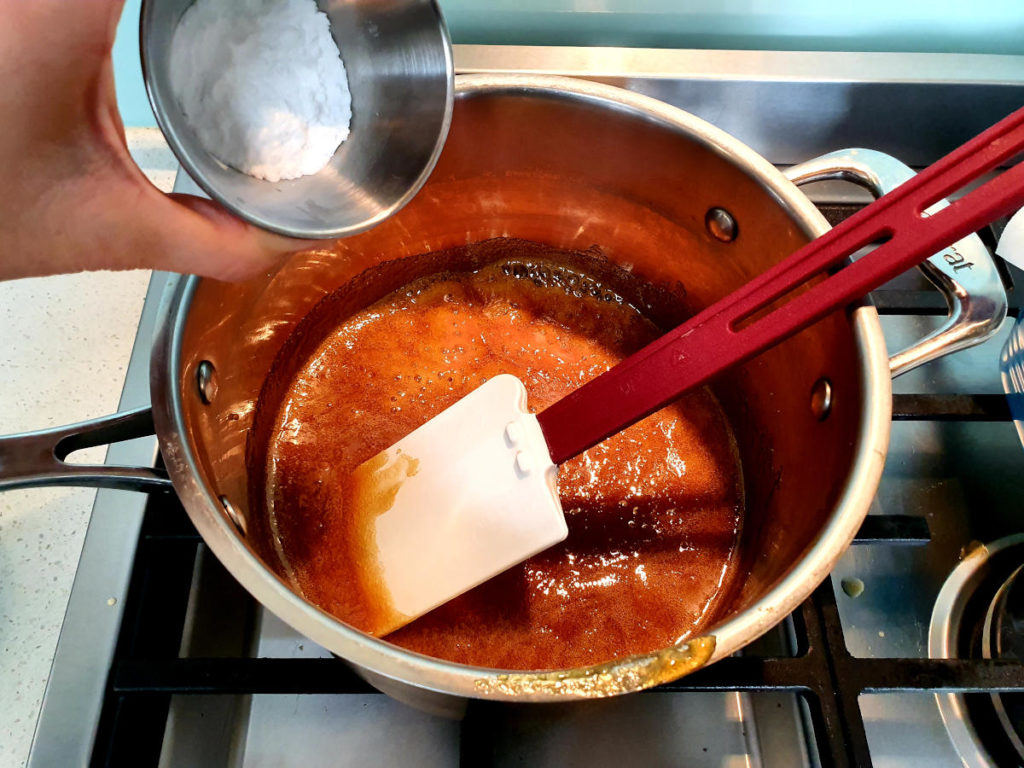 When the sugar mix reaches the right temp, take it off the heat and quickly add and stir in the bicarbonate of soda. The mix will puff up quickly. Try to make sure the bicarb is mixed through quickly, then immediately pour it into the pre-lined baking tray.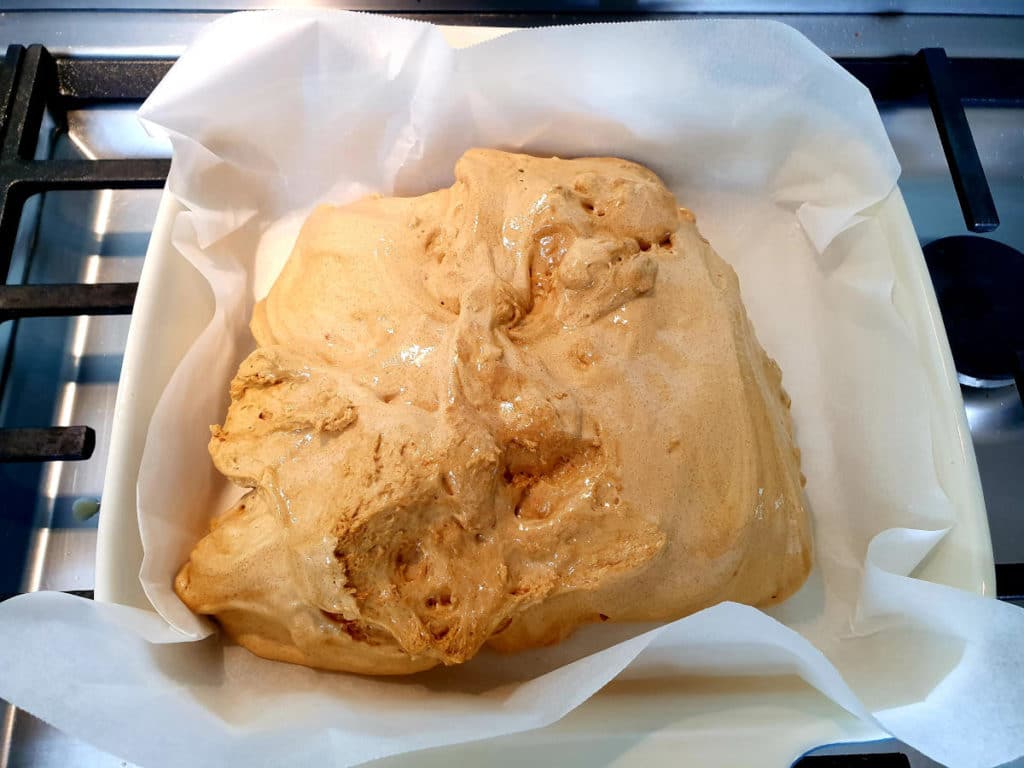 Hot tip: Add any scrapings from the pot to the side, not in the middle or you will deflate your honeycomb. Leave until completety cool, about an hour or more.
Once cool carefully peel off the parchment paper. Flip over and use the back of a heavy knife to tap the honeycomb until it cracks through. Store in a lined airtight container until needed. The honeycomb with slowly go sticky as it reacts with the moisture in the air over a few days, but it will still taste great.
To assemble
If using a self-refrigerating ice cream churner turn on the machine ten minutes before churning, otherwise take the freezer bowl out of the freezer just before churning.
Give the vanilla bean ice cream base a good stir, remove the vanilla bean pod and pour it into the churner. Churn until done, about 25mins. In a pre-chilled container, layer ice cream with caramel sauce and repeat until done.
Freeze overnight until firm.
Hot tip: you can add pieces of honeycomb to the layers at this time. During recipe testing all the smaller lumps of honeycomb dissolved into the ice cream after only twelve hours. Only the larger pieces, about the size of a large marble survived. To preserve crunch and texture I reccomend adding honeycomb when serving.
To serve scoop out some ice cream, spoon over extra gooey honey caramel and sprinkle with pieces of crunchy honeycomb on top. Sit back and enjoy your delicious creation!
Looking for more yummy dessert recipes?
Why not try making:
📋 Recipe
Hokey Pokey ice cream
A home made spin on a classic Kiwi flavour
Equipment
ice cream maker

double boiler (optional)
Ingredients
Vanilla bean ice cream
6

egg yokes

large eggs

¾

cup (165gms)

granulated

1 & ½

cups (375ml)

thickened cream

1 & ½

cups (375ml)

full fat milk

1

whole

vanilla bean

*substitute with 2 teaspoons vanilla essence

1

pinch

salt
Hokey Pokey/ Honeycomb
Nearly 1

cup (200gms)

white sugar

5

tablespoons

golden syrup

2 & ½

teaspoons

bicarb of soda

*This is NOT the same as baking soda, you can not subsitute
Honey caramel
½

cup (125ml)

honey

½

cup (100gms)

tightly packed brown sugar

2

tablespoons

butter

1

cup (250ml)

thickened cream

1

pinch

salt
Instructions
Vanilla bean ice cream
Put water onto boil for double boiler if using.

Put milk and cream into a saucepan.

Carefully split your vanilla bean if using, scrape the inside and add both scrapped seeds and rest of the bean to your milk and cream mix.

Gently simmer on a very low heat for a few mins until just simmering.

Beat egg yokes and sugar together in a medium bowl until pale. Slowly add your milk and cream, mixing well between editions.

Tip combined milk/cream/vanilla bean/egg/sugar mix into double boiler. Leave in whole vanilla bean for now. *you can use a regular saucepan but you need to watch in more closely to avoid overheating and scrambling the eggs.

Cook over a low heat, stirring frequently until mix thickens and coat the back of spoon or spatula.

Take top of double boiler off and stand somewhere stable like a flat bottomed colander.

Allow to cool for five minutes, then transfer to covered container and refrigerate overnight

*make the honey caramel as you will need this before churning*

If using a self refrigerating ice cream churner turn on ten minutes before using, otherwise take your freezer bowl out of the freezer at the last min.

Stir ice cream base and remove vanilla bean. Pour into ice cream churner and churn until done, about 15 to 25mins.

To assemble, take chilled container and layer churned ice cream with a good drizzle of honey caramel in alternating layers. *You can add pieces of hokey pokey/honeycomb at this point, but the moisture in the ice cream will make it partially to fully dissolve.

Freeze overnight or until set.
Honey caramel sauce
Add honey and brown sugar to a small saucepan

Simmer on medium low until sugar dissolves and mix is a lovely golden colour

Add butter and salt, stir until combined.

Add cream and stir to combine. Simmer for 5 mins on low, stiring frequently until sauce thickens

*to test if the sauce is thick enough add a teaspoon to a small bowl and put in freezer, then check if sauce is thick enough once cooled.

Simmer for a further 10 - 15mins until sauce is thick enough for your liking

Cool, place in a clean container and refrigerate until using it.
Hokey Pokey/ Honeycomb
*Hokey Pokey/Honeycomb will react with air and disintegrate over time. Best to make the day of use. It will still taste good but will go sticky the longer its stored.

Prepare all ingredients and lined heatproof dish with baking paper first

Add sugar and golden syrup to a large saucepan

Heat on low until sugar dissolves, stiring frequently.

Turn heat up to medium and cook until mix is a lovely deep amber.

*you can use a candy thermometer to try to get the mix to 156C but you can do it by look

Working quickly add your bicarb to the hot sugar and stir quickly. You want to evenly distribute the bicarb without knocking out the air. Turn onto pre-lined tray immediately

Leave for at least an hour until cool.

Peel off baking paper. Turn hokey pokey/honeycomb over and tap with the back of a knife to break up.

Store in a lined air tight container until needed.
To serve
Remove ice cream from freezer. Scoop into bowls and top with good drizzle of honey caramel sauce and pieces of hokey pokey/honeycomb. Eat and enjoy, try to stop at just one scoop!
Notes
The honeycomb is best made the day of use as it will react with the moisture in the air and start to deflate and go sticky as soon as it's made.
Nutrition
Calories:
553
kcal
Carbohydrates:
75
g
Protein:
5
g
Fat:
28
g
Saturated Fat:
17
g
Polyunsaturated Fat:
2
g
Monounsaturated Fat:
7
g
Trans Fat:
0.1
g
Cholesterol:
194
mg
Sodium:
338
mg
Potassium:
145
mg
Fiber:
0.02
g
Sugar:
75
g
Vitamin A:
1153
IU
Vitamin C:
0.4
mg
Calcium:
108
mg
Iron:
1
mg
Nutritional Disclaimer
Nutritional information is an estimate based on an online database. The nutritional content of ingredients may vary by brand. If you require accurate nutritional information, you should calculate this based on the specific brands and products you are using.