This classic strawberry ice cream recipe makes it easy to make this much loved ice cream at home. With fresh, luscious berries it is bursting with strawberry flavour.
Jump to:
The inspiration for this ice cream came from my boss as work who passed his recipe on to me. He's not the kind of person you'd expect to be swapping ice cream recipes with but he makes delicious ice cream. After making the recipe a number of times I decided to give it a Keep Calm and Eat Ice Cream makeover. The result is an ice cream that's bursting with strawberry flavor but still scoopable from the freezer. This homemade ice cream recipe will help you make this delicious strawberry ice cream at home. And if you're a fan of berry ice cream you may want to try making my raspberry ice cream.
Don't have an ice cream maker? Try making my no churn strawberry ice cream, delicious and no ice cream machine needed!
Or if you're in the mood for more delectable ice cream check out my full collection of Cuisinart ice cream maker recipes (that work well in other brands ice cream makers too!).
Ingredients
Strawberries: this recipe uses beautiful fresh strawberries. Its best made in peak season when strawberries are at their freshest and juiciest. You can sometimes get 'jaming' strawberries which are cheaper and a little less pretty but will work perfectly fine in this recipe.
Cream: this recipe uses thickened cream. You could also use heavy cream or heavy whipping cream. Whatever you use needs to have a fat content of about 35%.
Milk: this recipe uses full fat milk with a fat content of about 3.5%.
White sugar: is best for this recipe or you could use castor sugar, or at a pinch raw sugar, just make sure its dissolved properly when cooking your custard. I don't reccomend other sugars in this recipe as they will compete with the bright strawberry flavours.
Eggs: this recipe uses egg yokes from large eggs (approx 2oz/55gms per egg including shells before seperating). You can put aside the egg whites to use in another recipe, such as my pretty rainbow meringues.
Vanilla essence: you can use real or immitation vanilla essence in this recipe as your tastes and budget allows.
Lemon juice: this recipe uses freshly squeezed lemon juice to add some brightness. Do not be tempted to use bottled lemon juice, it won't taste the same.
Glucose syrup (optional): a little bit of glucose syrup will significantly improve the texture and scoopability of your ice cream. If you can't get glucose syrup you can use the same amount of light corn syrup or dextrose powder. If it all possible its best to measure this with a kitchen scale. If you add to much you're ice cream won't churne or freeze.
How to make strawberry ice cream
If using a double boiler, put the water onto boil. Put the milk into a seperate small saucepan and put in on warm to simmer.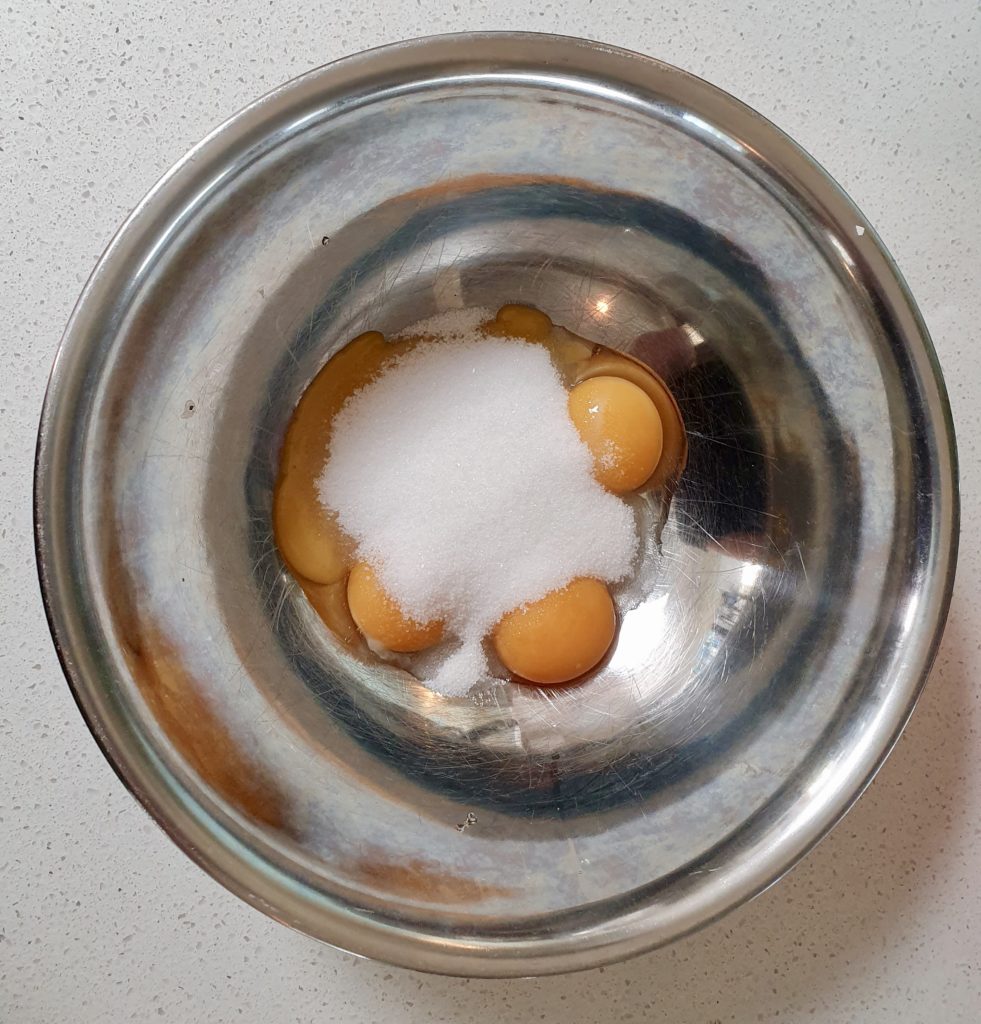 Seperate eggs and put egg whites aside for another recipe, such as my pretty rainbow meringues. Put the egg yokes and sugar for base into a bowl. Beat together with an electric hand mixer untill mix goes from deep yellow to pail almost white and creamy. To temper the egg yokes slowly add the warmed milk to the sugar and yokes at bit at a time, mixing well in between.
Once fully combined pour into the double boiler. Add the cream, vanilla and glucose syrup if using. The double boiler is option but it makes it much easier to cook custard ice cream bases. It evens out the temp and makes it less likely to curdle. I was using a metal bowl over a pot until I found this awesome insert that fits perfectly into my large pot. No more burnt fingers or trying not to dip the pot holders into the mix!
If you're not using a double boiler put the mix into a pot and have the heat on very low. You will need to watch if very carefully to prevent it catching and curdling.
Simmer gently and stir stir stir 'until it coats the back of a spoon', stiring frequently and ensuring to scrape the bottom and sides. Basically until it holds the line when you run your finger through it. Remove from heat and allow to cool slightly, then transfer to a large heatproof container. Put in fridge while you make the strawberry mix.
Hull the strawberries and cut into quarters. Blitz in a food processor then pass through a sieve to get out the seeds.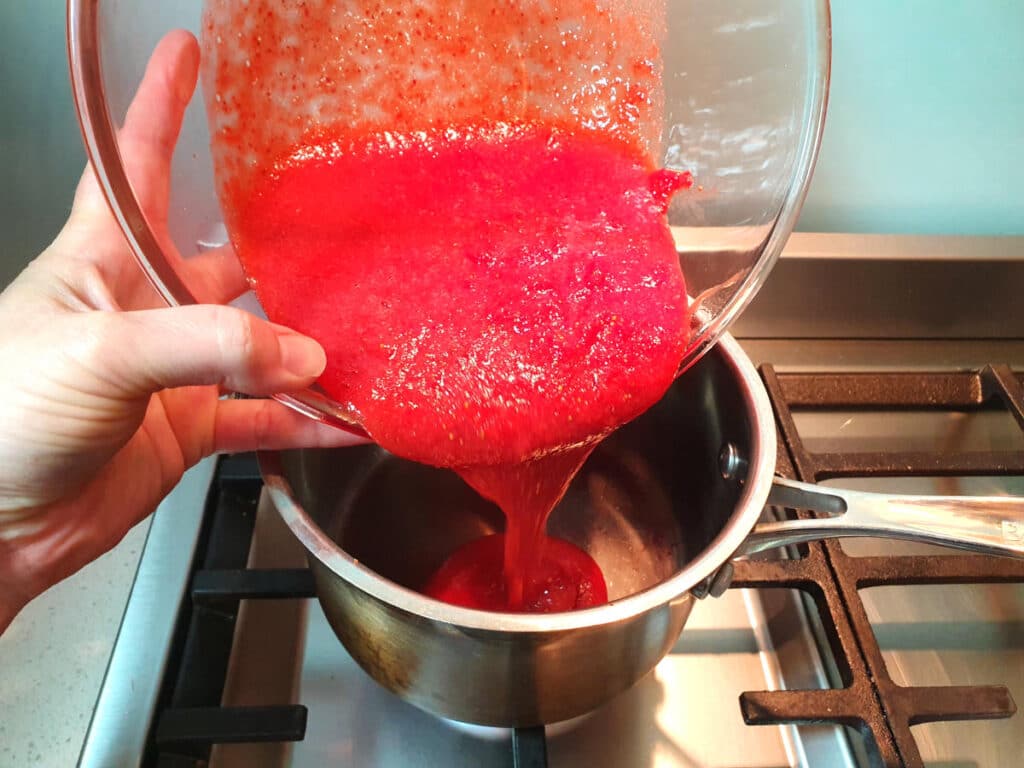 Add to a small pan with sugar and simmer till the mix thickens up and becomes jammy and has reduced to about 1 and a half cups (400mls). Allow to cool slightly. Add the strawberry mix to the rest of the base. Put in fridge for at least four hours or until well chilled.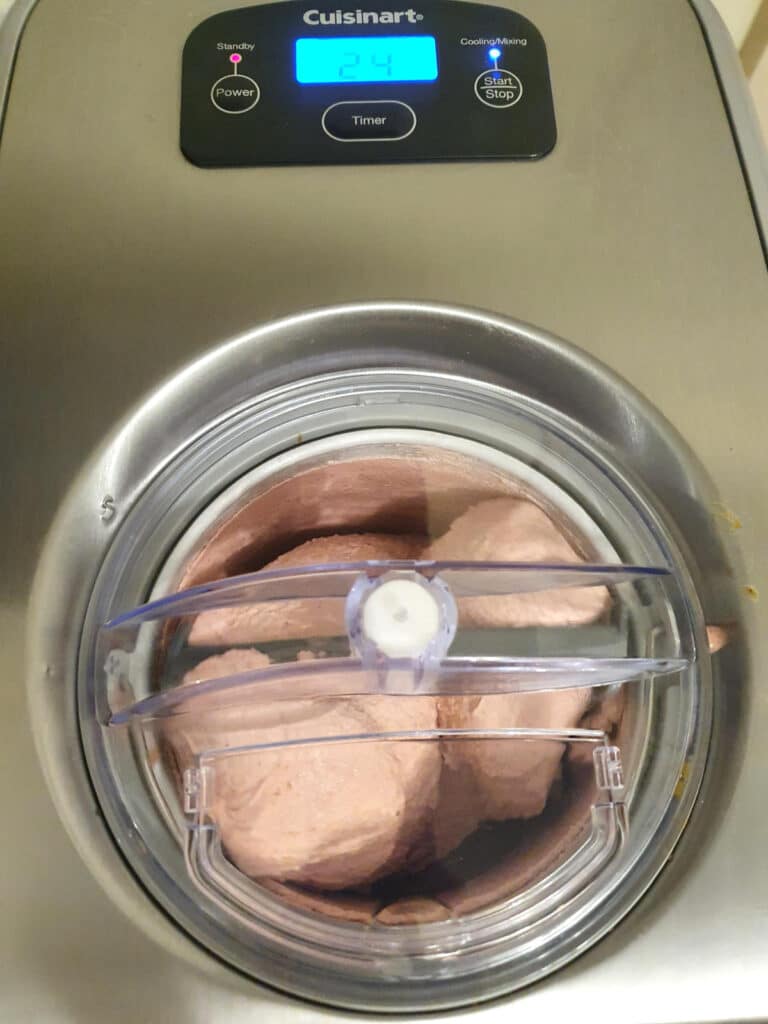 Put your ice cream storage container into the freezer to chill. If you are using a self chilling churner turn it on ten mins before to chill. Churn the ice cream. It will be the consistency of soft serve when done.
Transfer to chilled storage container and freeze for four hours or untill firm.
How to serve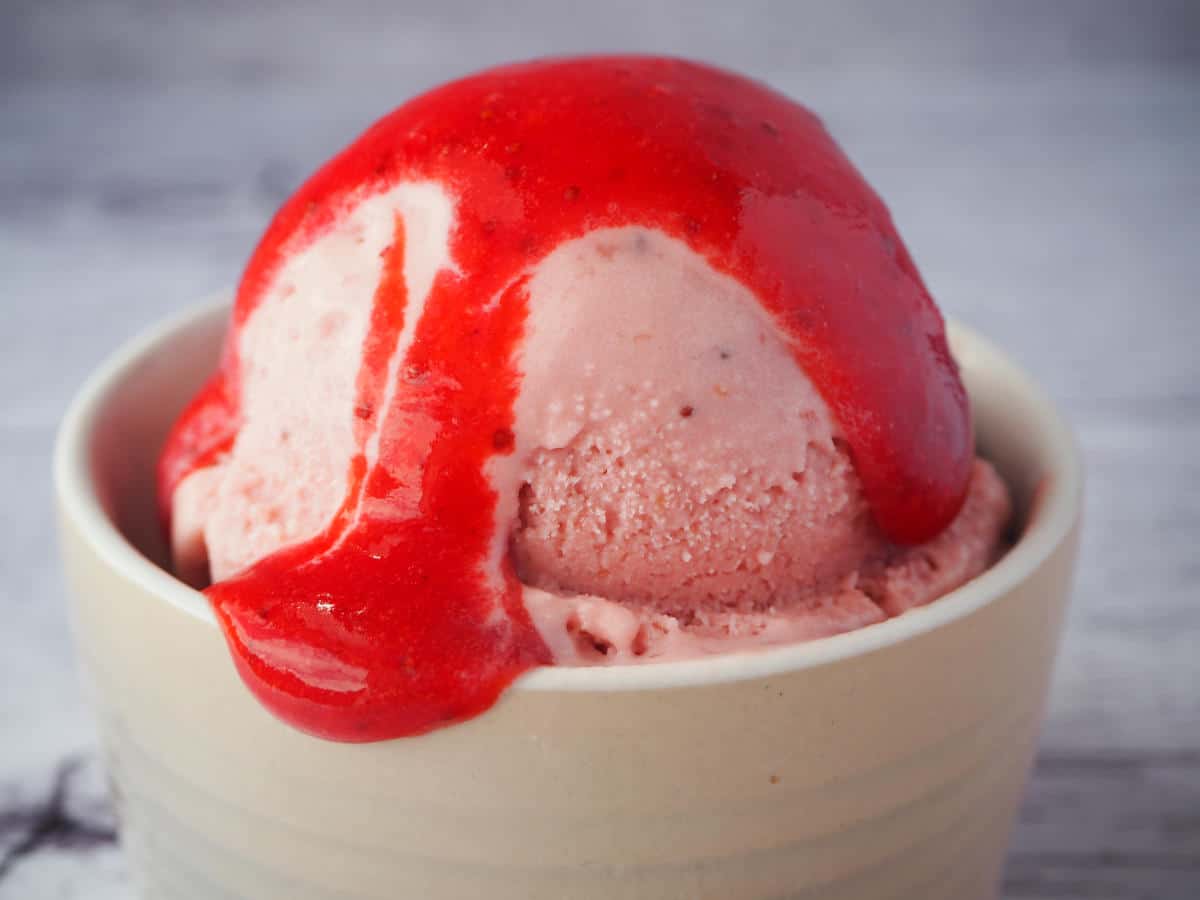 To serve this ice cream remove from the freezer, scoop and enjoy. Fabulious on its own, or with some of my strawberry compote drizzled over the top. Delicious!
How to store
Store this ice cream in a sealed, airtight container in the freezer for upto two weeks. After this the ice cream may start to become a little icy, but it will still be delicious.
Have you made this recipe? Tell me how it went in the comments below and tag me on instagram so I can see your delicious creations! @keep_calm_and_eat_icecream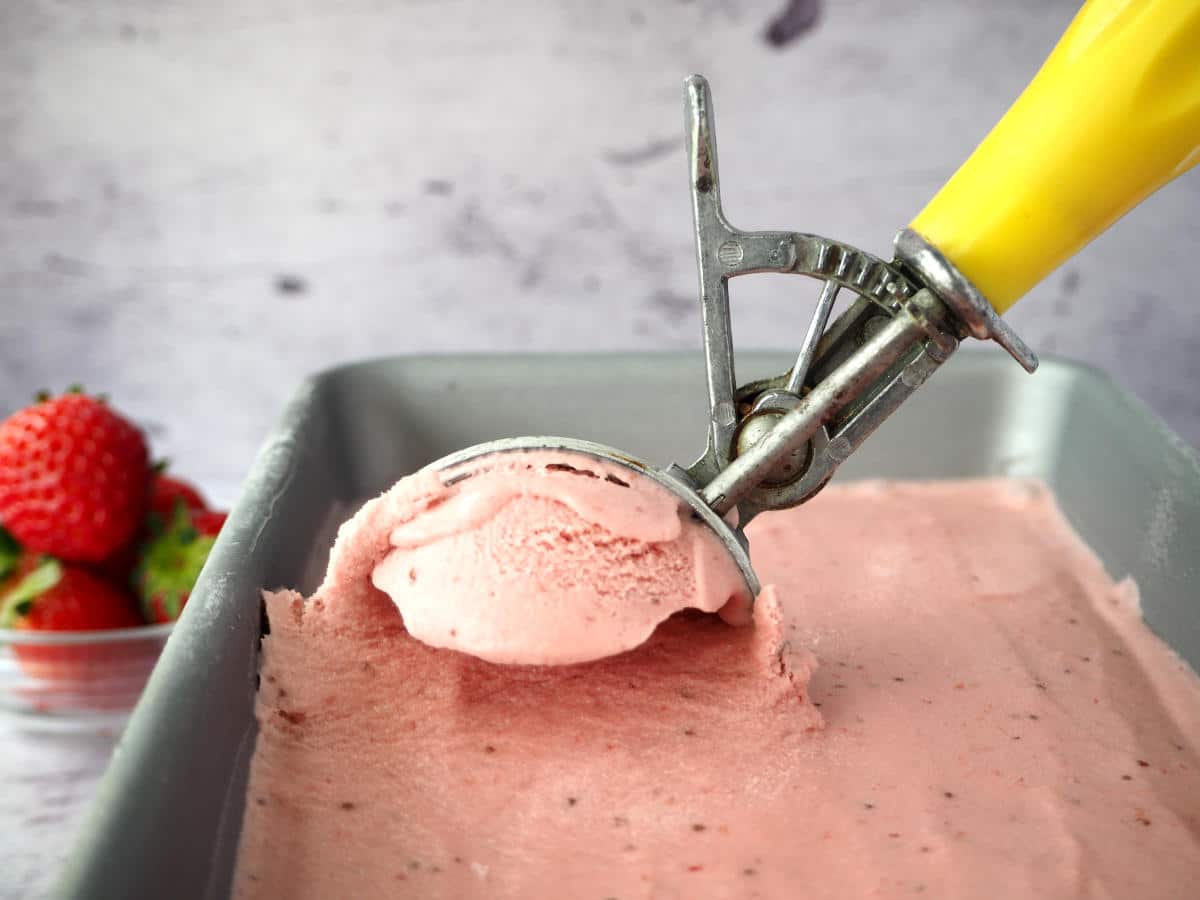 Looking for more yummy dessert recipes?
Why not try making
Follow me on Facebook or Pinterest for many more delicious recipes!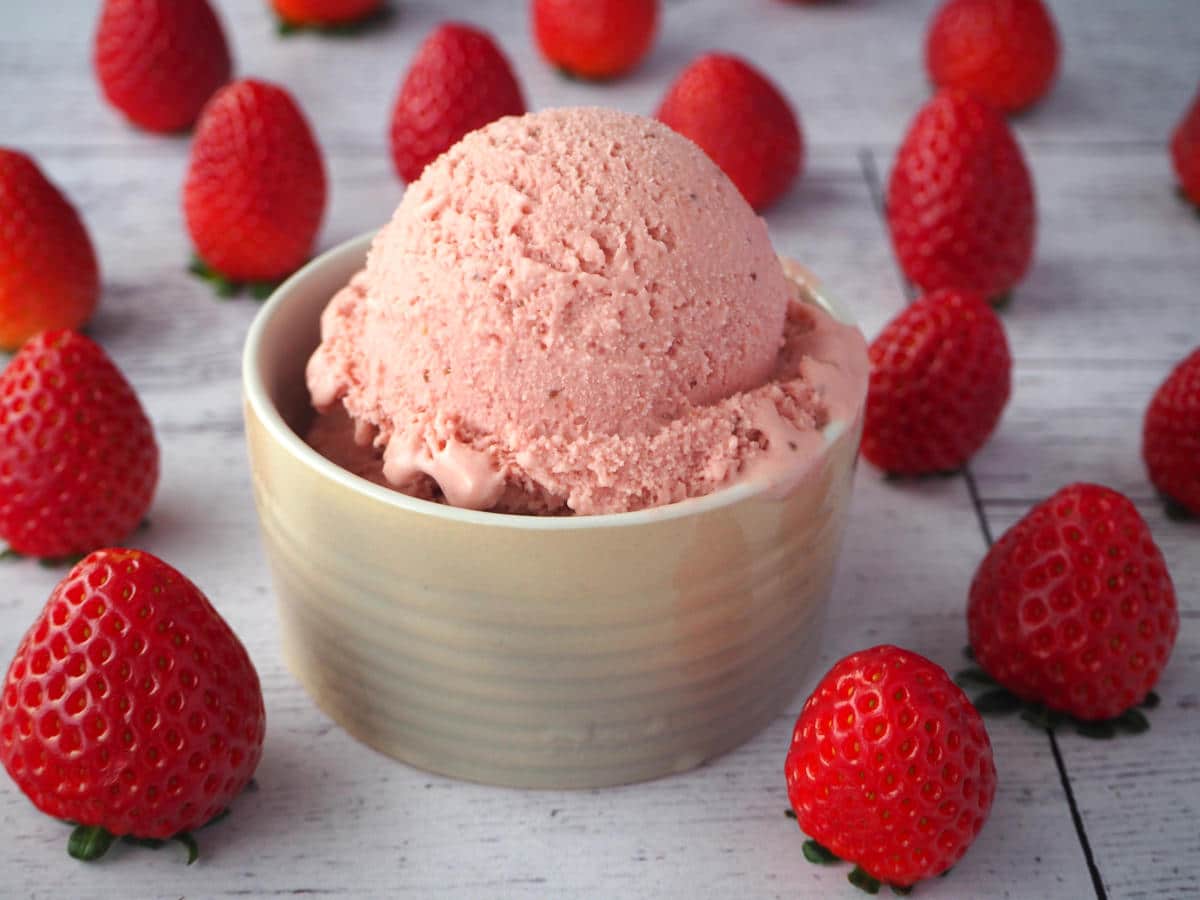 📋 Recipe
Strawberry ice cream
This classic stawberry ice cream recipe makes it easy to make this much loved ice cream at home. With fresh, luscious berries it is bursting with strawberry flavour.
Equipment
ice cream churner

immersion blender with chopping bowl attachment or food processor

double boiler (optional)
Ingredients
1

cup (250mls)

whole milk

4

egg yokes from large eggs, 2oz or 55gms each.

½

cup (110gms)

white sugar for base

1

cup (250mls)

thickened cream

1

teaspoon

vanilla essence

½

tablespoon (15gms)

glucose syrup

1.1

lbs (500gms)

very ripe strawberries

¼

cup (55gms)

white sugar for strawberries

1

tablespoon

freshly squeeze lemon juice
Instructions
Mix milk to a small saucepan. Simmer until warm, but don't boil.

Beat egg yolks and ½ cup sugar together until pale.

Slowly mix milk and cream mix into sugar and egg yolk mix, stirring properly in between,

Put mix back into saucepan or double boiler. Add cream, vanilla and glucose syrup if using.

Slowly simmer, mixing regularly, until mix 'coats the back of a spoon'. Watch carefully or it will curdle.

Remove from heat and allow to cool, before transfering to a heat proof container. Cover and chill in fridge.

Hull strawberries and blitz. Strain and add to pan with ¼ cup sugar. Simmer on a low heat, stiring reguarly until you have about 1 and ½ cups (400mls).

Remove from heat. Add lemon juice to stawberry mix and stir well.

Transfer to base in heat proof container. Cover and chill in fridge.

Put your storage container in the freezer to chill. If using a self refrigerating ice cream churner switch on about ten minutes before churning, otherwise take the churning bowl out of the freezer right before churning.

Churn the ice cream. It will be the consistency of soft serve when done.

Transfer to pre chilled container. Cover and freeze for about four hours untill firm, or over night.

To serve remove from freezer, scoop and enjoy! If you have not added the glucose syrup you may need to leave it on the bench for a few minutes to soften up before scooping.
Nutrition
Calories:
345
kcal
Carbohydrates:
41
g
Protein:
5
g
Fat:
19
g
Saturated Fat:
11
g
Polyunsaturated Fat:
1
g
Monounsaturated Fat:
5
g
Cholesterol:
179
mg
Sodium:
34
mg
Potassium:
241
mg
Fiber:
2
g
Sugar:
37
g
Vitamin A:
827
IU
Vitamin C:
50
mg
Calcium:
104
mg
Iron:
1
mg
Nutritional Disclaimer
Nutritional information is an estimate based on an online database. The nutritional content of ingredients may vary by brand. If you require accurate nutritional information, you should calculate this based on the specific brands and products you are using.
Pin it for later!