This homemade ice cream sundae with sprinkles, nuts and a cherry on top is a classic summer dessert loved by kids and kids at heart.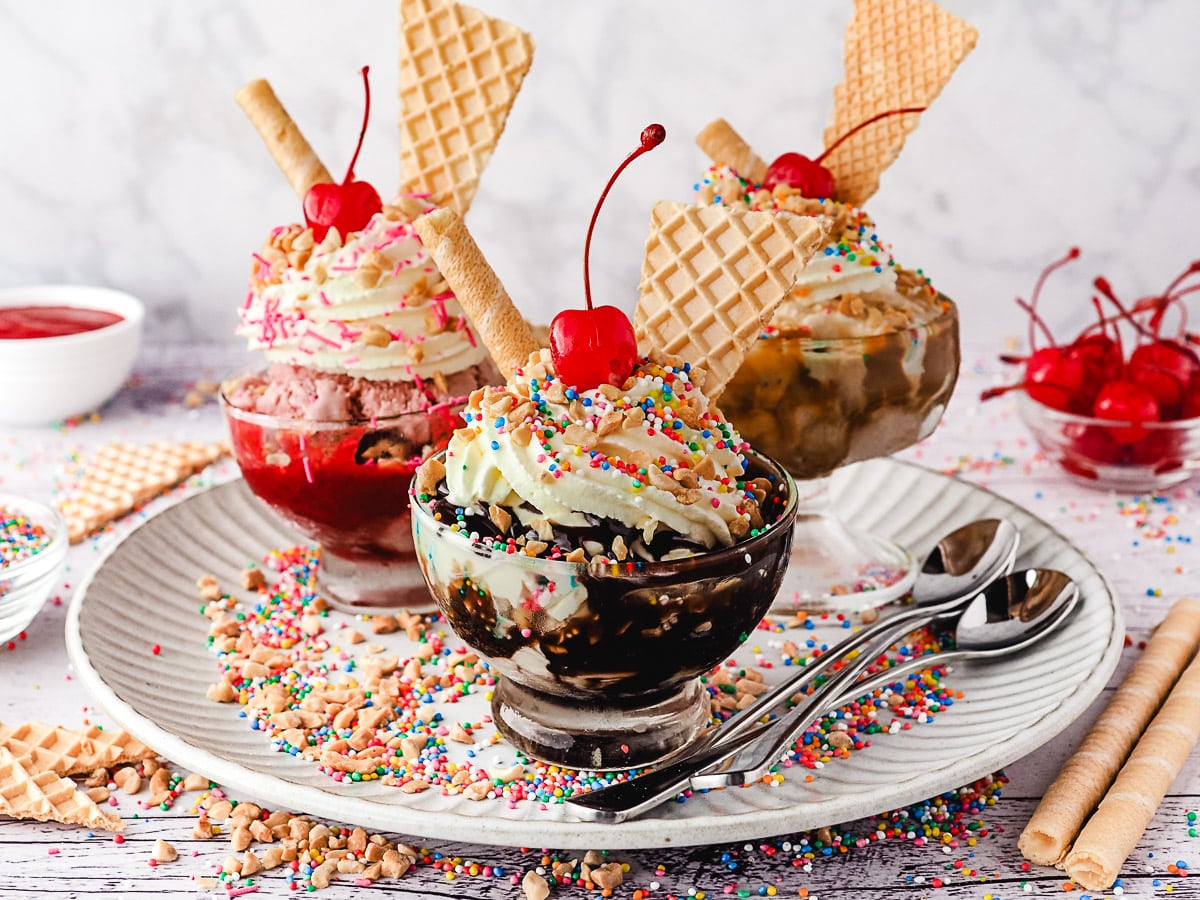 Jump to:
How do you make ice cream even better? By turning it into a deliciously decadent sundae of course! Keep things classic and original with vanilla ice cream and chocolate sauce, or mix things up with your favorite ice cream flavors, sauces and toppings. Don't forget the cherry on top!
Recipe tips and frequently asked questions
What is an ice cream sundae?
A sundae is a type of ice cream dessert made up of ice cream with sweet sauce and a range of toppings such as whipped cream, sprinkles, fruit and nuts. The classic ice cream sundae consists of vanilla ice cream with chocolate topping, whipped cream and a maraschino cherry.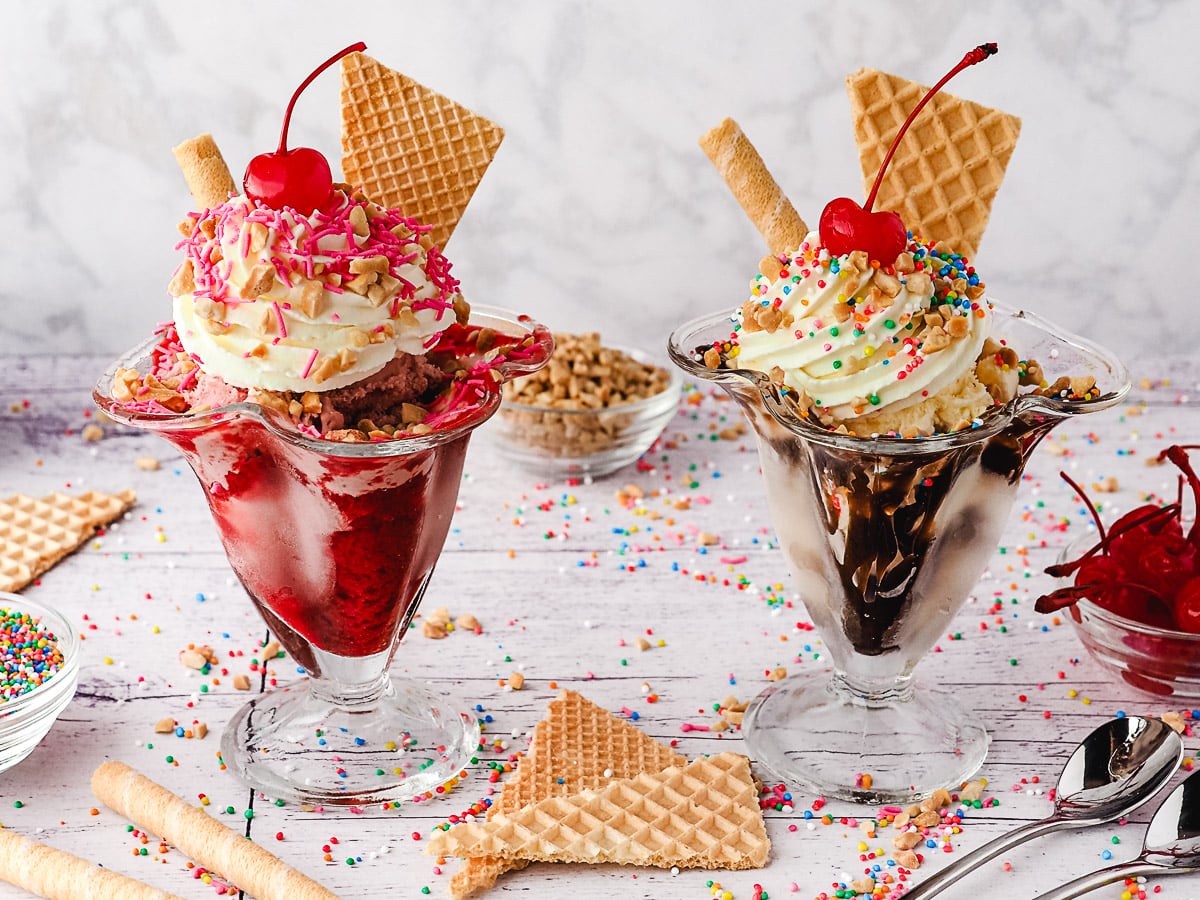 What is the difference between ice cream and ice cream sundae?
Ice cream is just ice cream itself. A sundae has a number of other things added to the cream such as toppings, whipped cream, nuts, sprinkles and traditionally a maraschino cherry on top.
Where was the ice cream sundae invented?
The ice cream sundae was invented in the United States in the late 1800s. They are thought to have been based on ice cream sodas. Several places in America claim to have originally invented the sundae, from Two Rivers in Wisconsin, Buffalo New York, Evanston Illinois, Ithaca, New York and Plainfield Illinois.
The name sundae is thought to have evolved from Sunday, the day on which they were sold or possibly created.
What sort of glass should I use?
The classic sundae glass has a fluted shape with a wide base. A milkshake glass also works well or something see-through so you can see all those delicious layers!
Ideas for ice cream sundaes
There are so many great ideas for sundaes! Why not try one of these fabulous combinations: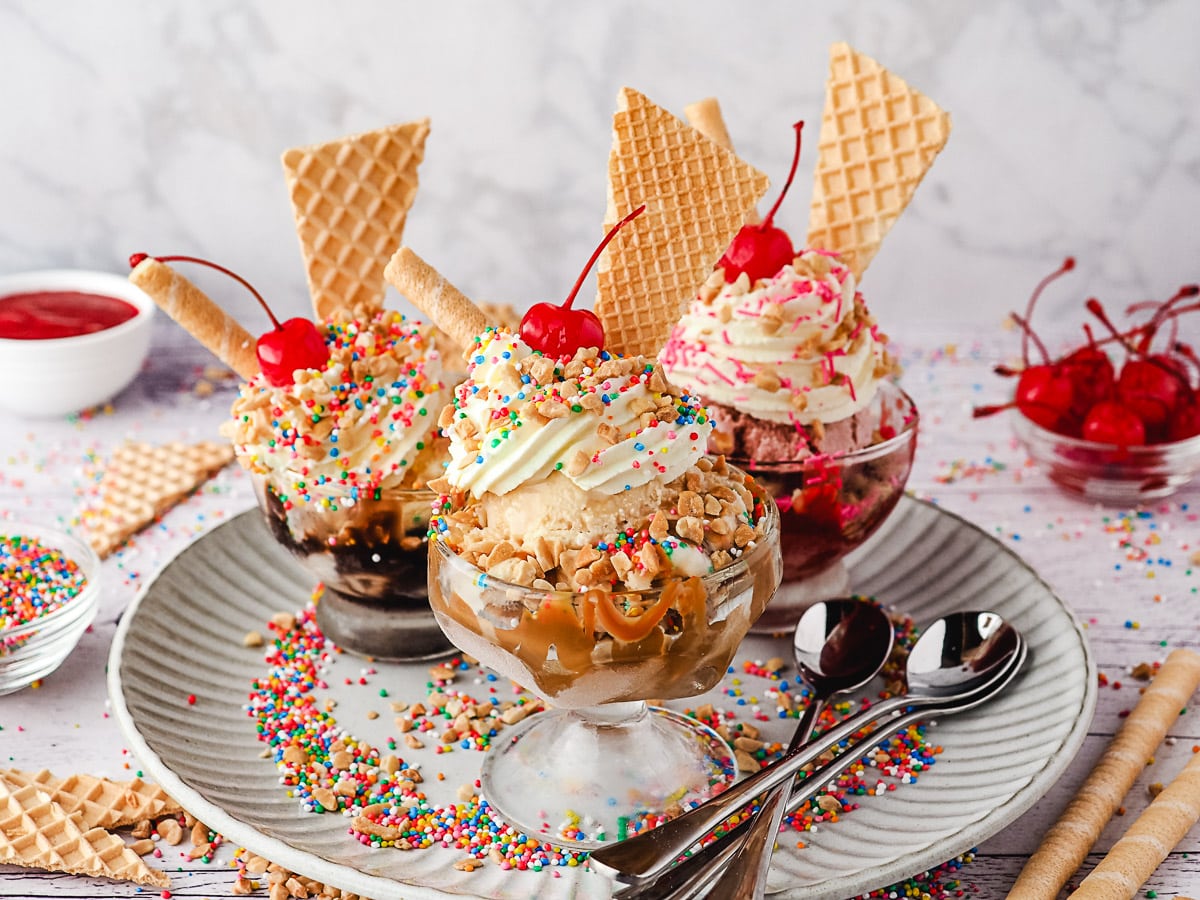 Ice cream sundae toppings
The sky really is the limit when it comes to making your ultimate sundae! Choose from this list of topping to make your own perfect combination.
Toppings such as hot fudge, caramel or strawberry
Chocolate chips - try milk, white or dark!
Chopped nuts - anything from peanuts to pecans and everything in between!
Whipped cream
Sprinkles - choose your color to add instant fun!
Wafers - try classic triangles or long thin cylinders
Cookie pieces such as Oreos
Mini marshmallows
Candy such as M&Ms, Reese's pieces or gummy worms
Fruit such as maraschino cherries, berries, banana or pineapple
Dessert pieces such as brownies, cake or even donuts!
Make it boozy for grown-ups with a shot of booze such as Baileys or rum
Did I miss your favorite? Let me know in the comments and I'll add it to the list!
Or if you're in the mood for more delectable ice cream check out my full collection of Cuisinart ice cream maker recipes (that work well in other brands ice cream makers too!).
Ingredients
Ice Cream: a classic sundae is made with vanilla ice cream, but you can use whatever flavor you like. Popular choices include strawberry, chocolate or caramel. Use store-bought for an easy treat or homemade for something extra special.
Topping: go for classic chocolate topping or mix things up with strawberry or caramel.
Whipped cream: some whipped cream adds extra yum. Make your own or ready-made.
Sprinkles: also known as Jimmies or nonpareils, they add some fun and color to any sundae.
Nuts: give some crunch and texture to this desert. I used chopped peanuts but you can use whatever nuts you prefer. Some candied nuts would also work well!
Wafers: ice cream wafers add some crunch and flare to a sundae. Try the classic triangle shape or look of the long thing cylinders available in a range of flavors.
Maraschino cherries: are preserved, sweetened cherries. Available from supermarkets and specialty shops.
How to make an ice cream sundae
See the full recipe card at the end of the post for ingredient amounts and instructions.
Optional: pre-chill your sundae glass in the freezer first to help stop your sundae from melting as quickly. This is especially good on a hot day!
Prepare all your ingredients first except the ice cream. Cut the wafers in half if needed. Drain the cherries. If using homemade whip cream, whip the cream until firm peaks form and transfer to a piping bag.
To build the sundae start by drizzling the topping around the inside of the glass.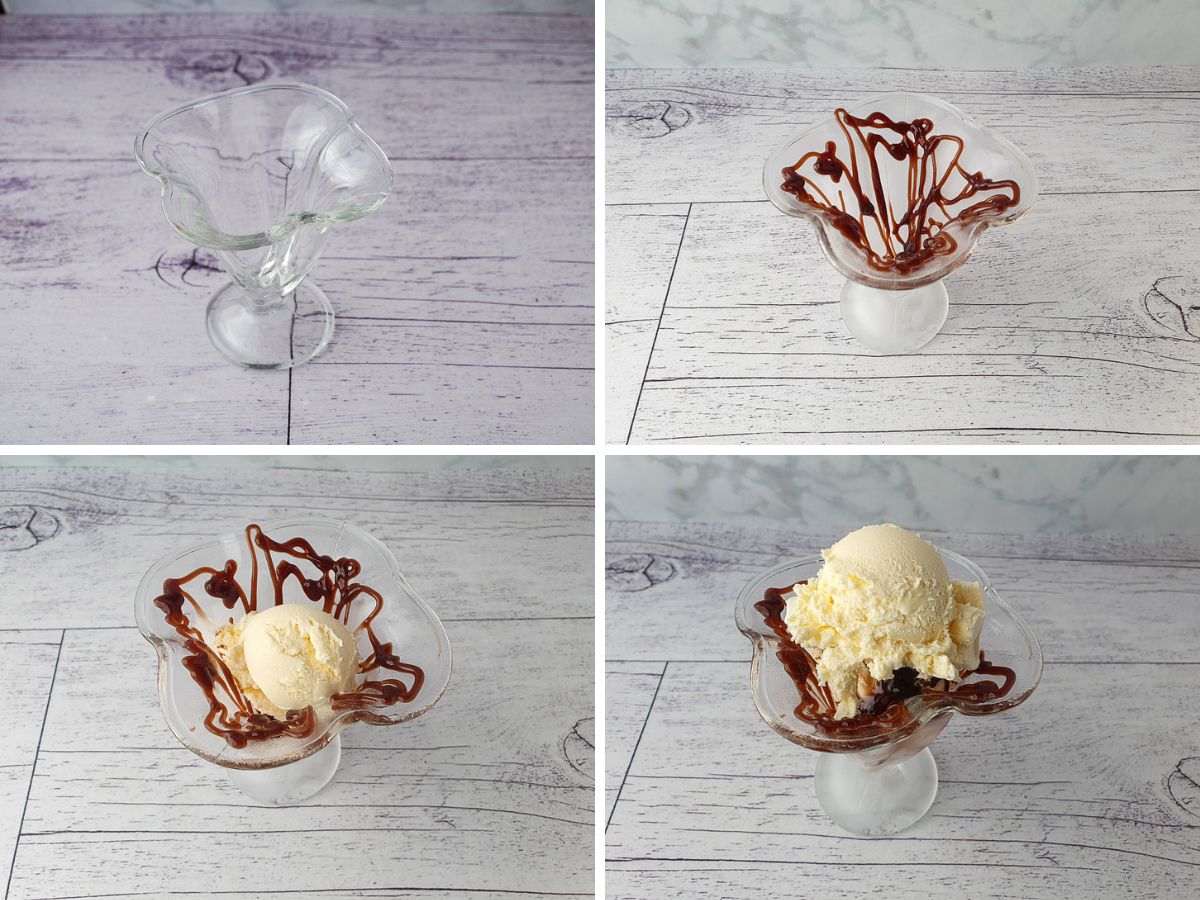 Add one scoop of ice cream. Drizzle with more topping. Add the second scoop of ice cream.
Pipe a generous swirl of cream on top of the ice cream. Sprinkle with nuts and sprinkles.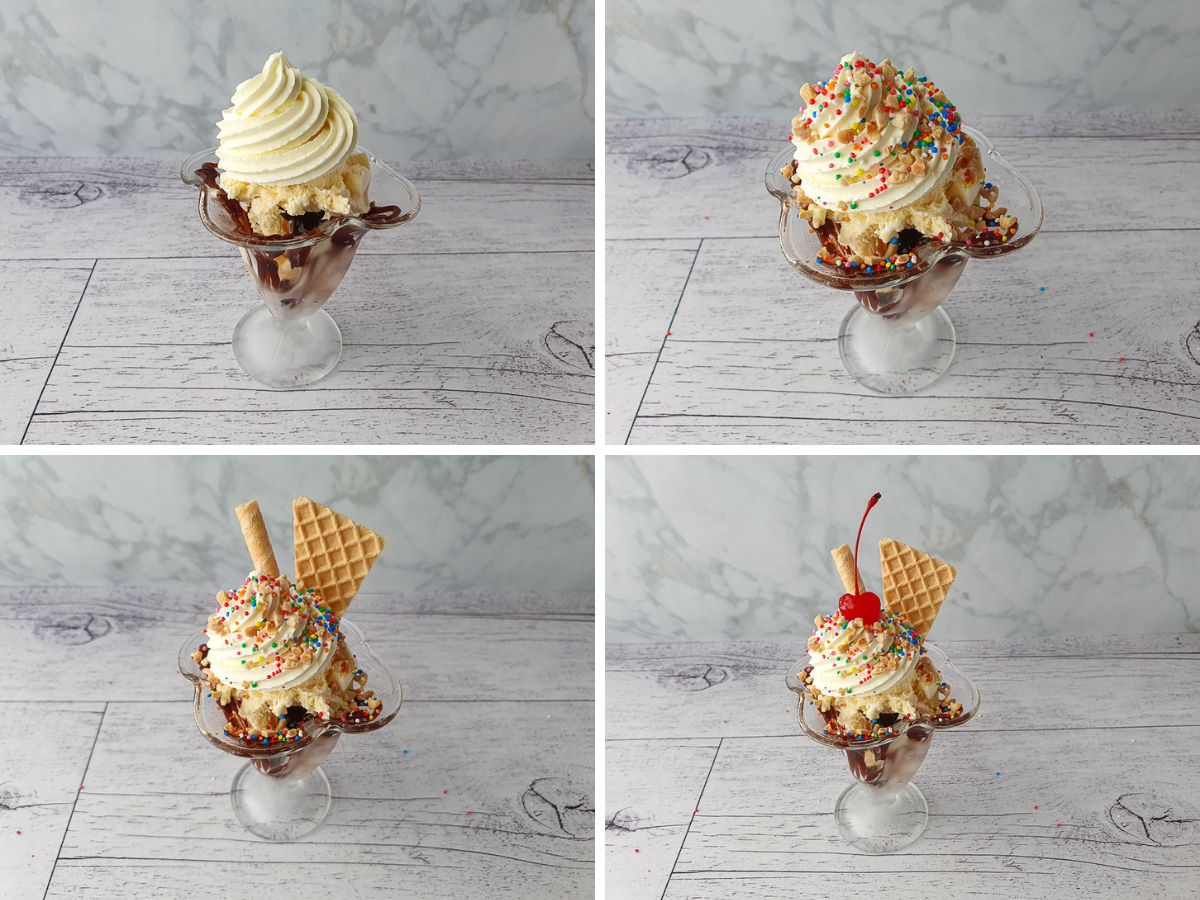 Add the wafters. Finally add the cherry on top and you're done!
How to serve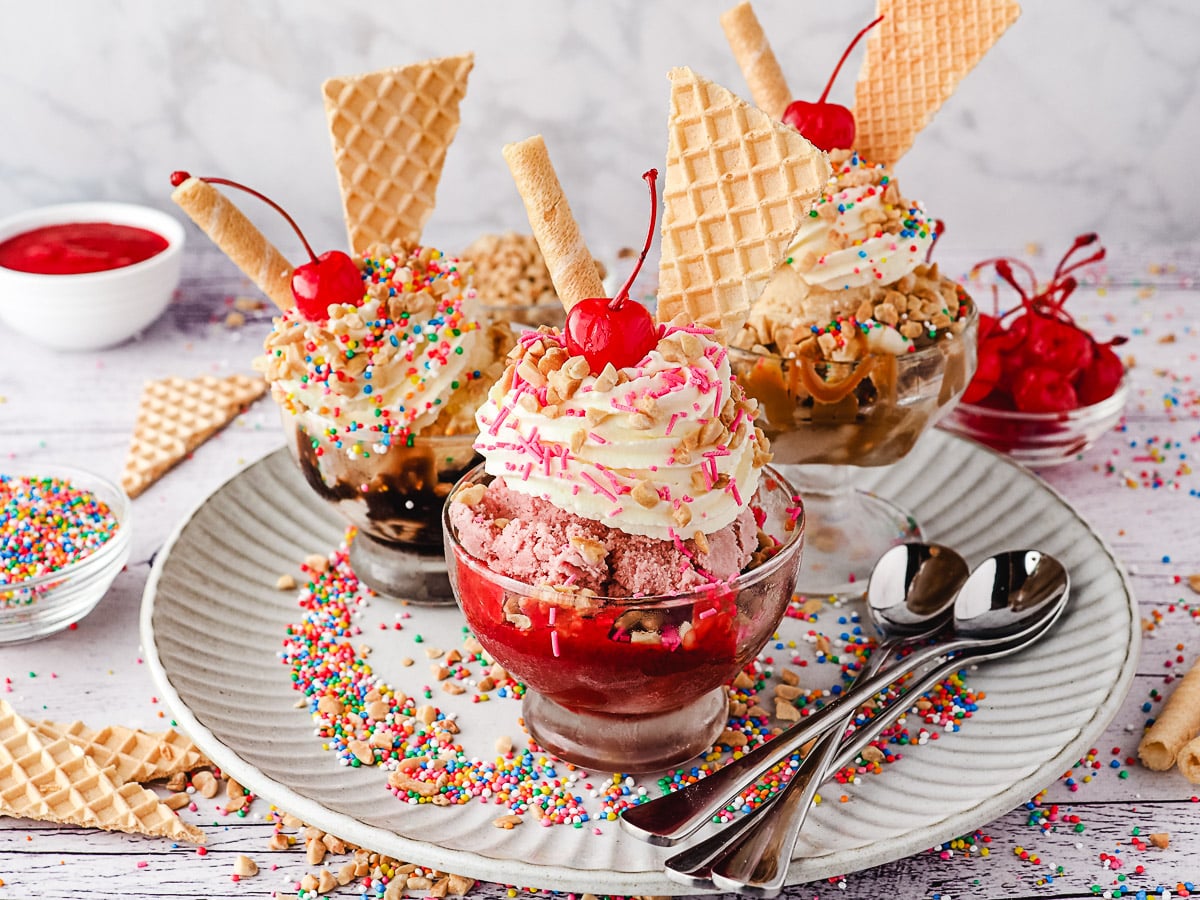 Serve immediately with a nice long spoon to dig into all that decadent deliciousness. Mind the drips!
How to store
This ice cream sundae is best made right before serving. If you want to store it you're best to store the individual ingredients before assembling.
Have you made this recipe? Tell me how it went in the comments below and tag me on instagram so I can see your delicious creations! @keep_calm_and_eat_icecream
Looking for more yummy ice cream dessert recipes?
Why not try making
Follow me on Facebook or Pinterest for many more delicious recipes.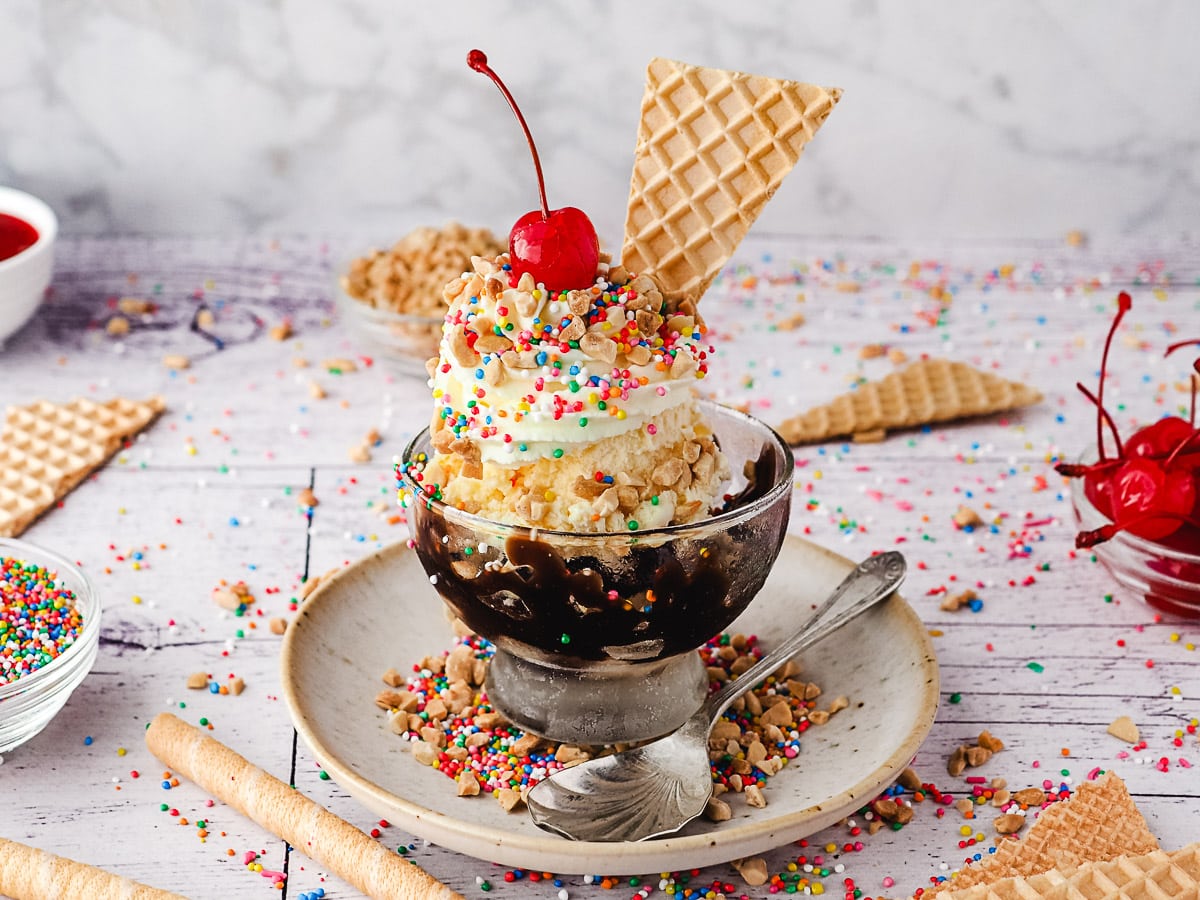 📋 Recipe
Ice Cream Sundae
This homemade ice cream sundae with sprinkles, nuts and a cherry on top is a classic summer dessert loved by kids and kids at heart.
Ingredients
2

tablespoons

ice cream topping, syrup or sauce

2 or 3

scoops

ice cream

¼

cup

whipped cream

½

tablespoon

chopped nuts

1

teaspoon

sprinkles or Jimmies

1 or 2

ice cream wafers

1

maraschino cherry
Instructions
Optional: pre chill your glass in the freezer

Get all your ingredients togehter. Take the ice cream out last.

Squeeze some topping generiously around the inside glass.

Add once scoop of ice cream

Add more topping on the first scoop of ice cream.

Add a second scoop of ice cream (and third if you want!).

Pipe the whipped cream on in a large cone shape.

Sprinkle on nuts, then sprikles.

Finnaly add the cherry on top and you're done!
Notes
The recipe makes one ice cream sundae. But you can easily scale it up to make as many as you want!
I have gone for the classic sundae with chocolate sauce, vanilla ice cream, whipped cream and a cherry on top, but you can use whatever flavor combination you like! See the main post for some more deliciously decadent ideas!
Nutrition
Calories:
590
kcal
Carbohydrates:
78
g
Protein:
8
g
Fat:
28
g
Saturated Fat:
14
g
Polyunsaturated Fat:
4
g
Monounsaturated Fat:
8
g
Trans Fat:
0.1
g
Cholesterol:
70
mg
Sodium:
311
mg
Potassium:
431
mg
Fiber:
3
g
Sugar:
55
g
Vitamin A:
662
IU
Vitamin C:
1
mg
Calcium:
210
mg
Iron:
1
mg
Nutritional Disclaimer
Nutritional information is an estimate based on an online database. The nutritional content of ingredients may vary by brand. If you require accurate nutritional information, you should calculate this based on the specific brands and products you are using.
Join the community!
Like Keep Calm and Eat Ice Cream on Facebook for more great recipes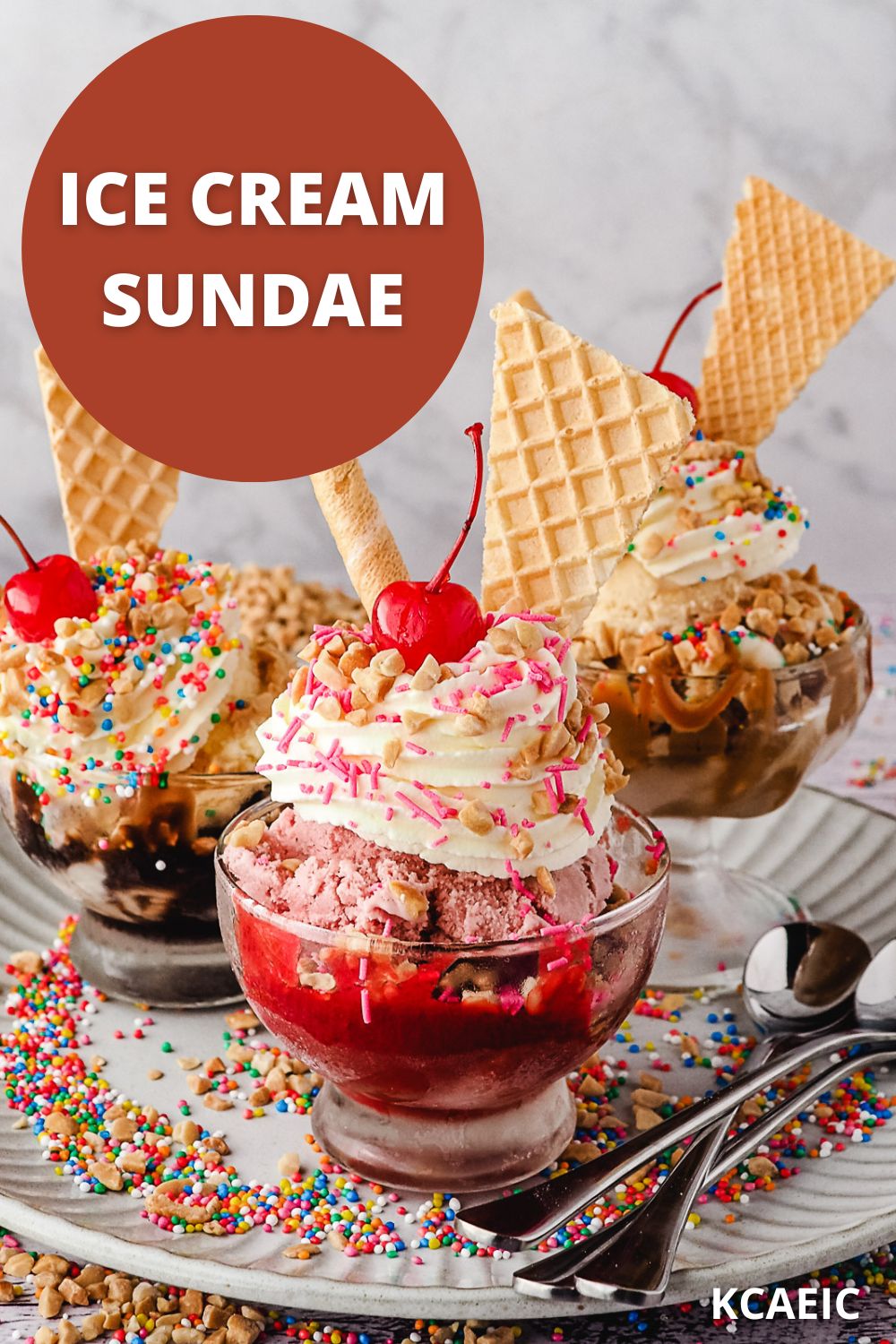 Pin it for later!