Discover the world of no bake cheesecakes with this collection of no bake cheesecake recipes - from classics to unique flavors you can make at home!
Jump to:
Is there anything better than a creamy slice of no bake cheesecake? No holiday celebration is complete without a delicious no bake cheesecake adorning the dessert table. There's a cheesecake flavor to suit every holiday and celebrate every season.
What's the difference between baked vs no bake cheesecakes?
Baked cheesecakes are made by mixing together the ingredients and baking them in the oven. They have a dense, creamy texture, sometimes with a slightly caramelized top. Unless you get the cooking and cooling temperature just right the top can crack easily.
No bake cheesecakes are made by mixing together the ingredients and letting them set in the refrigerator for several hours. They are often made with whipped cream, giving the cheesecakes a lighter, mousse-like texture. They are simpler to make but need enough time to set in the fridge.
Types of no bake cheesecake recipes
Apart from the classic Philadelphia no bake cheesecake, cheesecake flavors come in rich flavors such as Biscoff or caramel pecan. On the other side of the fence there are lighter, fresher fruit flavored no bake cheesecakes like cherry or peach. Because of the extra wet ingredients fruit flavored no bake cheesecakes sometimes have gelatin added to help them set.
No Bake Cheesecake Recipes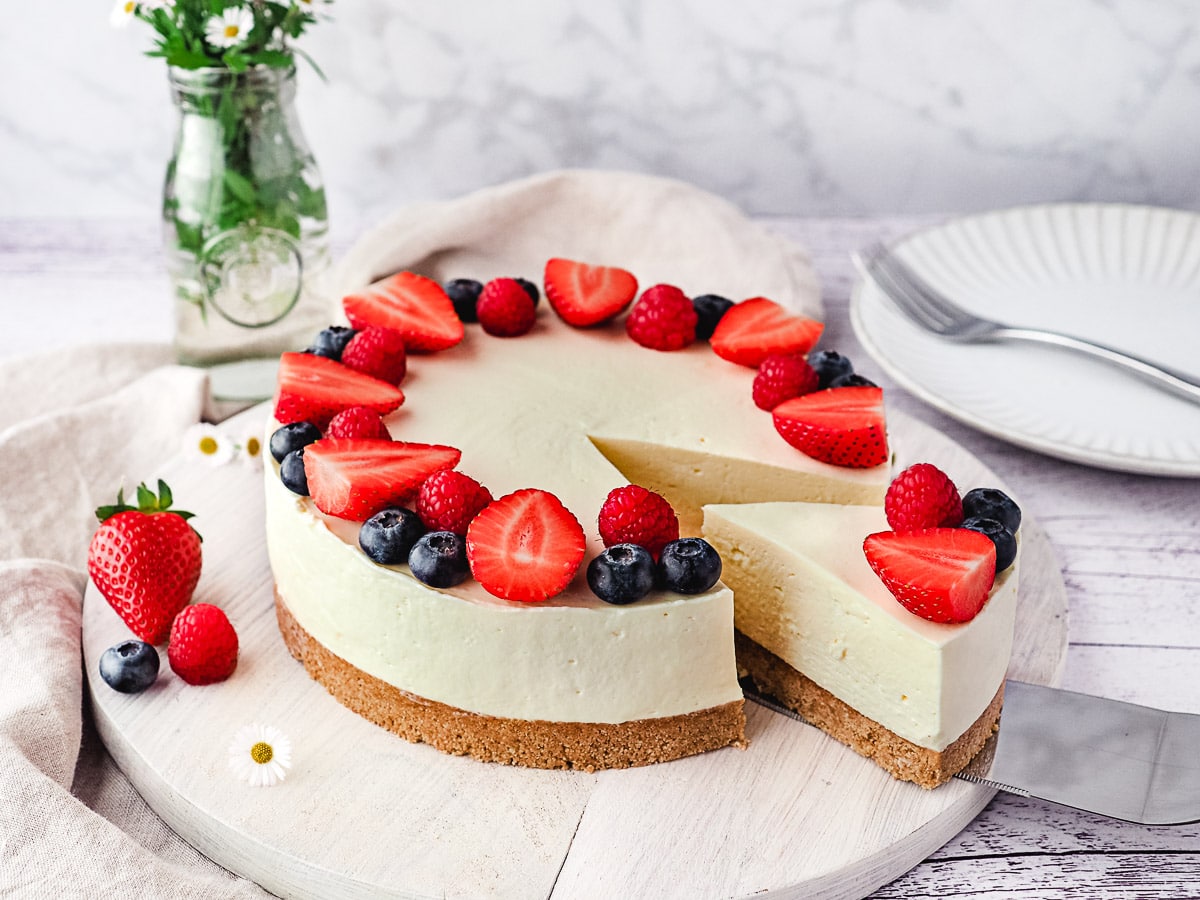 Classic Philadelphia no bake cheesecake or vanilla no bake cheesecake is the most traditional of the no bake cheesecakes. Its simple, clean flavors of cream cheese with a hint of vanilla and lemon lean themselves to effortlessly pairing with your favorite flavors to make it your own.
Try it with fresh berries or strawberry compote to keep it light and summery, or drizzle it with coffee sauce for some cozy holiday and Fall vibes.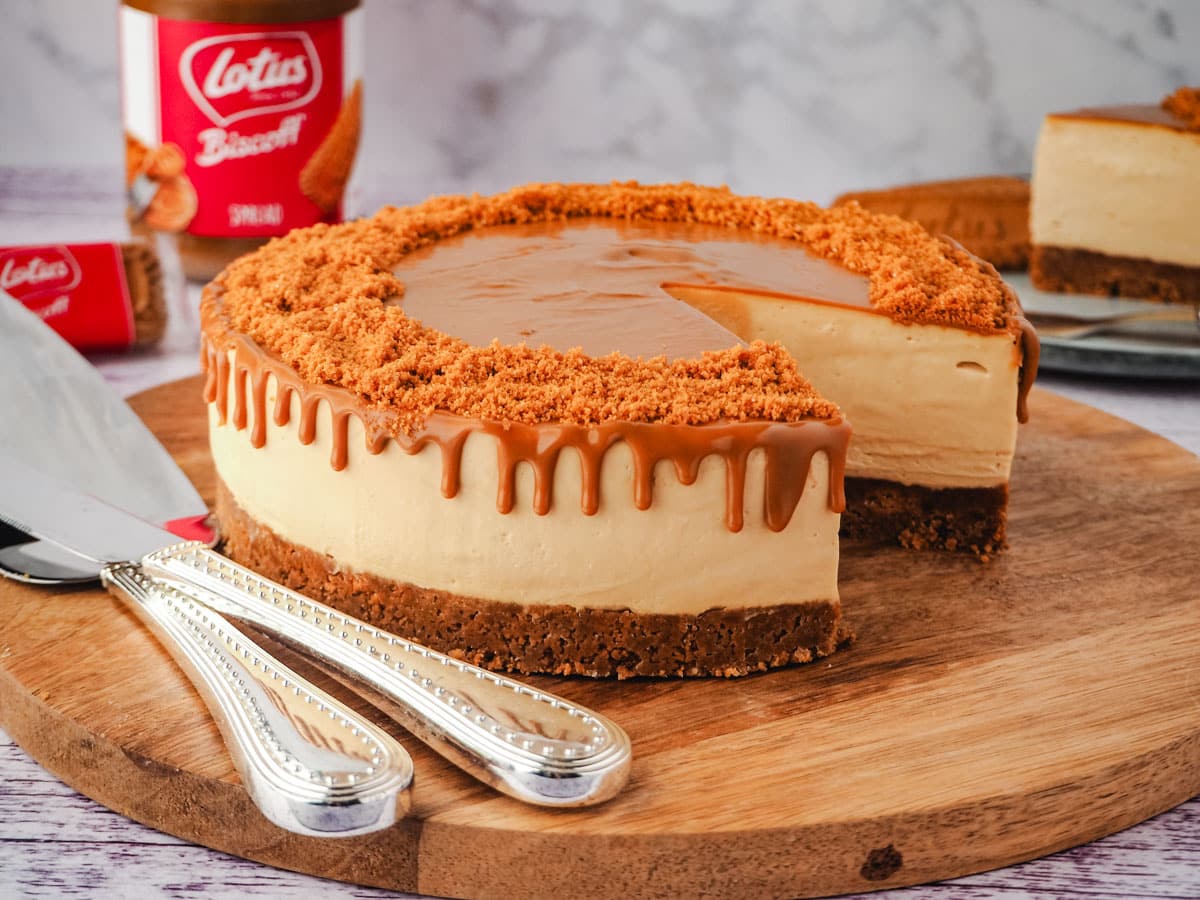 Biscoff is a type of speculoos cookie with a rich caramel flavor and spices that seems to be taking the world by storm. This Biscoff cheesecake combines a buttery Biscoff cookie base with a creamy Biscoff cheesecake filling and a gorgeous easy Biscoff drip. It's hugely popular for both Thanksgiving and Christmas.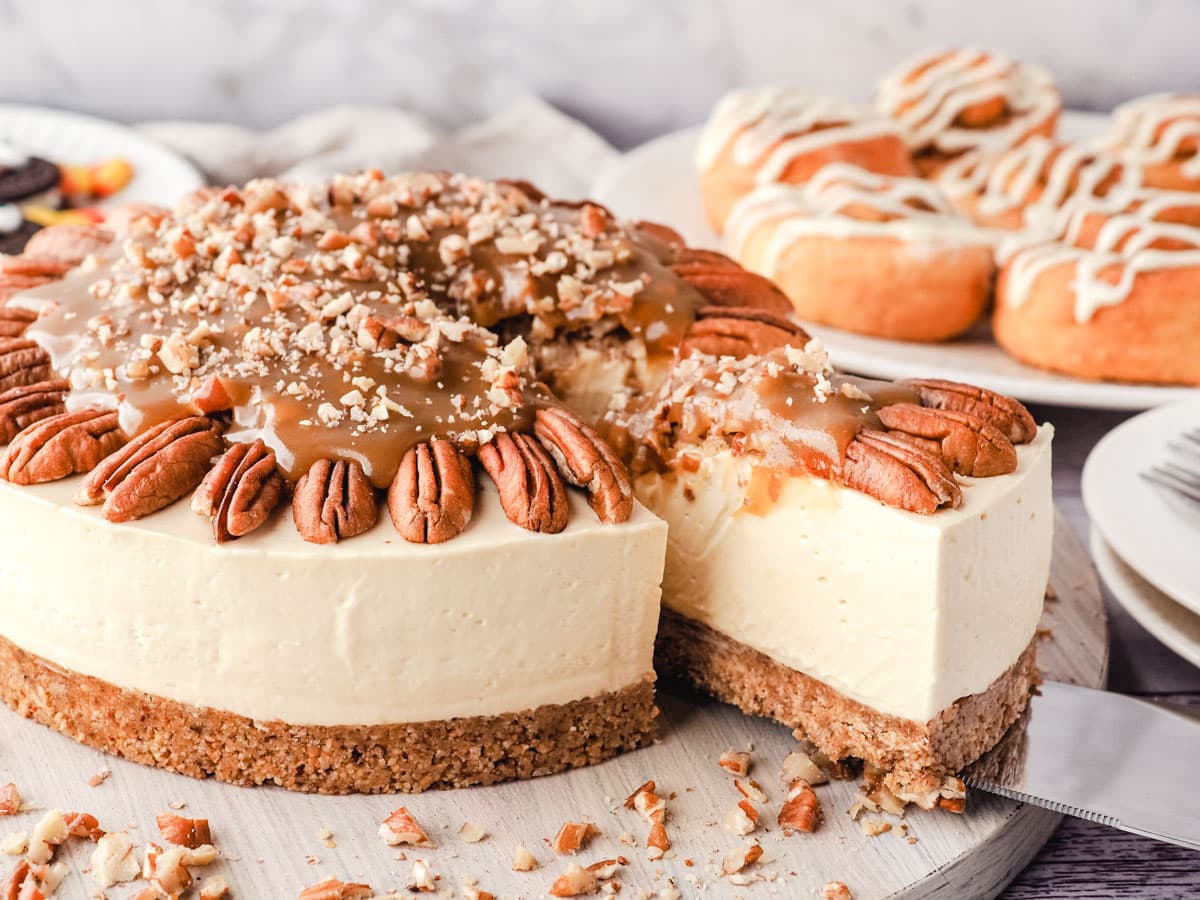 Nothing says Thanksgiving dessert quite like caramel pecan cheesecake. With a creamy vanilla cheesecake base topped with roasted pecans and luscious caramel topping, this no bake version will save you time and oven space on the big day. I even included a handy guide on transporting the cheesecake if you need to travel with it for the holidays.
Need a show-stopping dessert for the holiday season? Look no further than this Ferrero Rocher cheesecake. With a chocolate cookie and roasted hazelnut base, topped with lashings of Nutella cheesecake studded with pieces of Ferreros and finally topped with whole Ferrero Rochers and chocolate wafers that bring the wow factor to this dessert.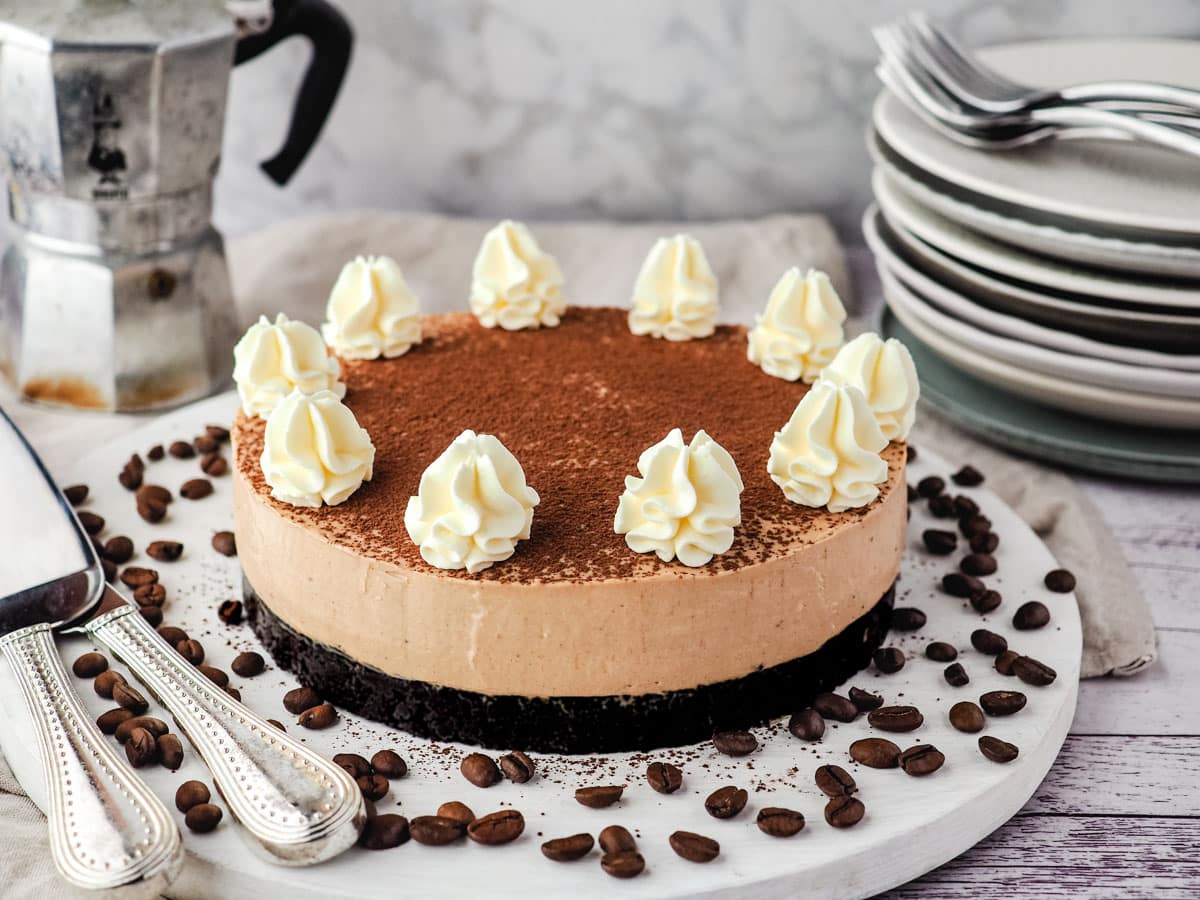 Indulge your coffee cravings with this coffee cheesecake. Featuring a delectable chocolate Oreo crust, a velvety cheesecake filling infused with cold brewed coffee, adorned with elegant swirls of whipped cream, and crowned with a sprinkle of rich cocoa powder.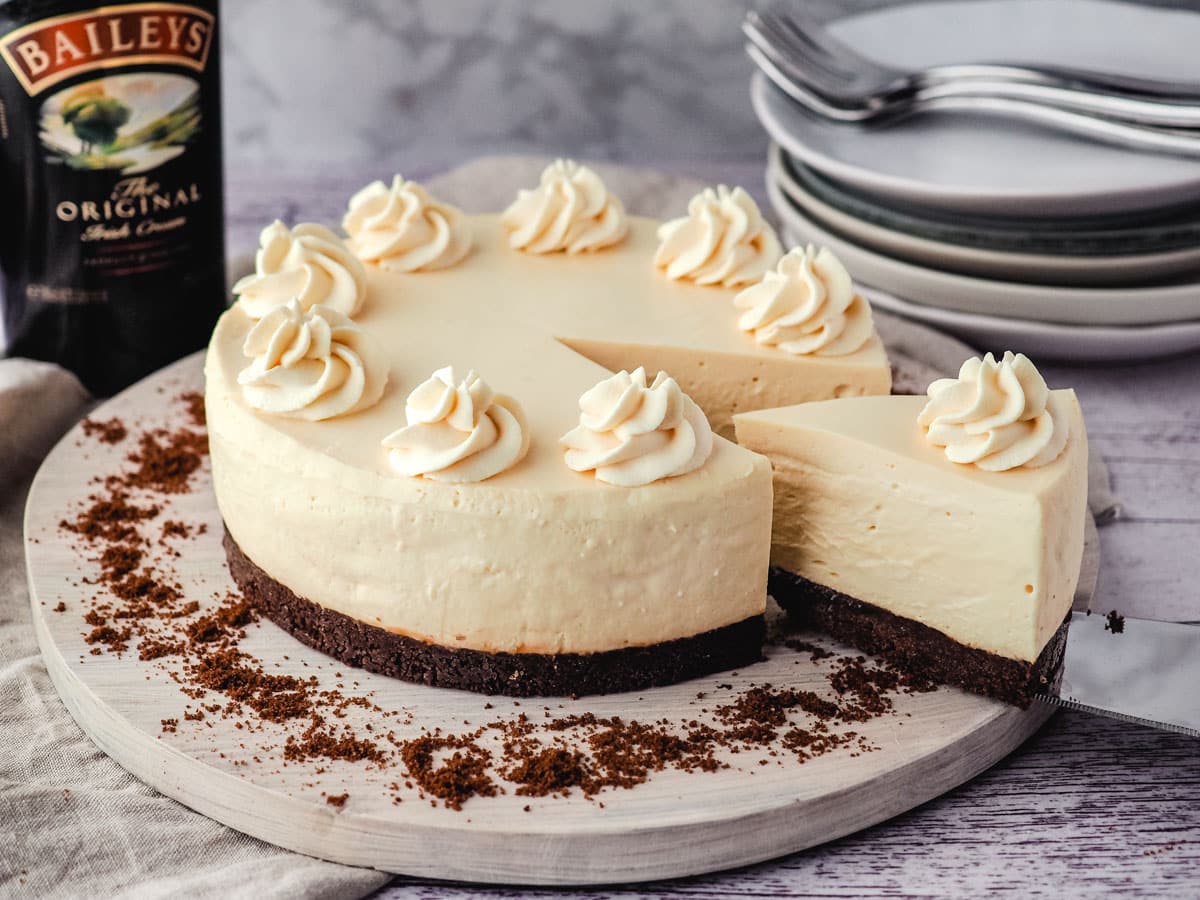 This no bake baileys cheesecake is made with plenty of boozy Baileys for a luscious cheesecake that's perfect for the holidays, New Year's Eve or any celebration.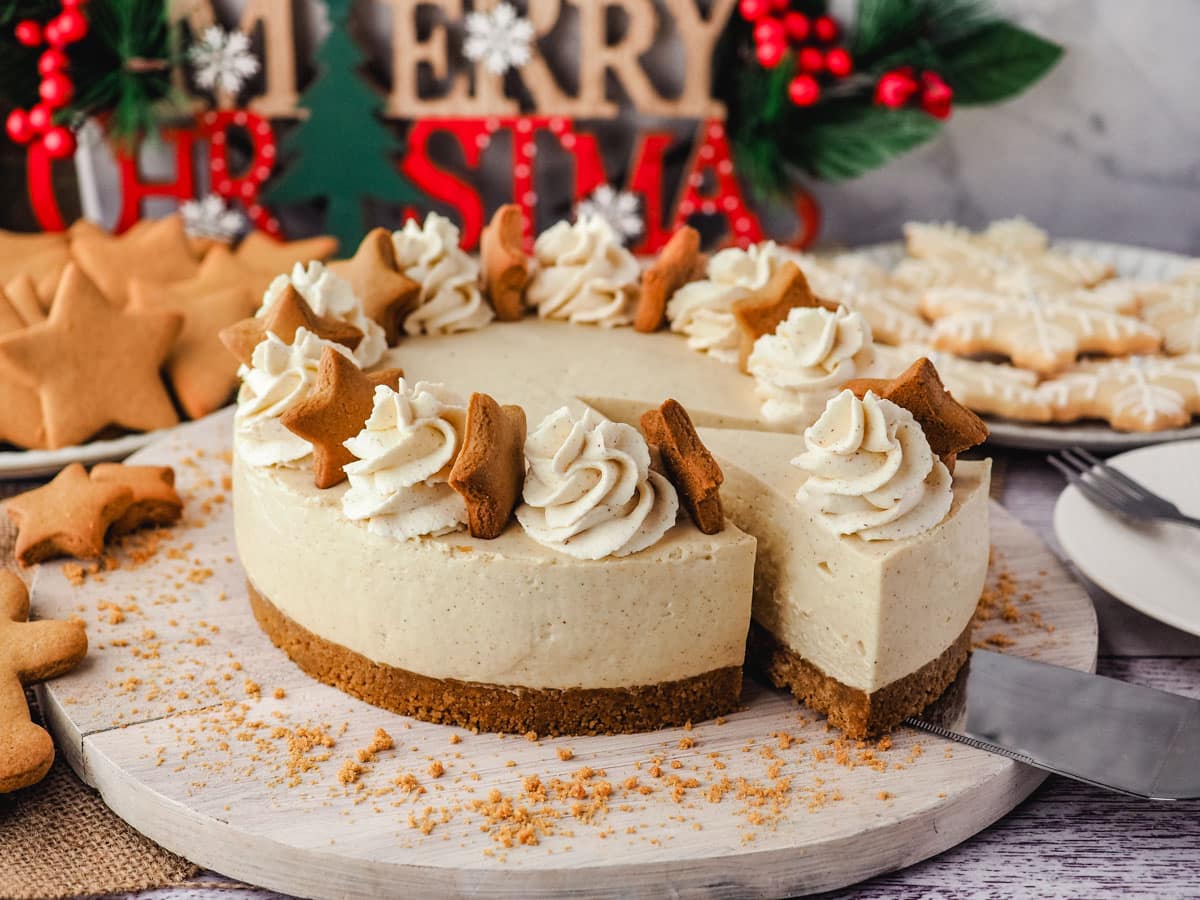 Made with a warming gingerbread base and topped with pretty cinnamon whipped cream, this gingerbread cheesecake will be the crowning glory of your festive dessert table this Christmas.
This black forest cheesecake turns your favorite Black Forest cake into a creamy no bake cheesecake. Featuring a decadent chocolate Oreo cookie base, a creamy cocoa-infused cheesecake filling, and crowned with generous dollops of tangy, juicy sour cherry topping, it's all topped off with luscious swirls of boozy kirsch whipped cream.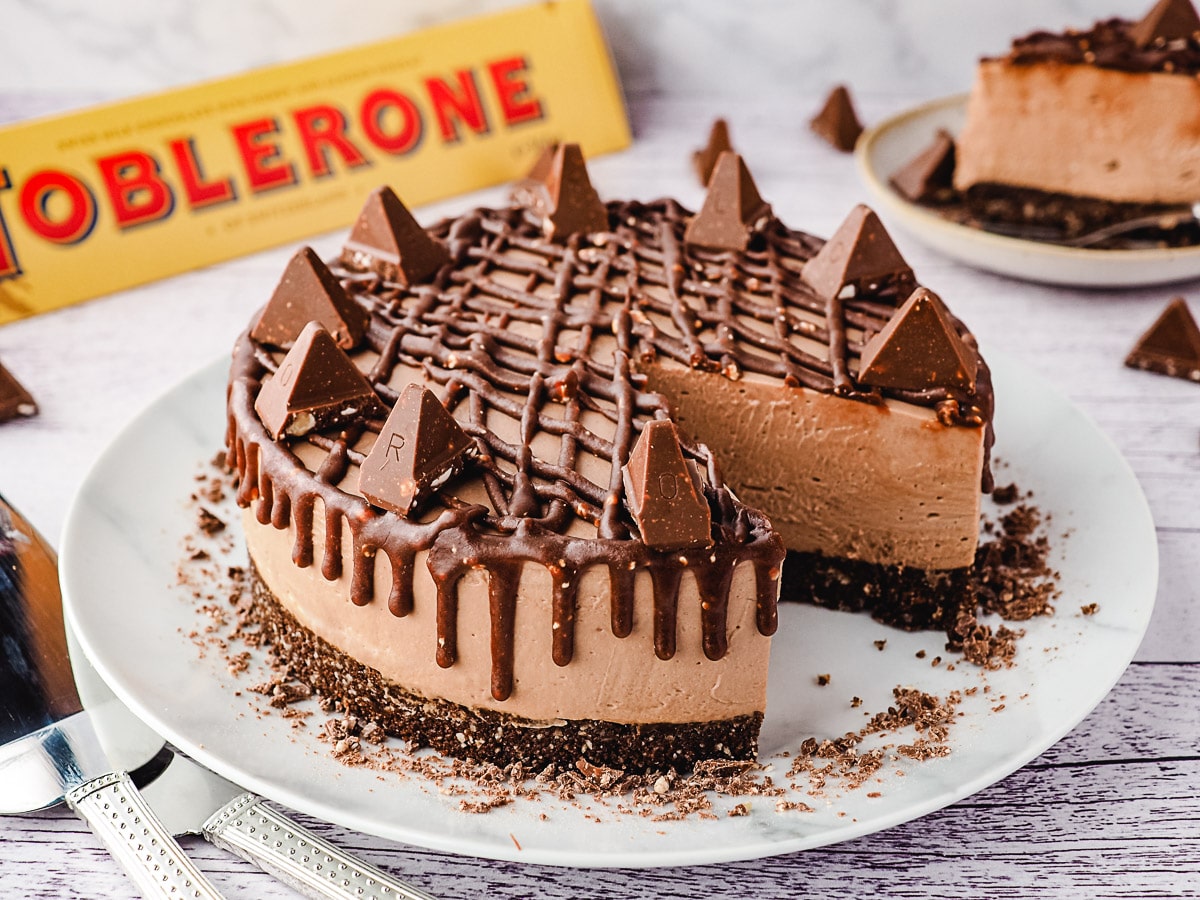 Satisfy your Toblerone cravings with this Toblerone cheesecake. Made with a roasted almond and chocolate cookie base, topped with Toblerone cheesecake and a hint of honey and finished with a gorgeous Toblerine drip and delicious Toblerone pieces.
Red velvet dreams are made of red velvet Oreo cheesecake. Or at least they should be. This stunning no bake cheesecake has layers of red velvet and cream cheese frosting cheesecake over a Red Velvet Oreo cookie base for a gorgeous dessert that's perfect for Valentine's day or Christmas.
Satisfy your chocolate mint cravings with this aero mint cheesecake. Combing a buttery chocolate cookie base with a touch of peppermint and creamy aero mint cheesecake filling. Decorate it with pieces of aero mint and a gorgeous aero mint chocolate drip and you have a beautiful no bake cheesecake for any occasion.
No bake mini cheesecakes - just like my regular Philadelphia no bake cheesecake, but in super cute mini versions. I have given these mini vanilla cheesecakes a red white and blue makeover with fresh summer berries, making them perfect for a 4th of July party or Labour Day picnic. But you can top them with whatever you like to suit your occasion.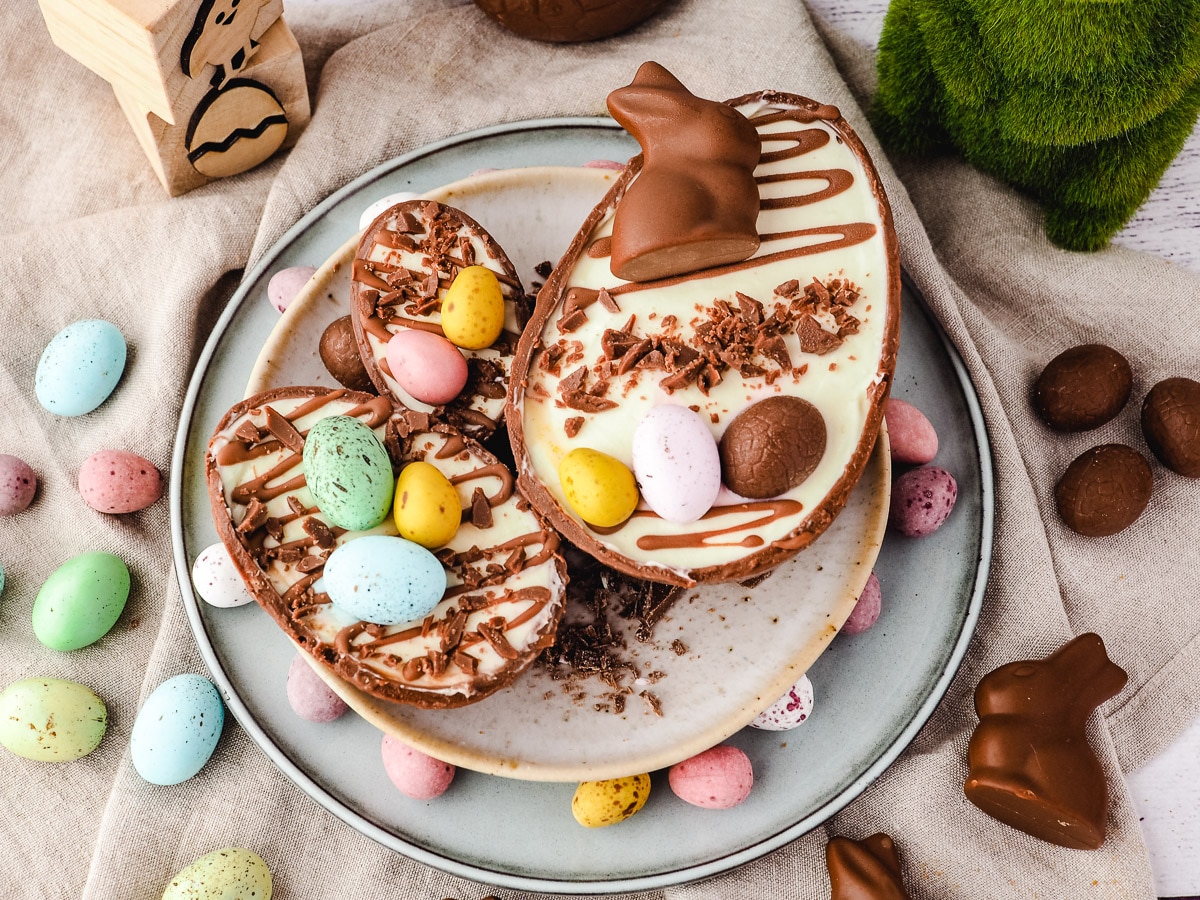 My Easter egg cheesecake is made by filling hollow chocolate Easter eggs with a biscuit base and cream cheesecake filling. They are absolutely adorable and great for an Easter celebration.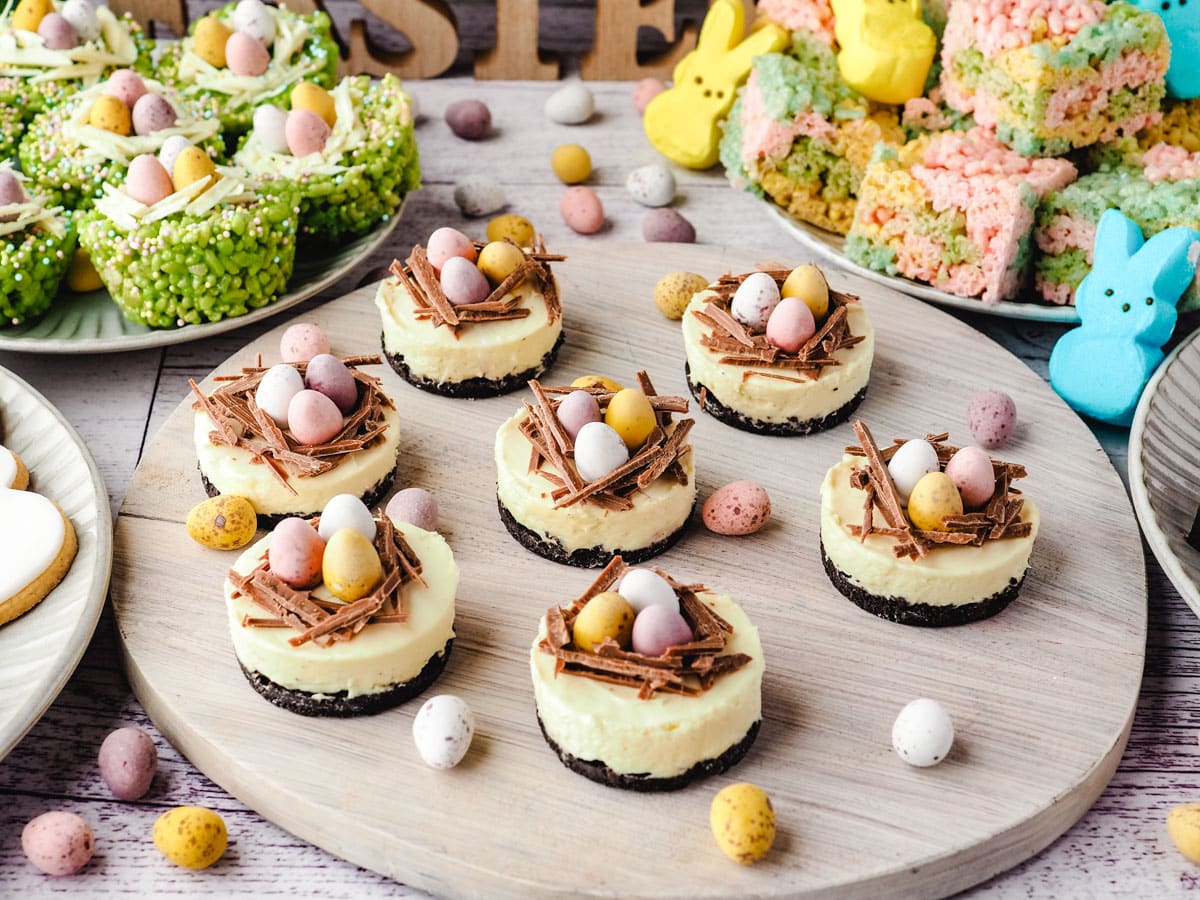 Keeping with the Easter theme, my mini egg cheesecakes are made with chocolate mini eggs nestled in easy chocolate nests, sitting on top of a vanilla cheesecake filling and chocolate cookie base. Another great option for your little chicks at Easter.
One more Easter cheesecake! Like my Easter egg cheesecake my Biscoff Easter egg cheesecakes are made with hollow chocolate Easter eggs. This time they are filled with a buttery Biscoff cookie base and topped with luscious Biscoff cheesecake filling. Hop to it!
But wait, there's more! Why not try making one of my other delicious no bake cheesecake recipes such as
Fruit flavored No Bake Cheesecake Recipes
Nothing says summer cheesecake quite like this classic cherry cheesecake. Make the cheesecake and topping in advance, then pour over the cherry cheesecake topping right before serving for a dessert that's sure to impress.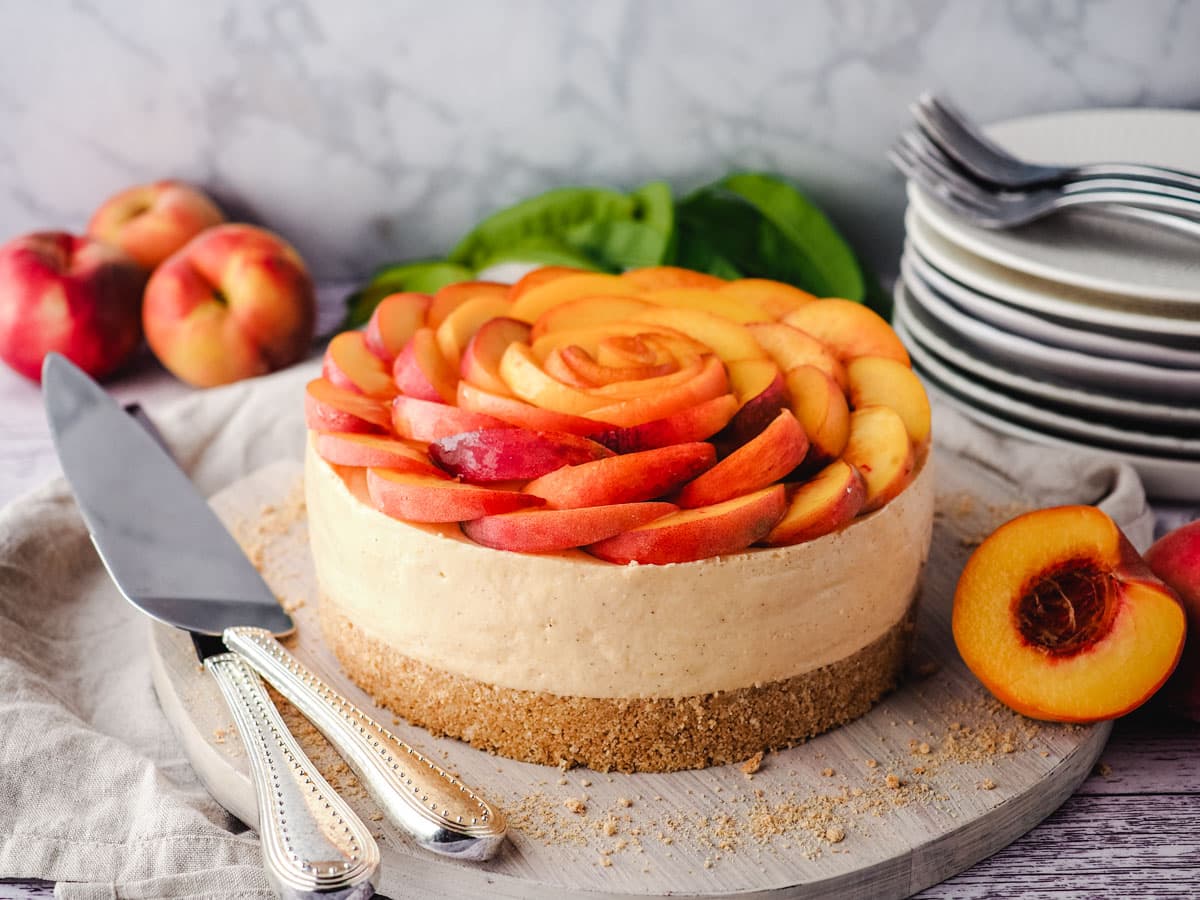 This stunning no bake peach cheesecake is adorned with a gorgeous peach rose. Make it with fresh, juicy peaches in peak season for a beautiful summer dessert. Or check out the recipe for a version with canned peaches for a year round treat.
If you love strawberry shortcake ice cream you are going to love this strawberry crunch cheesecake. Made with a golden Oreo cookie base, layered with creamy vanilla and strawberry cheesecake and finally coated with plenty of that all-important strawberry crunch! A great option for Summer or Valentine's Day.
Ok so ube, otherwise known as purple yam, isn't technically a fruit, it's a vegetable. But I think you'll agree this stunning ube cheesecake has earned its place on this list of no bake cheesecakes. The subtle nutty, vanilla-like ube flavor has a striking purple color that brings the wow factor to this cheesecake.
This tropical no bake mango cheesecake cheesecake has a luxuriously smooth and creamy texture over a cookie and toasted coconut base. Enjoy it on its own or with some mango coulis drizzled over the top, drool!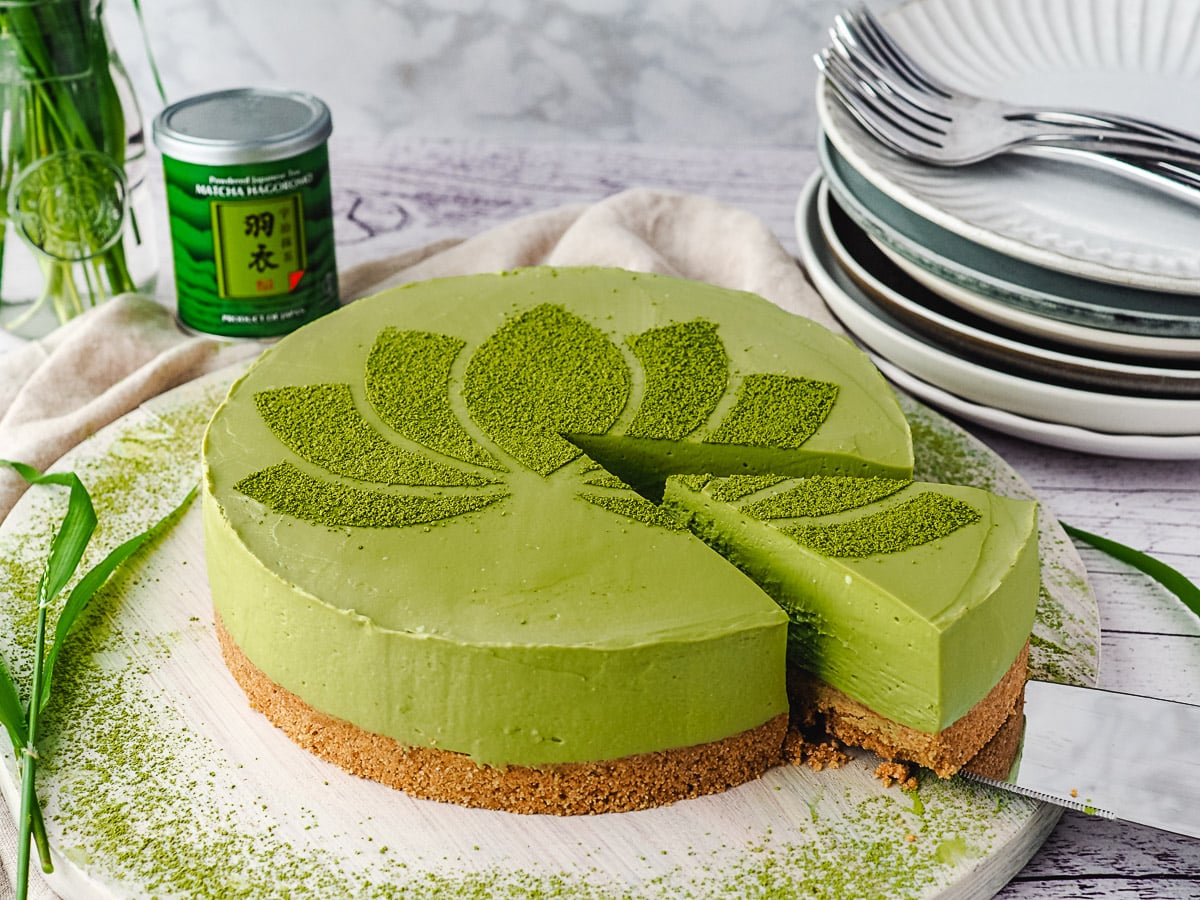 Again, not a fruit. But this no bake matcha cheesecake with sweet earthy matcha tones earns its place here and is the most gorgeous natural green tea color. Make it with a simple stencil to really elevate this matcha dessert.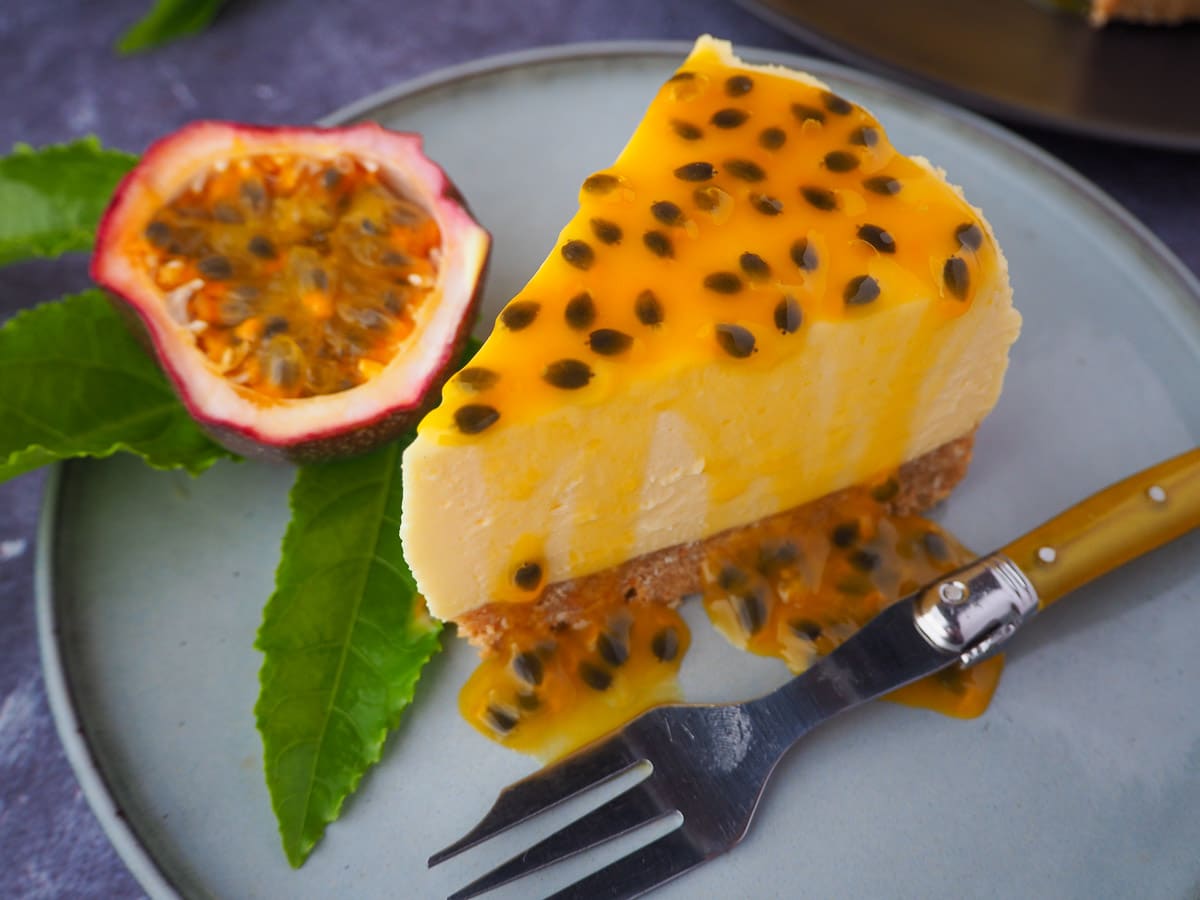 This no bake passion fruit cheesecake is brimming with bright, tangy passion fruit flavor. Fabulous on its own or with some passion fruit coulis drizzled over the top.
This no bake blueberry cheesecake is made with a graham cracker crust and juicy blueberry lemon cheesecake filling. Finish it with some fresh blueberries and lemon zest and drizzle with some tangy blueberry coulis, delicious!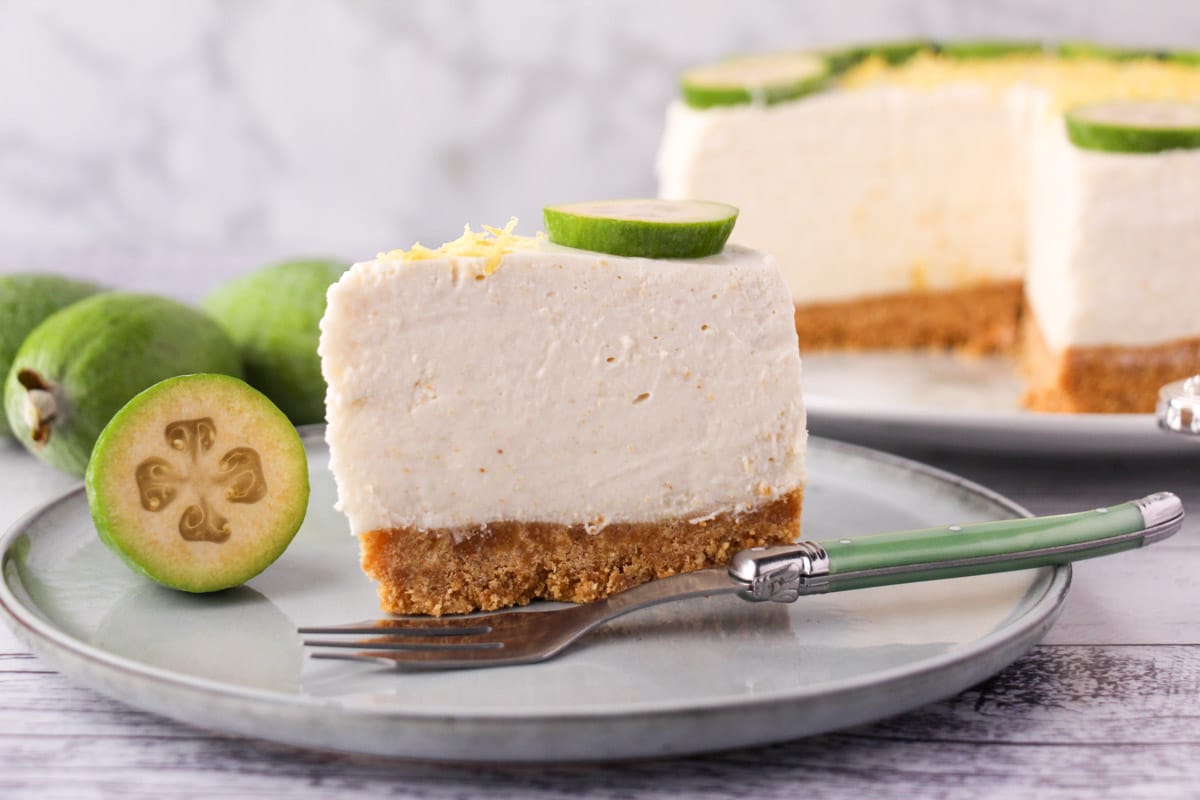 Never heard of feijoas? Then you're missing out! Now's the time to discover this cute little green and distinctly flavored fruit. This no bake feijoa cheesecake is fresh, tangy and sings with bright feijoa flavor.
Did someone say cute alert? These no bake mini strawberry cheesecakes can be made heart-shaped for Valentine's Day or in regular round molds at any time of year.
So there you have it, a collection of all my no bake cheesecake recipes that are perfect to for the holidays or any occasion. Or if you're feeling inspired to do your own flavor experiments you can start with my basic no bake cheesecake recipe here, which is the perfect base to add your own flavors to.
Sneaky baked cheesecake recipe - shhhhhh!
But Sarah I hear you say, I love a no bake cheesecake, but surely you must have at least one baked cheesecake recipe? A super easy one I can't go wrong with?
Yes, yes I do. But only one, and a corresponding mini version. My San Sebastian cheesecake aka burnt cheesecake, is delicious and ridiculously easy. There's no water baths, no cooling carefully for hours and no worrying about the dreaded cracking! Simply whip it up and throw it into a cranked-up oven to 'burn' to perfection.
Have you made any of these recipes? Tell me how it went in the comments below and tag me on instagram so I can see your delicious creations! @keep_calm_and_eat_icecream
Follow me on Facebook or Pinterest for more delicious recipes, including notifications when I bring out a new recipe!
📋 Recipe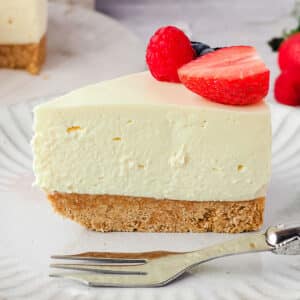 No Bake Cheesecake Recipes
This basic no bake cheesecake recipe provides the perfect base or adding your own flavors and toppings to.
Equipment
7", 8" or 9" Spring form cake tin

Parchment paper or food safe acetate

Electric hand beaters or stand mixer

Optional: Stick/immersion blender with chopping bowl attachment or food processor
Ingredients
For the basic cheesecake base
2 & ⅓

cups (250gms)

Cookies such as Graham crackers (approx 16 long rectangular crackers)

1

stick (½ cup/ 115gms)

unsalted butter
For the basic cheesecake filling
2

x 8 ounce tubs (450gms total)

full fat cream cheese

½

cup (110gms)

granulated white sugar

1

cup (250mls)

thickened cream
Optional flavor additions
For vanilla Philadelphia no bake cheesecake
1 & ½

teaspoons

vanilla extract

1

tablespoon

fresh lemon juice
For cherry cheesecake
1 - 2

cups

homemade or store bought cherry topping for cheesecake
For chocolate no bake cheesecake
¼

cup (25gms)

Dutch cocoa powder
Instructions
To make the cheesecake base
Line the base and sides of a springform tin with parchment paper or food safe acetate.

Break up the cookies and blitz briefly in a food processor into crumbs.

Melt the butter by cubing, adding to a microwave proof bowl and microwave for a minute or two.

Pour the melted butter into the biscuits crumbs and mix until it resembles fine bread crumbs.

Pour into lined springform tin and press down at the bottom to form the base. Do not press to firmly or your base may become to hard.

Chill in fridge for at least one hour and up to overnight.
To make the no bake cheesecake filling
NB Make sure your cream cheese is at room temperature.

Whip the cream until firm peaks form. In a separate bowl add the sugar and to the room temperature cream cheese and beat on low until combined and the sugar has all dissolved.

Gently fold the whipped cream into the cream cheese mix until well combined.

Put the cheesecake filling onto the prepared base and smooth down. Chill in the fridge for at least four hours, preferably overnight.

To serve remove from the spring form pan, pop onto a plate and enjoy! Decorate to your hearts content or gobble it up as it is. Delicious!
Notes
Adding flavors:
This is a base for making no bake cheesecake recipes. It's perfect for adding your own flavors.
Some fun suggestions include:
For Philadelphia no bake cheesecake - add 1 & ½ teaspoons of vanilla extract and 1 tablespoon lemon juice to the sugar and and cream cheese step.
For cherry cheesecake: make the base as for Philadelphia no bake cheesecake. Once set top with 1 - 2 cups homemade or store brought cherry topping for cheesecake.
For chocolate cheesecake: sift in ¼ cup (25gms) Dutch cocoa powder after you have mixed the sugar and cream cheese together. If the mix is very thick, add ½ tablespoon extra cream.
This is just a very small selection of the no bake cheesecake flavors you can make at home. Have fun experimenting, or for a tried and true recipes where someone has done the experimenting for you try one of my many no bake cheesecake recipes listed in the main post. Happy slicing!
Cake size:
I used a

7" x 2.5" (18cm x 6.5cm) to make my no bake cheesecakes as I like them nice and tall with a deep cookie base. It also works perfectly well in a traditional 8 or 9-inch springform tin. Your cheesecake will be flatter but it will still be delicious!
Storage:
No bake cheesecakes will generally keep in a covered container in the fridge for three to five days, depending on the recipe. If topped with fresh fruit they are best eaten within a day or two of decorating as the fruit will dry out.
If you want to freeze the cheesecake for later is usually best to do so before decorating, as most cheesecake decorations don't freeze as well. Wrap the whole cheesecake up and freeze for one to two months. Defrost then decorate and serve.
If you are freezing individual slices from a whole cheesecake you have made and decorated be aware the decorations will still safe to eat, but may not be as nice once defrosted. Fresh fruit decorations may go mushy once defrosted and whipped cream decorations may dry out.
Nutrition
Calories:
364
kcal
Carbohydrates:
55
g
Protein:
5
g
Fat:
14
g
Saturated Fat:
6
g
Polyunsaturated Fat:
1
g
Monounsaturated Fat:
4
g
Trans Fat:
0.003
g
Cholesterol:
27
mg
Sodium:
372
mg
Potassium:
125
mg
Fiber:
2
g
Sugar:
25
g
Vitamin A:
351
IU
Vitamin C:
1
mg
Calcium:
60
mg
Iron:
2
mg
Nutritional Disclaimer
Nutritional information is an estimate based on an online database. The nutritional content of ingredients may vary by brand. If you require accurate nutritional information, you should calculate this based on the specific brands and products you are using.