This passion fruit cheesecake is smooth, creamy and full of tangy passion fruit flavor. Wonderful on its own or with some homemade passion fruit coulis.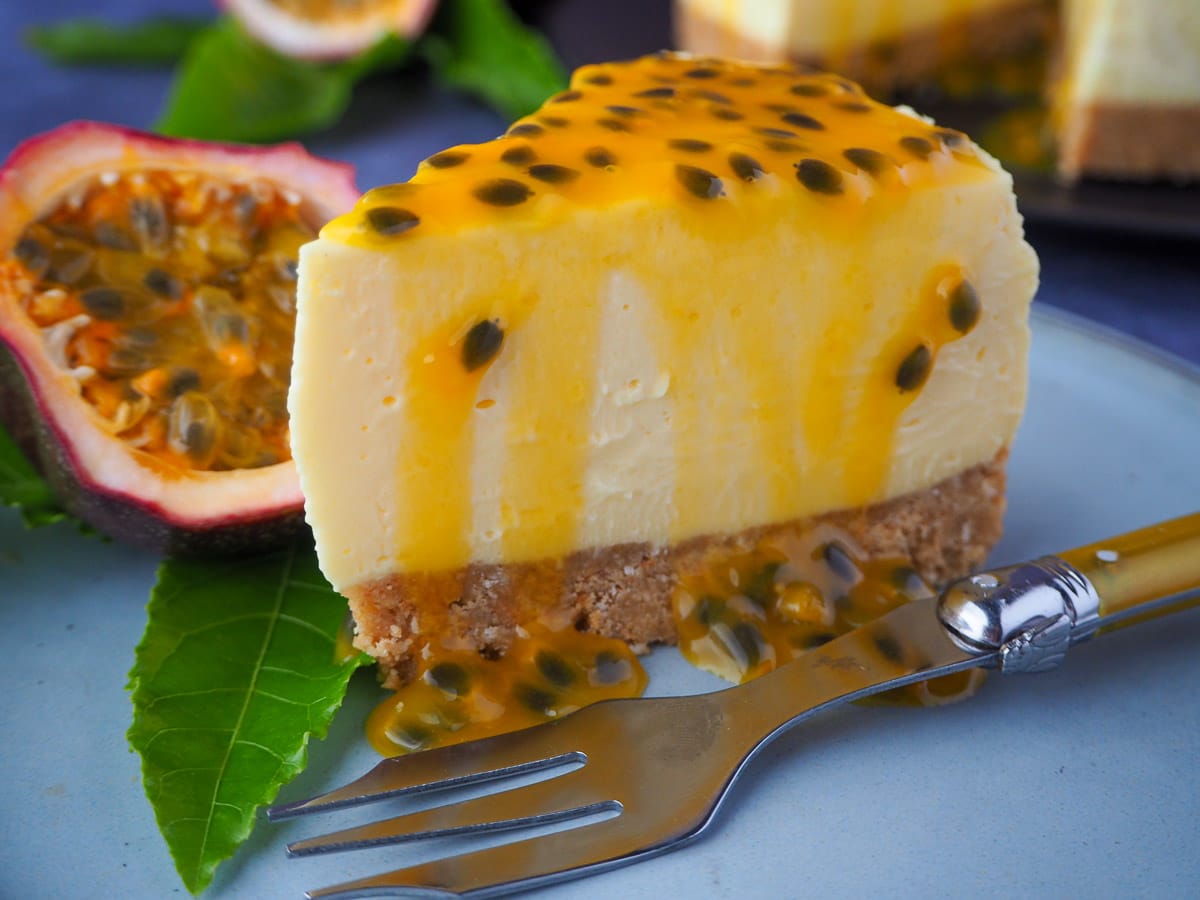 Jump to:
Passion fruit, incase you are not familiar with it, is a type of fruit that grow's on tropical vines. They are originally from Brazil and are very popular in South America, Australia and New Zealand, but less so in Europe and Northern America.
Which is a great shame, because passion fruit are delicious! They have a wonderful tang that pairs beautifully with so many flavors. They are a very popular summer fruit in Australia, from cheesecake such as this one, to passion fruit ice cream and on top of our famous vanilla slices.
This passionfruit cheesecake combines a no bake cheesecake with a tangy homemade passion fruit coulis for a show stopping dessert that will wow your friends and family and have them asking you for the recipe.
Ingredients
Passion fruit: I used fresh, ripe passionfruit for this recipe. You will need 1 and a ½ cups of seeded passionfruit pulp, which could be any where from six to fifteen or more passion fruits, depending on how big and juicy they are.
If you can't get fresh passion fruit you could try using frozen passion fruit pulp or even tinned passion fruit. Look for one without any added sugar if possible. I recommend tasting the pulp. If its very sweet you may need to reduce the amount of added sugar in the recipe.
Cream cheese: full fat cream cheese is best for this recipe for that classic creamy cheesecake taste. If you use light cream cheese it may not set properly.
Cream: I use thickened cream which as a fat content of about 34%. You could also use heavy cream or heavy whipping cream which is similar.
Sugar: white sugar is best in this recipe. You could use castor sugar if you prefer. I don't recommend using other types of sugar, they will be hard to dissolve and will compete with the flavors in this no bake cheesecake.
Gelatin: a little bit of gelatin helps this no bake cheesecake set. Without it the amount of liquid is likely to prevent the cheese cake from setting properly and you would end up with cheesecake soup! Gelatin can vary in its strength depending on the brand, see the note the recipe card for a guide on how to check you have the right amount.
Desiccated coconut: is finely grated coconut, commonly used in baking. The fine texture mixes in well with the biscuit base and gives a lovely extra kick to this cheesecake. I don't recommend using shredded coconut, it will be to big and may not combine well in the base. If you are not a fan of coconut you can leave it out and replace it with a little more biscuit crumbs.
Butter: because butter makes most things taste better. In this recipe it binds and sets the base.
Digestive biscuits: are a type of sweet whole meal cookie sold in Australia. If you can't get digestives you can use the same amount of Graham crackers or Graham cracker crumbs.
How to make passion fruit cheesecake
To make the base
Grease and line your spring form pan. Crush up your biscuits into fine crumbs, either by breaking up and blitzing in a food processor. Or if you don't have one you can put them in a plastic bag on a chopping board, cover with a tea towel and carefully bash with a rolling pin. At a pinch a heavy small heavy based saucepan works to!
Put the biscuit crumbs and coconut into a bowl and mix well. Melt the butter in a microwave in or in a pan on the stove top. Add the butter to the crumbs and mix well. Tip into prepared cake tin. Press down firmly with the back of a spoon and chill for at least one hour, and up to twenty four hours before filling.
Hot tip: do not skip chilling the base. If its to hot when you add the filling it can make the filing weep, resulting in a soggy cheesecake base. If you are pressed for time on the day you can make the base the day before and store it in the fridge until you have time to make the filling.
To make the filing
Hot tip: Make sure your cream cheese is at room temperature. This can take any where from thirty minutes to one hour depending on where you live. If you cream cheese is to cold it won't mix in properly and is one of the main causes of lumpy or grainy cheesecake.
Cut open the passion fruit and strain the pulp. I use strained passion fruit pulp in the cheesecake for a wonderful smooth texture and some passion fruit coulis with seeds on top for extra texture. You will need about one and half cups of passion fruit pulp which becomes one cup of strained passion fruit pulp.
Put the pulp into a small saucepan on the stove. Simmer on low, stirring frequently for about fifteen to twenty minutes or until the passionfruit has reduced to half a cup of liquid. Simmering the pulp to create a passion fruit reduction helps concentrate the flavor and gives a creamier cheesecake with plenty of punch. Allow the passion fruit reduction to cool.
Put the water in a small microwave proof bowl. Sprinkle the gelatin evenly over the top in a thin layer, don't just tip it all into one spot. Allow the gelatin to bloom for five minutes. Once bloomed, heat very gently in the microwave until just melted, about ten to fifteen seconds depending on your microwave. Whisk the gelatin to ensure it all mixed in and melted. Allow to cool slightly while you complete the next steps.
Hot tip: if you have over heated the gelatin its ok. Let it cool at room temperature for a bit before moving onto the next step. Do not be tempted to hurry this up by putting it in the freezer or even the fridge. You will end up with lump gelatin that will be very difficult to mix into the cheesecake.
Beat together the cream cheese and sugar until just smooth and combined. Fold in the cooled passion fruit pulp.
In a separate bowl whip the cream until soft peaks just form. Add a couple of tablespoons of the cream to the gelatin to temper it and mix well. Add the gelatin cream mix into the rest of the cream and beat to combine.
Hot tip: tempering the gelatin helps reduce the chance of it going lumpy. If its to hot or cold and goes lumpy Anyway when you add the cream you can carefully blitz it will an immersion/stick blender to make it smooth before adding it to the cream.
Add the cream mix to the rest of the cheese cake mix and fold in well. Pour onto chilled base and smooth down with a spatula. Chill in fridge for at least 12 hours to set.
To remove from tin carefully unclip the upper ring and remove. Peel back the side baking paper. Use a large sharp knife to carefully insert the knife between the base and the baking paper and slide onto a plate.
How to serve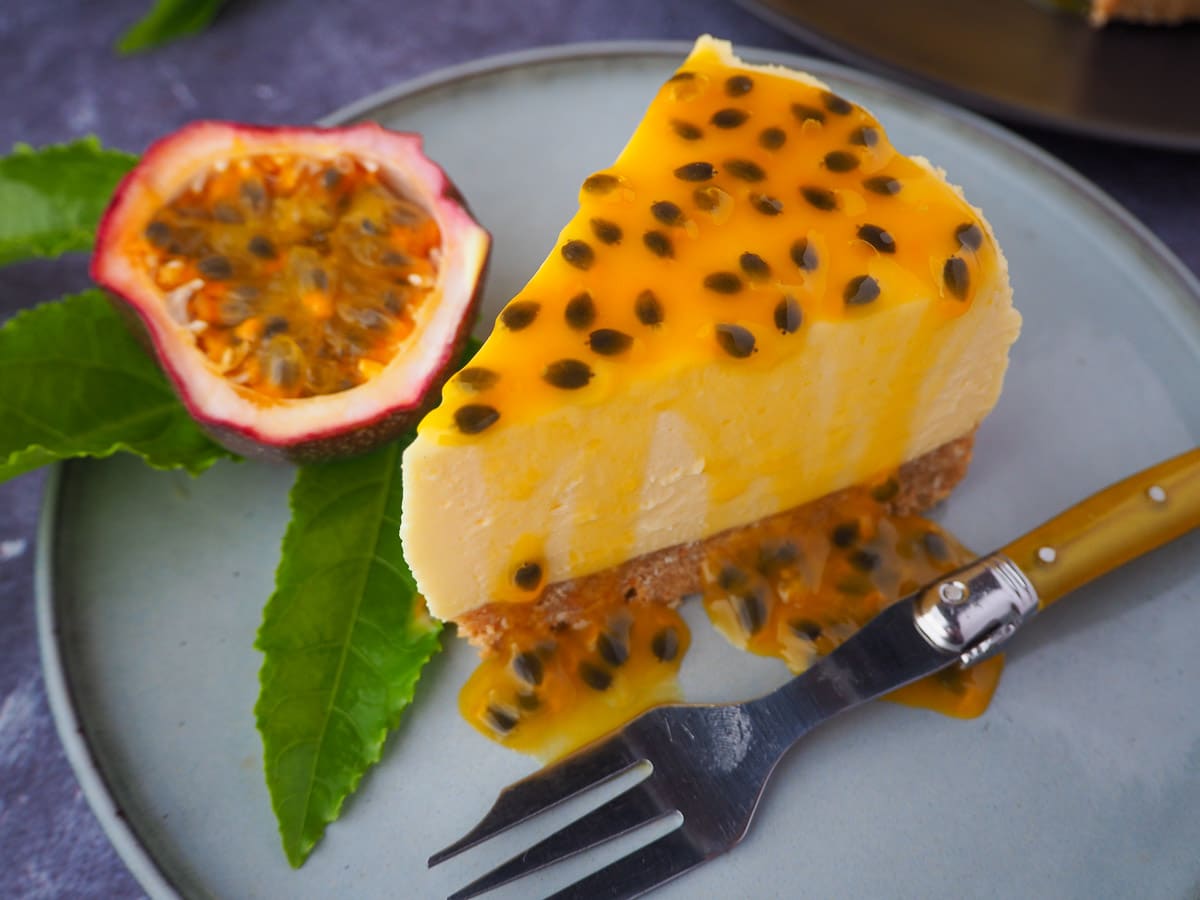 To serve pop onto a plate, slice and enjoy! Amazing with some of my passion fruit coulis drizzles over the top. Delicious!
How to store
This cheesecake will store well in an airtight container in the fridge for up to three days.
Have you made this recipe? Tell me how it went in the comments below and tag me on instagram so I can see your delicious creations! @keep_calm_and_eat_icecream
Looking for more yummy dessert recipes?
Why not try making
Mango cheesecake (coming soon!)
Follow me on Facebook or Pinterest for many more delicious recipes.
📋 Recipe
Print Recipe
Passion fruit cheesecake
This passion fruit cheesecake is smooth, creamy and full of tangy passion fruit flavor. Wonderful on its own or with some homemade passion fruit coulis.
Equipment
spring form tin

Electric hand beaters or stand mixer
Ingredients
Base
(250gms)

digestive biscuits or graham crackers

¼

cup (20 gms)

desiccated coconut

1

stick (115gms)

butter
Filling
2 x 8 ounce

(450gms)

full fat cream cheese at room temp

1

cup (250mls)

thickened cream

¾

cup (165gms)

white sugar

1

tablespoon (5gms)

powdered gelatin

2

tablespoons

water

9

large

fresh passion fruit/1 and a ½ cups pulp
Optional topping
1

cup

homemade or store bought passion fruit coulis
Instructions
Base
Line the base a sides of a spring form tin with baking paper.

Crush the biscuits. You can do this by breaking into pieces and adding to a food processor, or put them into a plastic bag, cover with a tea towel and gentle hit with a rolling pin.

Put the crumbs and coconut in a bowl and mix well.

Melt the butter by cubing, adding to a microwave proof bowl and microwave for a minute.

Pour the melted butter into the biscuit and coconut and mix until it resembles fine bread crumbs.

Pour into lined spring form tin and press down at the bottom to form a crust.

Chill in fridge for at least one hour and up to overnight.
Filling
Cut open the passion fruit and strain the seeds. You want one cup of strained passion fruit pulp.

Add the pulp to a small saucepan. Simmer on low for about 15 to 20 minutes, stirring frequently or until pulp has reduce to half a cup. Allow to cool.

Beat together cream cheese and sugar.

Fold in the passion fruit pulp and mix well.

Put the water into a small microwave proof bowl. Sprinkle gelatin over the top and allow to bloom for five minutes.

Once bloomed heat gently in the microwave, for about 10 to 15 seconds to just melt the gelatin. Whisk to ensure all the gelatin is melted.

Whip the cream until soft peaks just form.

Add a couple of spoonful's of cream to the gelatin to tempter it and mix well.

Add the gelatin to the cream and beat in.

Add the cream and gelatin mix into the cream cheese mix and fold in until well mixed.

Pour the filling over the base. Smooth down. Chill in fridge for at least 12 hours.

To serve remove form spring form pan and carefully transfer to a plate. Fabulous on its own or with some of my homemade passion fruit coulis drizzled over the top. Delicious!
Notes
You can top this passion fruit with either my homemade passionfruit coulis or store bought.
The gelatin helps the cheesecake set, despite the liquid from the passion fruit. If you leave it out your cheesecake is likely to turn to mush.
Gelatin brands can vary widely in their strength.
In Australia I used McKenzie's Gelatin powder. If you are outside Australia you could try using half a satual of Knox Gelatin, or enough to set 2 cups (500mls) of liquid. To much gelatin can make the cheesecake gummy and unpleasant so you may need to experiment with you brand to get the right balance.
Join the community!
Like Keep Calm and Eat Ice Cream on Facebook for more great recipes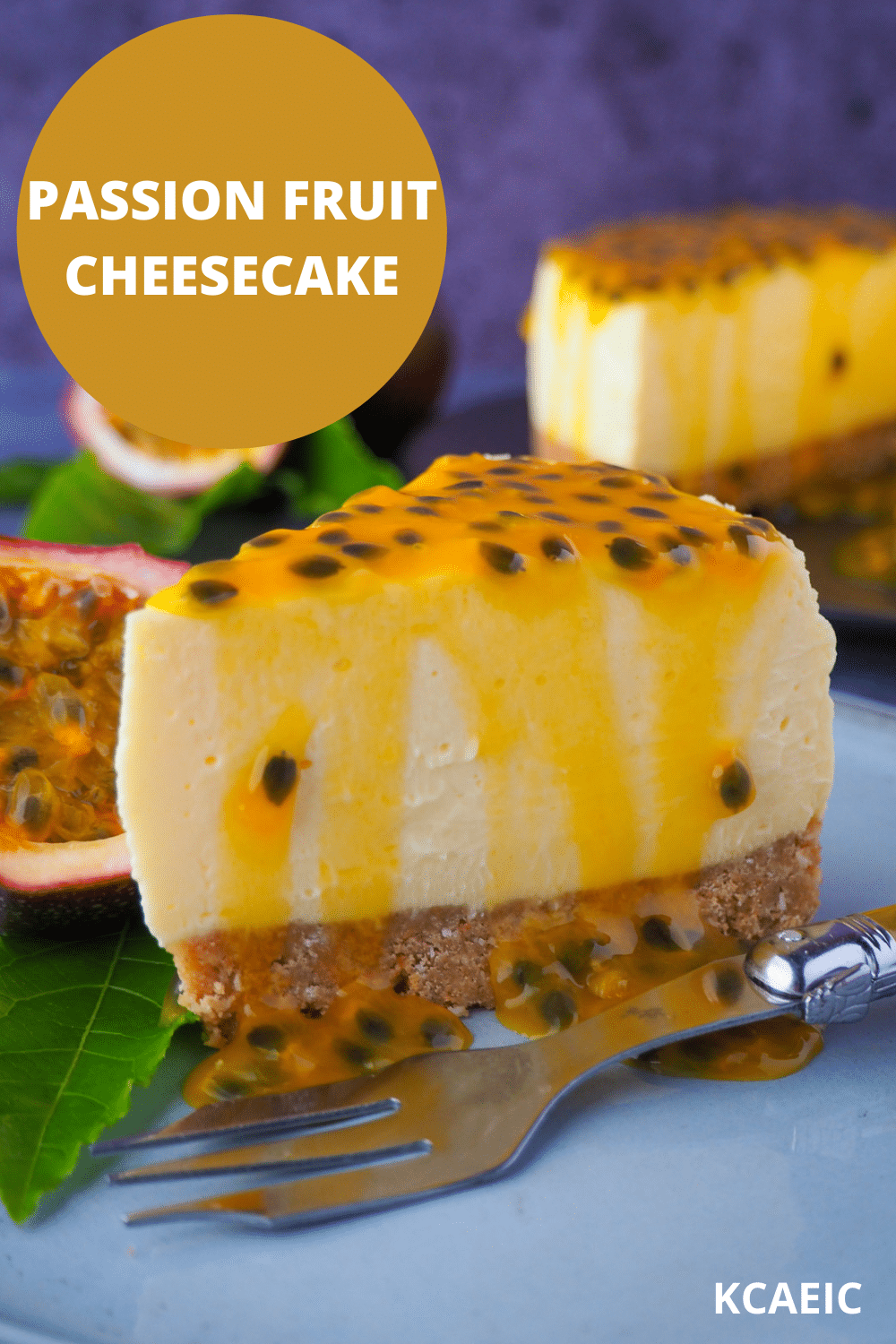 Pin it for later!