These homemade amaretti cookies are a simple take on these classic Italian biscuites. They are sweet, chewey, naturally gluten free and very morish!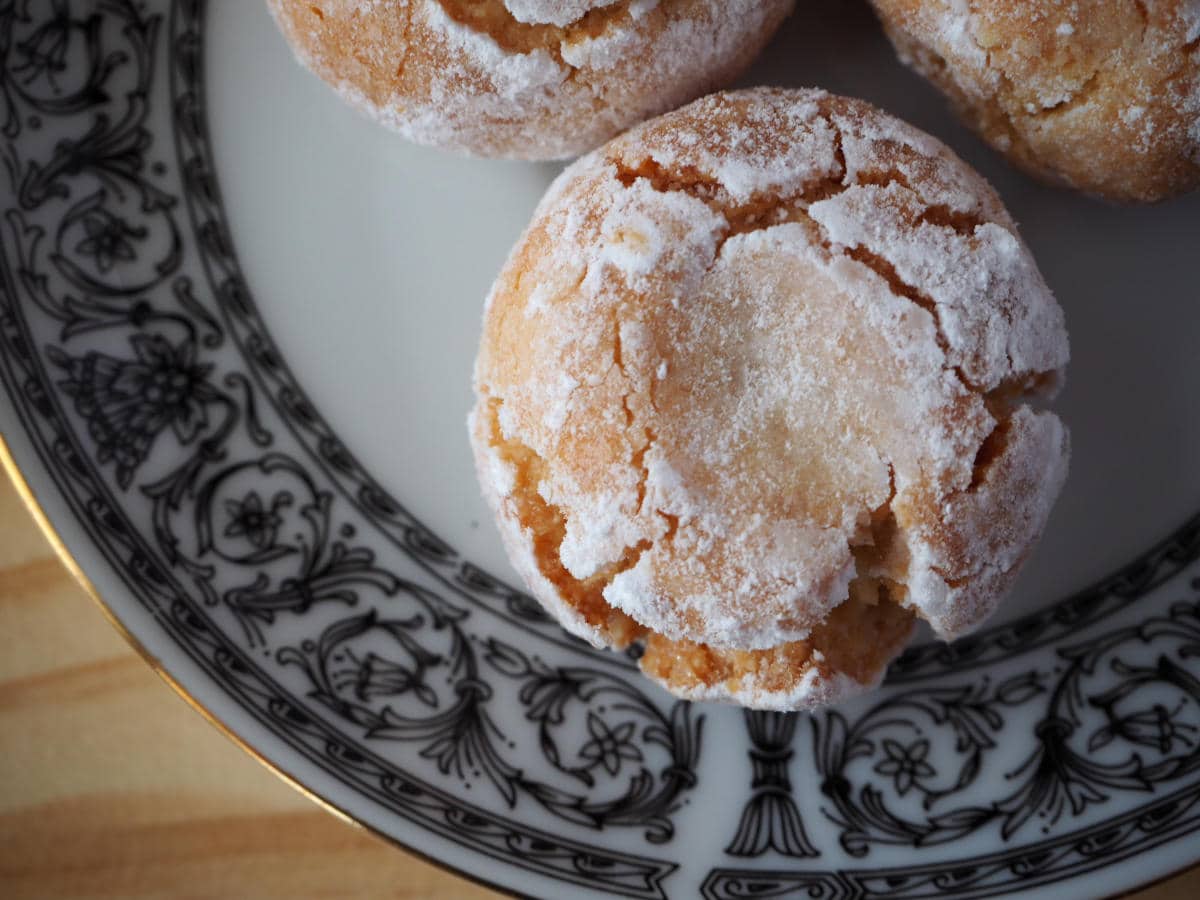 Jump to:
What are Amaretti cookies?
Amaretti cookies, also known as Amaretti biscuits or even Amaretti di Saronno, are a type of Italian cookie made with almond meal, almond flavoring, sugar and egg whites. The names come from amaretto which is Italian for almond flavored. They are often made with Amaretto liquor or can be made with almond essence. Amaretii cookies are sometimes called Italian macaroons.
What is almond meal?
Almond meal is made from ground sweet almonds, either whole or blanched without skins. Almond flour usually refers to ground sweet almonds that have been blanched with the skins removed, although the two terms are sometimes used interchangeable. It can also be known as ground almonds. Almond meal usually looks like coarse bread crumbs rather than finer ground flours such as flour made with wheat, rice or corn.
Almond meal is naturally gluten free and is often used in gluten free recipes such as amaretti cookies and in other baked desserts.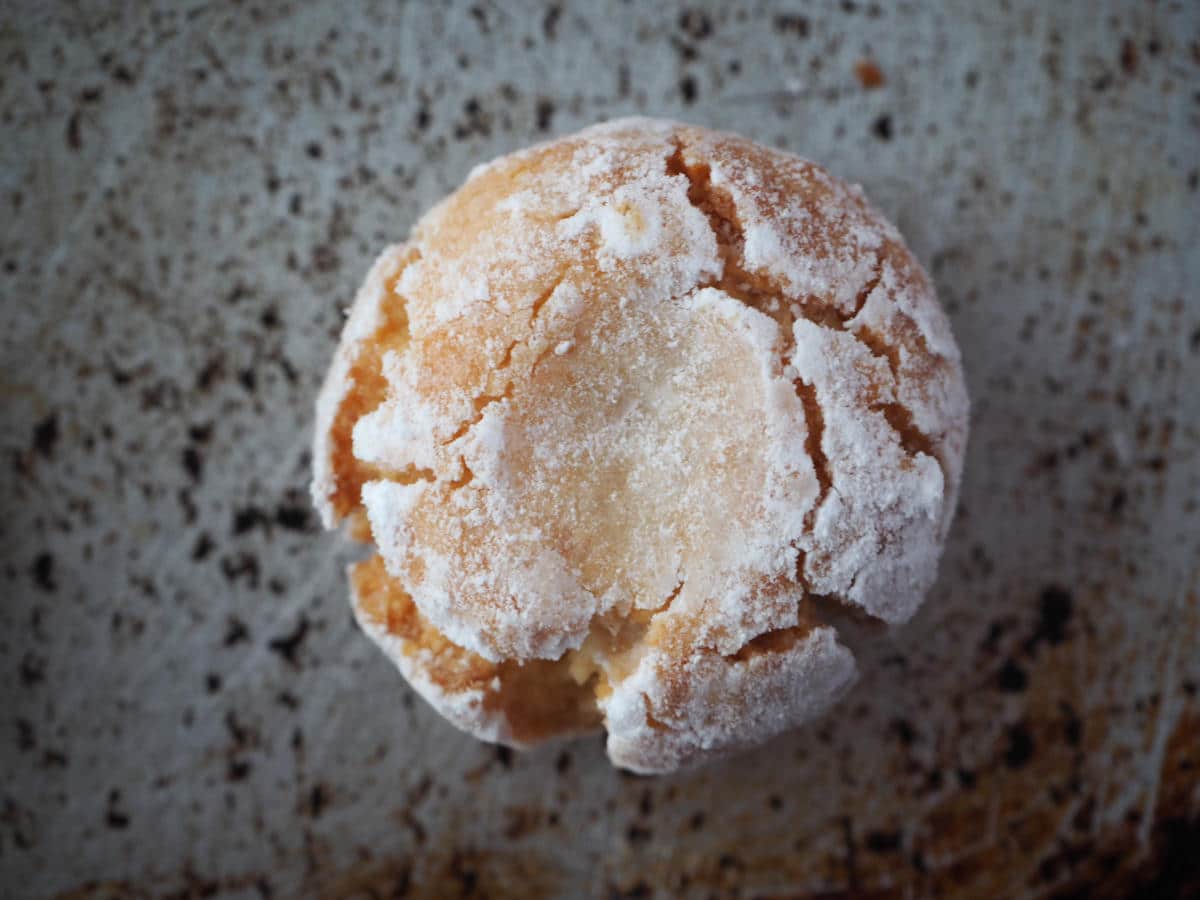 I make a lot of ice cream so I always have spare egg whites that need to be used or after making a batch of tiramisu. As much as I love my meringues I was looking for something else to used up the extra egg whites. These simple cookies are the perfect solution.
I noticed when I was developing this recipe that lots of more traditional recipes whip the egg whites into soft peaks and carefully fold in the sugar and almond meal, only to squash out all the whipped in air by rolling the cookies into balls.
It occurred to me you could skip the whipping of the egg whites and just add them un-whipped to the mix. It worked perfectly! The cookies still come together and the egg whites bind the cookies without the need to whip them first. They have just the right amount of chewiness and that lovely characteristic cracked look. So I'll be skipping the egg white whipping step when making these cookies from now on.
Ingredients:
Almond meal: sometimes also know as almond flour or ground almonds. The almond meal in these cookies keeps them naturally gluten free and give a wonderful richness to these cookies.
White sugar: this recipe uses white sugar but you could also use castor sugar. I don't recommend using brown sugar.
Egg whites: this recipe uses large eggs (2oz/55gms each when shells are still one). You can put the egg yokes aside to use in one of my delicious ice cream recipes.
Almond essence: helps enhance the almond flavor in these cookies. You could use an almond flavored liquor such as Amaretto instead if you prefer, but it may not add as much concentrated almond flavor.
Icing sugar: also known as powdered sugar or confectioners sugar. Its using for dipping the cookies into and help give them the characteristic cracked look. You can leave it out if you prefer.
How to make amaretti cookies
Put your oven onto heat up and line two large baking trays with baking paper.
Sift the icing sugar into a medium sized bowl.
Put the white sugar, almond meal egg whites and almond essence into a medium sized bowl.
Mix well until mix resembles wet bread crumbs. Measure out one tablespoon of mix. Press mix firmly between your hands and roll into a ball.
Put ball into sifted icing sugar and roll around to coat. You can create a cookie production line if you wish and coat several cookies at a time with icing sugar.
Put coated cookie onto one of the lined baking tray and press down lightly. Continue with the rest of the cookie mix.
Bake in the oven for about 20 minutes until done. This recipe uses a fan forced oven at sea level. You may need to adjust your baking times depending on your location and your oven.
How to serve the cookies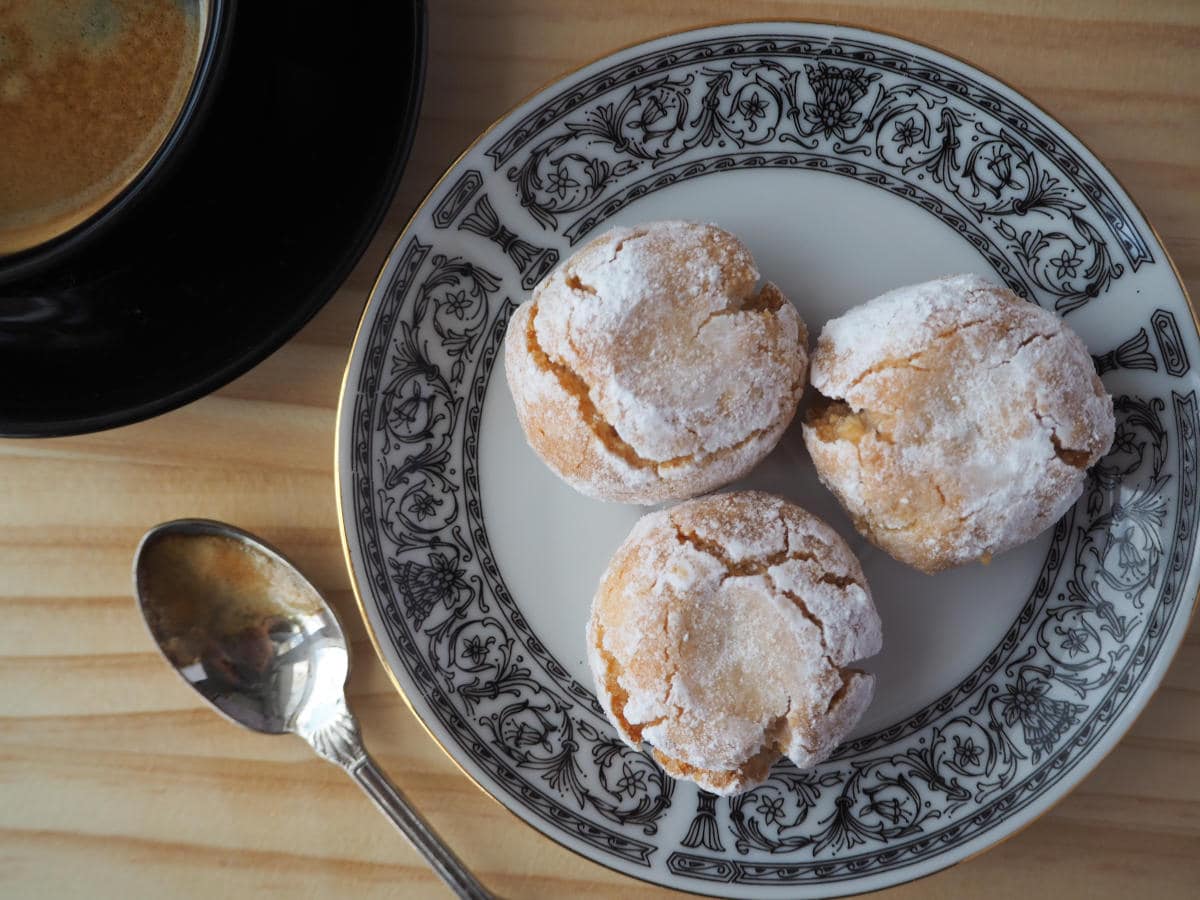 These cookies are fabulous on their own or with a cup of coffee. They are very moreish and hard to stop at just one!
How to store the cookies
You can store these cookies in a airtight container lined with baking paper for up to one week. After that they may start to get a little dry but will still be good to eat for a further week.
Have you made this recipe? Tell me how it went in the comments below and tag me on Instagram so I can see your delicious creations! @keep_calm_and_eat_icecream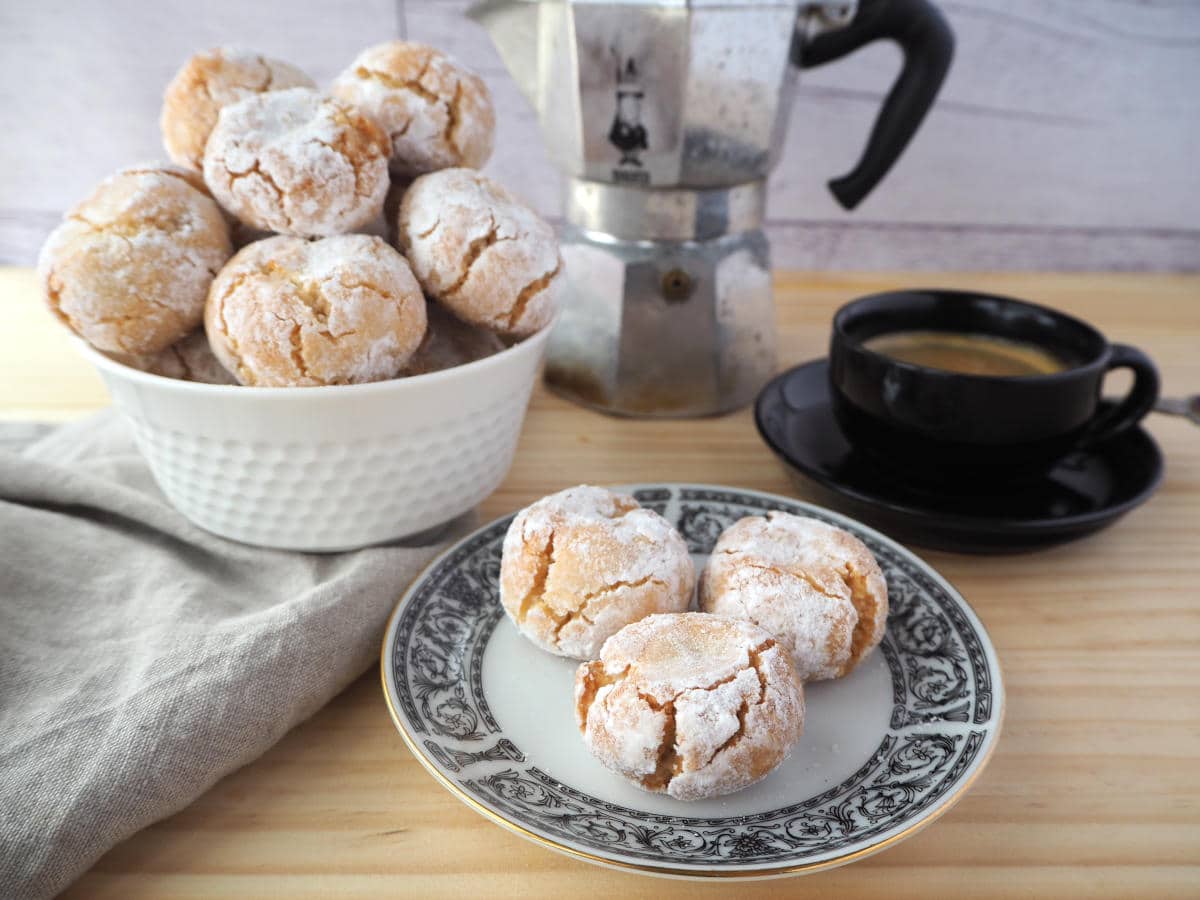 Looking for more yummy dessert recipes?
Why not try making
Follow me on Facebook or Pinterest for many more delicious recipes.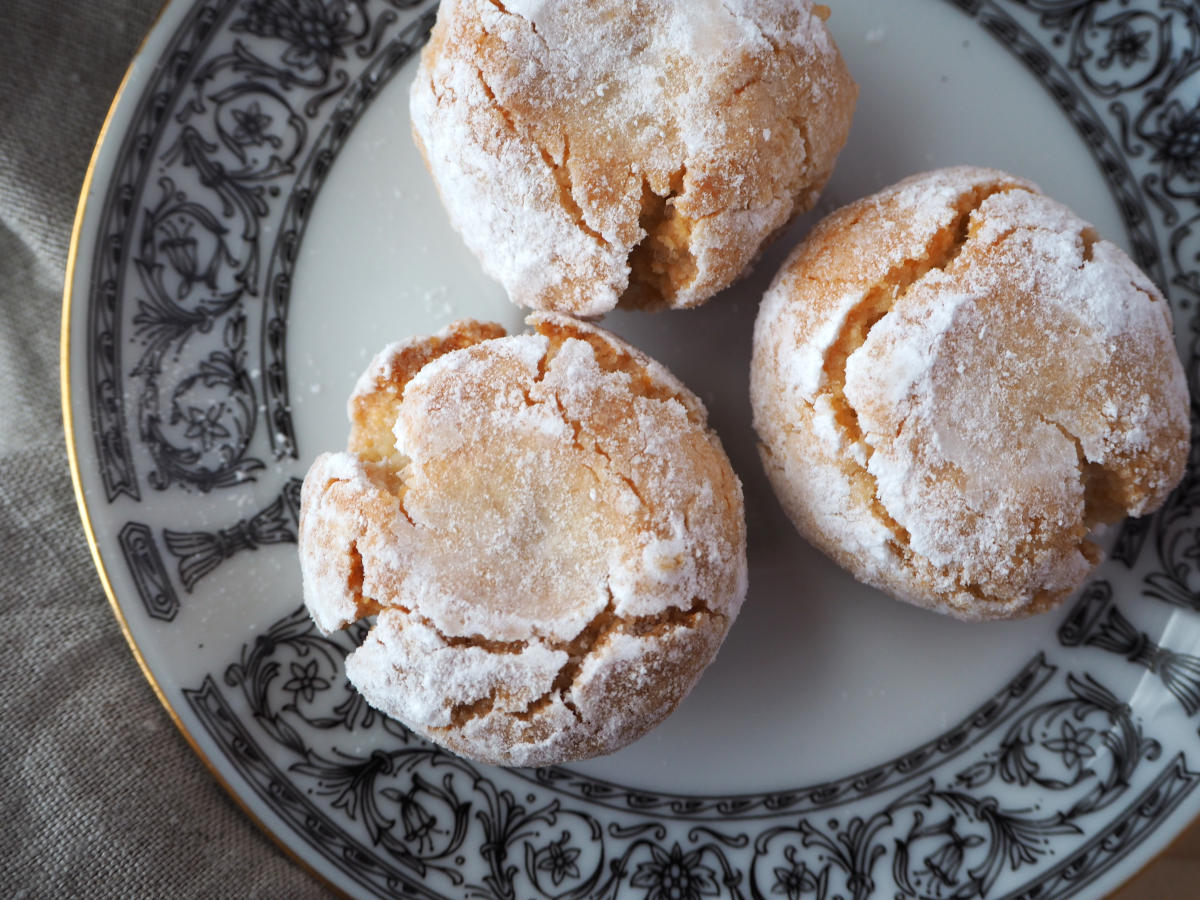 📋 Recipe
Print Recipe
Amaretti cookies
These homemade amaretti cookies are a simple take on these classic Italian biscuites. They are sweet, chewey, naturally gluten free and very morish!
Servings:
36
individual cookies
Ingredients
1 and ⅓

cups (295gms)

white sugar or castor sugar

4

cups (400gms)

almond meal

4

large

egg whites from large eggs (2oz/55gms each with shells before seperating)

1

teaspoon

almond essence

½

cup (60 gms)

icing sugar

*also called powdered sugar or confectioners sugar.
Instructions
Pre heat oven to 340°F (170°C).

Seperate eggs and put yokes aside for another recipe, such as one of my delicious ice creams.

Line two trays with baking paper.

Sift icing sugar into a medium sized bowl.

Add sugar, almond meal, egg whites and almond essence to a large bowl.

Mix well untill it resembles coarse wet bread crumbs.

Scoop out a tablespoon of mix and roll into a bowl in your hand. If the mix is a little crumbly press together firmly in your hands, then carefully continue to roll into the ball.

Put rolled cookie into icing sugar and roll around untill coated.

Gently shake off excess icing sugar then place onto lined tray and press down gently with one finger.

Continue to roll cookies, dip into icing sugar and put onto trays untill all cookies are done.

You can roll and dip a few cookies at a time into the icing sugar to save time.

Bake cookies for 20 minuits or untill golden brown between the icing sugar.

Remove from oven and allow to cool, then transfer to wire cooling racks to cool completely.

Fabulious on their own or with a cup of coffee. Delicious!
Notes
For baking recipes the most accurate way to measure the ingredients is to use a pair of digital kitchen scales. They are inexpensive and will give you better results when baking, as cup measures can vary widely.
If you are unable to use scales I reccomend you use the 'spoon and level' method. Spoon the ingredents into the cup and use a flat surface like a spatular or butter knife to level the top.
Pin it for later!