These light fluffy basic meringues are the perfect way to use up left over egg whites after making custard based ice cream or other treats.
Jump to:
Meringues are often classified as a hard recipe to make on recipe sites but they are actually quite easy to make if you follow my tips and tricks 🙂
Tip and trick for making good meringues
Make sure there is no yoke in your egg whites. They will prevent the egg whites whipping properly.
Make sure your bowl and mixing tools are really clean. Some have even suggested rubbing half a lemon over the mixing bowl before using to ensure any greasy residue is removed.
All the sugar slowly, little bit by little bit. Do not be tempted to dump it all in at once. A few table spoons at a time is fine. Make sure you beat the egg whites well between each addition.
Low and slow is the way to go when it comes to cooking these basic meringues. Good meringues take time. Use your lowest oven setting, (mine is 212°F (100°C)) but go lower for longer if you can.
To make the basic meringues
To start with put the oven onto preheat at 212°F (100°C) or lower if you can. Line two baking trays with baking paper.
Make sure your bowl is very clean. You don't want any grease or residue in the bowl or it will stop you getting lovely firm, soft peaks. Separate the eggs and put the egg yokes aside for another recipe, such as my Strawberry Ice cream
Hot tip: Crack the eggs one at a time into a small seperate bowl. That way if one yoke breaks, you can put the egg aside for something else and try again. Do not add any yokes to your eggs whites or they will not whip properly.
Measure our your sugar and have it near the mixing bow. Prepare your piping bag with a fluted or smooth nozzle, if using. It helps to have the edges folded back and it propped up in a mug to make filling easier.
Beat egg whites using a hand held electric mixer or stand mixer until opaque, stiff white peaks start to form. Gradually add the sugar, a table spoon or two at a time, beating in well between additions. You want to beat in a much air as possible and get a nice smooth, glossy meringue that forms stiff, opaque white peaks when you lift the beaters out.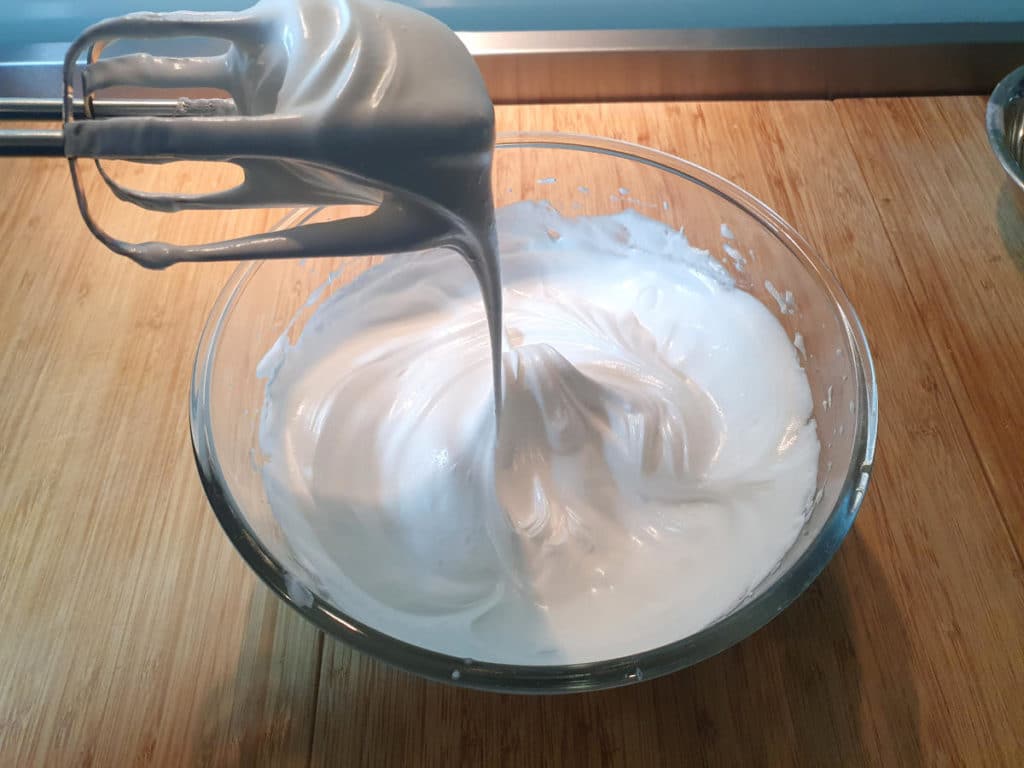 Continue to add sugar until it is all mixed in. Add the salt, vinegar and vanilla essence and beat well. The mix should be thick, glossy and form beautiful large peaks and stick to the beaters.
Hot tip: to remove the extra meringue from the beaters, tap them against each other. Don't tap them on the edge of the bowl or you will knock out some of all that fluffy air you have worked so hard to beat in!
Transfer mix to a piping bag if using and pipe meringue onto baking paper in two inch (five cm) swirls, about one inch (2.5cms) apart.
Hot tip: if you don't have a piping bag you can spoon the meringues onto the baking paper instead. They will still taste delicious.
For fun rainbow meringues sprinkle with 100's and 1000's or your edible sprinkles of choice.
Bake meringues for 1.5 hours, longer if using a lower oven temperature. To check they are done tap the bottom of the meringues, they should make a hollow sound.
Leave trays in oven, turn off and allow to cool completely.
Delicious on their own, with some home made ice cream or whipped cream and fresh berries.
Storage
These basic meringues are best eaten on the day they are made for maximum crispness. You can store them in an air tight container lined with baking paper for up to a week, but they will start to loose their crunch over time and go sticky and chewy.
Looking for more yummy desert recipes?
Why not try making
Have you made this recipe? Tell me how it when in the comment below and tag me on socials so I can see your delicious creations! @KCAEIC or #KCAEIC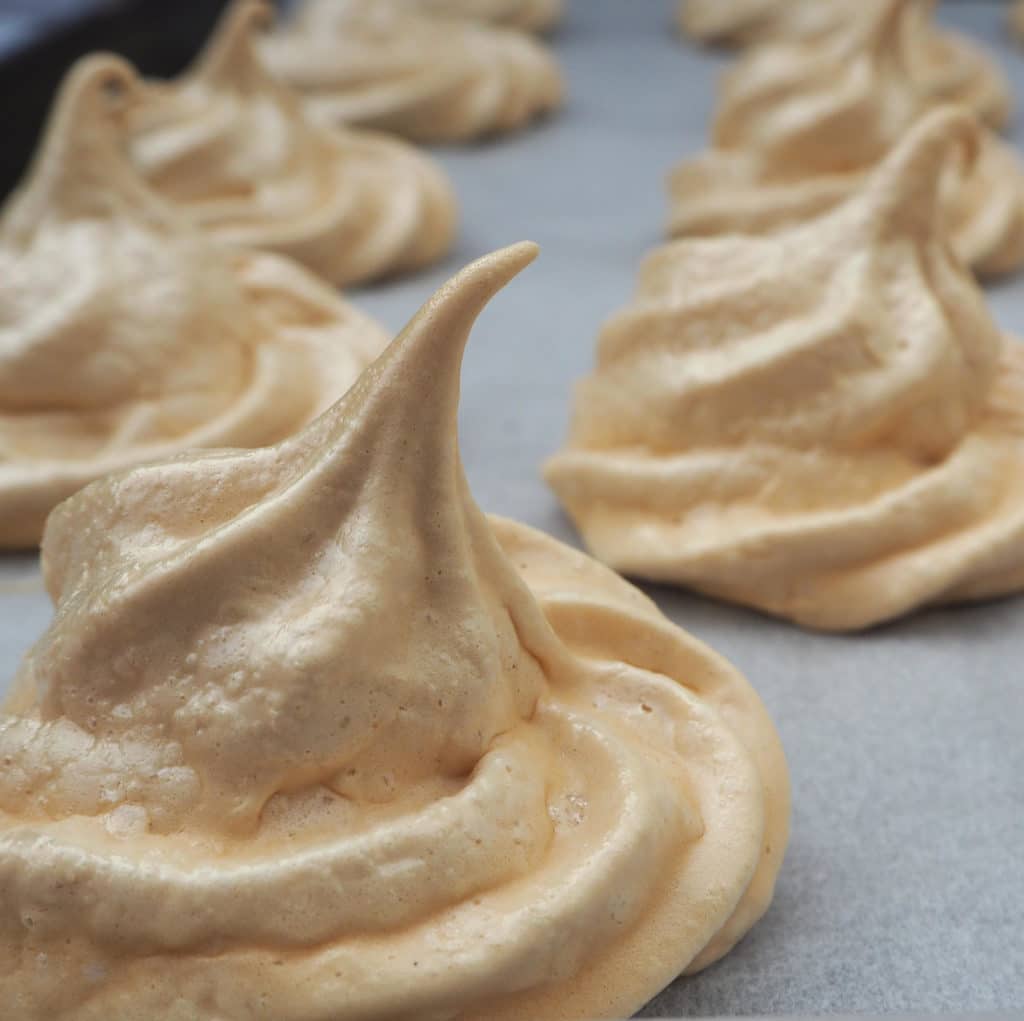 📋 Recipe
Print Recipe
Basic meringues
These light fluffy basic meringues are the perfect way to use up left over egg whites after making ice cream or other treats.
Equipment
Electric hand beaters or a stand mixer
Ingredients
¾

cup (160gms)

caster sugar

4

egg whites

1

teaspoon

vanilla essence

1

pinch

salt

1

teaspoon

white vinegar
Instructions
Preheat your oven as low at it will go, ideally 212°F (100°C ) or less and line two baking trays with non stick baking paper.

Beat egg whites in a bowl using hand mixer or stand mixer until it starts to form stiff opaque white peaks

Slowly add sugar, a table spoon or two at a time, make sure sugar is well beaten in in between adding more sugar.

Add the salt, vanilla and vinegar and mix in well

Add mix to a clean pipping bag fitted with a fluted nozzle.

Pipe on to tray in small circles about 2 inches (5cm) diameter, spaced about 1 inch (2.5cm) apart.

Sprinkle with rainbow coloured sprinkles (optional)

Bake in oven for 1.5 hours or until crisp and hollow sounding when tapped.

Turn off oven and allow to cool completely.

Eat immediately or store in a air tight container for up to a week

Delicious on their own or served with ice cream, fresh cream or fresh fruit!