This Christmas pudding ice cream has just three ingredients and is super easy. Perfect of a hot Australian or Kiwi Christmas or if you are looking for a festive dessert to wow your guests with this Christmas.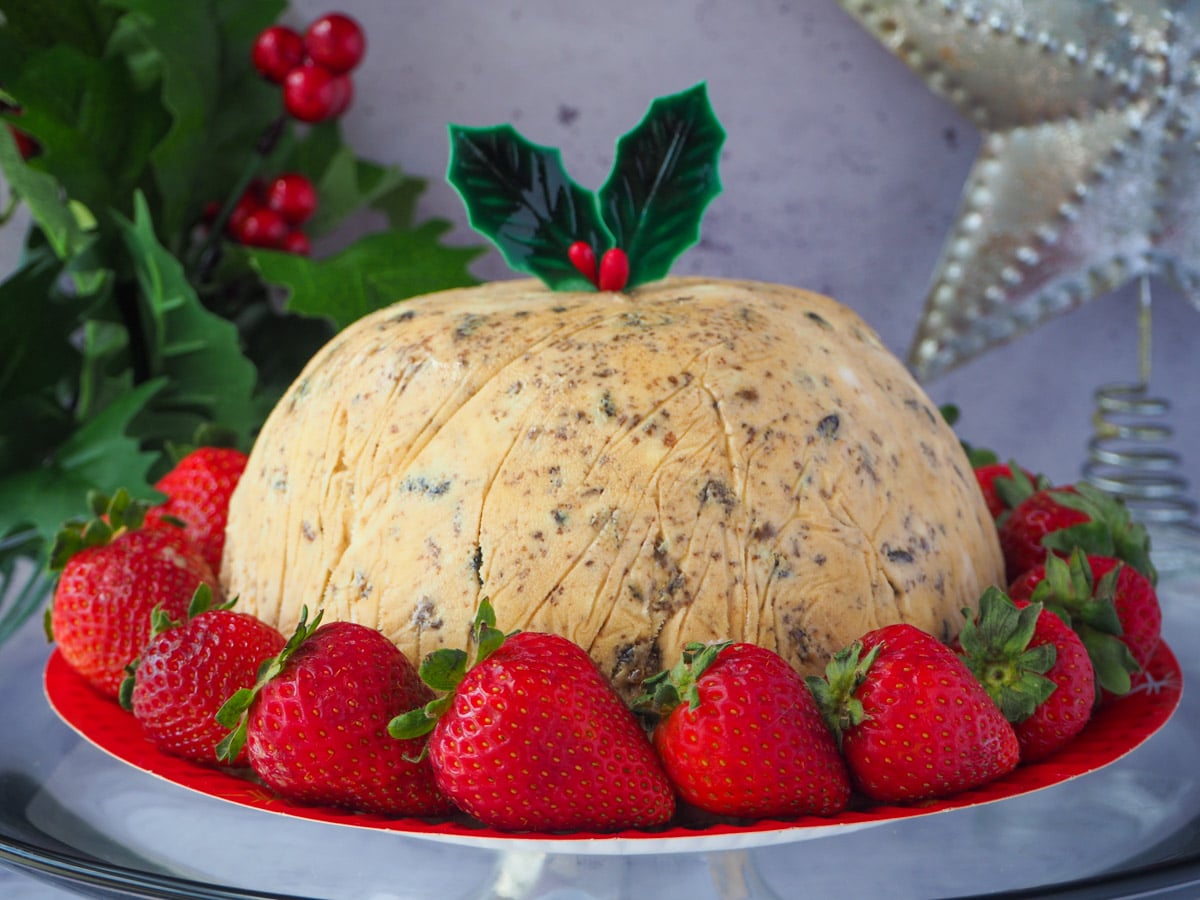 This ice cream Christmas pudding came together several years ago when one of my dear friends wanted to know why we were eating lots of heavy European Christmas food when its hot and sunny in the southern hemisphere at Christmas time.
So we put together a delicious Aussie and Kiwi Christmas menu and this easy Christmas pudding ice cream was the star of the show. Super quick and with just three ingredients, two if you leave out the optional brandy. At the time we were living in London, so we had to call it ice cream plum pudding!
What ever you call it this Christmas pudding ice cream is delicious. I make it every year for our Christmas party and family Christmas meal and its always a hit. I hope you love it as much as we do.
In the mood for more delectable ice creams? Check out my full collection of Cuisinart ice cream maker recipes (that work well in other brands ice cream makers too!).
Ingredients:
Christmas pudding: I like to use a mature Christmas pudding but you could use a regular pudding if you prefer. You could even mix things up with different flavored puddings.
Vanilla ice cream: this is one of the few times when I use a good quality store bought vanilla ice cream. You could make your own if you prefer, using my easy vanilla ice cream recipe, but for something quick and easy store brought is fine.
Brandy (optional): a little brandy sloshed over the pudding adds to the flavor of this pudding. Don't add more than 1 shot (30mls) of 40% alcohol or your ice cream won't set. You could use a different type of alcohol if you prefer, replace it with a little brandy flavoring or leave it out all together, it will still still taste delicious.
How to make Christmas Pudding ice cream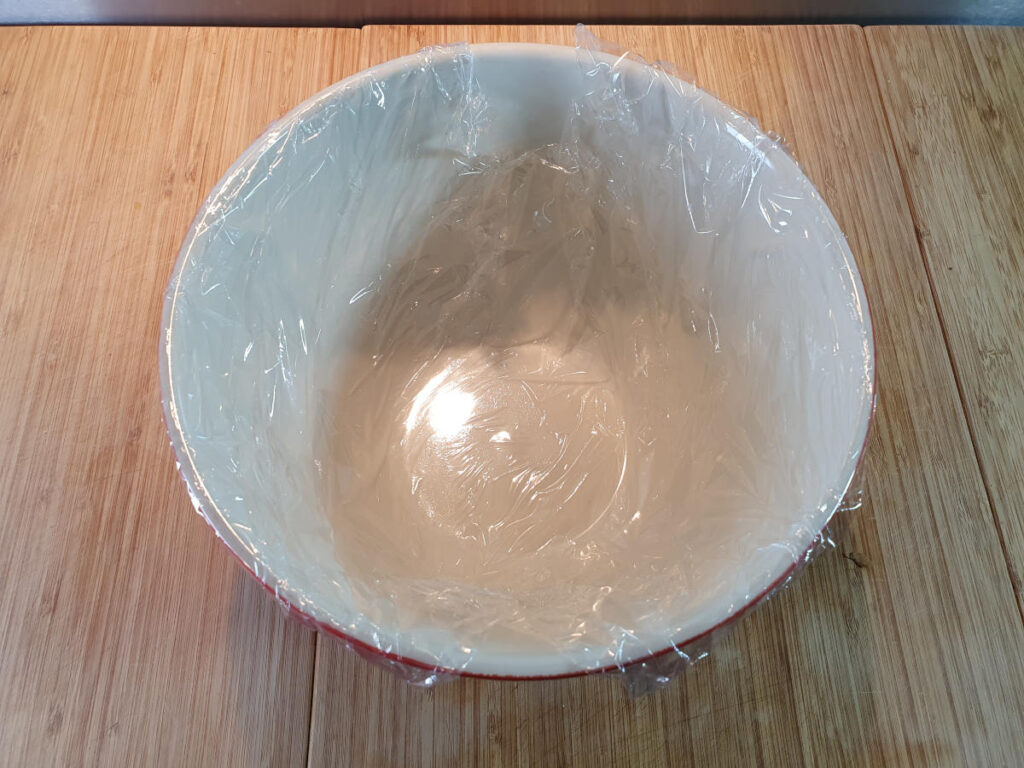 Line a pudding bowl or medium mixing bowl with cling film. Line one way first, then they second way in a cross pattern so all of the bowl is covered, leaving a long over hang on the second piece so you can fold in back over to cover the top.
Put the lined bowl into the freezer to start to pre chill while you are making the pudding.
Open the Christmas pudding and cut roughly four pieces.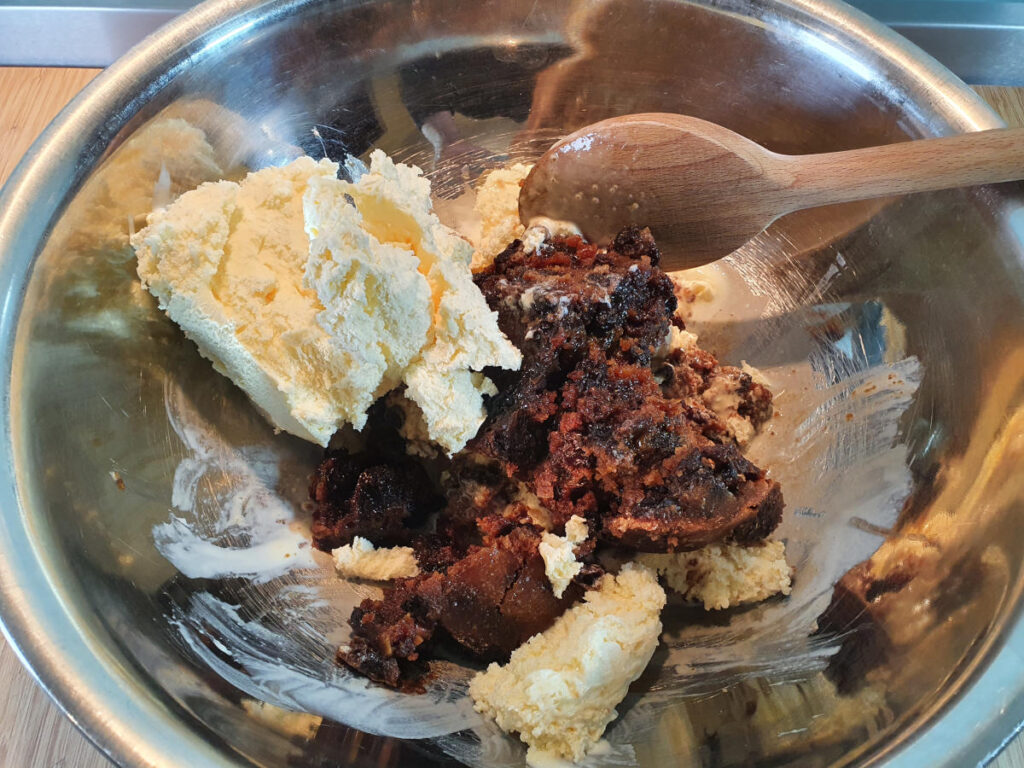 Add some of the vanilla ice cream. Splash a little brandy onto the pudding if using. Using a large wooded spoon mix the pudding, brandy and ice cream together, pressing down on the ice cream and pudding to mix it in.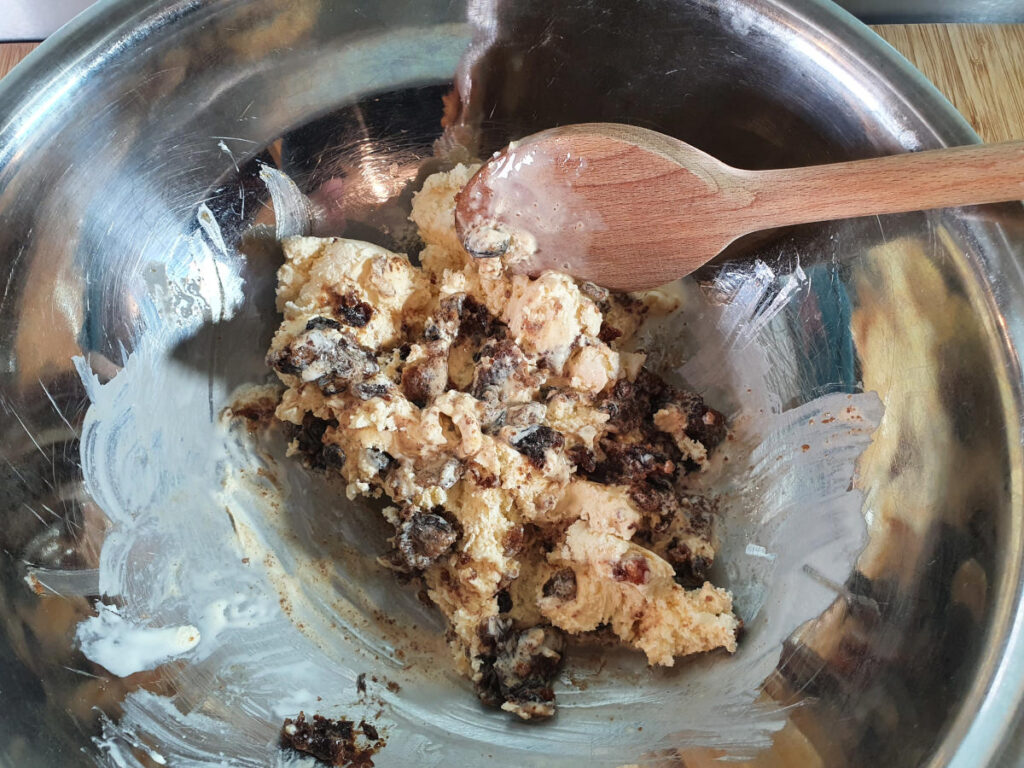 Continue to add more pudding, brandy and ice cream, mixing in well between each addition until all of the pudding and ice cream is mixed in.
Tip into the lined pudding bowl. Pat it down with a spatula so its flat. Fold the over hang of cling film over the top and press it down to remove any air.
Freeze for at least four hours, or until firm.
How to serve
To serve this ice cream pre chill a plate in the freezer. Peel back the cling film on top and invert the pudding bowl onto the plate. Gently pull on the edges of the cling film to pop out the pudding. Remove the cling firm. Decorate with some edible glitter if you like and some fresh strawberries or cherries. Serve immediately. Fabulous on its own or with some brandy butter or custard. Delicious!
How to store
This ice cream will store well in a airtight container in the freezer for up to two weeks so its a great one to make ahead if you have the freezer space. After that is may start to go a little icy, but it will still taste delicious!
Have you made this recipe? Tell me how it went in the comments below and tag me on Instagram so I can see your delicious creations! @keep_calm_and_eat_icecream
Looking for more yummy Christmas dessert recipes?
Why not try making
Follow me on Facebook or Pinterest for many more delicious recipes.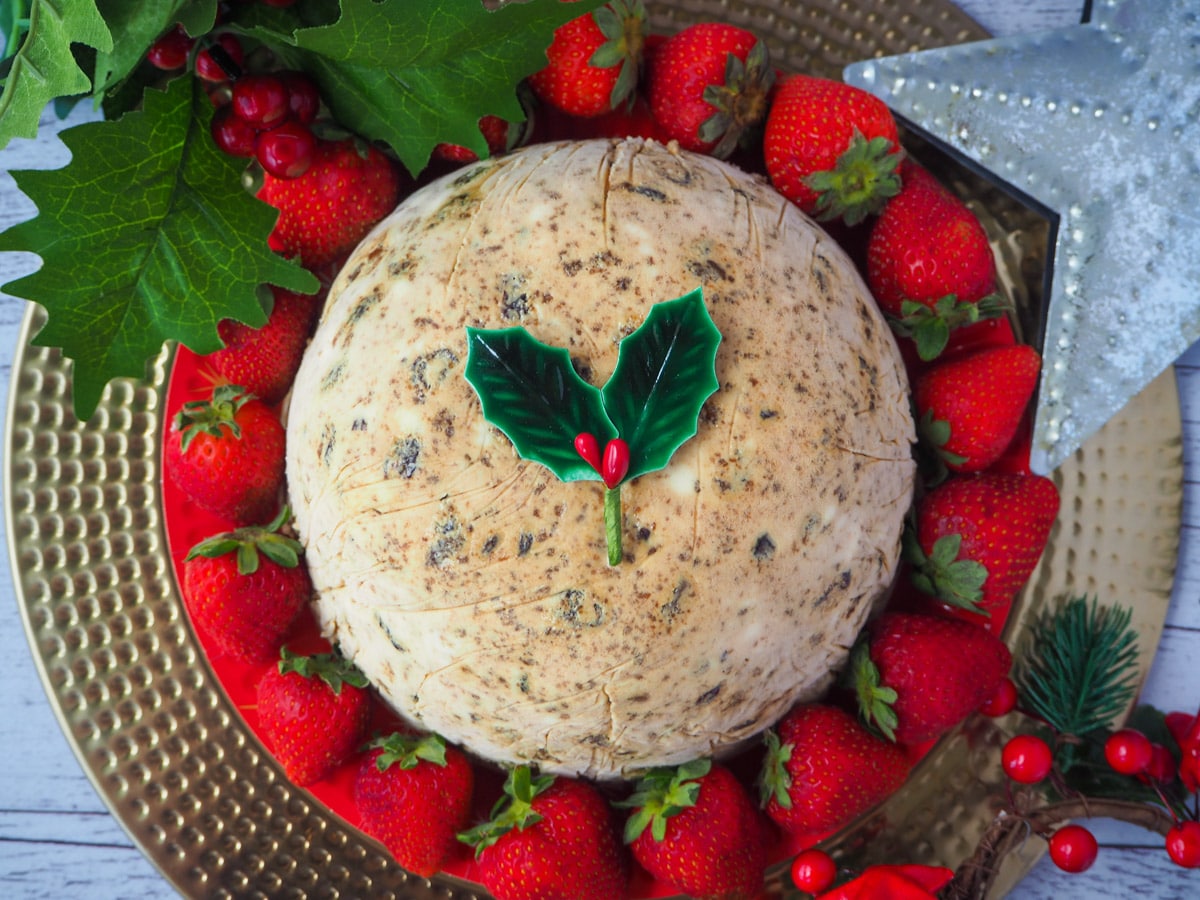 📋 Recipe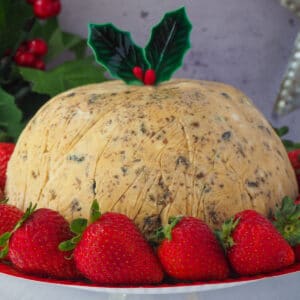 Christmas pudding ice cream
This Christmas pudding ice cream is super easy to make, tastes delicious and is the perfect festive treat for hot, or not so hot climates.
Equipment
Pudding or similar shapped bowl

optional
Ingredients
1

large

container (68oz or 2 litres) good quality vanilla ice cream

1

whole

Christmas pudding (1.6lbs or 750gms)

1 - 2

sloshes

brandy

*optional
Instructions
Mix ice cream and Christmas pudding together in a large bowl. An a slosh or two of brandy to the pudding as you mix it (optional). Don't add to much or your mix won't freeze

Put pudding and ice cream mix into a pudding shaped bowl lined with cling film and put in freezer to firm up

To serve flip it onto a plate and carefully pull off cling wrap

Decorate if you like with edible glitter. Delicious on its own or with some cold custard or brandy butter.
Notes
I like to use a matured Christmas Pudding for this recipe but that's personal preference, un matured will work to.
The brandy is optional, you can leave it out if you prefer.
If using the brandy do not add more than a couple of shots in total or the ice cream won't freeze properly.
Remember it will start to melt a soon as you take it out of the freezer so don't serve until the last minute and put into a pre-frozen plate.
Nutrition
Calories:
473
kcal
Carbohydrates:
69
g
Protein:
6
g
Fat:
19
g
Saturated Fat:
8
g
Polyunsaturated Fat:
2
g
Monounsaturated Fat:
8
g
Cholesterol:
41
mg
Sodium:
485
mg
Potassium:
398
mg
Fiber:
2
g
Sugar:
49
g
Vitamin A:
393
IU
Vitamin C:
1
mg
Calcium:
178
mg
Iron:
3
mg
Nutritional Disclaimer
Nutritional information is an estimate based on an online database. The nutritional content of ingredients may vary by brand. If you require accurate nutritional information, you should calculate this based on the specific brands and products you are using.
Join the community!
Like Keep Calm and Eat Ice Cream on Facebook for more great recipes
Pin it for later!