This Tim Tam rocky road is my go-to whenever I need to take something sweet and don't have time to bake. It's super simple has only five ingredients and is quick to throw together.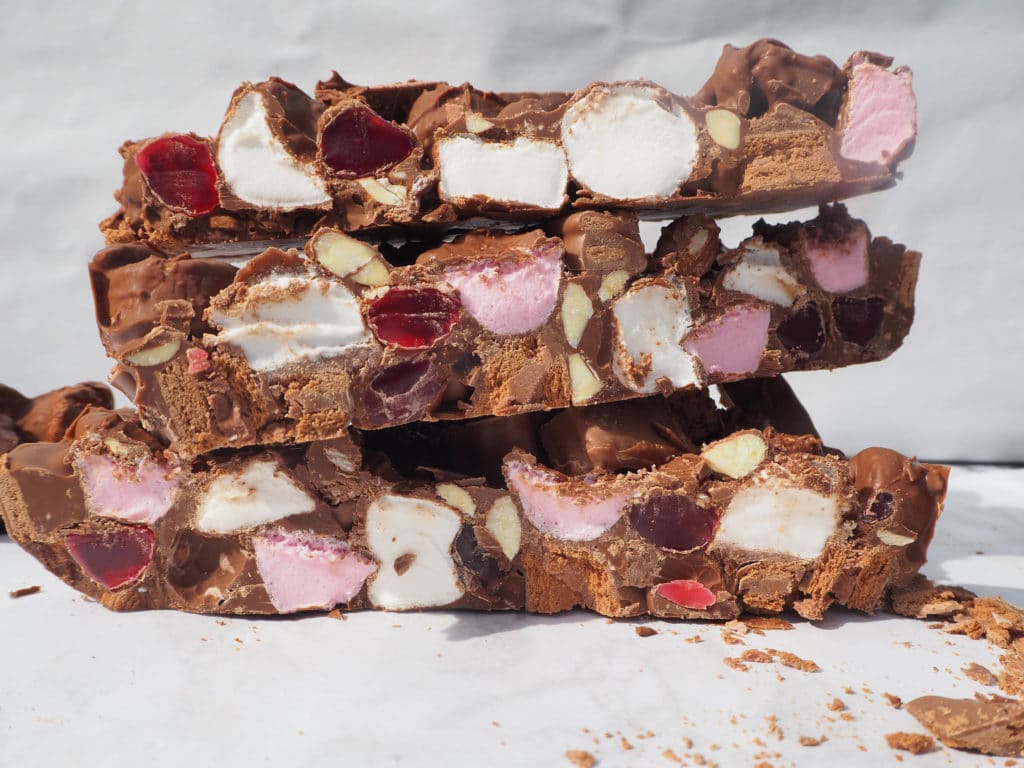 Jump to:
I've made it several times for friends and it's a hit at baking sales whenever I make it. You can slice it up into nice chunky pieces or pop it into patty pans for individual portions. It's also one of those wonderfully versatile recipes. At its simplest rocky road usually has chocolate, marshmallows and nuts. This recipe is made with Tim Tams, milk chocolate, pink and white marshmallows, almonds for crunch and lollie raspberries for fun.
Tim Tams are a type of chocolate cookie (biscuit) sold in Australia and in my option, the best chocolate cookie in the world! I even named my cats, two beautiful brown Burmese after them. You can easily make the rocky road without the Tim Tams or replace them with your other favourite cookie, or leave them out all together.
Hungry for more rocky road desserts and Aussie treats? Why not try making my Biscoff Rocky Road, Rocky Road Ice Cream, or Caramilk cheesecake. Delicious!
Some fun rocky road variations to try:
Chocolate: try it with milk, dark, white or even ruby chocolate.
Cookies: if you can't get Tim Tams try replacing them with your other favorite cookies such as chocolate chip, peanut butter or Oreos. Or for a simple rocky road leave the cookies out all together.
Nuts: try it with peanuts, hazelnuts, macadamias, coconut or any type of nut you like!
Add-ins: limited only by your imagination! Try your favorite candy such as peanut butter cups, Maltesers, clinkers, pineapple lumps, jaffas, caramels or m&ms, the possibilities are endless! I've even made it by mixing in popcorn for some extra fun.
How to make Tim Tam rocky road:
First line a baking tray with grease-proof paper. Then cut up the Tim Tams into smaller pieces. Spread the Tim Tam pieces on the baking tray.
Break up your chocolate into small pieces and put into a large microwave-proof bowl. You can use any kind of chocolate you like, I find even the cheap blocks of cooking chocolate you find in the baking ile at the supermarket work perfectly well. This can be a great opportunity to use up left over Easter chocolate if you have any. Just break up the bunnies, eggs etc and pop them in with the rest of the chocolate. Roughly chop the almonds while your chocolate is melting.
Melt the chocolate. This can be done easily in a microwave, or you can use a double boiler. I like this one which fits nicely into one of my regular pots. If using a microwave put in a large microwave-proof bowl, I like my pyrex one. Microwave for thirty second bursts, checking and stirring when the chocolate starts to melt around the edges. Once its starts to look gooey take it out and stir it, the last of the lumps should finish melting as your stir. If the lumps aren't coming out pop it in for one or two more zaps. Do not over microwave the chocolate or you'll burn it
Hot tip: make sure your bowl and any utensils are very dry. If water gets into the chocolate it will make the chocolate seizes up.
Once the chocolate is melted, working quickly add the marshmallows, chopped almonds and raspberry candies.
Spread the mix onto your prepared baking tray over the Tim Tam pieces, scraping out the chocolate. You can make it as thick as you like but I find it works best in a thinner layer that's only about one marshmallow layer deep. Try to ensure you have enough chocolate covering everything and connecting your lumps together. You can mix the Tim Tam pieces into the melted chocolate but I find then tent to break apart. Spreading the mix over the top helps them stay together so you still get lots of lovely whole Tim Tam pieces in the final rocky road. You can push a couple of Tim Tam pieces into the top to.
Leave to set for several hours, either on the bench or in the fridge if its a hot day. Cut up the rocky road using a large sharp knife.
How to serve:
Pop onto a plate and enjoy! Makes great gifts or easy bake sale treats. When setting it can be divided up into patty pans for easy individual portions. Delicious!
How to store:
This rocky road will store well in an airtight container for up to a month, but the Tim Tams may start to go a little soft after a few days
Have you made this recipe? Tell me how it went in the comments below and tag me on instagram so I can see your delicious creations! @keep_calm_and_eat_icecream
Looking for more yummy dessert recipes?
Why not try making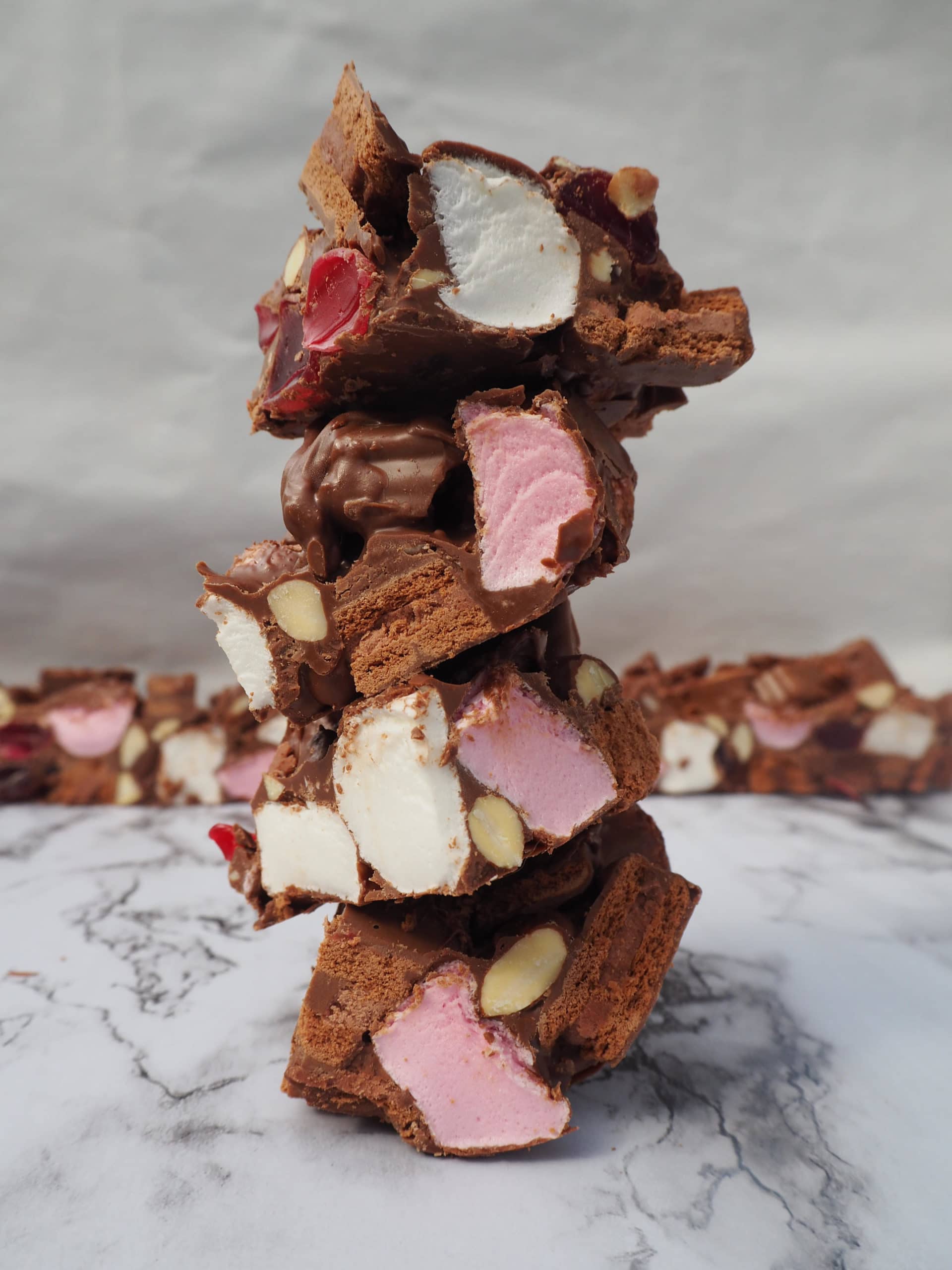 📋 Recipe
Tim Tam Rocky Road
This delicious Tim Tam rocky road super simple, has just five ingredients and is quick to throw together when you don't have time to bake!
Ingredients
1

packet

Tim Tams

*see notes for alternatives

⅔

cup(90gms)

roasted almonds

1

large block (375gms)

milk chocolate

1

packet (210gms)

pink and white marshmallows

1

packet (190gms)

raspberry candies/lollies
Instructions
Line a heat proof baking tin or tray with baking paper

Cut up the Tim Tams or alternative cookies and spread over baking paper, reserve a handful to sprinkle on top

Roughly chop roasted almonds

Open up marshmallow and lollie raspberry packets

Chop up chocolate into smallish pieces. Transfer to a large microwave proof bowl

Melt chocolate by microwaving in 30 second bursts, checking after each thirty seconds

When chocolate starts to go gooey around the edges remove and stir well

If chocolate still has large pieces that don't melt easily return bowl to microwave and microwave for further 30 second bursts, stirring well in between until chocolate is well melted.

Working quickly add the marshmallows, almonds and raspberries to the melted chocolate and stir in well.

Spread melted chocolate mix over backing tray and chopped Tim Tams, taking care to cover all the Tim Tam pieces.

Add reserved pieces of chopped Tim Tam on top, pressing it down into the melted chocolate so it sticks

Leave to in a cool place to set completely. If is a hot day put it in the fridge.

Once set slice into pieces and enjoy!
Notes
This recipe is highly adaptable.
If you can't get Tim Tams you can substitute with you favourite other cookie or leave them out all together.
You can swap the chocolate, nuts and candies for you preferred flavours of choice, see the how to guide above for some ideas.
Nutrition
Calories:
133
kcal
Carbohydrates:
26
g
Protein:
1
g
Fat:
3
g
Saturated Fat:
1
g
Polyunsaturated Fat:
1
g
Monounsaturated Fat:
1
g
Trans Fat:
0.03
g
Cholesterol:
3
mg
Sodium:
56
mg
Potassium:
50
mg
Fiber:
0.4
g
Sugar:
19
g
Vitamin A:
18
IU
Vitamin C:
0.2
mg
Calcium:
21
mg
Iron:
0.2
mg
Nutritional Disclaimer
Nutritional information is an estimate based on an online database. The nutritional content of ingredients may vary by brand. If you require accurate nutritional information, you should calculate this based on the specific brands and products you are using.