This quick and easy Maltesers rocky road slice is a delicious combination of crunchy Maltesers, creamy milk chocolate, salty crunchy goodness and pillowy marshmallows.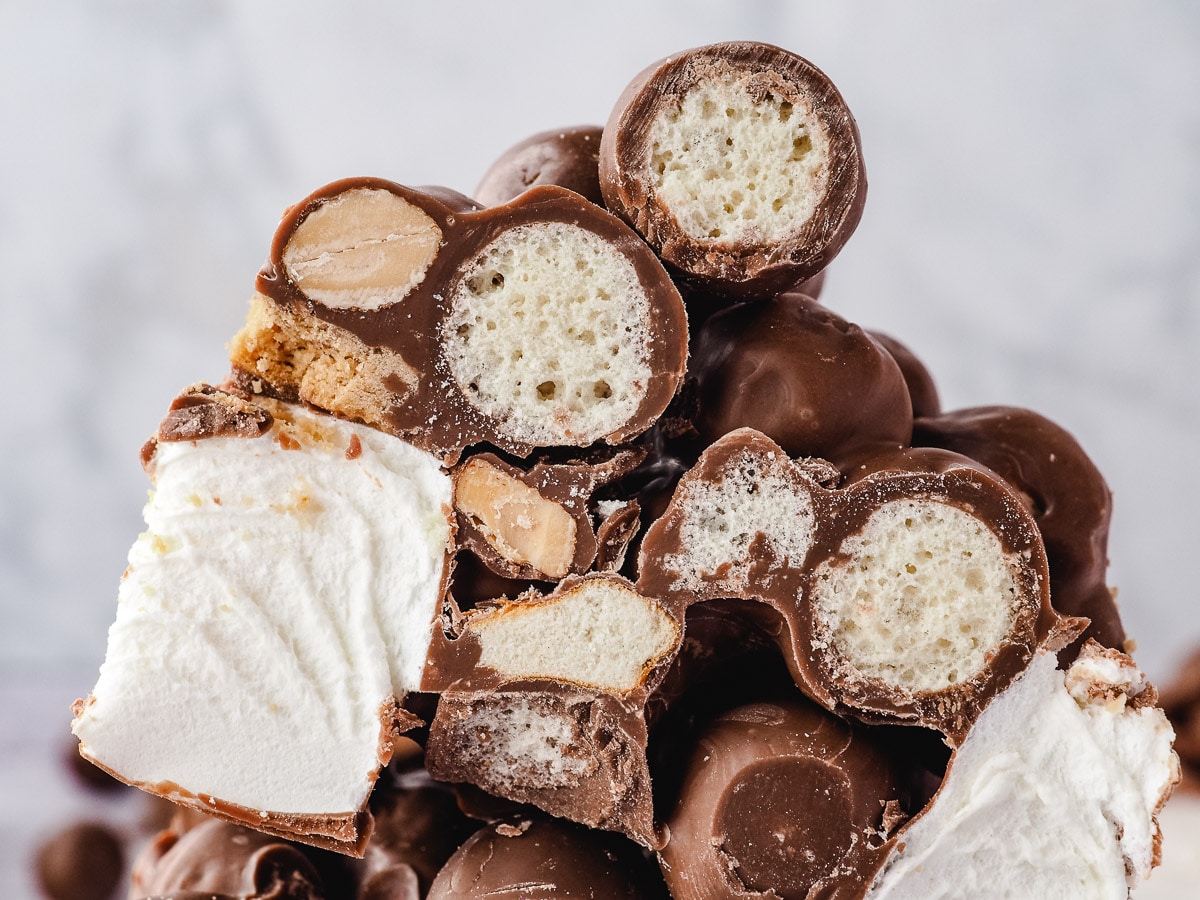 Jump to:
Maltesers are deliciously light crunchy malt balls covered with milk chocolate. They were first created in England in the 1930s and have been a firm favorite ever since. The malt flavor we all know and love is provided by malted barley.
If you can refrain from eating them all straight from the packet this easy no bake slice recipe is a great way to use these yummy malted chocolate balls. Combine the Maltesers with creamy milk chocolate, soft pillowy marshmallow, and some crunchy elements for a fabulous dessert that comes together in a matter of minutes. Perfect for an easy dessert or snack, a bake sale or to give as gifts. Delicious!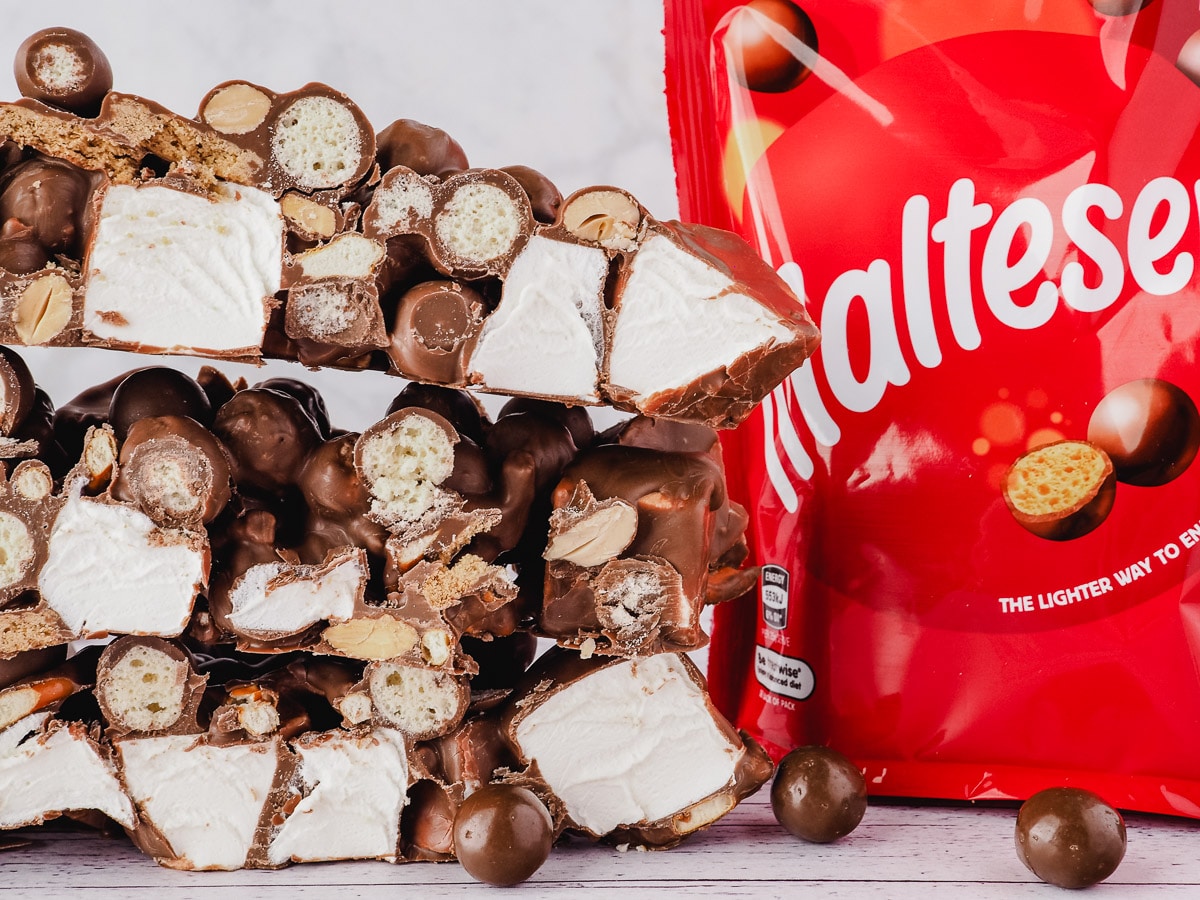 Tips and tricks for making rocky road:
Line the tray or tin with baking paper or aluminum foil, to stop the Maltesers traybake from sticking and make it easier to get out. Make sure you leave plenty of over hang to make it easier to get the slice out of the tin and peel it back from the rocky road once set.
Break up/chop up the dry ingredients and give them a good mix first. This will help more evenly distribute the dry ingredients and making it easier to assemble the rocky road.
Work fast! Once the chocolate is melted and mixed in you will need to work fast to get it onto the tray before the chocolate sets.
Mix things up! This recipe is very adaptable. You can replace regular Maltesers with other varieties such as white Maltesers with white chocoalte, dark chocolate Maltesers with dark chocolate, mint, honeycomb or even raspberry!
Don't like almonds? You can replace them with a different nut such as peanuts, walnuts or pecans, or leave them out alltogether for a nut-free alternative.
To make an easy Malteser tiffin you can simply leave out the marshmellows, but that's crazy talk!
Ingredients
Milk chocolate: milk chocolate is the key ingredient that binds together this easy no-bake rocky road slice. You could experiment with using dark or even white chocolate.
Maltesers chocolate balls: You can't have Maltesers rocky road without Maltesers! Adding them both within the rocky road and sprinkled on top adds to the chocolate malty goodness. If you can't get hold of Malteasers you could try using Whoppers which are similar.
Malt biscuits: Some sweet malted biscuits (cookies) add another layer to the malt flavor of this rocky road. If you can't get malted biscuits you can use whatever sweet biscuit you can get such as Marie or Digestives.
Marshmallows: an essential ingredient in any rocky road. I like to use medium size marshmallows, as opposed to jumbo ones or mini ones, as I find you get good chocolate to marshmallow ratio. I have used all white marshmallows but you could use pink ones too if you like.
Roasted almonds: add crunch and flavor to this rocky road. If you can't get roasted almonds you can get natural almonds and dry roast them yourself. You can also replace the almonds with any other nuts you like. Some yummy options include peanuts, pecans, or macadamias or leave them out for a nut-free option.
Salted pretzels: might sound like a strange addition to the rocky road but trust me on this one. The salted pretzels provide a crunchy, salty element that balances this Malteser slice helps cut through the sweetness of the chocolate.
How to make Maltesers rocky road
See the full recipe card at the end of the post for ingredient amounts and instructions.
Line a baking tray or slice tray with foil. Roughly break up the malt cookies into pieces. Roughly break up the pretzels. Add the marshmallows, malt cookies, Maltesers, pretzels and roasted almonds to a bowl and mix.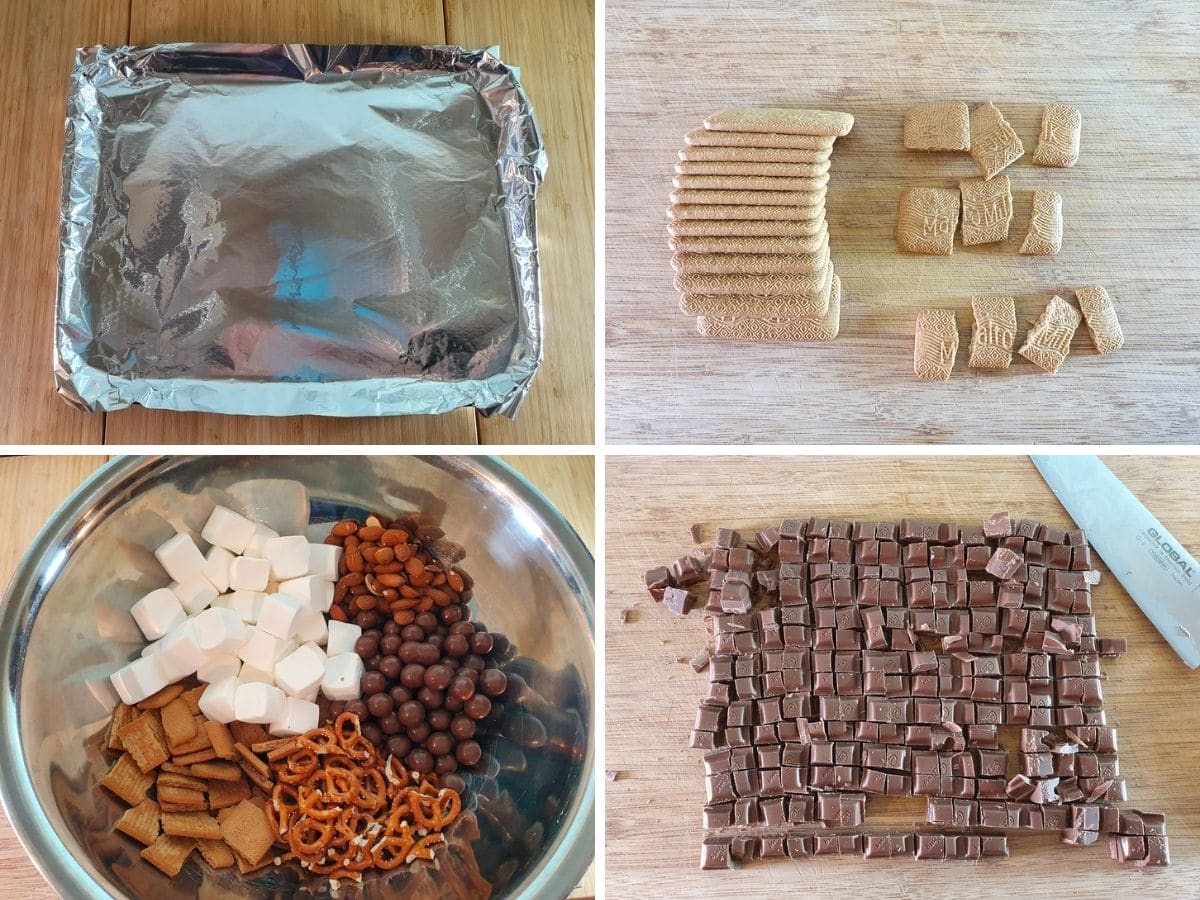 Chop up the milk chocolate and put it into a microwave-proof bowl and melt in the microwave in thirty seconds to one-minute bursts until smooth and fully melted.
Working quickly pour the melted chocolate over the dry ingredients and mix well to combine. Pour onto the lined tray and flatten out. Sprinkle on the extra Maltesers. Leave to cool and set completely. You can speed the process up by putting the tray in the fridge for about an hour or if it's a particularly hot day.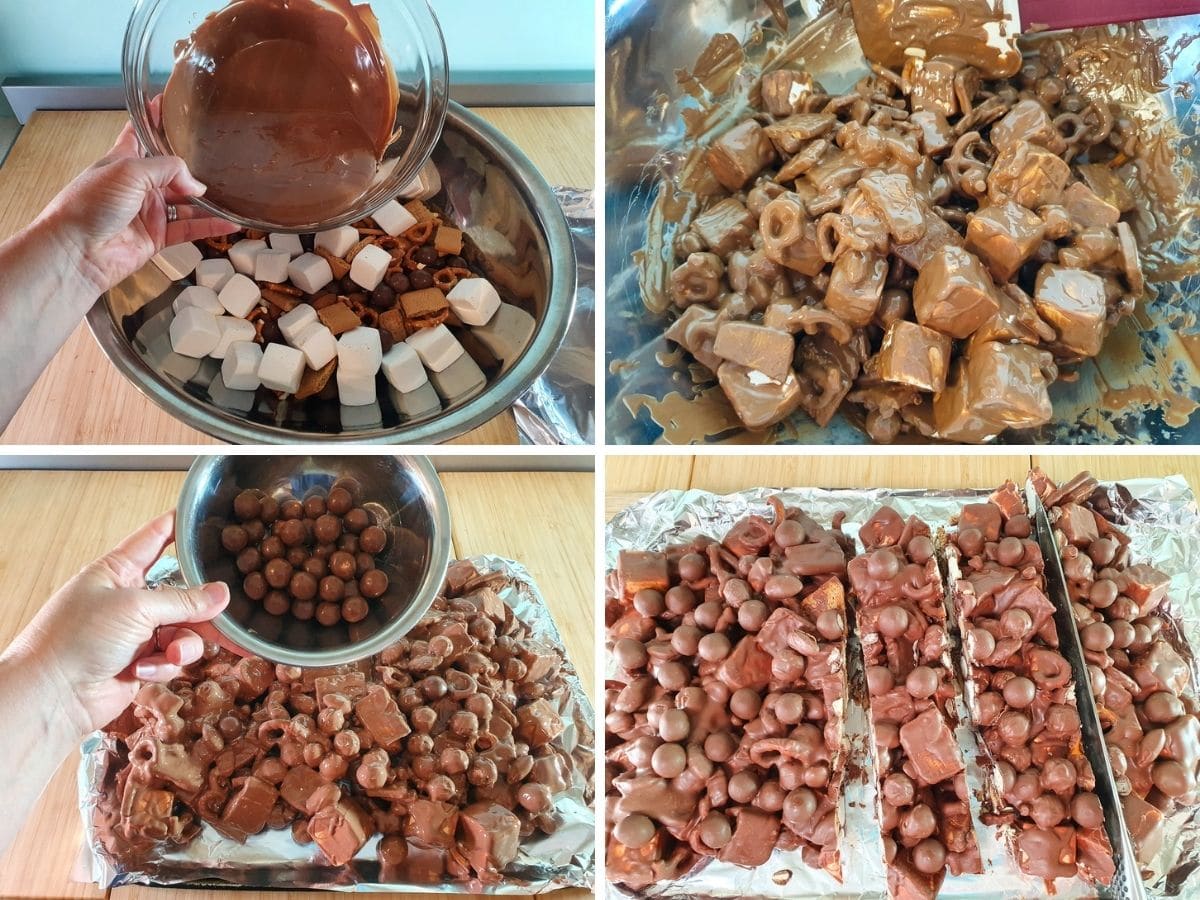 Wait until it's completely cool and set, then use a large sharp knife to cut it into pieces.
How to serve
To serve pop onto a plate and enjoy! Or eat it straight from the container if you can't wait that long 😀
To make easy Malteser gifts for a bake sale pop some slices into clear cellophane bags, add some extra Maltesers balls and tie with a pretty ribbon. Lovely!
How to store
This rocky road will store well in an airtight container for up to a month. The biscuits may start to go a little soft after several days, but I very much doubt it will last that long. In my house is usually a couple of days at most!).
If it's very hot you can keep it in the fridge, but you run the risk of the chocolate blooming (that white film you sometimes get on chocolate). It still tastes great if this does happen it's just not as pretty!
I don't recommend freezing this rocky road slice as the Maltesers balls will likely go sticky and soggy. Plus is so quick and easy to make it's best to simply whip up a batch when you want some!
Have you made this recipe? Tell me how it went in the comments below and tag me on instagram so I can see your delicious creations! @keep_calm_and_eat_icecream
Looking for more yummy chocolate recipes?
Why not try making
Follow me on Facebook or Pinterest for many more delicious recipes.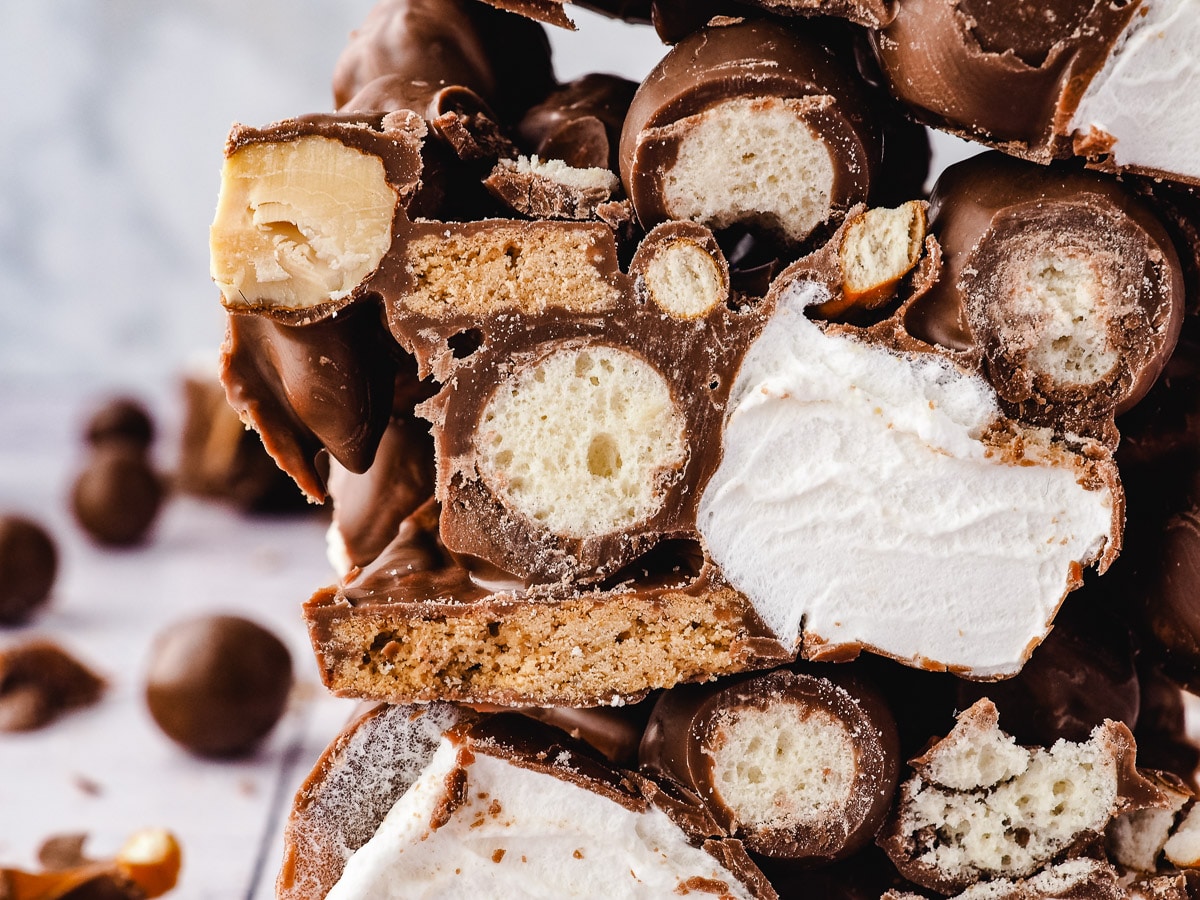 📋 Recipe
Malteser Rocky Road
This quick and easy Maltesers rocky road slice is a delicious combination of crunchy Maltesers, creamy milk chocolate, salty crunchy goodness and pillowy marshmallows.
Equipment
Baking tray

Large microwave proof bowl to melt chocolate in
Ingredients
2 & ¾ block

(500gms)

milk chocolate

1

packet (210gms)

marshmellows

½

packet (125 gms/16 biscuits)

malt biscuits/cookies

⅔

cup (90gms)

roasted almonds

2

cups (60gms)

salted pretzels

1 & ½

packets (190gms)

milk chocolate Malteasers
Instructions
Line a heat proof baking tin or tray with foil.

Roughly break up the malt cookies and pretzels. Add two thirds of the maltesers, malt cookie pieces, pretzels, marshmellows and almonds to a large bowl and mix well.

Chop up the milk chocoalte into piecs. Melt in a microwave proof bowl in the microwave in 30 second to one minute bursts, checking after each time.

Working quickly add the melted chocolate to the dry ingredients and mix well. Pour the mix onto the prepared tray and smooth down.

Add the extra Malteasers on top and push down gently to set into the chocoalte.

Leave to in a cool place to set completely. If it's is a hot day put it in the fridge which will take about two hours.

Once set slice into pieces and enjoy!
Nutrition
Calories:
176
kcal
Carbohydrates:
28
g
Protein:
6
g
Fat:
6
g
Saturated Fat:
1
g
Polyunsaturated Fat:
2
g
Monounsaturated Fat:
4
g
Trans Fat:
0.002
g
Cholesterol:
0.02
mg
Sodium:
65
mg
Potassium:
213
mg
Fiber:
4
g
Sugar:
1
g
Vitamin A:
0.3
IU
Vitamin C:
0.3
mg
Calcium:
37
mg
Iron:
1
mg
Nutritional Disclaimer
Nutritional information is an estimate based on an online database. The nutritional content of ingredients may vary by brand. If you require accurate nutritional information, you should calculate this based on the specific brands and products you are using.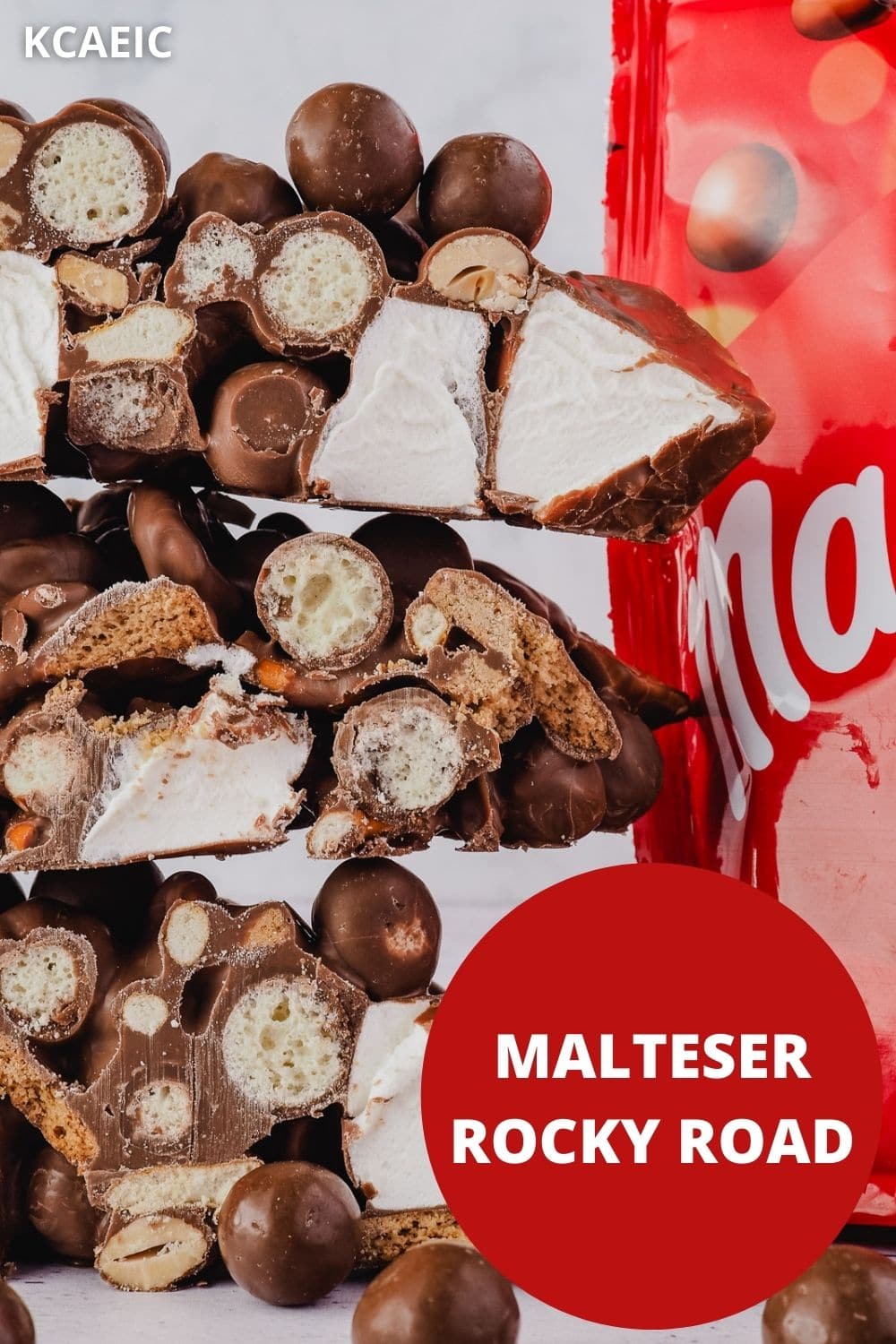 Pin it for later!