This nectarine tart has only four ingredients, is super simple to make and most importantly it tastes delicious!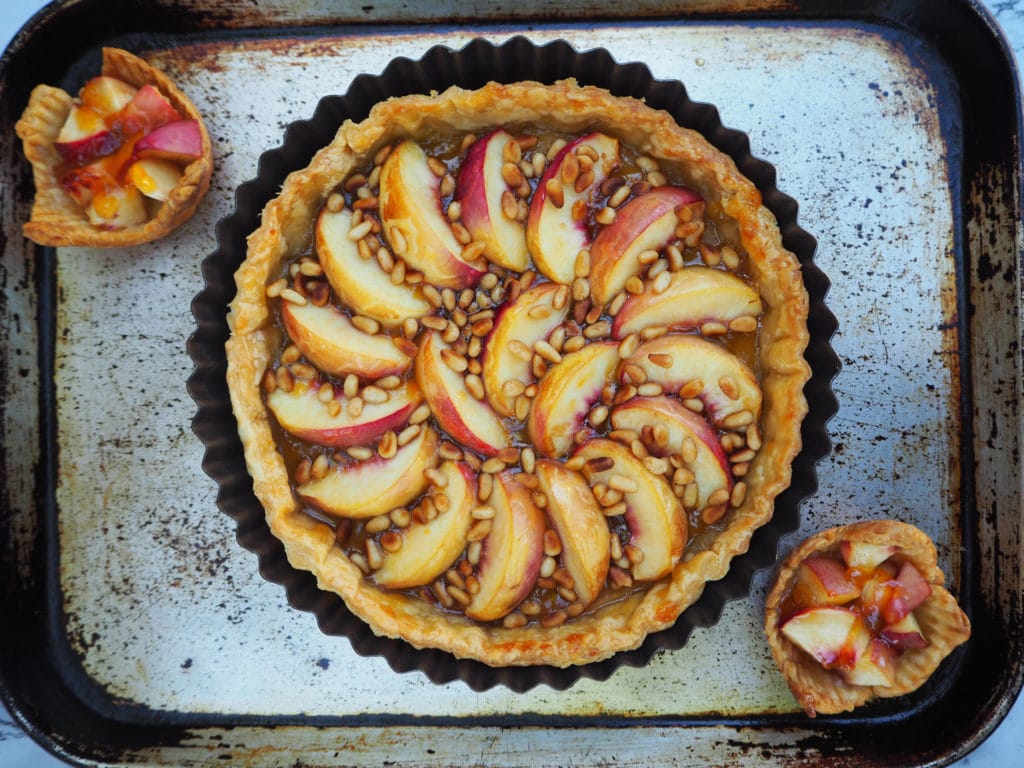 How good are fresh luscious nectarines? This delicious nectarine tart has only four ingredients, is super simple to make and most importantly it tastes delicious!
If you've made my roast nectarine ice cream you'll know I have a tendency to keep my nectarines in the cupboard to ripen to protect them from my thieving kids who try to steel them before they are ripe!
I found such a bowl in my cupboard recently that was just on the edge of becoming over ripe. What better to do with them then make this simple and delicious tart.
Many many moons ago I spend a summer working as a kitchen hand at art school is Tuscany, Italy. I would spend my days working in the kitchen, preparing the most beautiful fresh ingredients, painting and relaxing on the deck over looking the tuscan hills. I loved the way fresh, seasonal ingredients could be heroed in the dishes without the need to make them overly complicated.
This tart was one of my favourites. Its easy to prepare and like my Vanilla Slice ice cream it uses store brought puff pastry. If you were in a baking mood and wanted to make the whole thing from scratch you could of course make your own puff pastry, such as this one.
To make the nectarine tart
To start with, preheat your oven to 420°F (220°C). Take a single sheet of frozen butter puff pastry out of the freezer and let it defrost. On a warm day this will only take a few mins.
Grease a tart tin using butter or marge and a piece of grease proof or baking paper. My 8 in (20cm) tart tin works perfectly with the store brought butter puff I get here which is 9in (23cm) squared.
Remove plastic from backing and carefully lay over tart tin. Using your fingers ease the pastry into the tin, taking care to not to tear the pastry.
Hot tip: if you lift the end of the pastry up by the corners you can help ease it into the tin better.
Use you fingers to press the pastry into the sides of the tine. Once the pastry is in the tin use a sharp knife to trim the edges off.
Hot top: Don't throw out the pastry off cuts, you can carefully press them together and put them into greased muffin tins to make a couple of extra mini tarts.
Cover pastry with a piece of baking paper, then fill with baking beads. If you don't have baking beads you can use rice instead.
Put tart into oven to blind bake for 10 mins. Remove from oven and allow to cool for a few mins. Carefully life baking paper and remove baking beads. Place now empty tart into the oven to bake for a further five minutes. The pastry should be starting to go golden brown. Don't worry if it bubbles up a little bit, it will settle as it cools.
While the tart case is baking, dry roast the pine nuts by adding to a hot, dry frying pan Without any oil. Shake the frying pan regarly, watching carefully. As soon as you start to get a lovely light brown colour on the nuts remove from heat immedatly and pour into a head proof bowl.
Hot tip: Watch your nuts very carefully and shake reguarly. They will go roast very quickly once they start to go brown.
Cut you nectarine up into segments. I cut mine into eights but if you're using bigger nectarines you may need more segments.
Lay the nectarine segments into your tart tin in a circle.
Put your apricot jam into a small bowl and add a splash of water to losen it up. Stir well to remove most of the lumps, then brush generariously over nectarines.
Sprinkle over pine nuts. Bake for ten mintes until jam starts to bubble and pastry is a lovely golden colour.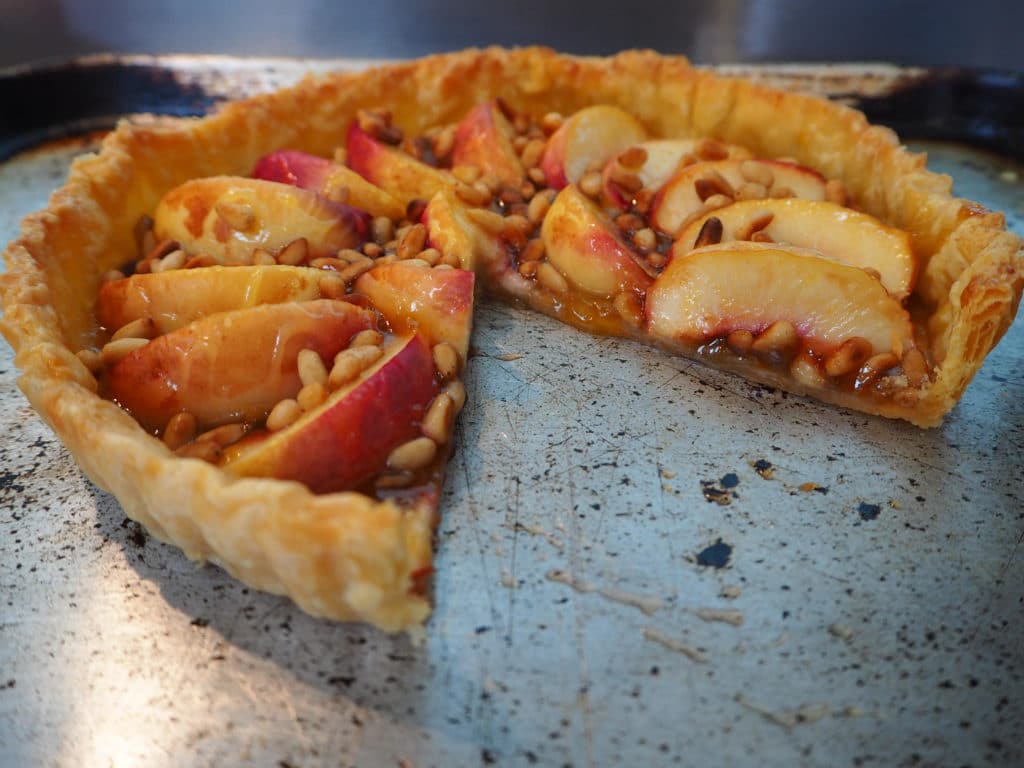 Remove from oven and cool, then slice and enjoy! Lovely with dollop of whipped cream or with my roast nectarine ice cream. Delicious!
Have you made this recipe? Tell me how it when in the comment below and tag me on socials so I can see your delicious creations! @KCAEIC or #KCAEIC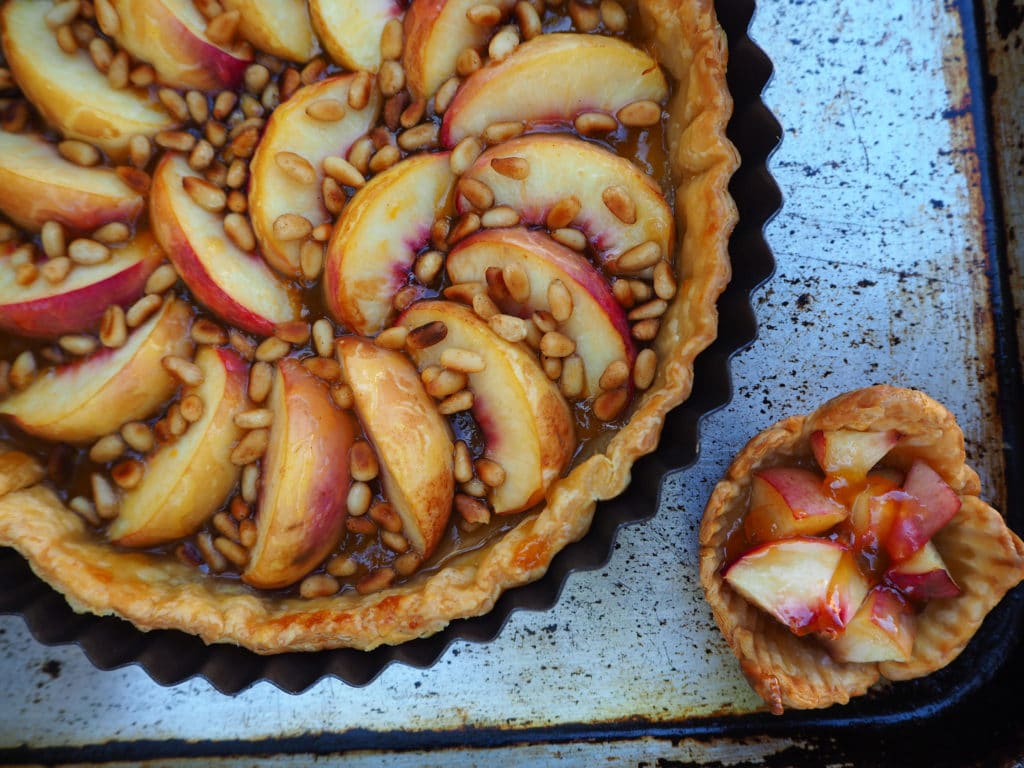 Print Recipe
Nectarine Tart
This nectarine tart has only four ingredients, is super simple to make and most importantly it tastes delicious!
Equipment
Tart tin

pie weights or dry goods such as rice

baking paper
Ingredients
1

sheet, 9in (23cm)

store brought butter puff pastry

2

table spoons

apricot jam

4

medium

very ripe nectarines

*you can use white or yellow

1

(20gms)

pinenuts

butter or marge for greasing
Instructions
Pre-heat oven to 420°F (220°C)

Remove pastry from freezer and defrost

Grease tart tin with butter or marge

Remove plastic backing from pastry and carefully put into tart tin with edges over hanging

Use a sharp knife trim the edges of the pastry

Put in a layer of baking paper and fill with pie weights

Bake for ten minutes or until edges are starting to brown

Remove baking paper and pie weights

Return tart to oven and bake for a further ten minutes

While pastry is blind baking, toast pine nuts in a dry frying pan until golden brown, tossing frequently. Watch carefully and remove from heat and tip into a heat proof bowl as soon as they are done.

Remove tart tin from oven and allow to cool slightly.

Destone nectarines and cut into eights, more if you have larger nectarines.

Layout nectarines into tart pastry in a circular motion, or whatever pattern you like

Put apricot jam into a small bowl and add a small splash of water. Stir to thin and loosen up.

Using a pastry brush or spoon, brush the apricot jam all over the nectarines

Sprinkle over toasted pine nuts

Bake for a further 10 minutes until jam bubbles and pastry edges are lovely and golden brown.

Remove from oven and cool before removing from tin

Slice and enjoy! Lovely with a dollop of cream or my nectarine ice cream!
Notes
This recipe uses store brought butter puff pastry for ease but you can make your own if you wish.
It would also work with other stone fruit such as peaches, just make sure they are nice a ripe or the tart will be sour.