A crunchy fresh honeycomb that's perfect with Hokey Pokey ice cream, with coffee or on its own.
Who doesn't love a good honeycomb, or Hokey Pokey as they say in New Zealand. I recently made my own Hokey Pokey ice cream and this easy honeycomb recipe is a key ingredient. Crunchy, sweet and surprisingly easy to make.
They key with this is to prepare all you ingredients in advance and remember to work quickly.
Line a baking tray or pan with baking paper. Measure out your bicarbonate of soda and give in a stir to remove any lumps. Put both close by the stove where you are making the honeycomb, with the tray on a heatproof surface.
Add your sugar and golden syrup to a LARGE pan and stir over a low heat until sugar dissolves, about 5 – 10 mins. Turn heat up-to medium heat and cook, stiring regularly until a beautiful deep golden colour. In theory you can use a candy thermometer and get it up-to 310°F (150°C). In practice when I tried to do this I burnt the sugar, so I think going by eye and colour is fine.
When the sugar mix reaches the right temp, take it off the heat and quickly add and stir in the bicarbonate of soda. The mix will puff up quickly. Try to make sure the bicarb is mixed through quickly, then immediately pour into the pre-lined baking tray.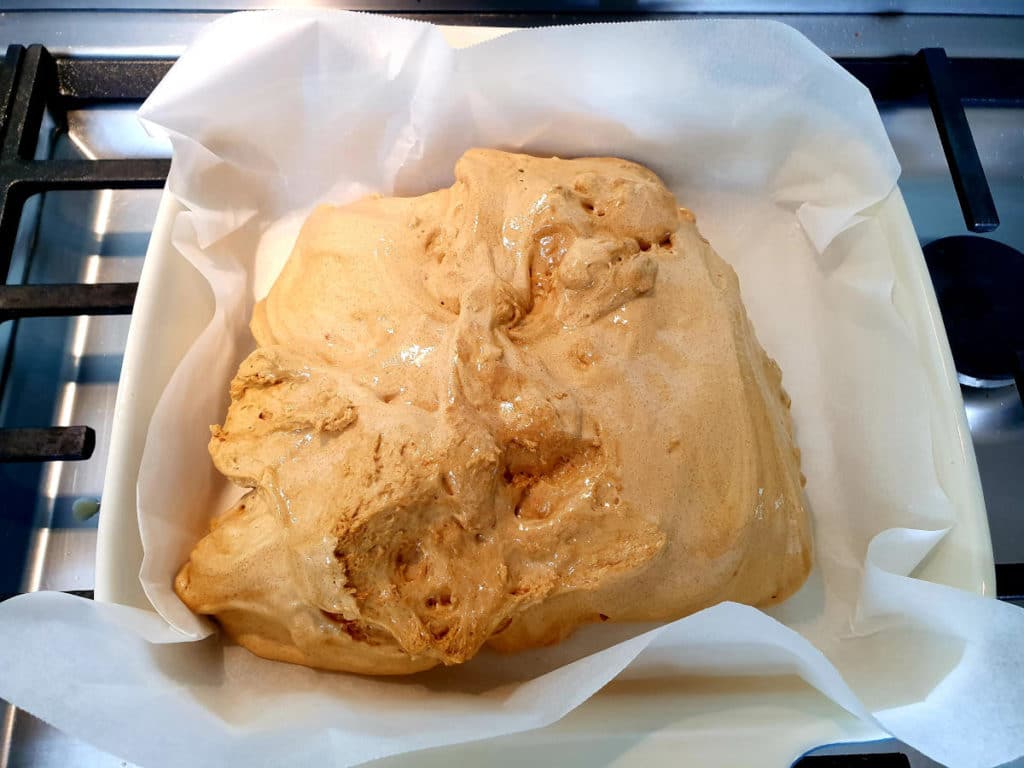 Hot tip: Add any scrapings from the pot to the side, not in the middle or you will deflate your honeycomb. Leave until completely cool, about an hour or more.
Once cool careful peel off the the baking paper. Flip over and use the back of a heavy knife to tap the honeycomb until it cracks through. Store in a lined airtight container until needed. The honeycomb with slowly go sticky as it reacts with the moisture in the air over a few days, but it will still taste great.
Trouble shooting tips and tricks
Why is my homemade honeycomb chewy?
Because you didn't get the sugar and golden syrup mix hot enough. Ideally you want to get the mix to 310°F (150°C)
How long does homemade honeycomb last?
A couple of days if stored in a sealed container. Homemade honeycomb will start to disintegrate as soon as you make it. When you pour it out it will be light and fluffy and even by the time its cool with will start to sink. Over the next few hours and days it will slowly become more sticky, oozy and chewy. Its usually fine for a few days or even up-to a week, anything more than that and it turns into a sticky, chewy mess.
Why isn't my honeycomb setting?
For the same reason it goes chewy. You didn't get the sugar and golden syrup mix hot enough before adding the bicarb.
Why does my honeycomb taste bitter?
Because you over cooked the sugar and golden syrup mix. Don't cook the sugar and golden syrup mix for as long next time.
Can you make honeycomb with baking powder?
No you can't, bicarbonate of soda and baking power are two different things, you can't swap one for the other in this recipe.
Should honeycomb be refrigerated?
No it will accelerate the decomposition and turn it into a sticky chewy mess faster.
📋 Recipe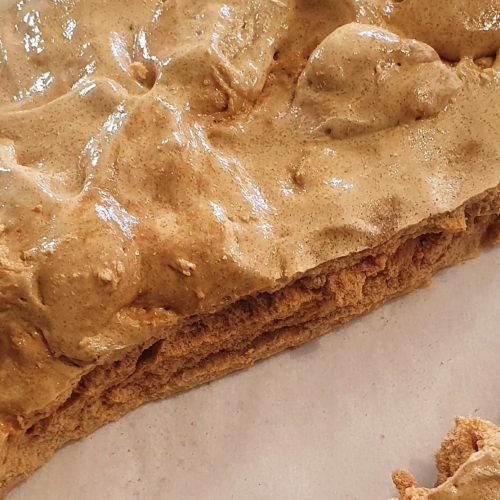 Honeycomb
A crunch fresh honeycomb that's perfect with Hokey Pokey ice cream or on its own
Ingredients
Nearly 1

cup (200gms)

caster sugar

5

tablespoons

golden syrup

2 & ½

teaspoons

bicarbonate of soda

*this is NOT the same as baking soda, you can not substitute
Instructions
Prepare all ingredients and line a heatproof dish with baking paper

Add sugar and golden syrup to a large saucepan

Heat on a low heat until sugar dissolves, stiring frequently

Turn head up-to medium and cook until mix is a lovely deep amber colour

*you can use a candy thermometer to try to get the mix to 310°F (150°C) but you can do it by look

Working quickly add your bicarb to the hot sugar and stir quickly. You want to evenly distribute the bicarb without knocking out the air. Turn onto a pre-lined tray immediately

Leave for at least a hour to cool

Peel off baking paper. Turn over and tap with the back of a heavy knife to break up.

Store in a lined air tight container until needed
Notes
Honeycomb will react with air and disintegrate over time. Best to make this the day of use. It will still taste good but will go sticky and deflate the longer it is stored.
Nutrition
Calories:
105
kcal
Carbohydrates:
27
g
Fat:
0.1
g
Sodium:
228
mg
Potassium:
0.4
mg
Sugar:
27
g
Calcium:
0.2
mg
Iron:
0.01
mg
Nutritional Disclaimer
Nutritional information is an estimate based on an online database. The nutritional content of ingredients may vary by brand. If you require accurate nutritional information, you should calculate this based on the specific brands and products you are using.