This roast nectarine ice cream is rich and creamy and uses gorgeous freshly roasted nectarines.
Eternity is waiting for nectarines to ripen...
Nectarines are one of my all-time favourite fruits. They smell divine, the colours are amazing and there is none of the annoying fuzz of peaches.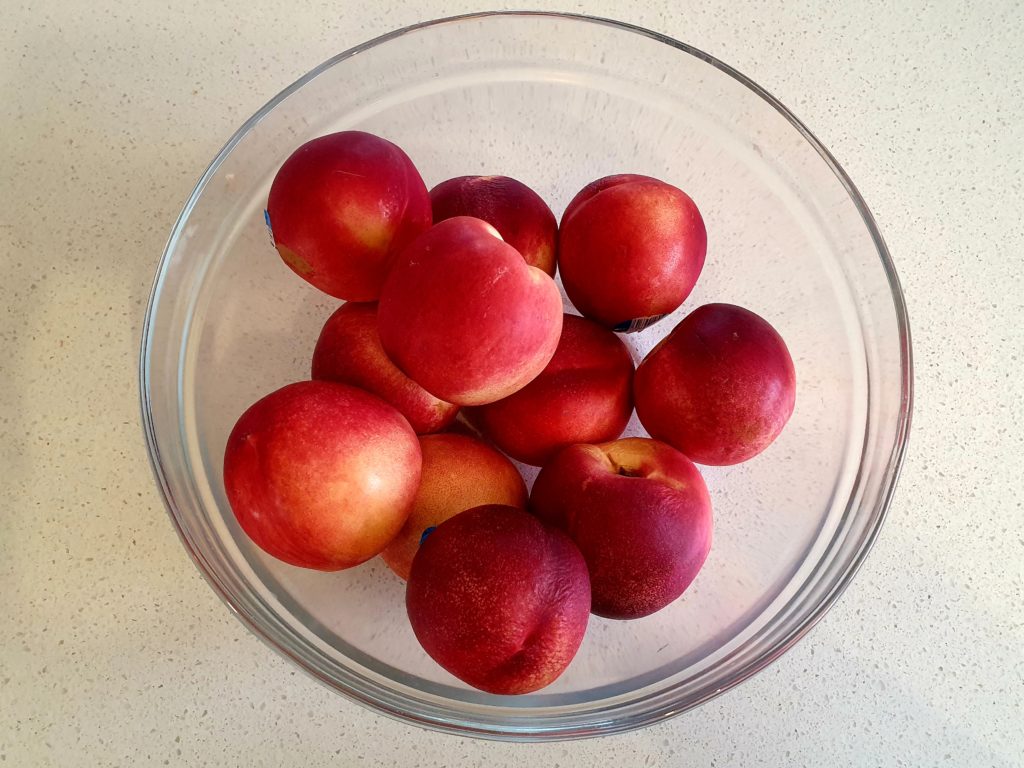 So a week ago I got some gorgeous white nectarines from the local market, all excited to make my new recipe for Roast Nectarine ice cream.
Only the nectarines weren't ripe yet. So I put them in a bowl by the window sill to ripen. My eldest child kept threatening to steal my nectarines before they were even ripe, let alone before I'd had a chance to turn them into ice cream.
If you've tried the roast cherry ice cream (and if you haven't you should, it's delicious) this recipe uses a similar method, roasting off the fruit and sugar to get those gorgeous caramel notes. I pair the nectarines here with sour cream to give it a lovely richness and tone down the sweetness. Don't worry if you're not a fan of sour cream, it's there more for balance, not for flavour.
In the mood for more delectable ice creams? Check out my full collection of Cuisinart ice cream maker recipes (that work well in other brands ice cream makers too!).
To make the roast nectarine ice cream
You will need about 2.2 lbs or a kilo of very ripe white nectarines for this recipe. Put them in a frying pan or stove top/oven pan that can also go in the oven, and sprinkle with sugar.
Roast in a preheated oven at 430°F (220°C) for 30 mins.
Hot tip: The pan handle will be Very hot, remember your oven gloves.
Check and if not caramelised enough put it back in for a further 10 to 15 mins. Turn the nectarines over, carefully spoon over some sugar from the pan, and then roast for a further 20 mins. The sugar should be caramelised and the whole pan going roasty and delicious.
Allow to cool, then gently break open the fruit and remove the pits. Blitz nectarines briefly with a hand mixer. Return to pan and reduce a little. You'll need to work at the pan a bit to lift the caramelised sugar off the pan and mix it into the fruit. Allow to cool, then strain and refrigerate until chilled. Put your pits into a small saucepan with cream and simmer for about 10 mins. Cool then strain out pits. Mix in sour cream, lemon juice and salt. Refrigerate until chilled.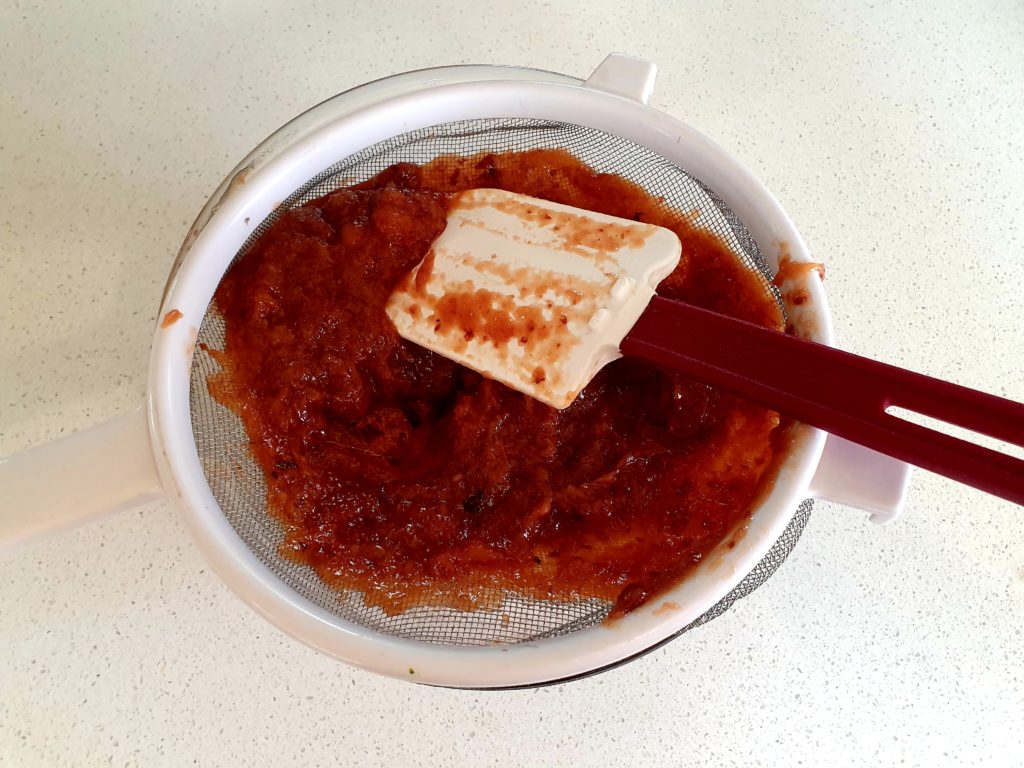 Hot tip: if you are using a self refrigerating ice cream churner turn it on ten minutes before churning to chill down. Otherwise take your freezer bowl out f the freezer right before churning
Mix together chilled nectarine mix and sour cream mix. Pour into churner and churn until done, about 25 mins.
The mix will be the consistency of soft serve. Eat immediately or transfer into a pre-chilled container and put in the freezer until set. This ice cream has a great shelf life and apart from setting rather hard as most home ice cream has a tendency to, it was still delicious with the flavours singing through a couple of weeks later (why did it last that long you might ask? Because I often have several recipe experiments on the go and a freezer full of ice cream and icy poles :D)
Looking for more nectarine recipes? Why not make my nectarine tart.
Have you made this recipe? Tell me how it when in the comment below and tag me on socials so I can see your delicious creations! @KCAEIC or #KCAEIC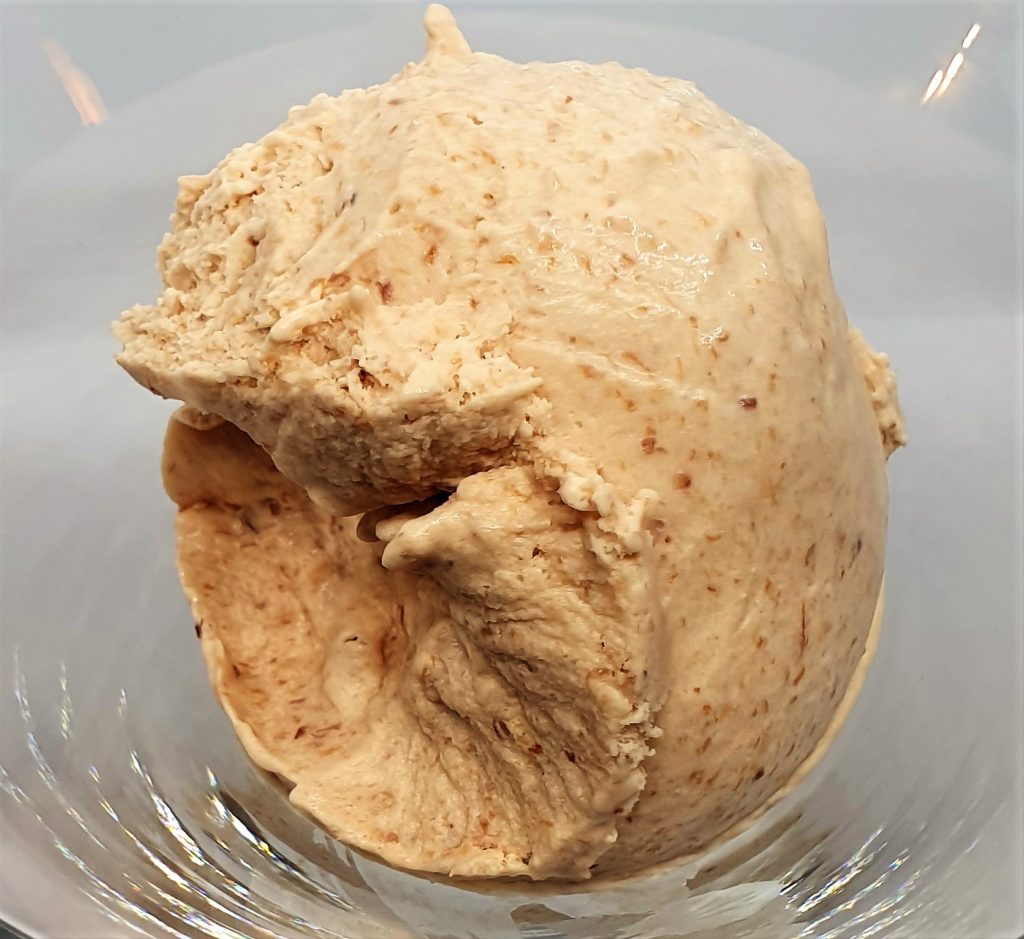 📋 Recipe
Roast nectarine ice cream
A rich, roasty ice cream using gorgeous nectarines
Equipment
stove top/oven pan

ice cream machine

hand mixer or food processor
Ingredients
2.2

lbs (1 kg)

very ripe white nectarines

⅓

of a cup (100 gms)

granulated sugar

⅔

of a cup (150 ml)

sour cream

1 and ¼

cups (300 ml)

thickened cream

1

tablespoon (15ml)

lemon juice

1

pinch

salt
Instructions
Preheat oven to 430°F (220°C).

Put nectarines in a stove/oven proof pan and sprinkle with sugar.

Remove nectarines from oven, turn over in pan, then sprinkle with some of the sugar in the pan. Return to oven and roast for a further 20 mins.

Allow nectarines to cool. Remove stones from nectarines and put into a small seperate saucepan. Put cooked nectarines into a high sided bowl and blitz with a hand mixer or briefly in a food processor. You want to break up the fruit, not puree it.

Place blitz nectarines back into pan and put on a low heat. Simmer and stir, working off the caramelised sugar with a spoon or heatproof spatular until it dissolves into the nectarine pure.

Once all sugar is dissolved and mixed in, allow to cool.

Strain nectarine mix and refrigerate until chilled.

In the mean time, add cream to nectarine stones in saucepan. Simmer on a very low heat for about 10 mins. Allow to cool, then strain out the stones.

Transfer to a bowl and mix in sour cream, lemon and salt. Refrigerate until chilled.

If using a using a self chilling churner, turn on the machine 10 mins before churning, otherwise take freezer bowl out of the freezer just before churning.

Mix chilled nectarine mix and cream mix together.

Churn mix in ice cream churner. Takes about 25 mins, depending on your churner. It will be the consistency of soft serve when done.

Serve immediately or if a firmer consistency is preferred transfer to a container and freeze until desired consistency is reached.
Nutrition
Calories:
233
kcal
Carbohydrates:
17
g
Protein:
3
g
Fat:
18
g
Saturated Fat:
11
g
Polyunsaturated Fat:
1
g
Monounsaturated Fat:
4
g
Cholesterol:
56
mg
Sodium:
41
mg
Potassium:
267
mg
Fiber:
3
g
Sugar:
15
g
Vitamin A:
1278
IU
Vitamin C:
6
mg
Calcium:
36
mg
Iron:
1
mg
Nutritional Disclaimer
Nutritional information is an estimate based on an online database. The nutritional content of ingredients may vary by brand. If you require accurate nutritional information, you should calculate this based on the specific brands and products you are using.