These luscious, creamy mango coconut popsicles have fresh ripe mango and salted coconut milk. They are naturally vegan, dairy free and delicous!
Jump to:
Mangos are one of my favorite fruits. They're sweet, juicy and wonderfully versatile in both sweet and savory dishes. Mangos also pair perfectly with coconut milk in these mango coconut popsicles. The flavor was requested by my mothers group and were super popular with the kids. Like many of my other popsicle recipes such as my coconut popsicles these are are dairy free so all the kids could eat them.
Ingredients:
Mangoes: I use Kensington pride mangos in this recipes, but you and use whatever type of mango you like, as long as it has a strong mango flavor. Its important to use really ripe mangos that are almost on the verge of being over ripe for maximum taste and sweetness.
Coconut milk: full fat coconut milk helps give that characteristic coconut taste to these popsicles. You could use low fat coconut milk but your popsicles with have less flavor and be more icy.
Sugar: this recipe uses white sugar which keeps the flavors nice and clean and allows the mango and coconut flavors to shine.
To make mango and coconut popsicles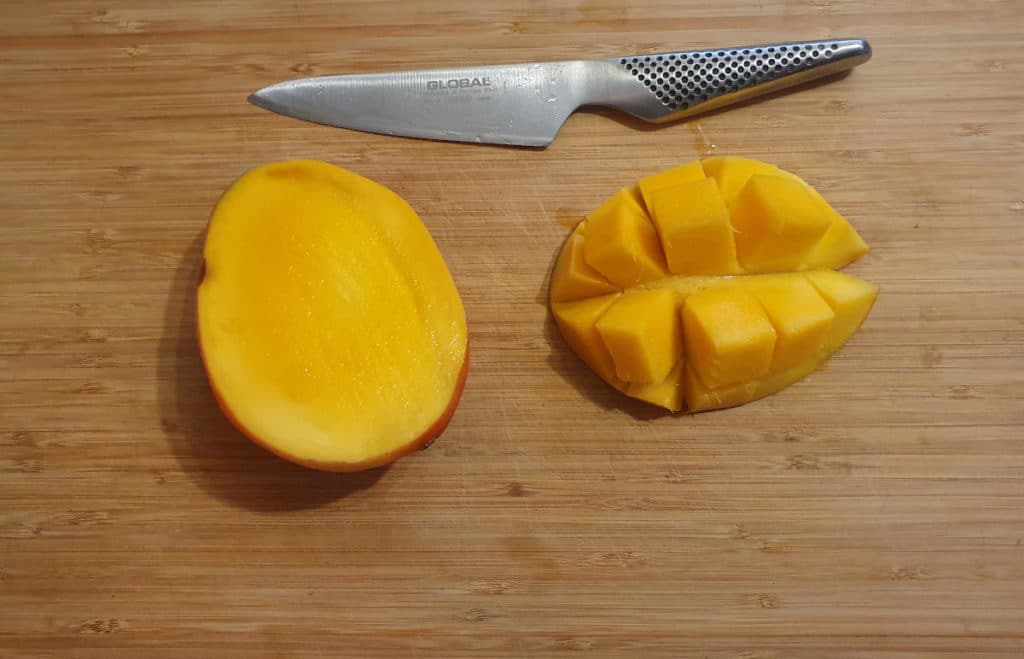 Cut up the mango. To cut the mango slice off each cheek, score in a grid pattern and pop the flesh inside out to make it easier to slice off. Cut off the slides and cut horizontally down the length. If you really want to get off every piece of mango flesh you can squeeze the last of the flesh off the mango spear with your hands, or just give it to your kids to suck off the last of the flesh 🙂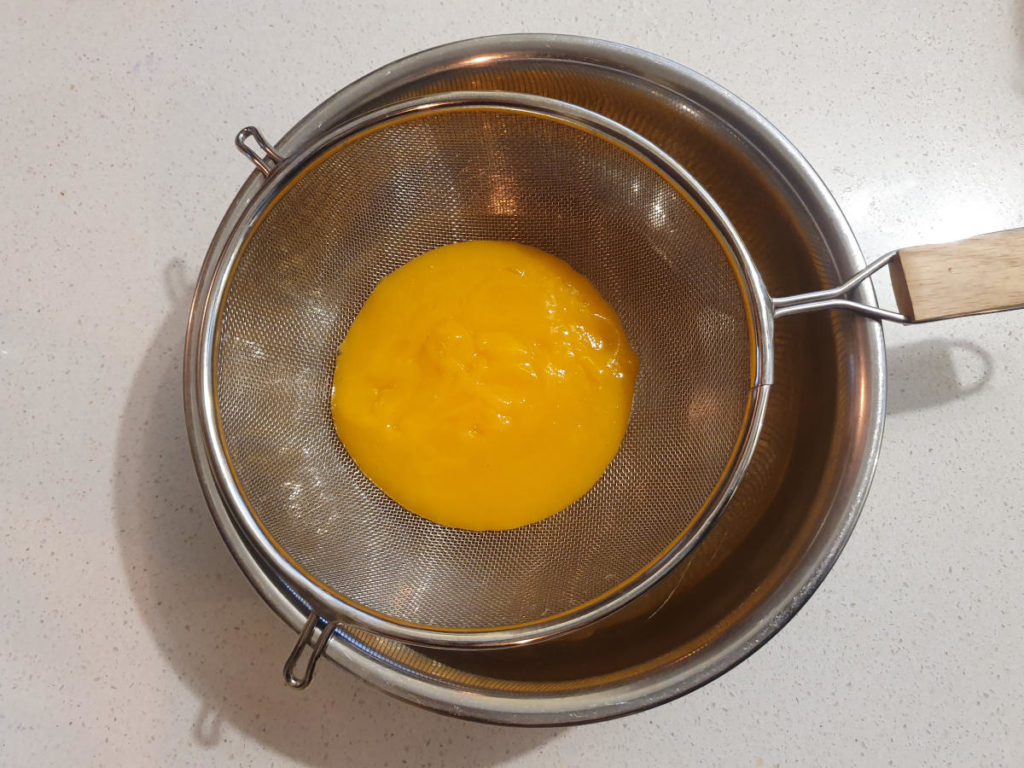 Blitz the mango flesh with one table spoon of sugar and strain well. You will need about 20oz (600ml) of mango puree in total.
Shake your can of coconut milk well to ensure its properly mixed. Open the can and pour into a bowl. Add two table spoons of sugar and a large pinch of salt. Mix well and taste, add more salt if needed.
Hot tip: make sure you have sufficient room in your freezer for your filled popsicle moulds Before you fill them and try to put them in the freezer, or there will be tears!
To make the popsicles fill the molds about half way with mango puree. Top with coconut milk mix. There are lots of popsicle molds available, I like these silicon ones personally. They are easy to wash and remove the popsicles from and make those great looking photogenic pops!
Using a popsicle stick gently stir the popsicles. You don't want to mix the mango and coconut completely, but rather just enough to swirl the two. The mango puree is heavy than the coconut milk so they will settle and bit, buts its still worth doing to the swirled effect.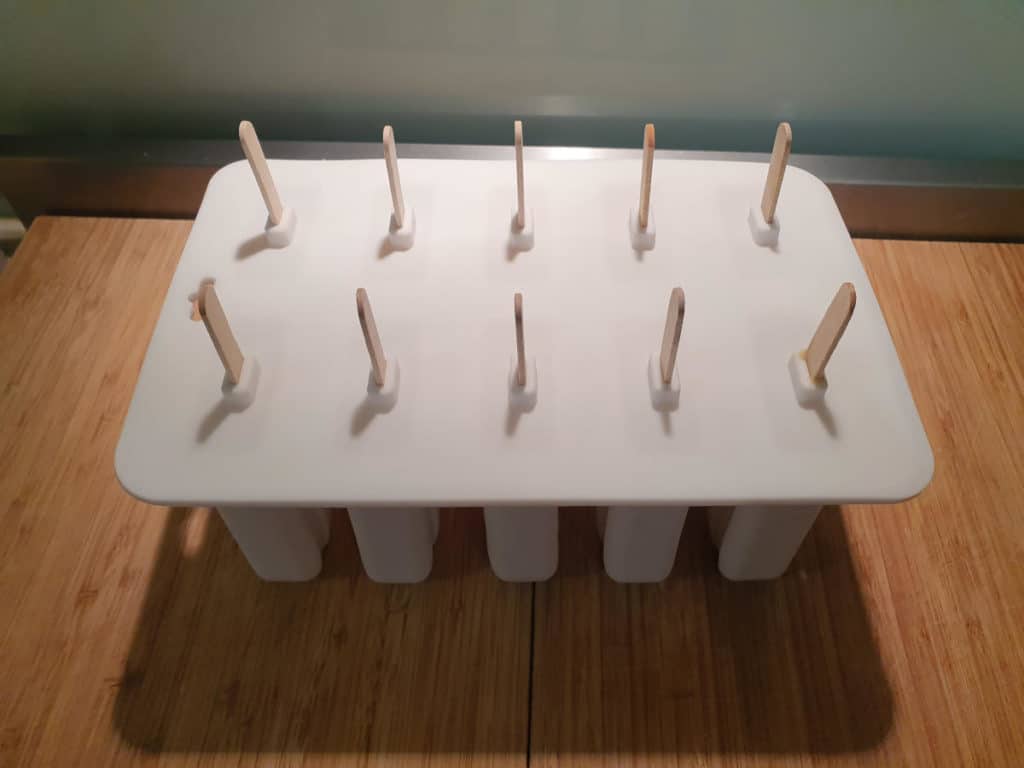 Add sticks to moulds and freezer for twenty hour hours or until set.
How to serve:
Remove from molds and enjoy!
How to store:
You can store these popsicles in and airtight container lined with baking paper between them to stop them sticking together, in the freezer for up to a month.
Have you made this recipe? Tell me how it went in the comments below and tag me on instagram so I can see your delicious creations! @keep_calm_and_eat_icecream
Looking for more yummy dessert recipes?
Why not try making:
Follow me on Facebook or Pinterest for many more delicious recipes.
📋 Recipe
Print Recipe
Mango and coconut popsicles
These luscious, creamy popsicles mango and coconut popsicles have fresh ripe mango and salted coconut milk and are dairy free
Servings:
10
popsicles, 3.4oz (100ml) each
Equipment
popsicle moulds and sticks

Mini food processor
Ingredients
2 - 3

large very ripe mangos

14

oz (400ml) can

coconut milk

3

tablespoons

caster sugar

1

large pinch

salt
Instructions
Peel mangos and remove internal spears, chop

Blitz until smooth and strain.

Stir in 1 tablespoon sugar into mango puree

Open can of coconut milk, pour into a bowl. Add 2 tablespoons sugar and a large pinch of salt and stir until dissolved.

Divide mango puree evenly between moulds until about ⅔ full.

Top with coconut milk mix.

Using an popsicle stick or similar gently stir pops to swirl mix.

Add sticks and freeze overnight or until set.

Remove from moulds and enjoy!
Notes
Because the mango is heavier than the coconut milk these will tend to settle a bit, but its still worth mixing to get a swirled effect in the pops.