These homemade lemonade popsicles are super refreshing. With just three ingredients they are easy to make and perfect to cool off on a hot day.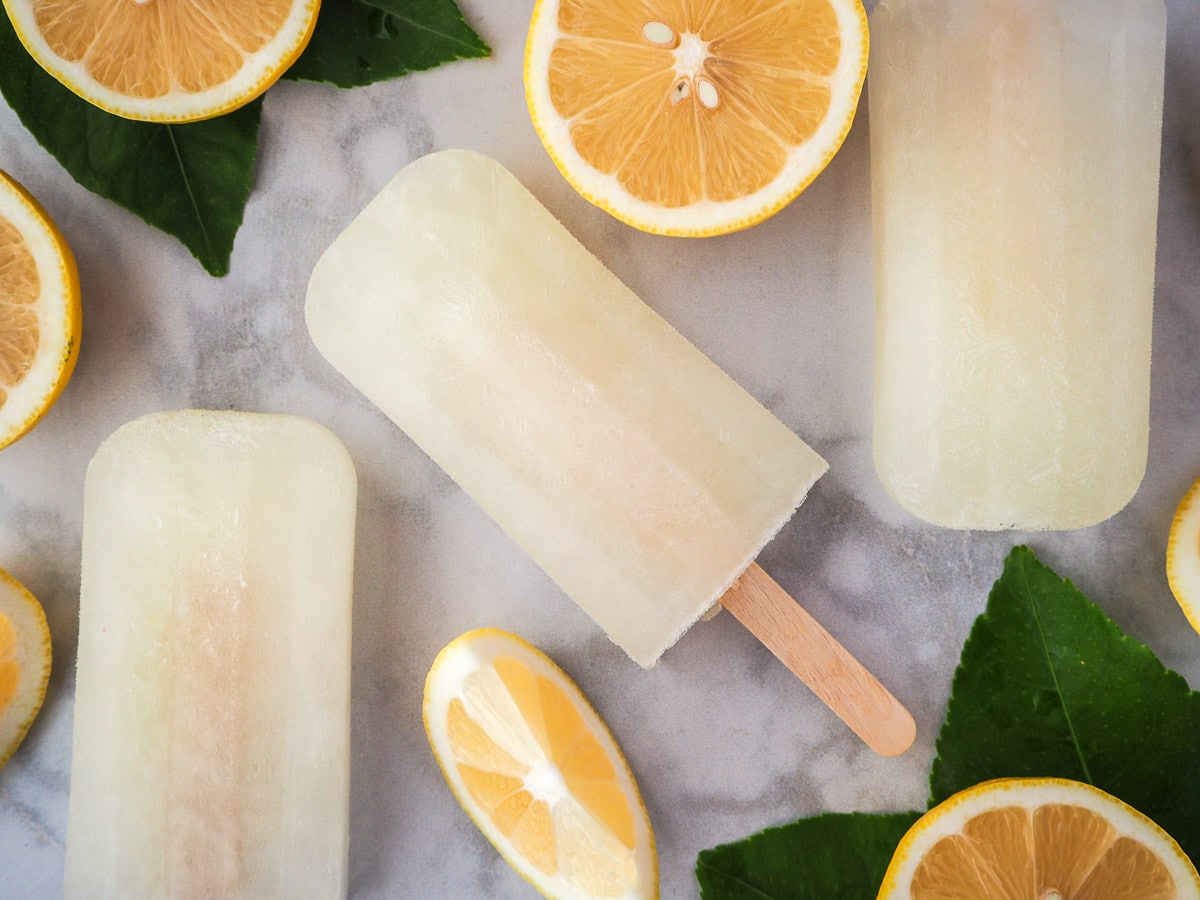 Jump to:
Is there anything better than a refreshing lemon popsicle on a hot summer's day? Maybe my delicious lime popsicles might come close 🙂 These lemonade popsicles are the perfect balance of sweet and sour. Enough sweetness to make them kid friendly and just enough bite to keep the adults happy to.
These are by far and away the most requested popsicle flavor by my yougest although to be honest the rest of the family love them to. They never last more than a day in our house, regardless of the weather!
Looking with the same tangy lemon taste but a bit creamier? Why not try making my fabulous homemade lemon ice cream. Luscious, creamy and bursting with lemon flavor!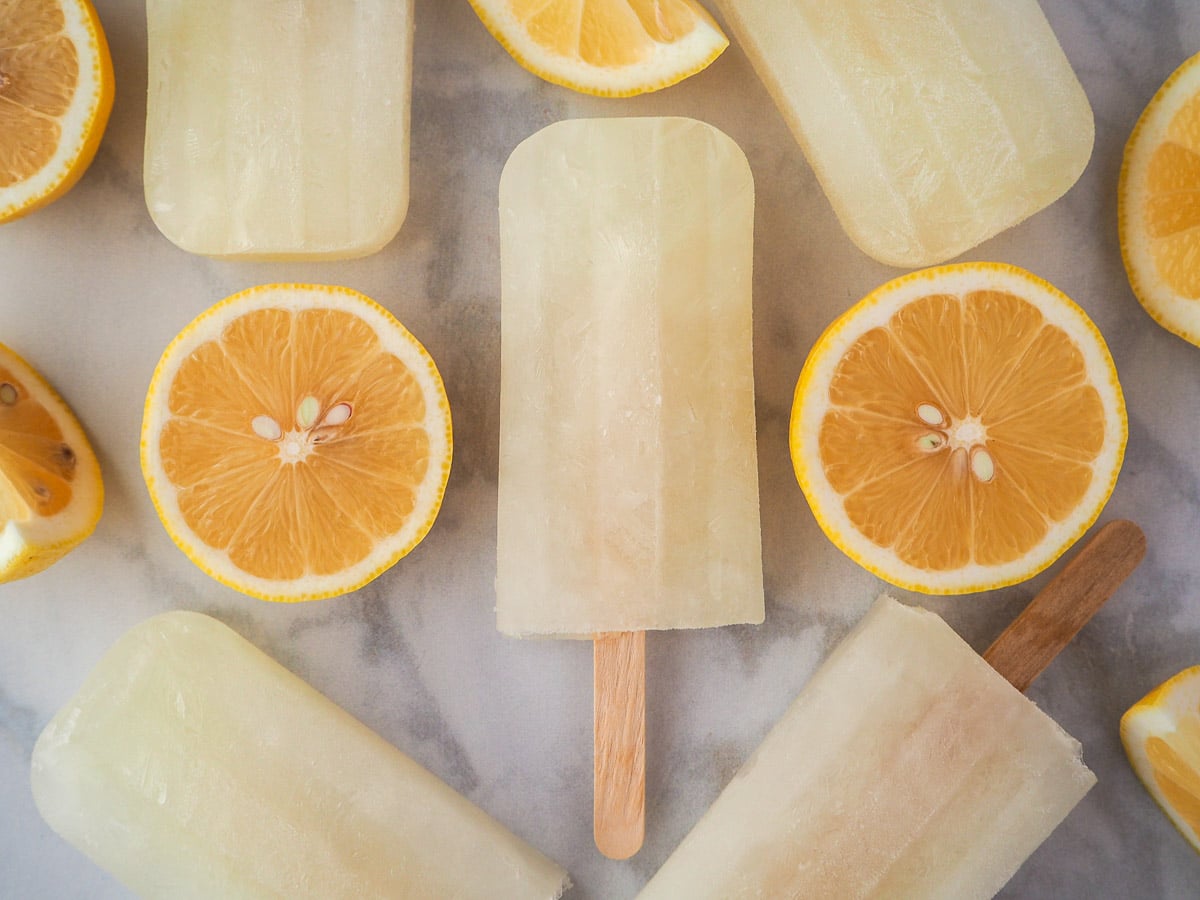 How to juice a lemon without a juicer
Don't have a juicer? No problem, follow these easy steps to get out a much juice as possible:
- Heat it - microwave the lemon for about twenty seconds. This gets everything nice and soft to help get as much juice as possible out.
- Roll it - roll the lemon firmly on a chopping board.
- Cut it - cutting the lemon length ways can help maximize the amount of juice you can get out.
- Squeeze it - squeeze the lemon half firmly in your hand, holding the other one underneath to catch the pips, or over a strainer if that's easier.
Ingredients
Lemons: fresh lemons are best for this recipe. I don't recommend using bottled lemon juice, it won't taste the same and may have a very bitter taste.
Sugar: I use white sugar in this recipe so as not to compete with the fresh flavor of the lemons and to keep this a vegan treat. You could use castor sugar if your prefer. Or if you want to avoid refined white sugar you could replace it with honey or maple syrup, keeping in mind you will be about to taste this in your popsicles.
Water: some water helps dilute the strong flavors in these popsicles, making them a kid friendly treat the whole family can enjoy.
How to make lemonade popsicles
To get more juice out of the lemons you can try a couple of things. You can microwave for about twenty seconds each, or thirty seconds for more than one lemon. If doing this be Very careful when cutting them open, as the juice can heat up and burst out as you cut them.
You can also try rolling the lemons on the chopping board with your hands to break up the insides.
Cut the lemons and half and juice them.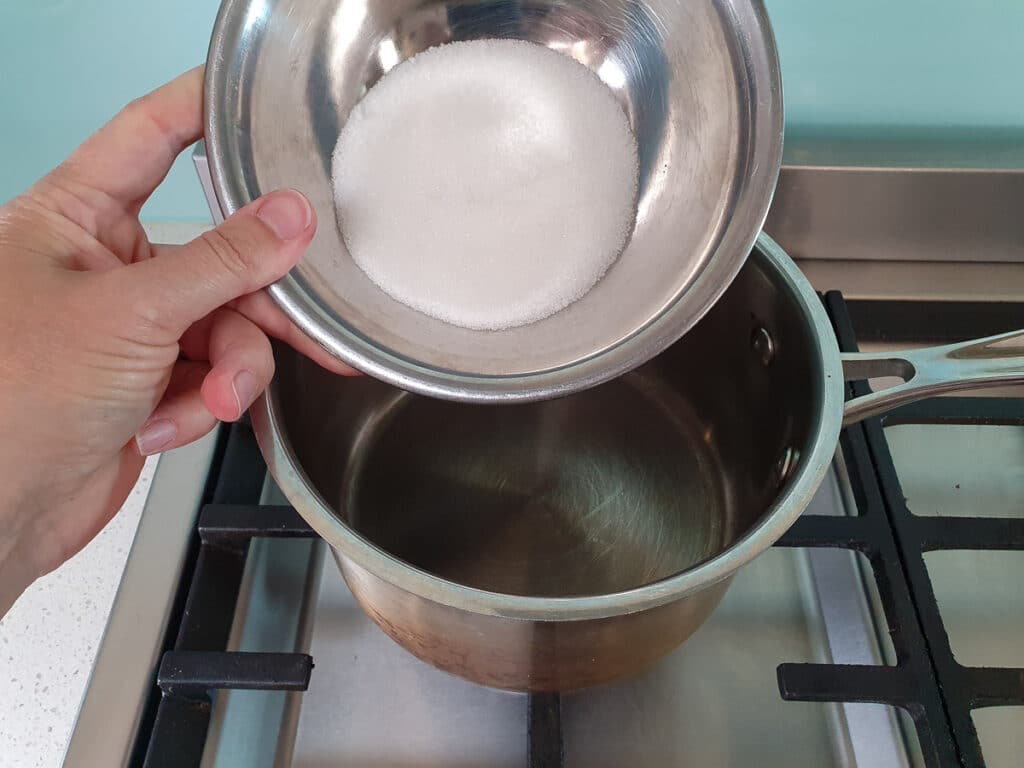 Add the sugar and one cup of water of water to a small pot on the stove. Heat on medium, stirring until all the sugar is dissolved. Take of the heat and add the lemon juice.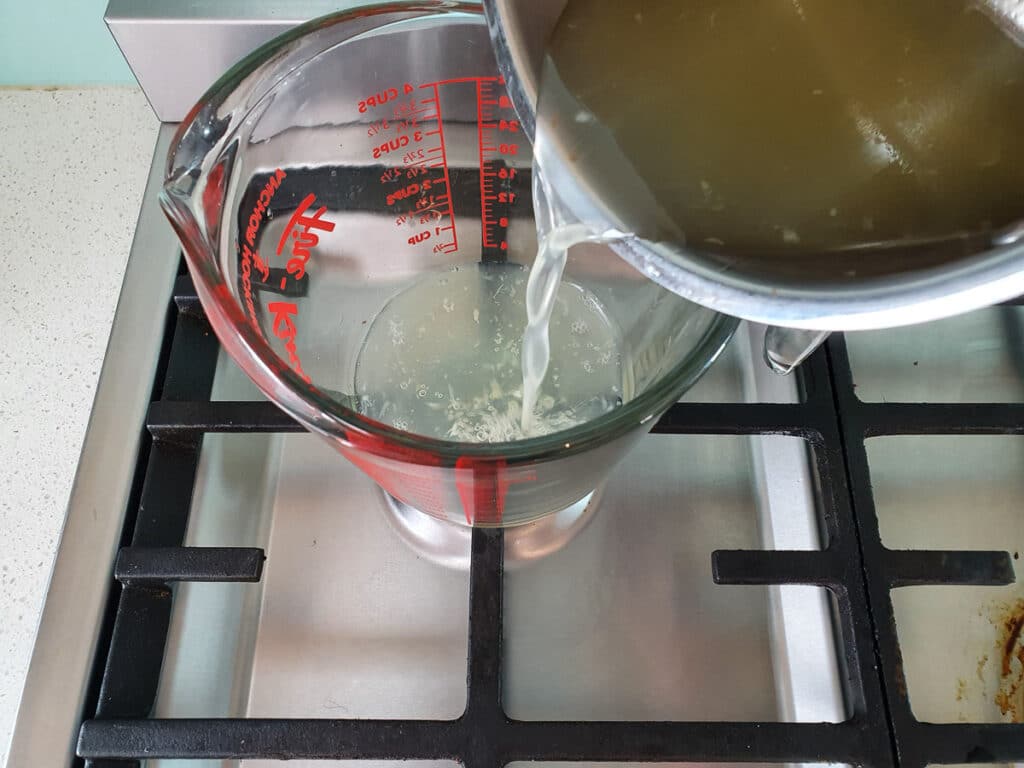 Transfer to a heatproof jug. Add enough water to make up the total volume about cups (600mls)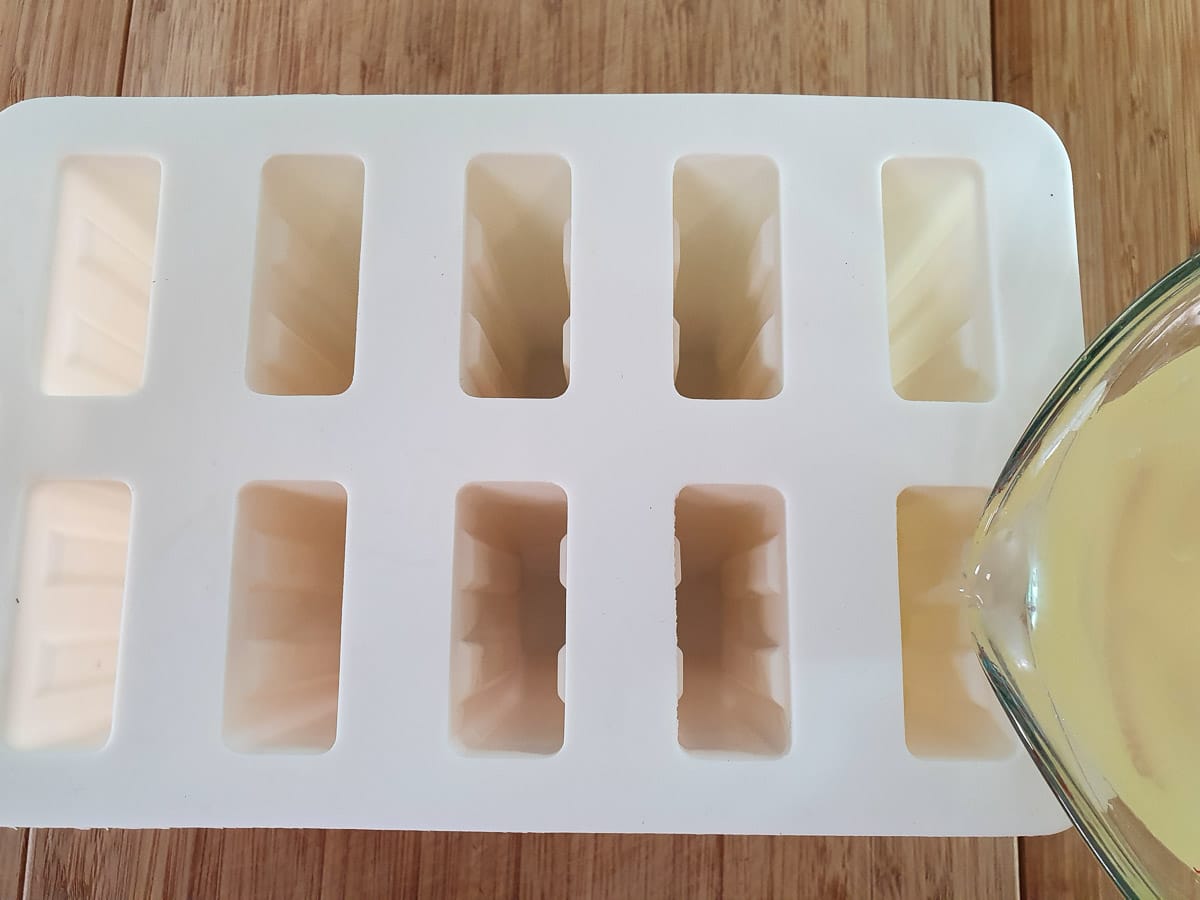 Pour into popsicle molds, add sticks and freeze overnight or at least twelve hours, preferably a full twenty fours. Its important to leave these for the full amount of time to set, the sugar to off set the sourness of the lemons means they can be a little soft. If you don't let them freeze for long enough they can break when you try to remove them from the popsicle molds.
How to serve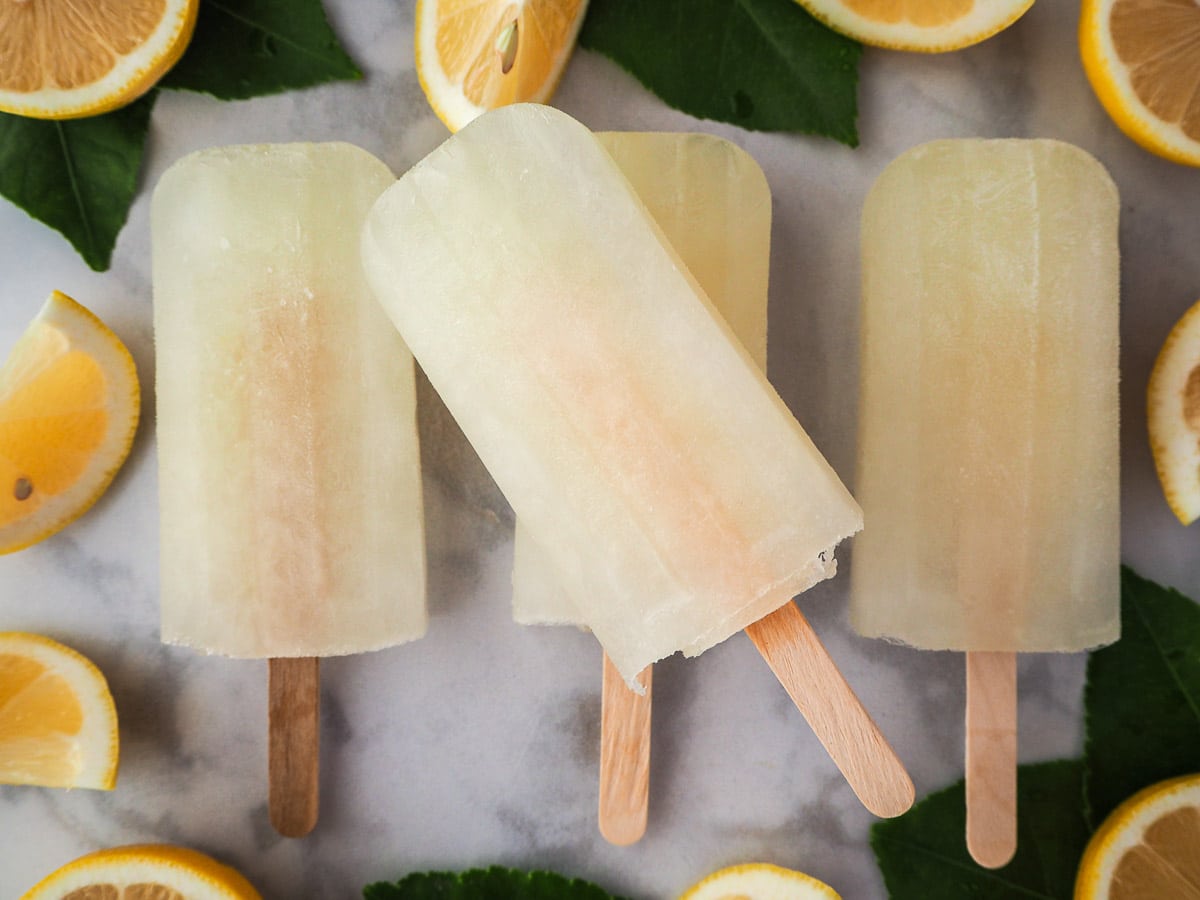 To serve remove from molds and enjoy! Mind the drips!
How to store
These popsicles will store well in an airtight container with some baking paper between them to stop them sticking together for up two months, but I doubt they will last that long!
Have you made this recipe? Tell me how it went in the comments below and tag me on instagram so I can see your delicious creations! @keep_calm_and_eat_icecream
Looking for more refreshing dessert recipes?
Why not try making
Follow me on Facebook or Pinterest for many more delicious recipes.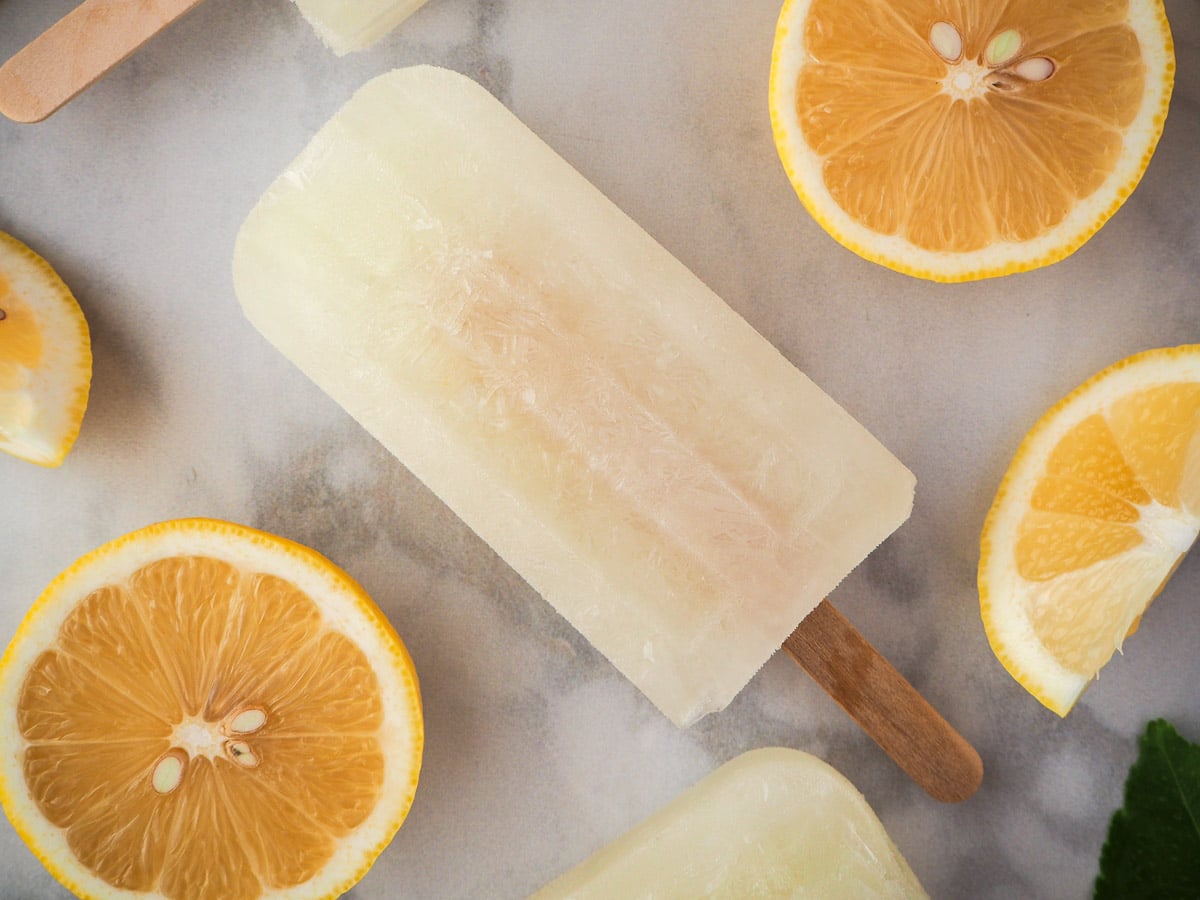 📋 Recipe
Lemonade popsicles
These homemade lemonade popsicles are super refreshing. With just three ingredients they are easy to make and perfect to cool off on a hot day.
Equipment
Popsicle molds and sticks
Ingredients
4 - 8

medium

lemons (enough for ½ cup juice)

½

cup (110gms)

white sugar

Approx.

2 cups (500mls)

water
Instructions
Add the sugar and one cup of water to a small pot. Heat on low, stirring until the sugar is dissolved. Remove from heat.

Optional: microwave the whole lemons for about twenty second to help release the juice. Be careful when cutting in case juice bursts out.

Juice the lemons. You will need half a cup of juice.

Add the juice to the sugar and water mix and transfer to a heat proof container.

Top up water until total volume is about 2 and a half cups (600mls).

Pour into popsicle molds, add sticks and freeze for at least 8 hours, preferably a full day to ensure they are fully frozen.

Remove from molds and enjoy!
Nutrition
Calories:
80
kcal
Carbohydrates:
21
g
Protein:
0.1
g
Fat:
0.1
g
Saturated Fat:
0.01
g
Polyunsaturated Fat:
0.01
g
Monounsaturated Fat:
0.002
g
Sodium:
0.4
mg
Potassium:
21
mg
Fiber:
0.1
g
Sugar:
20
g
Vitamin A:
1
IU
Vitamin C:
8
mg
Calcium:
1
mg
Iron:
0.03
mg
Nutritional Disclaimer
Nutritional information is an estimate based on an online database. The nutritional content of ingredients may vary by brand. If you require accurate nutritional information, you should calculate this based on the specific brands and products you are using.
Join the community!
Like Keep Calm and Eat Ice Cream on Facebook for more great recipes
Pin it for later!