These gorgeous mango popsicles are full of fresh tropical mango flavor. They have just three ingredients and are super simple to make.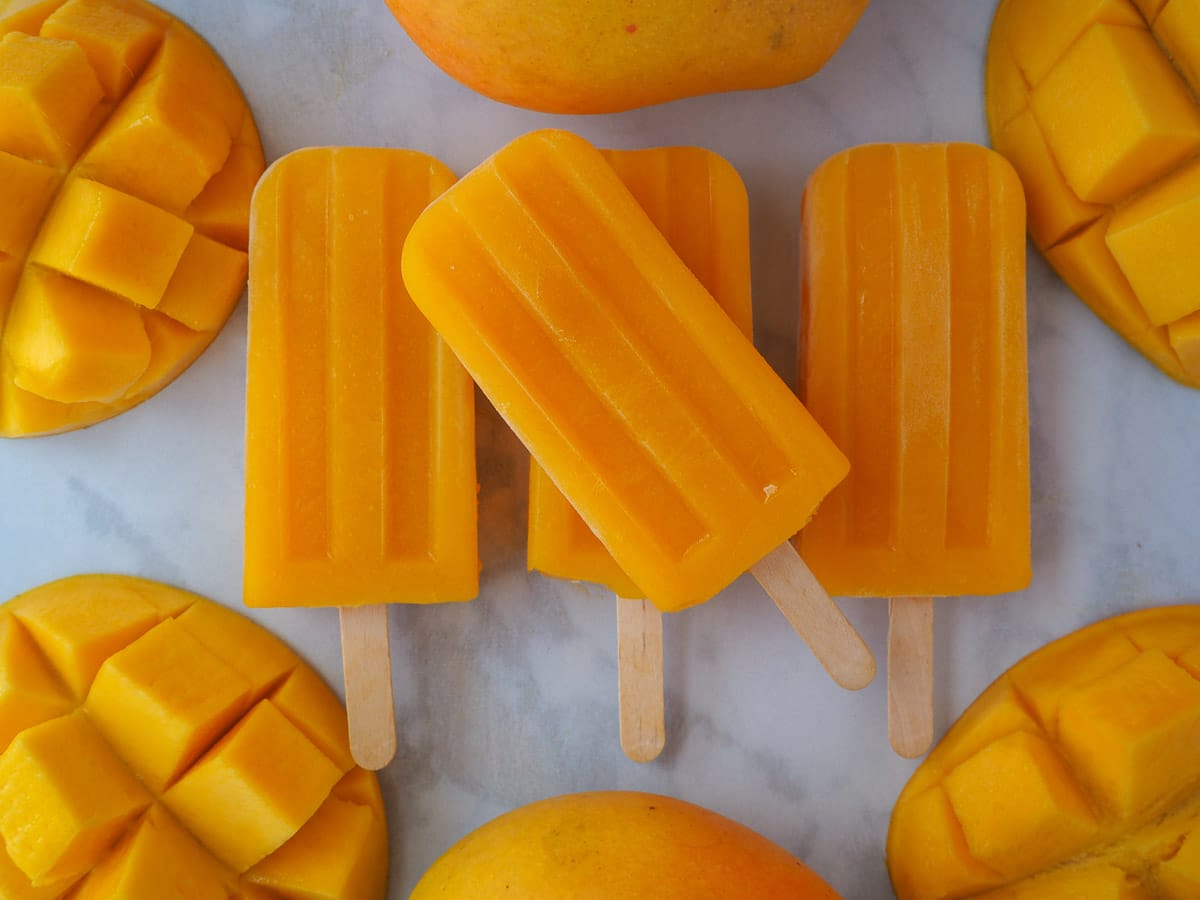 Jump to:
I am absolutely loving mango season in Australia at the moment. Fresh, tropical mangos are in abundance and what better thing to do with them than make these easy mango pops.
These mango ice pops have just three ingredients. Mangos of course, plus a dash of lime juice and a little sugar, so they are similar to Mexican mango popsicles.
They are naturally gluten free and vegan, making them a great option for those with allergies or dietary restrictions. If you had really sweet mangos you could leave out the sugar if you prefer, making these an even healthier treat for both adults and kids alike.
Ingredients
Mangos: I use Kensington pride mangos in this recipes, but you and use whatever type of mango you like, as long as it has a strong mango flavor and its one you would eat on its own. Its important to use really ripe mangos that are almost on the verge of being over ripe for maximum taste and sweetness.
Lime juice: a dash of lime juice helps balance the sweetness of the mango and add some extra flavor to these popsicles. Fresh lime juice is best, I don't recommend using bottled lime juice. It won't taste the same and may add a bitter flavor to your popsicles.
Sugar: regular white sugar is best of this recipe so as not to compete with the fresh mango flavor. You could use castor sugar if you like but I don't recommend using any other type of sugar.
How to make mango popsicles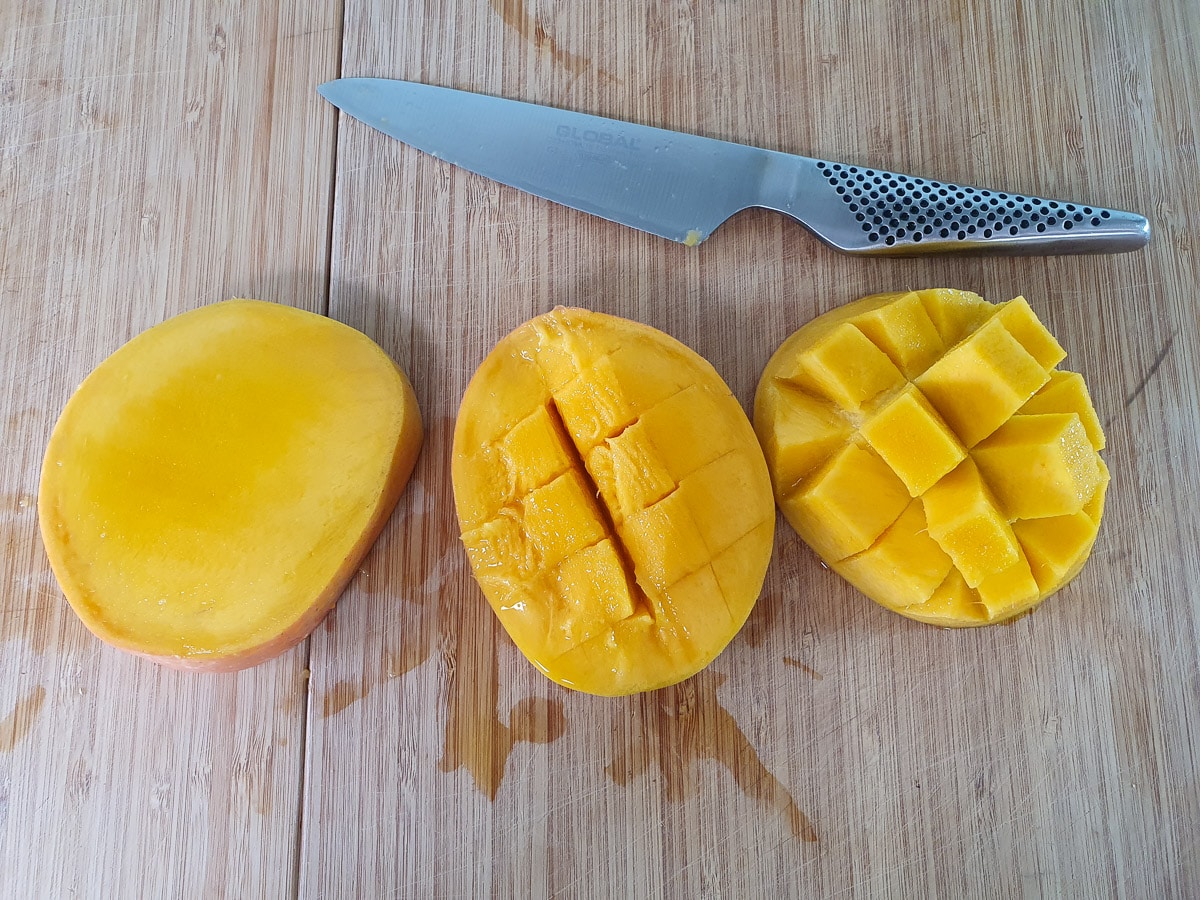 Slice mango flesh by slicing off each each cheak, scoring flesh into cubes, then popping out and slicing off.
Add the mango flesh to a deep jug you can using an immersion/stick blender into, or to a food processor.
Slice the limes and half and juice the lime. Add the lime juice to the mango flesh and blitz until smooth.
Add the sugar and blitz again.
Pour the mix into the popsicle molds and add sticks.
Hot tip: make sure you have sufficient room in your freezer for your filled popsicle molds Before you fill them and try to put them in the freezer, or there will be tears!
Freeze for about four hours, or until firm.
How to serve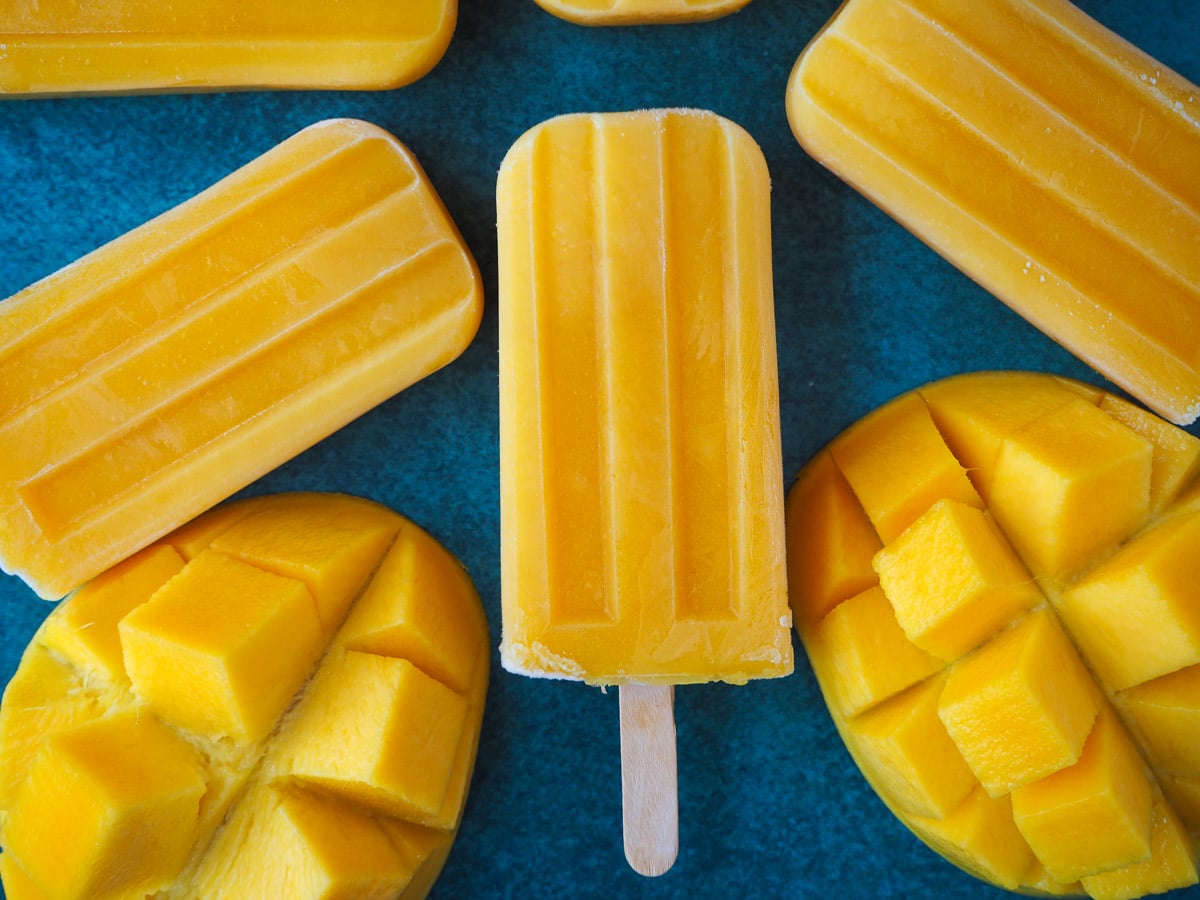 To serve these popsicles remove from the molds and enjoy! If the popsicles are a bit hard to remove from the molds you can leave them out for a min or two, or run them under some cold or warm water to help loosen them up from the molds.
How to store
These popsicles will store well in an airtight container, lined with baking paper and with baking paper in between them to stop them sticking together, for up to a month or more.
Have you made this recipe? Tell me how it went in the comments below and tag me on instagram so I can see your delicious creations! @keep_calm_and_eat_icecream
Looking for more yummy desert recipes?
Why not try making
Follow me on Facebook or Pinterest for many more delicious recipes.
📋 Recipe
Print Recipe
Mango popsicles
Equipment
Popsicle molds and sticks

Stick/immersion blender or food process
Ingredients
3

medium (2.5lbs/1100gms ish)

very ripe mangoes

2

tablespoons (30mgls)

fresh lime juice, approx one lime

3

tablespoons

white sugar
Instructions
Slice the mango flesh off the internal seed by slicing off each cheek, then scoring to create cubes, popping out, then cutting off the flesh.

Add the mango flesh to a deep jug you can use an immersion/stick blender in.

Slice and juice the lime, add the juice to the mango flesh.

Blitz the mango and lime until smooth.

Add the sugar and blitz again.

Pour the mix into the popsicle molds, add sticks and freeze for four hours, or until firm.

To serve remove from molds and enjoy!
Join the community!
Like Keep Calm and Eat Ice Cream on Facebook for more great recipes
Pin it for later!