This cozy feijoa crumble is full of delicious feijoa flavor with a hint of warming ginger. Perfect for using lots of feijoas when your tree is producing heaps!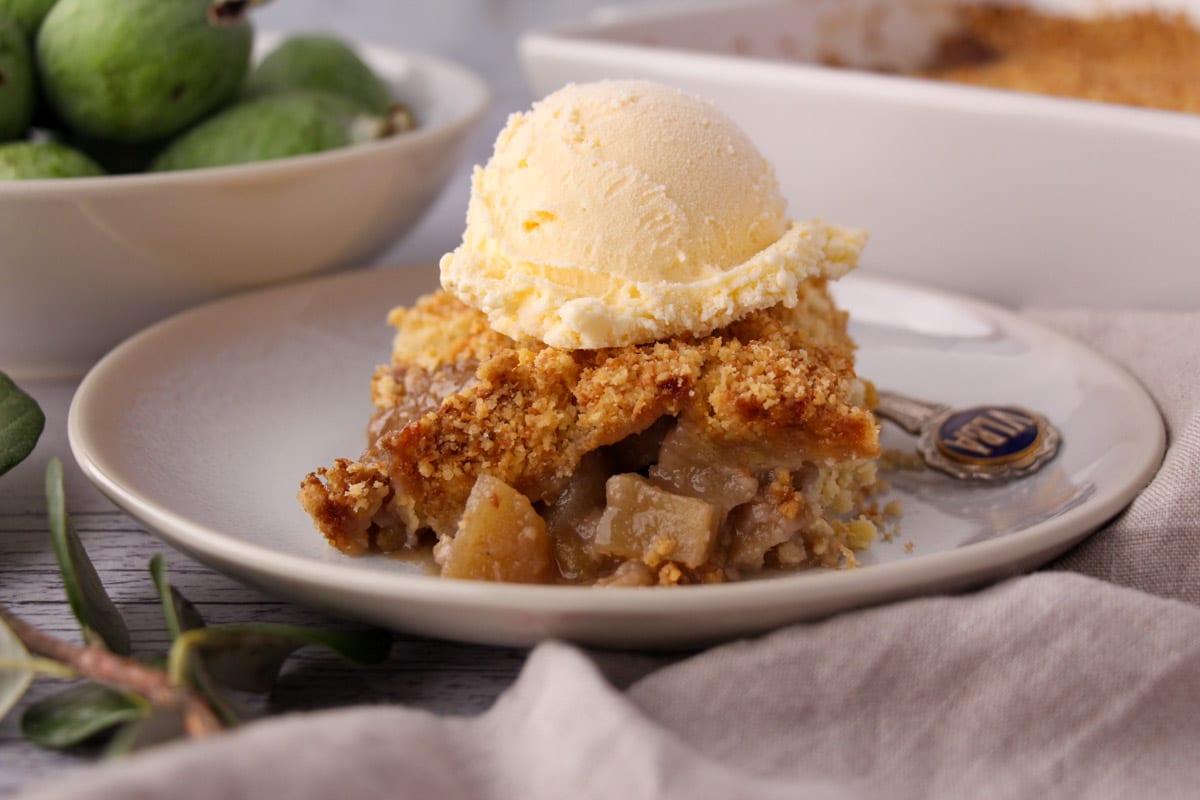 Jump to:
Feijoas, also known as pineapple guavas, are a New Zealand staple. They are grown as both ornamental and fruit trees throughout the country. A fully grown feijoa tree in a good year can produce upwards of forty kilos of fruit. That's a Lot of feijoas.
During feijoa season, anywhere from March to June, people often have more fruit than they know what to do with. Or are given bags of fruit by their neighbor or family. So you need a recipe that turns a lot of this delicious but often very abundant fruit into something extra tasty.
This feijoa crumble is the answer. Made with four cups of feijoa flesh, which can be anywhere from one to two or more kilos of fruit, depending on how pulpy your feijoas are. With some apple for texture and ground ginger for warmth and punch, you'll be making this warming crumble on repeat all feijoa season.
This recipe makes a large crumble but you could easily half, or even quarter it if you have less feijoas and/or less mouths to feed.
Had enough of crumble but still have heaps of feijoas? Why not try making my feijoa cake, feijoa ice cream or my husband's favorite, feijoa cheesecake 🙂
Ingredients
Feijoas: you can use fresh or frozen feijoa pulp for this recipe. You will need about four cup of flesh in total. Outside New Zealand feijoas are sometimes available from local buy/sell/swap groups. People often have trees and are willing to trade for some fruit. You can also use frozen feijoa pulp for a year-round treat.
Apples: some apples help to round out this crumble and give it some extra sweetness and texture.
Sugar: a little sugar helps balance the tang of the feijoas. I used white sugar in this recipe to let the feijoa flavor shine, but you could experiment with other sugar such as brown.
Ginger: some ground ginger adds some warmth and complements the feijoas perfectly. You could use a little freshly grated ginger if you prefer but it will have more bite.
Plain flour: is best in this recipe. You can also use all-purpose flour.
Desiccated coconut: is finely grated coconut, commonly used in baking. The fine texture mixes in well with the rest of the crumble topping and helps add some flavor and texture. If you are not a fan of coconut you can leave it out and replace it with a little more flour.
Butter: the butter mixes in with the crumble topping to help give it that lovely crunchy topping. For a dairy free option you could swap the butter with margarine.
How to make feijoa crumble
Pre heat your oven to 180°C (355°F).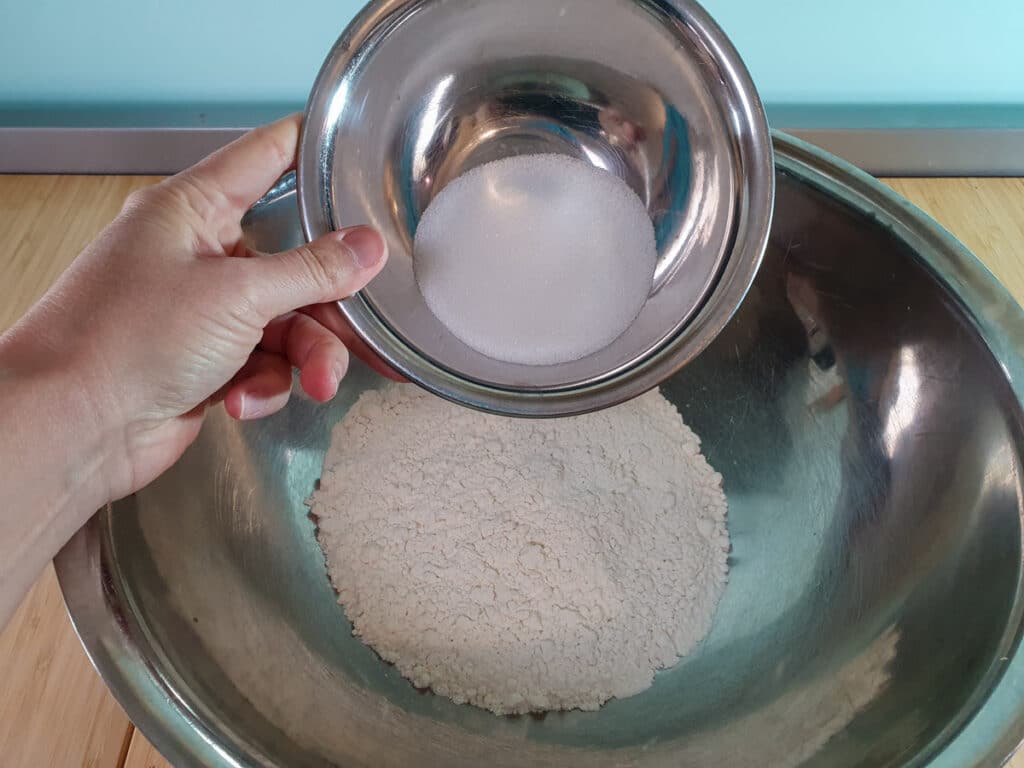 First, make the crumble topping. Mix the four and sugar together. Cube the room temperature butter and rub into the four until coarse bread crumbs form. Alternatively you can do this in a food processor. Don't over mix the topping and make it to fine, or your crumble won't be as crunchy. Add the dessicated coconut and mix well.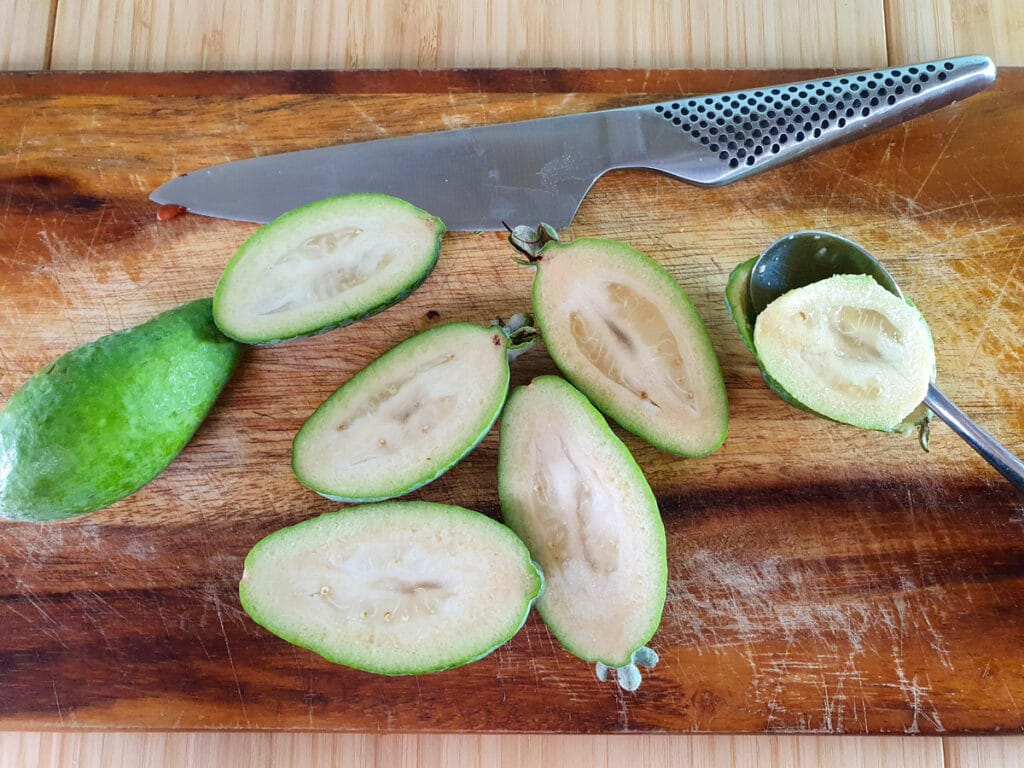 Cut open the feijoas and remove the pulp inside. Roughly chop. You will need about four tightly packed cups of feijoa flesh, or approx. 780 gms. A bit more or less is fine.
Peel and core the apples and cube into smallish pieces. Mix the apple and feijoas together. Add the sugar and ginger and mix well.
Tip the fruit mix into a baking dish. Tip crumble topping over the top and smooth down.
Bake in the oven for about 45 - 50 minutes, or until the top is lovely and golden brown.
How to serve
Remove from oven, scoop into serving bowls and enjoy! Delicious with a scoop of my easy vanilla ice cream, whipped cream or both! With all that lovely baked fruit you could just about eat it for breakfast!
How to store
This crumble with store well covered in the fridge for up to three days, but the crumble topping may start to go a little soggy.
Have you made this recipe? Tell me how it went in the comments below and tag me on instagram so I can see your delicious creations! @keep_calm_and_eat_icecream
Looking for more yummy dessert recipes?
Why not try making
Follow me on Facebook or Pinterest for many more delicious recipes.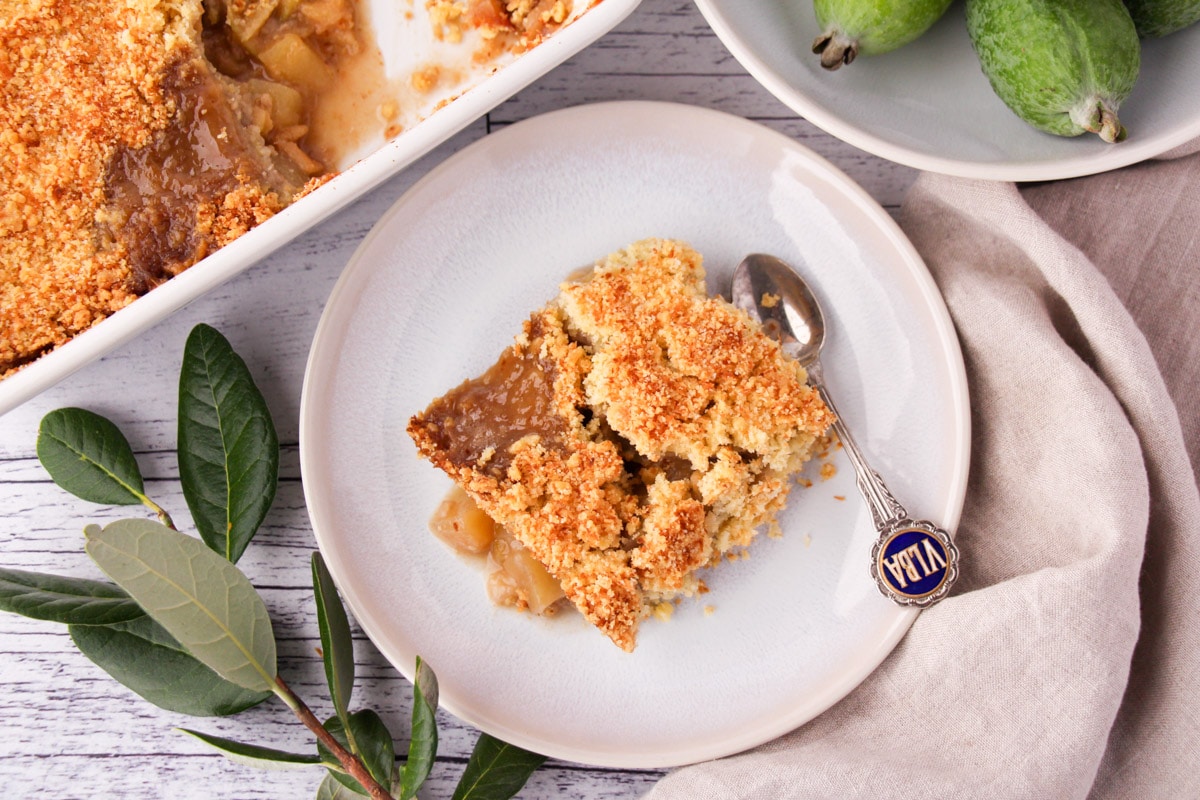 📋 Recipe
Feijoa crumble
This cozy feijoa crumble is full of delicious feijoa flavor with a hint of warming ginger. Perfect for using lots of feijoas when your tree is producing heaps!
Ingredients
Crumble topping
1 & ¼

cups (190gms)

plain flour

¼

cup (55gms)

white sugar

125gms

butter

1

cup (80gms)

desiccated coconut
Fruit base
4

cups (780gms)

feijoa flesh

3

large (500gms ish)

apples

½

cup (110gms)

sugar

2

teaspoons

ground ginger
Instructions
Pre-heat your oven to 180°C (355°F).

Rub the flour and butter together until coarse crumbs form. You can be fairly rough with it, larger crumbs equals crunchier topping!

Add the desiccated coconut and mix well.

Peal and core the apples and cut into cubes.

Remove the feijoa flesh from the feijoas and roughly chop.

Mix the apple cubes, feijoa flesh, sugar and ginger together in a bowl.

Pour the fruit into a baking dish and top with the crumble topping. Smooth down the topping to form a fairly even layer.

Bake with 45 - 50 minutes or until the top is golden brown and crunchy.

Remove from oven, serve and enjoy! Fabulous with a scoop of my easy vanilla ice cream. Delicious!
Nutrition
Calories:
482
kcal
Carbohydrates:
73
g
Protein:
7
g
Fat:
20
g
Saturated Fat:
17
g
Polyunsaturated Fat:
1
g
Monounsaturated Fat:
1
g
Sodium:
16
mg
Potassium:
411
mg
Fiber:
13
g
Sugar:
34
g
Vitamin A:
8
IU
Vitamin C:
39
mg
Calcium:
34
mg
Iron:
3
mg
Nutritional Disclaimer
Nutritional information is an estimate based on an online database. The nutritional content of ingredients may vary by brand. If you require accurate nutritional information, you should calculate this based on the specific brands and products you are using.
Join the community!
Like Keep Calm and Eat Ice Cream on Facebook for more great recipes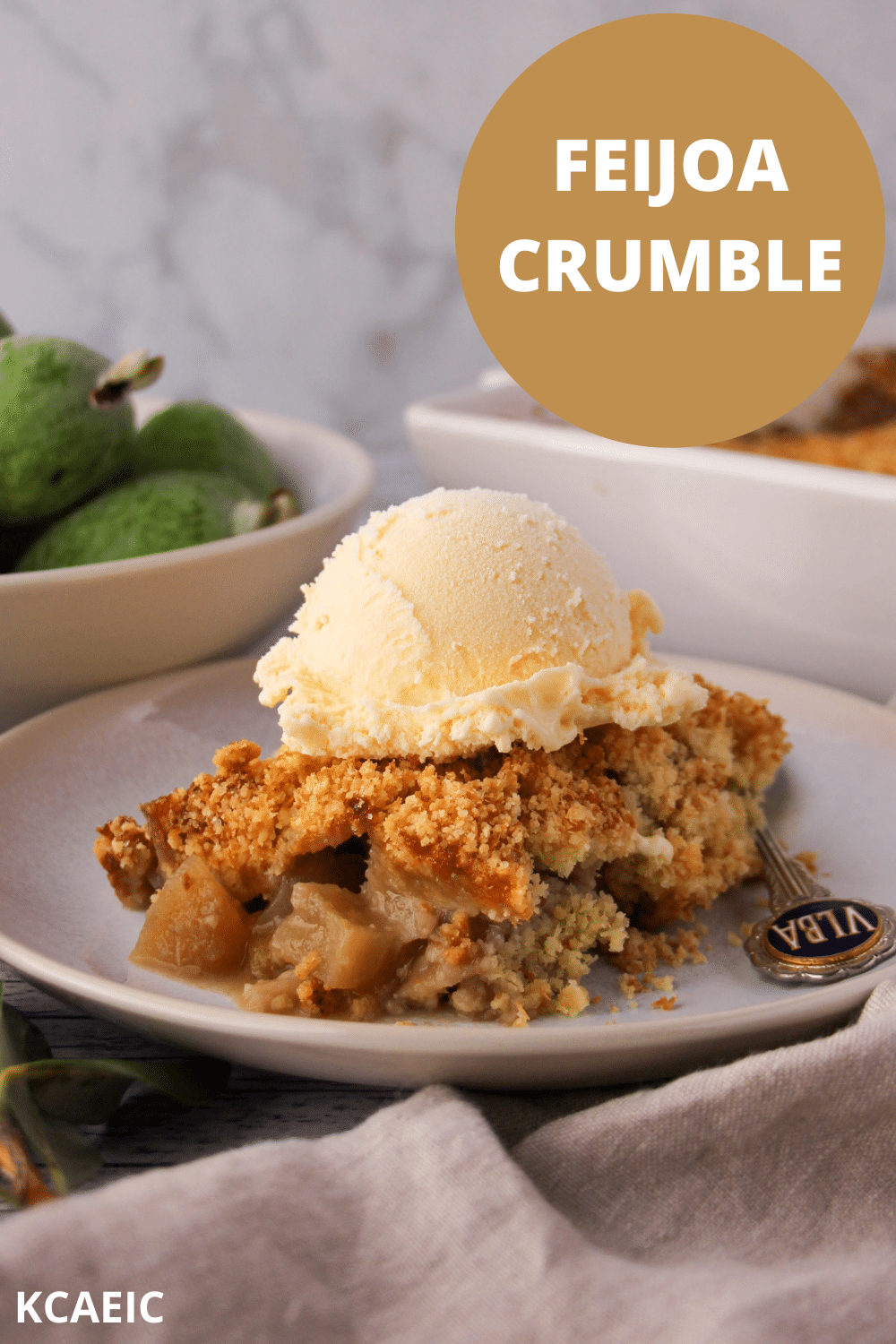 Pin it for later!