This apple crumble (apple crisp) is a family favorite. The cinnamon and cloves give wonderful warmth and contrast the tang of the apples and the crunch of the oaty topping.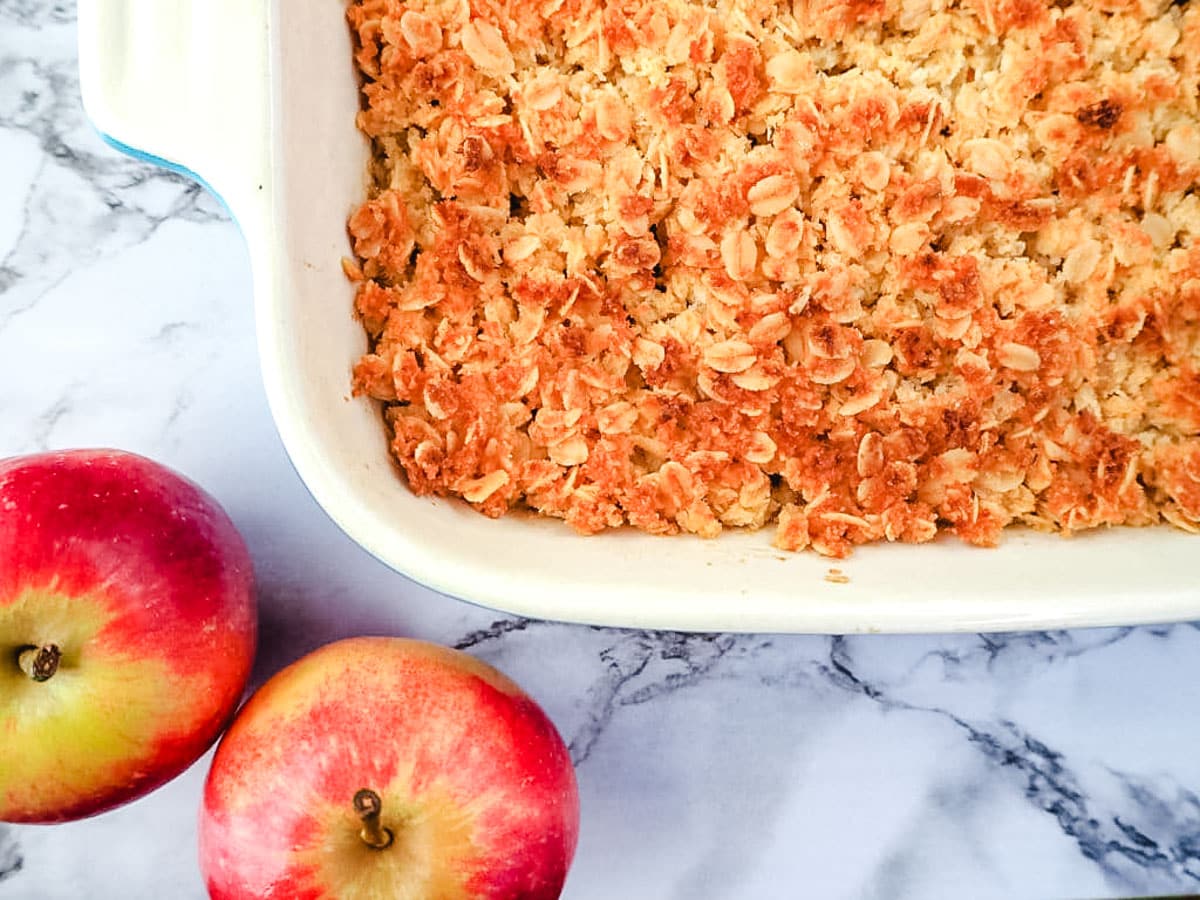 I have been making this crumble for as long as I can remember. I believe the recipe may have originally came from one of my dear friend's grandmother. The filling is a classic combination of apple, cinnamon and cloves. The topping is a crunchy mix of rolled oats, coconut, a little sugar and a lot of butter. It was when I spent some time in the UK that I realized English apple crumble is usually made with flour and butter. Versions with rolled oats like mine are sometimes called apple crisp, but the terms crumble and crips are often used interchangeably. Regardless of what you call it this apple crumble recipe is the perfect warm-up on a cold winter's day. It pairs beautifully with my sour cream ice cream, with some whipped cream, or on its own. I've even been known to eat it for breakfast the following day 🙂
To make the apple crumble (apple crisp)
Make the apples first, then the topping, before assembling and baking.
To make the apple filling
To start with peel and core your apples, then dice them into pieces. You will need about 2.3 lbs (1kg) of apples.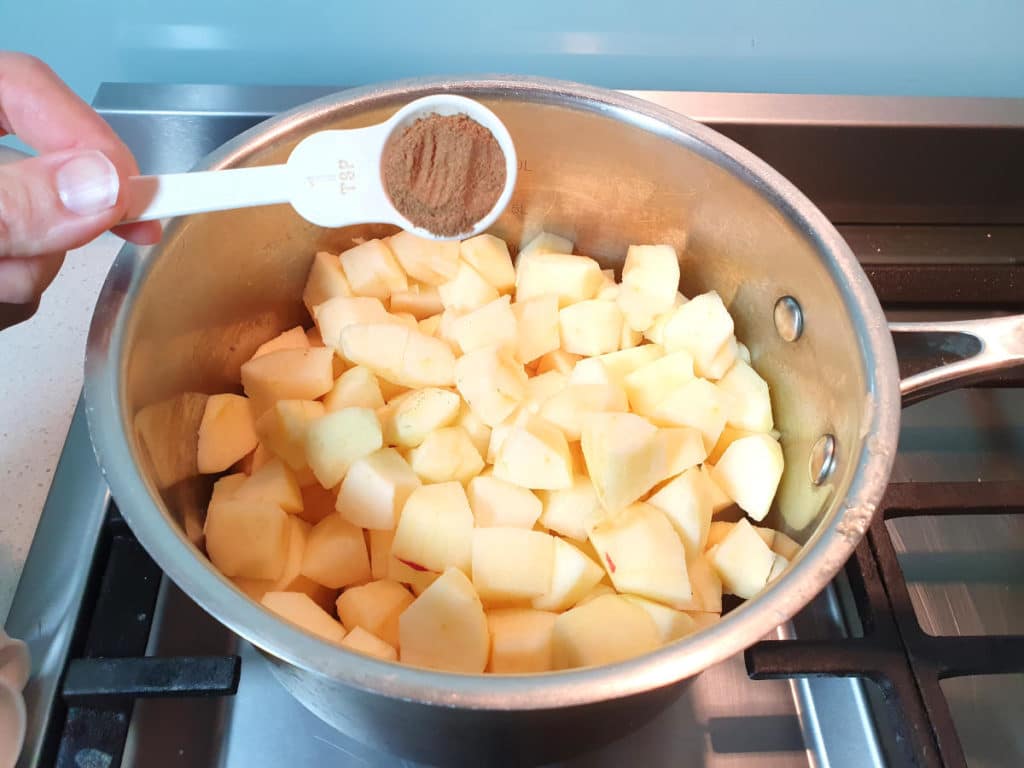 Put the diced apples into a medium saucepan with the cinnamon, cloves, and water. Give it a good stir, then put on a well-fitted lid and simmer for approximately twenty minutes or until the apples are soft and just starting to break down. Check the apples often and stir, you don't want the pan to dry out or the apples will catch and burn. If the water dries out add another tablespoon of water but not too much or you will end up with a soggy crumble.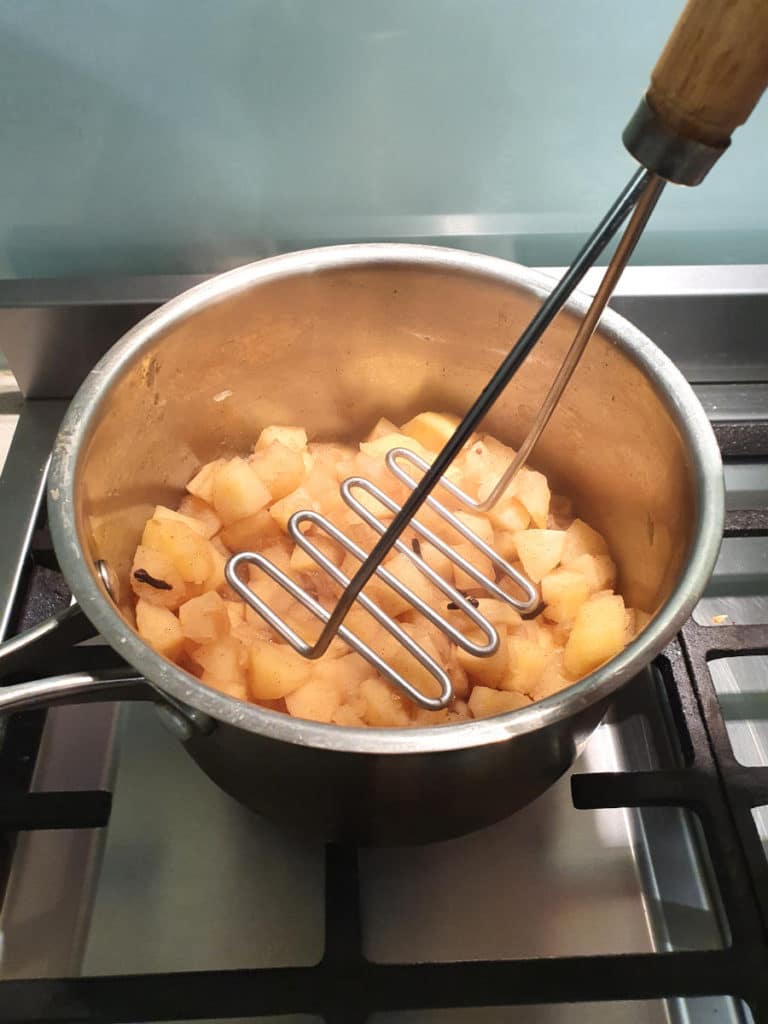 Once the apple just starts to fall apart remove it from the heat and roughly mash it. Do not puree the apples, you want to leave enough lumpy bits for texture and flavor. You can pick the cloves out at this point if you want or leave them in if you prefer. The clove taste will increase if you leave them in.
Taste the apple mix. Apples can vary in a lot in their sweetness depending on the variety, how ripe they are, and the time of year. If the mix is too tart, add a little sugar. For this mix, I added two tablespoons of sugar which was enough to balance the tartness of the apples without making it overly sweet. There's sugar in the crumble topping to remember.
Hot tip: if you don't have time to make the apple filing from scratch you can cheat and use a large tin of apple pie pieces instead. It won't have the same beautiful tang as fresh apples but its a good shortcut if you are short on time. Remember to add cinnamon and cloves and sugar to taste if needed.
While the apples are cooking put the oven on to preheat at 340°F (190°C/170°C fan forced).
To make the crumble topping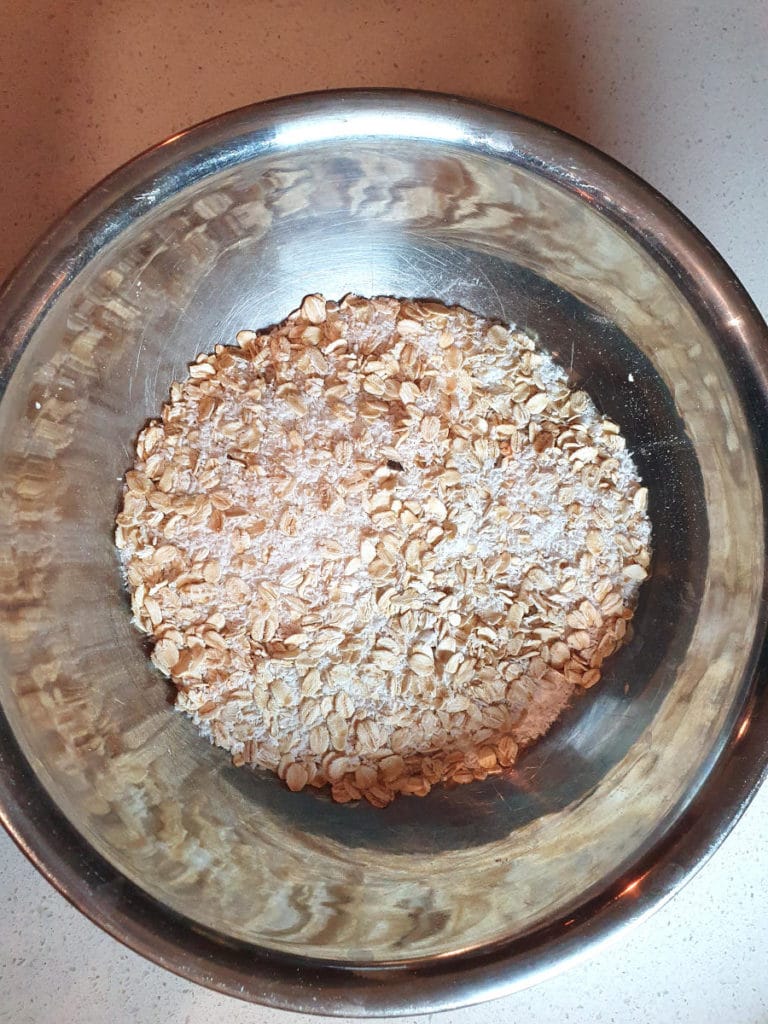 Add the rolled oats, coconut, and sugar to a medium bowl and mix well. Melt the butter. I find it's easiest to do this in the microwave but you can do it on a stovetop if you prefer. Add the butter to the topping mix and stir well. The mix will resemble large, buttery, crumbly bread crumbs.
To assemble the crumble
Put the cooled apple mixture into a medium-sized baking dish and smooth it out. I like my rectangular ceramic one similar to this,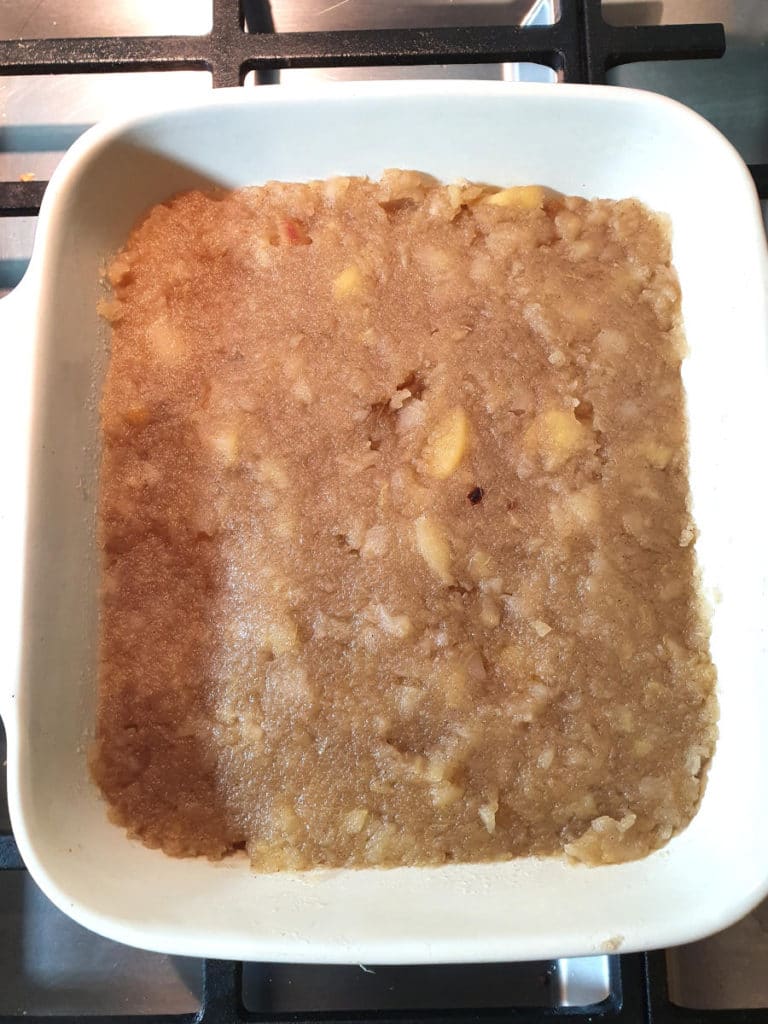 Add the crumble topping. You want it in a more or less even layer over the top but do not flatten it down. You want lots of knobbly gnarly bits to create crunch and texture.
Bake in the oven for approximately 20 mins or until the crumble topping is golden brown and the tops are just starting to darken.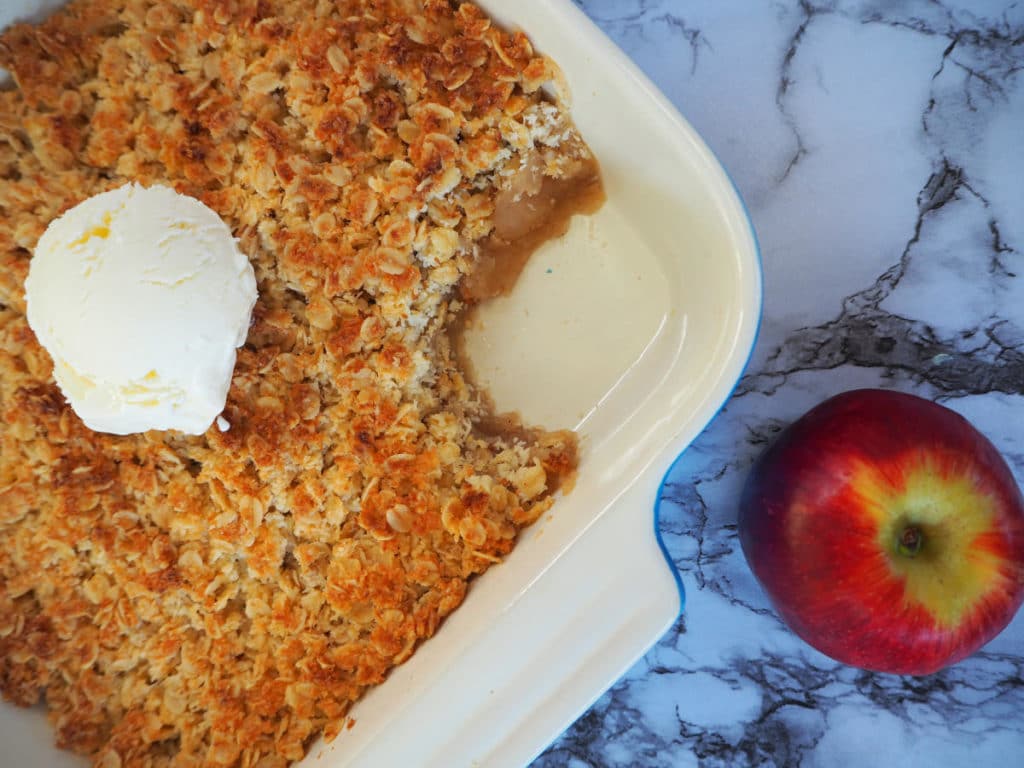 Serve immediately with some luscious sour cream or vanilla bean ice cream, some whipped cream, or on its own. Also delicious cold or even for breakfast the next day, if there's any left!
Storage
This apple crumble is best eaten fresh from the oven. It will keep covered in the fridge for up to three days.
Looking for more tasty dessert recipes?
Why not try making
Have you made this recipe? Tell me how it when in the comment below and tag me on socials so I can see your delicious creations! @KCAEIC or #KCAEIC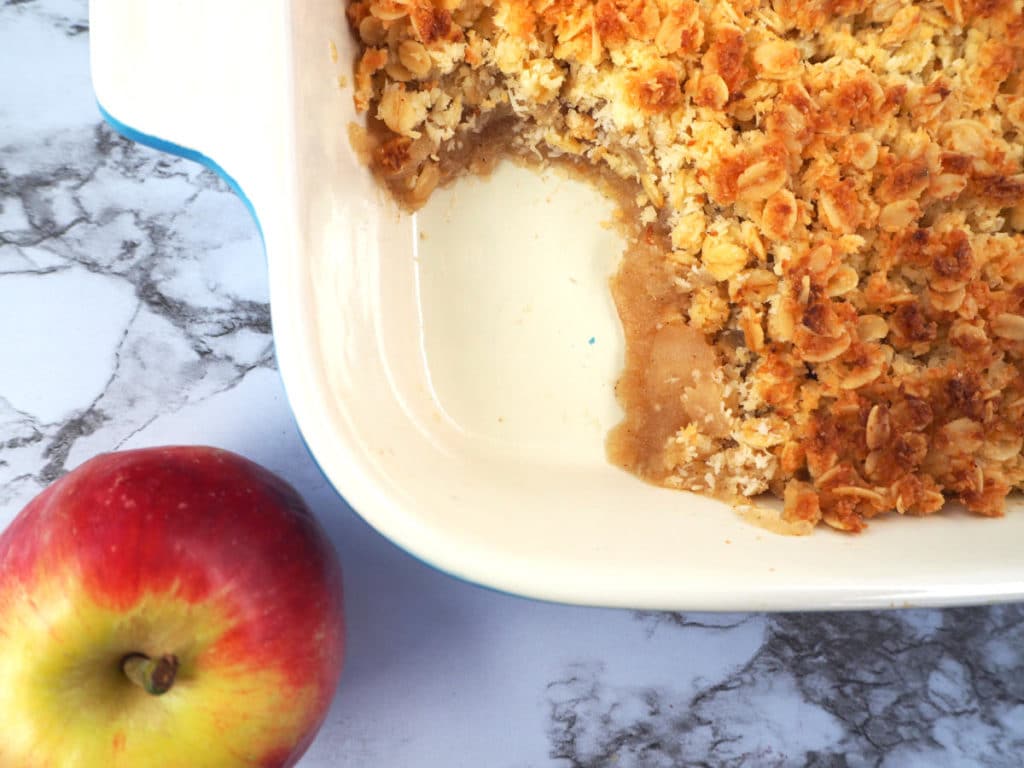 📋 Recipe
Apple crisp (apple crumble)
This apple crisp or apple crumble is a family favourite. The cinnamon gives a wonderful warm and contrast the tang of the apples and crunch of the coconut and oat topping.
Ingredients
Apple filling
2.3

lbs (1kg)

apples

approx, 9 small apples

1

teaspoon

ground cinnamon

¼

tablespoon

whole cloves

2

tablespoons

white sugar
Crumble topping
1

cup (100gms)

rolled oats

1

cup (75gms)

desiccated coconut

¼

cup (55gms)

white sugar

1

stick (½ cup or 113 gms)

salted butter
Instructions
Pre-heat oven to 340°F (190°C/170°C fan forced)
To make the apple filling
Peel, core and dice the apples

Add the apples to a small saucepan with a lid, along with cinnamon, cloves and a splash of water.

Simmer with the lid on, checking and stirring frequently until apples are soft and just starting to come apart. You don't want the apples to boil dry but you also don't want them to wet. Watch them carefully or they will catch. Roughly mash, leaving plenty of lumpy bits.

Transfer stewed applies to a shallow baking dish and spread out evenly.
To make the crumble topping
In a bowl add oates, coconut and sugar, mix well.

Melt butter, using a microwave or stove top.

Add butter to oat mix and mix in well.

Spread oat mix over stewed apples in a more or less even layer. Do not flatten, leave lots of uneven lumpy bits.

Bake in oven for 20 mins or until golden brown on top.

Serve immediately with a scoop of sour cream ice cream or whipped cream, or delicous on its own.
Notes
This recipe is very forgiving. You can make it bigger or smaller batches or make individual serves.
You can use any kind of apples you like but remember to taste apple mix and add sugar if needed.
Nutrition
Calories:
278
kcal
Carbohydrates:
37
g
Protein:
4
g
Fat:
14
g
Saturated Fat:
12
g
Polyunsaturated Fat:
1
g
Monounsaturated Fat:
1
g
Trans Fat:
0.003
g
Cholesterol:
0.2
mg
Sodium:
10
mg
Potassium:
273
mg
Fiber:
7
g
Sugar:
18
g
Vitamin A:
50
IU
Vitamin C:
4
mg
Calcium:
23
mg
Iron:
2
mg
Nutritional Disclaimer
Nutritional information is an estimate based on an online database. The nutritional content of ingredients may vary by brand. If you require accurate nutritional information, you should calculate this based on the specific brands and products you are using.