These eggless brownies are everything you want in a brownie, dense and fudgy with chewy edges and a secret ingredient to keep them moist and delicious.
Jump to:
What do you do when you are hanging out for some fudgy, chewy, chocolaty brownies, but you are egg free? This eggless brownie recipe is the answer.
When baking brownies without eggs there are a number of things you can use to replace them. I did a lot of experimenting and I found sweet potato makes the best egg substitute in brownies. The sweet potato adds some body and moisture without changing the flavor. And because these egg free chocolate brownies are softy and fudgy they don't need the structural integrity that apple sauce provides in my eggless carrot cake (which is also delicious and if you are egg free I highly recommend it!).
If you're looking for ways to sneak some extra veg into the kids these eggless fudgy brownies are great option. Rest assured you can not taste the sweet potato at all. A piece of this delicious sweet potato brownie practically counts as one of your five a day!
Ingredients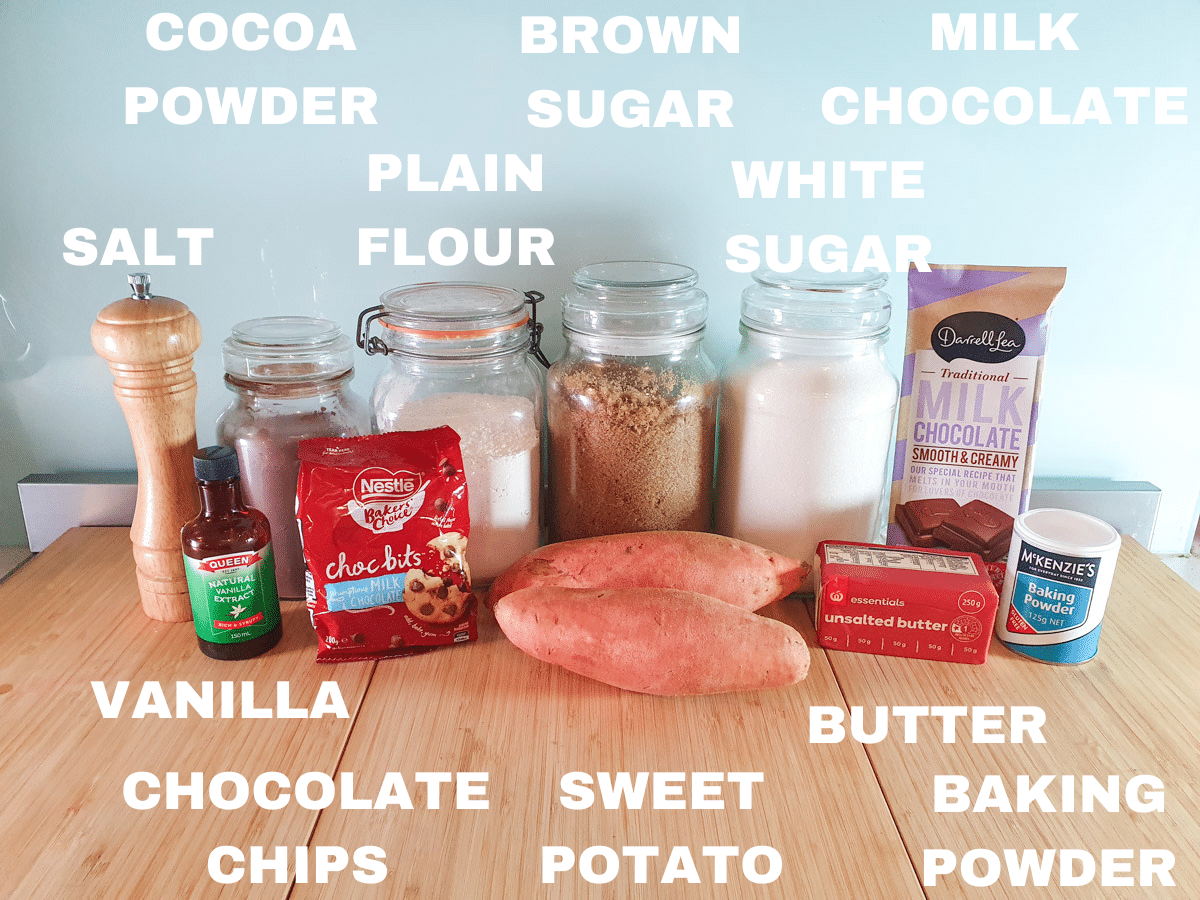 Milk chocolate: a decent quality milk chocolate is best in this recipe. You don't need premium chocolate, but I also wouldn't recommend going ultra budget such as compound or cooking chocolate. I found one of the brands I like on special so I went with that. You could use dark chocolate instead, but it does make the brownies super rich and intense. If that's your thing go for it but other wise stick to milk chocolate. I have not tested this recipe with other types of chocolate.
Milk chocolate chips: some milk chocolate chips add to the flavor of this recipe. The chocolate chips also helps weigh down the top of the brownies, helping to keep them dense and fudgy. You can leave them out if you like but your brownies may have a lighter texture that's edging more towards the cakey side.
Cocoa: I use natural cocoa powder in these sweet potato brownies for for maximum chocolate flavor.
Sweet potato: is the secrets ingredient that keeps these brownies moist and delicious without eggs. There's no fiddling around with chopping and boiling, you just chuck 'em into the oven whole and then peel and blitz once cooled. Easy!
White Sugar: I used both white sugar and brown sugar in this recipe, but you could use all brown or white if you prefer.
Brown sugar: also called light brown sugar, helps to give these brownies some extra caramel notes. You could use dark brown sugar for some extra caramel notes. If using cups to measure the brown sugar make sure its packed down firmly.
Plain flour: also known as all purpose flour. Its important to use a flour that does not having any rising agents in it or you will end up with cakey brownies.
Butter: some unsalted butter helps bind these brownies together. You could try using margarine instead. I have not tested these brownies with oil instead of butter.
Baking powder: a little baking powder helps give these brownies structure in the absence of eggs. You actually want them to rise a bit and then collapse. This helps aerate the mix and stops them from becoming tooo dense.
Vanilla essence: you can use vanilla essence or Imation vanilla essence in this recipe, depending on your preferred taste and budget.
How to make eggless brownies from scratch
I used a 6" x 10" rectangular brownie tin for this recipe. I experimented with different baking tins and found this tin gave the best chewy edges to the brownies. The 9" square cake tin was still delicious, but had a more uniform texture and lacked the chewy edges I love. You can use whatever tin you like but keep in mind you may need to adjust your cooking times.
A bigger tin will lead to flatter brownies that will cook quicker, a small tin will lead to taller brownies that will take longer to cook.
To save time on the day you can make the sweet potato puree up to two days in advance and keep covered in the fridge until you are ready to make your sweet potato brownies.
Pre-heat your oven to 430°F (220°C/200°C fan forced). Put your sweet potatoes onto a baking tray. If they are particularly big you may need to slice them in half length ways. Bake for 50 minutes or until soft and cooked through when you poke with a sharp knife.
Allow to cool, then peel. The skin should come off fairly easily. Break into chunks and process in a food processor until very smooth. You will need one cup of sweet potato puree (250gms).
Reduce your oven temperature to 355°F (180°C/160°C fan forced). Grease and line a brownie tin.
Chop the chocolate into small pieces. Add the chocolate and the butter to a microwave proof bowl and microwave in thirty second to one minute bursts until melted. Whisk to combine. Add the sweet potato and vanilla and whisk again. Using a whist up until this point will help the ingredients combine and make for smoother, more uniform brownies.
Add the white and brown sugar and mix. Its best to switch to a spoon or spatula at this point. Put a sieve over the bowl and sieve in the flour, cocoa powder, baking powder and chocolate and mix to combine.
Pour into lined tin and smooth down. Sprinkle with chocolate chips and bake for forty five minutes or until a tooth pick inserted comes out with some crumbs and gooeyness but not completely wet. This brownies will puff up as they bake, then collapse back down again when cooling. Unlike most baking this is a good thing. This put some air into the brownies but still keeps them lovely and fudgy.
Remove from the oven and allow to cook completely before cutting.
How do you cut brownies neatly?
The secrete to cutting brownies neatly is to let your brownies cool completely first and use a plastic disposable knife. It won't stick to the brownies the same way a metal knife does. Make single downward cuts and do not 'saw' the brownies or they will break at the edges.
To cut a perfect square for brownies you can use a clean plastic ruler! Measure the brownies and work out the how big you want to make each one. Measure and make a small intent at the edges, then use a clean plastic ruler to cut the brownies. If your brownies have topping such as chocolate chips you may need to move these aside or they will end up in the cutting lines.
How to serve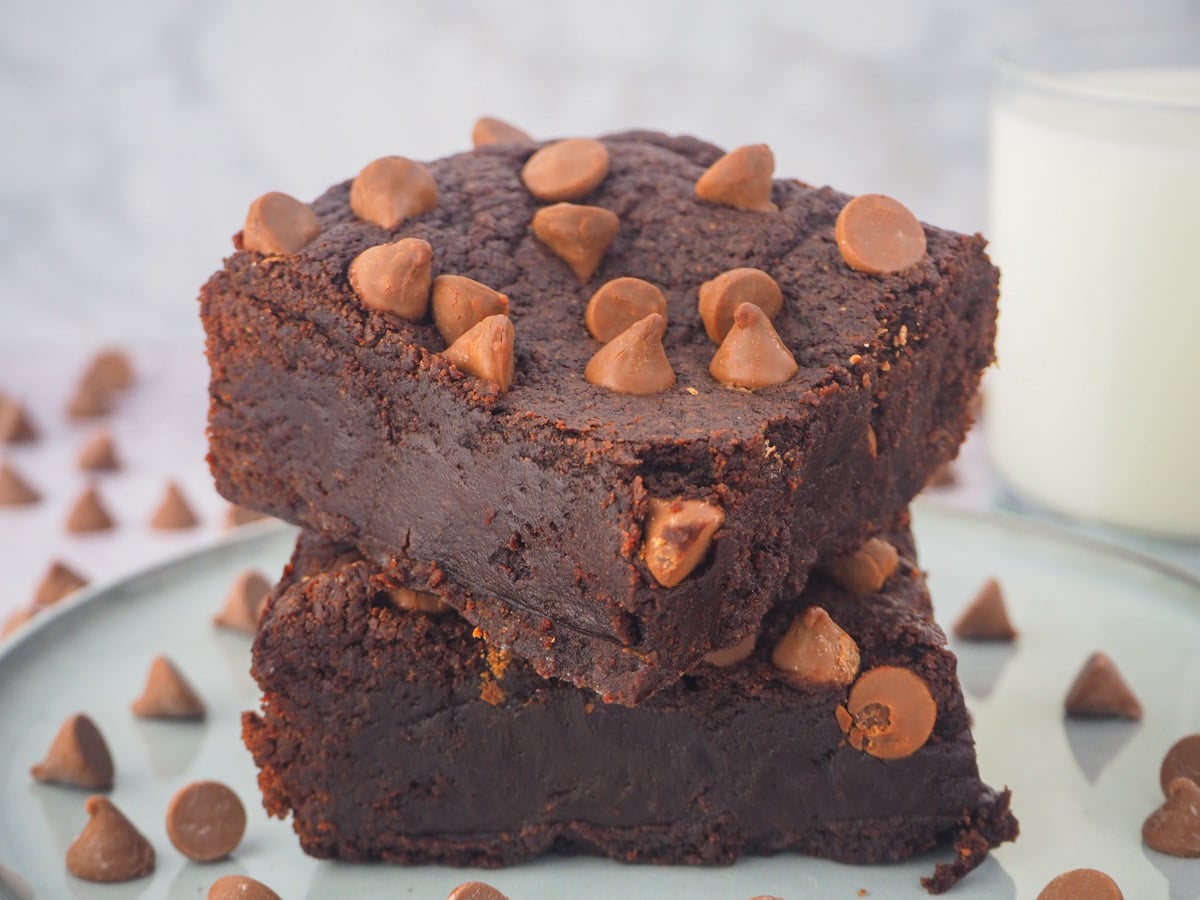 These eggless fudgy brownies are fabulous on their own or with a scoop of my easy vanilla ice cream (also egg free). Delicious!
If I'm honest I have been eating these sweet potato brownies all day long with my raspberry ice cream. Its an amazing combination and it makes my taste buds do a happy dance. The richness of the brownies is off set perfectly by the tang of the raspberries. But unfortunately its one of my few ice creams made with eggs. If you are not egg free I highly, highly recommend this combination. Your taste buds will thank me later!
How to store
These brownies will store well for up to five days in a covered container at room temperature.
Have you made this recipe? Tell me how it went in the comments below and tag me on instagram so I can see your delicious creations! @keep_calm_and_eat_icecream
Looking for more yummy eggless dessert recipes?
Why not try making
Follow me on Facebook or Pinterest for many more delicious recipes.
📋 Recipe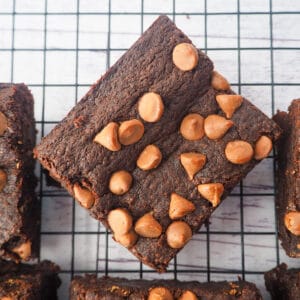 Eggless brownies
These eggless brownies are everything you want in a brownie, dense and fudgy with chewy edges, and a secret ingredient to keep them moist and delicious.
Equipment
Food processor or chopping bowl attachment of a stick/immersion blender.

10" x 6" brownie tin or baking tin of choice.
Ingredients
2 medium or 1.1lbs

(500gms)

sweet potato

1 & ¾ sticks

(200gms)

unsalted butter

5.5 oz

(150gms)

milk chocolate

¾

cup (165gms)

white sugar

¾

cup (165gms)

brown sugar

½

tablespoon

vanilla essence

1

cup (150gms)

plain flour

1

cup (100gms)

cocoa powder

½

teaspoon

baking powder

¼

teaspoon

salt

¼ cup

(50gms)

milk chocolate chips
Instructions
Pre-head your oven to 430°F (220°C/200°C fan forced),

Put your sweet potatoes on a tray. Bake for fifty minutes in the oven until soft and cooked through.

Allow to cool, peel of skins and puree in a food processor until smooth. You should have one cup or 250gms sweet potato puree.

Reduce your oven temp to 355°F (180°C/160°C fan forced).

Grease and line the brownie tin.

Chop the chocolate into small pieces.

Add the chocolate and butter to a microwave proof bowl. Microwave for a few minutes until butter and chocolate are melted. Whisk well.

Add the vanilla to the sweet potato puree and whisk together.

Add the sweet potato to the chocolate and butter and mix well.

Put a sieve on top of the bowl and add the flour, coco powder, salt and baking power and mix well.

Tip into the lined brownie tin and smooth down. Sprinkle the chocolate chips over the top.

Bake for forty five minutes or until just cooked. A toothpick inserted into the brownie should come out with crumbs on it but not uncooked mix or be to dry.

Allow to cool completely before cutting into squares or rectangles and serve.
Nutrition
Calories:
401
kcal
Carbohydrates:
89
g
Protein:
4
g
Fat:
5
g
Saturated Fat:
3
g
Polyunsaturated Fat:
0.1
g
Monounsaturated Fat:
0.1
g
Trans Fat:
0.1
g
Cholesterol:
1
mg
Sodium:
358
mg
Potassium:
66
mg
Fiber:
2
g
Sugar:
62
g
Vitamin A:
84
IU
Vitamin C:
0.1
mg
Calcium:
68
mg
Iron:
2
mg
Nutritional Disclaimer
Nutritional information is an estimate based on an online database. The nutritional content of ingredients may vary by brand. If you require accurate nutritional information, you should calculate this based on the specific brands and products you are using.
Join the community!
Like Keep Calm and Eat Ice Cream on Facebook for more great recipes
Pin it for later!