This easy raspberry compote is fresh, tangy and delicious. It's easy to make with just three ingredients and perfect over ice cream, cheesecake or pavlova, yum!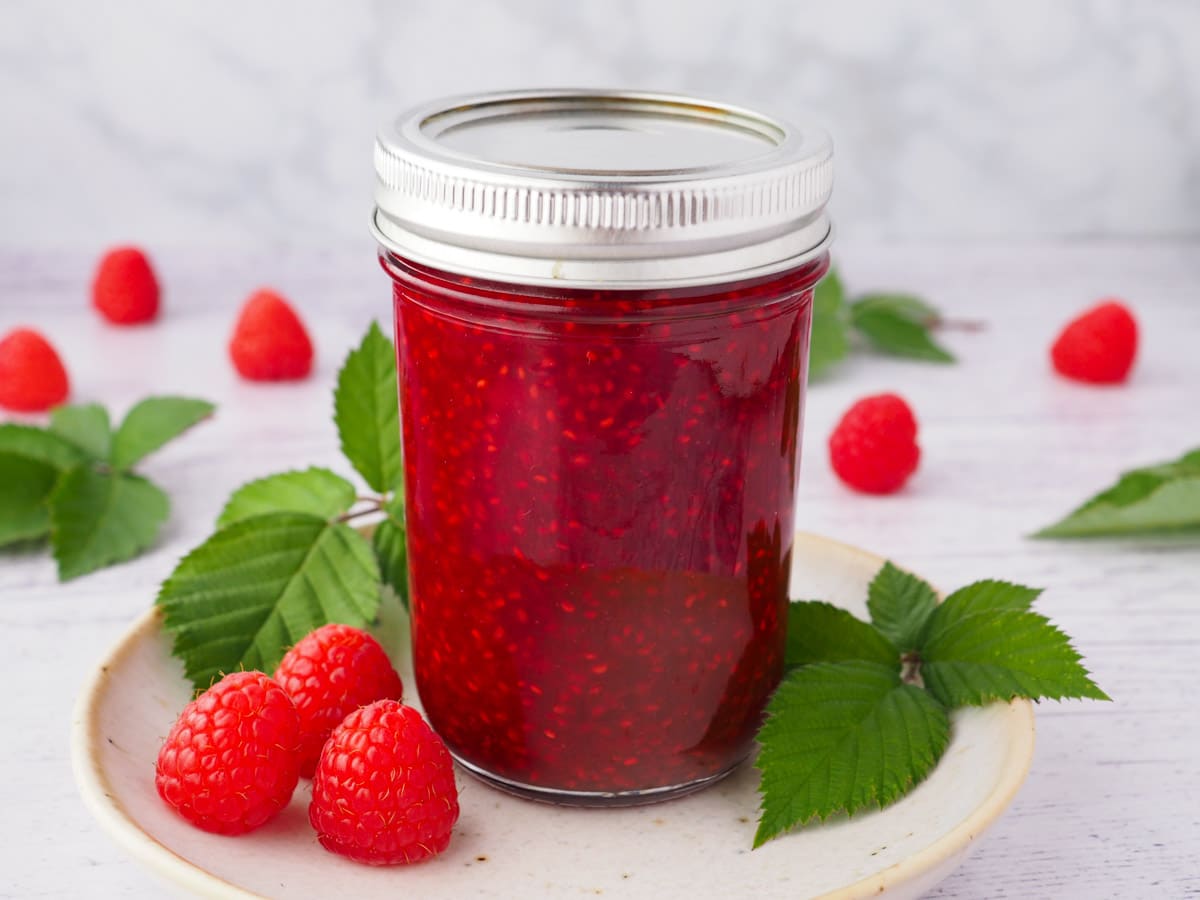 Jump to:
This fresh raspberry compote could not be easier. With just three ingredients it is ready in a flash. Perfect hot or cold, over my decadent no-bake chocolate cheesecake, raspberry chocolate mousse, some fabulous eggless brownies or a scoop of easy vanilla ice cream of course!
What makes a compote?
A fruit compote is a simple sauce made from fruit and sugar and cooked on the stove. You can add other ingredients such as citrus or spices to enhance the flavor of the fruit. Fruit competes are usually made with chunky pieces of fruit, as opposed to a coulis which usually has smooth pureed fruit.
What can I do with too many raspberries?
If you are lucky enough to have too many raspberries there are lots of delicious things you can do with them:
- Eat them straight from the garden when they are fresh and delicious.
- Make an easy raspberry compote
- Make some easy raspberry popsicles
- Make some fabulous raspberry ice cream
- Spread them out on a baking tray and freeze. Once frozen you can transfer to an airtight container for longer storage in the freezer (this helps stop them sticking together into one big lump!).
Ingredients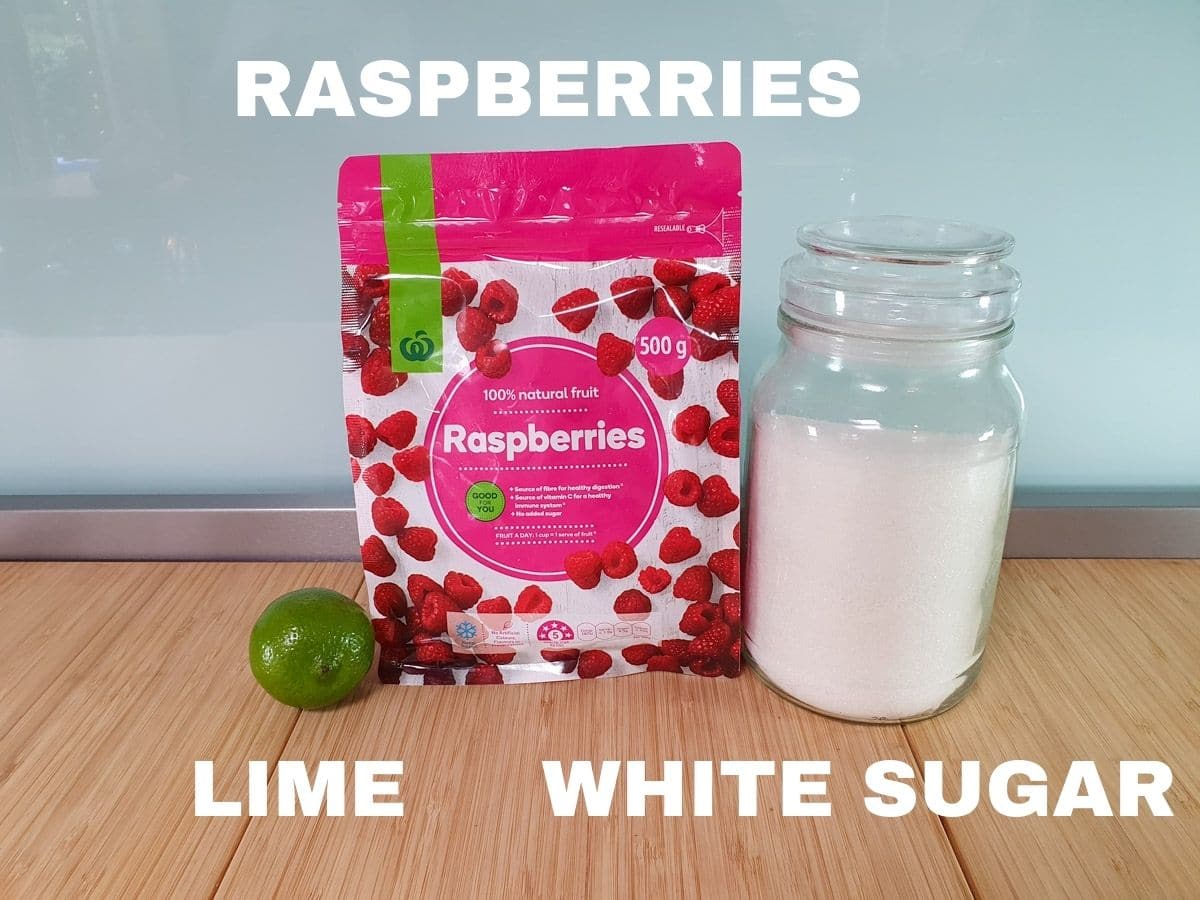 Raspberries: fresh or frozen raspberries work perfectly well in this compote. If using fresh raspberries you may less sugar as they can be sweeter than frozen raspberries.
White sugar: is best in this recipe as it will enhance the strawberry flavor without competing with it. You could use castor sugar which will dissolve more easily, or at a pinch raw sugar, just make sure you stir the sauce well to dissolve in the sugar.
Lime juice: freshly squeezed lime juice is best for this recipe. I do not recommend using bottled lime juice, it won't taste the same. The lime juice really helps add some brightness to this recipe and balance out the sugar. You could also use more traditional lemon juice.
How to make raspberry compote
Slice and juice the lime. Put the raspberries, sugar and lime juice into a pot. No need to add any water, the raspberries will release enough on their own. Put stove on medium heat and gently stir until the raspberries have defrosted (if using frozen raspberries). Continue to heat, stirring occasionally until the mix starts to bubble and raspberries have released a lot of their water. Continue to cook for about fifteen to twenty minutes, stirring occasionally untill the mix starts to thicken.
Remove from heat. If serving warm serve immediately. Otherwise allow the compote to cool. Transfer to jars or an airtight container and put in the fridge until needed. The sauce will thicken further as it cools.
This makes a beautiful chunky raspberry sauce with raspberry pieces (if you don't stir it to0 vigorously). For a smoother sauce or to make raspberry coulis you can blitz the cooled sauce with an immersion blender. If you don't like seeds you could then strain the sauce.
How to serve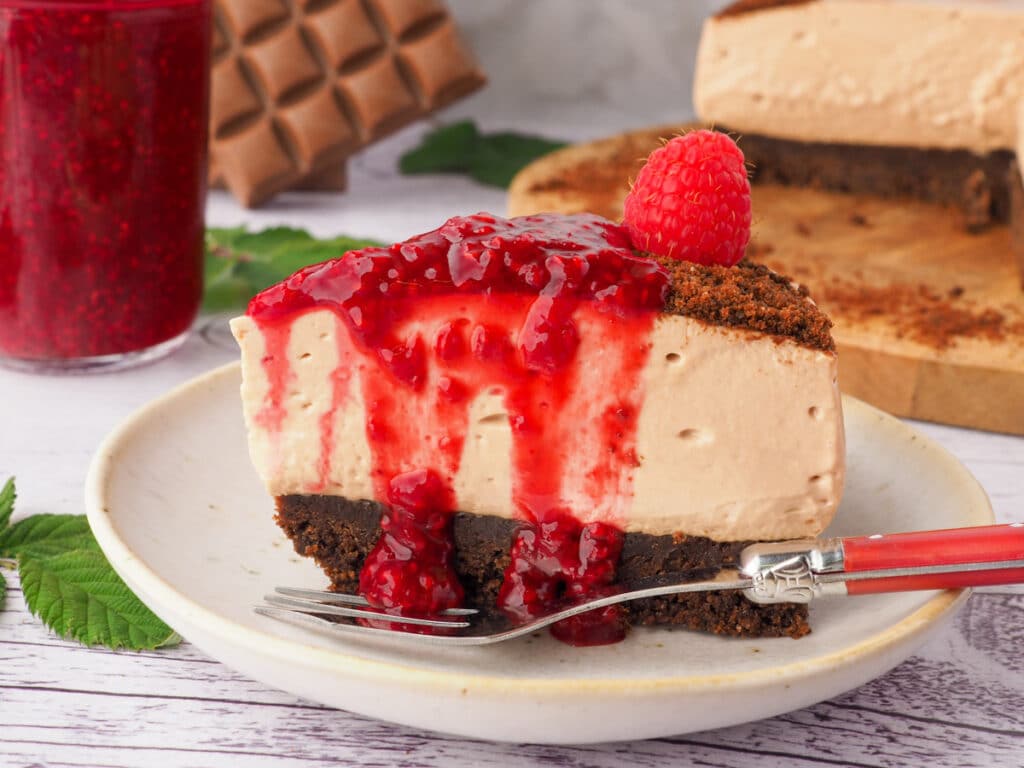 This raspberry topping is delicious drizzled over a cheesecake, such as my fabulous no bake chocolate cheesecake or a scoop of my easy vanilla ice cream, delicious!
How to store
This sauce will store well in an airtight container in the fridge for up to one week. You could also try freezing it but the sauce may be a little watery when defrosted, in which case return to a small saucepan and heat for a few minutes until it thickens up again.
Have you made this recipe? Tell me how it went in the comments below and tag me on instagram so I can see your delicious creations! @keep_calm_and_eat_icecream
Looking for more fabulious raspberry recipes and fruit compotes and coulis'?
Why not try making
Follow me on Facebook or Pinterest for many more delicious recipes.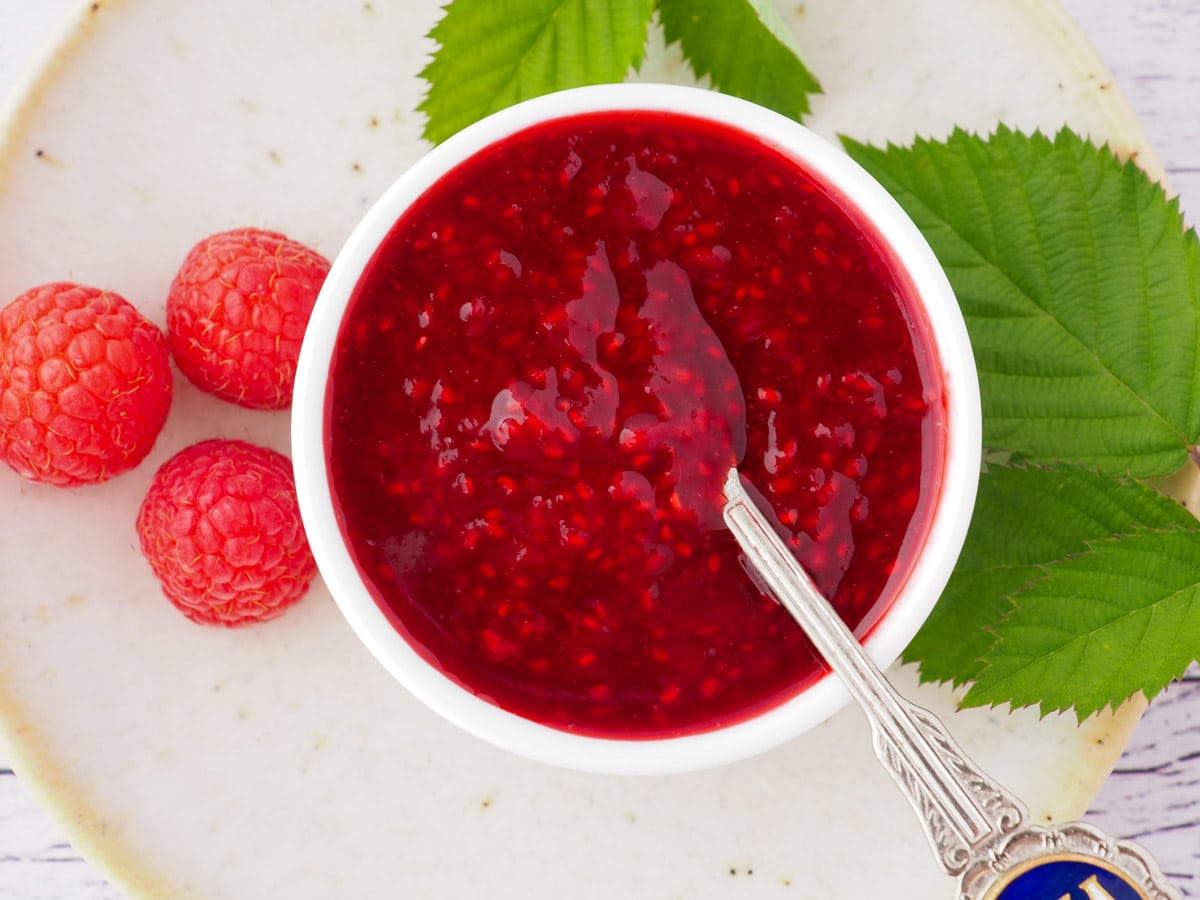 📋 Recipe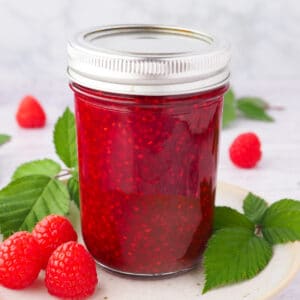 Raspberry Compote
This easy raspberry compote is fresh, tangy and delicious. It's easy to make with just three ingredients and perfect over ice cream, cheesecake or pavlova, yum!
Ingredients
3

cups (1lbs/450gms)

raspberries

¼ - ½ cup

cup (55 - 110gms)

white sugar (depending how sweet your raspberries are)

1 & ½

tablespoons

fresh lime juice
Instructions
Slice and juice the lime.

Add the raspberries, ¼ cup sugar and lime juice to a small pot. Heat on medium, gently stirring occasionally, until the raspberries are defrosted (if using frozen). Continu to heat untill the sugar is mix in it start to bubble.

Taste the sauce and add more sugar if needed.

Reduce to low heat and cook for a further fifteen to twenty minutes. stirring gently occasionally.

If serving warm server immediatly. Other wise remove from heat and allow to cool. Tranfer to a heat proof container and chill in fridge untill needed. The compote will thicken more as it cools.
Notes
This recipe makes a chunky sauce. If you want a smoother sauce you can stir it more when cooking to break down the raspberries more, or strain once cooled for a seedless sauce.
Raspberries can vary in their sweetness. Fresh raspberries are generally sweeter than frozen raspberries. I recommend starting with ¼ cup sugar, taste the compote, then gradually add more if the compote is to tart for you. I used frozen raspberries and use ¼ cup plus 2 tablespoons sugar (85gms) in this compote
Nutrition
Calories:
176
kcal
Carbohydrates:
44
g
Protein:
1
g
Fat:
1
g
Saturated Fat:
0.02
g
Polyunsaturated Fat:
0.4
g
Monounsaturated Fat:
0.1
g
Sodium:
2
mg
Potassium:
184
mg
Fiber:
8
g
Sugar:
35
g
Vitamin A:
41
IU
Vitamin C:
32
mg
Calcium:
30
mg
Iron:
1
mg
Nutritional Disclaimer
Nutritional information is an estimate based on an online database. The nutritional content of ingredients may vary by brand. If you require accurate nutritional information, you should calculate this based on the specific brands and products you are using.
Join the community!
Like Keep Calm and Eat Ice Cream on Facebook for more great recipes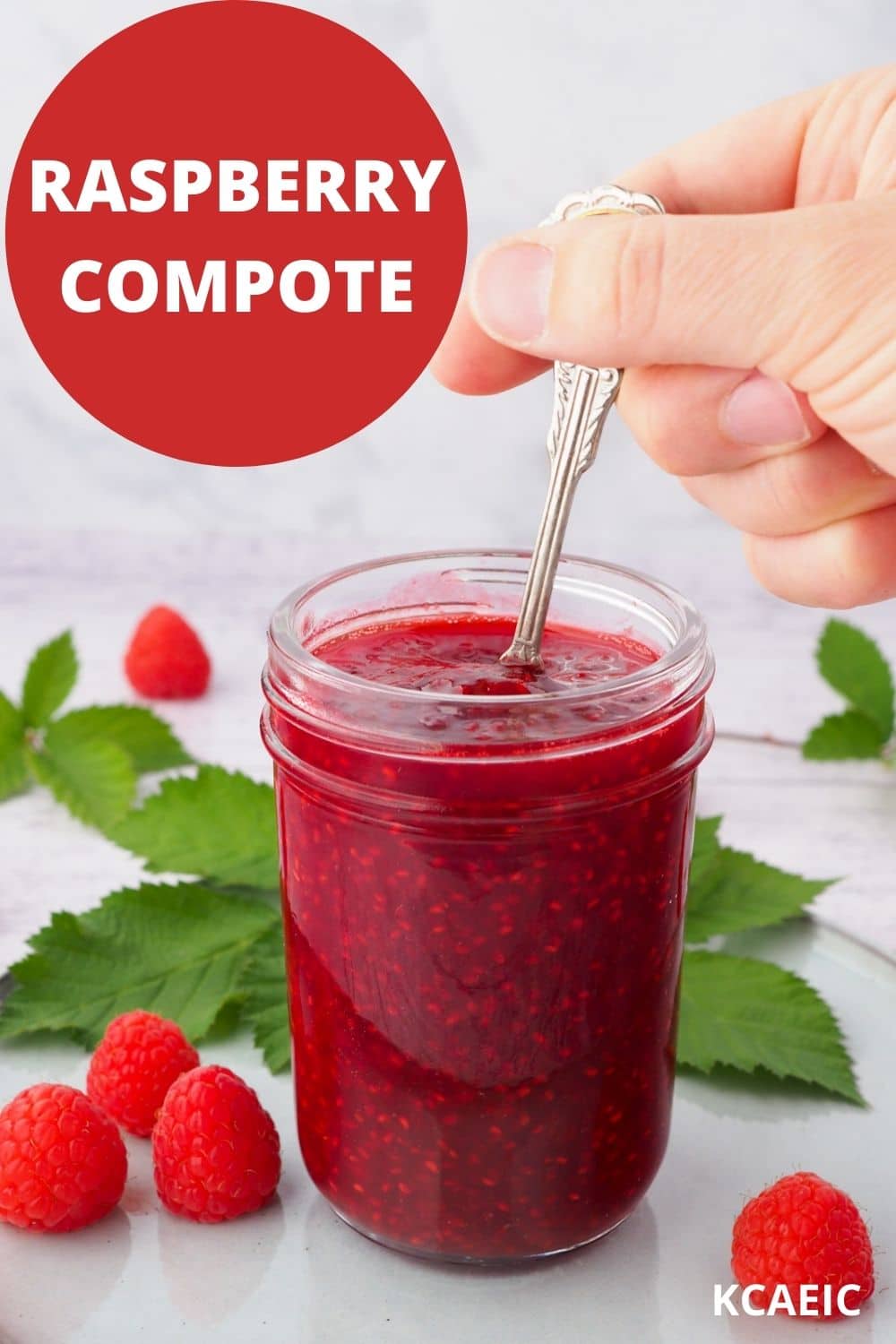 Pin it for later!