This easy mango coulis has a wonderful natural creaminess and is a cinch to make with just three ingredients. Perfect over cheesecake, ice cream or pavlova!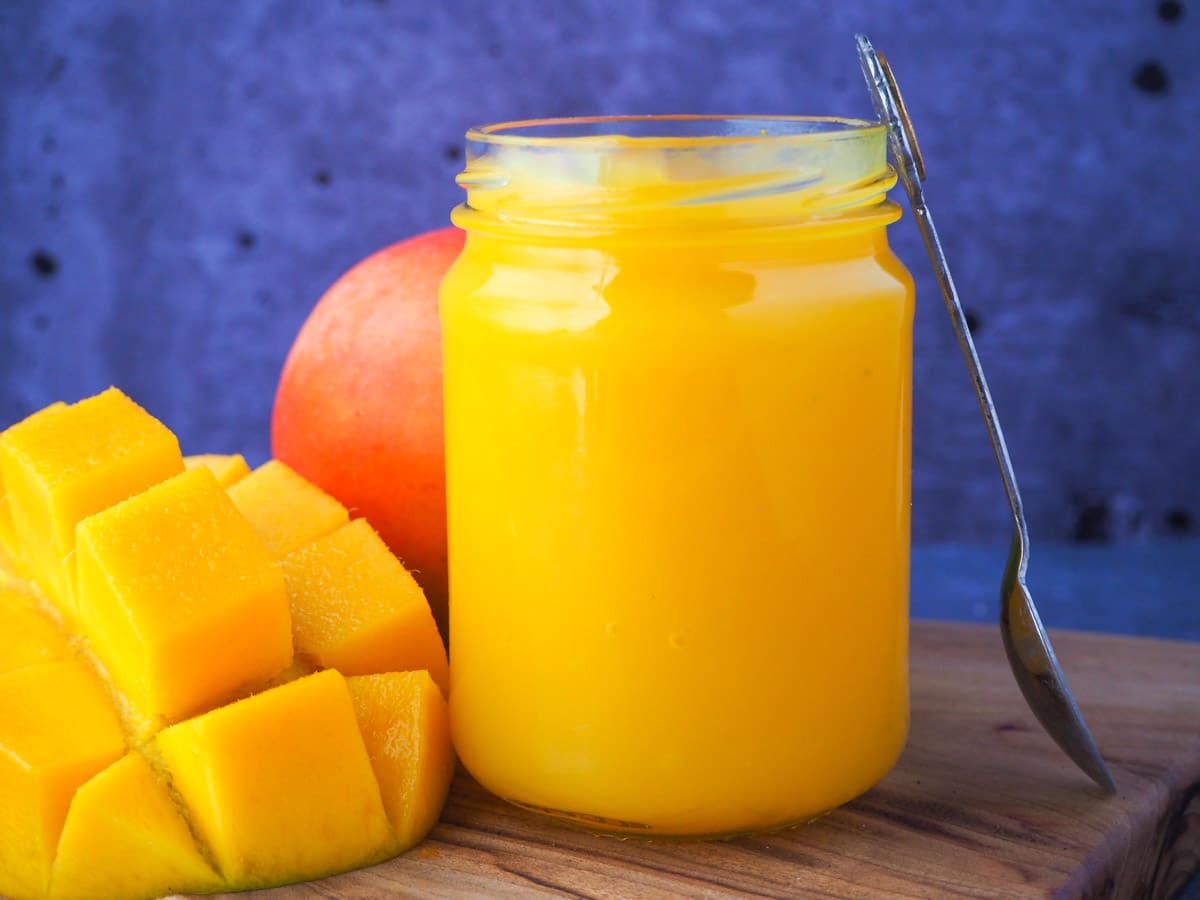 Jump to:
Mangos are one of those gorgeous summer fruits I just can't get enough of. Their bright, sweet creamy flesh are amazing on their own, sliced and eaten fresh and getting every last morsel from the seed inside. When you're looking for something different to make with mangos you can make this versatile easy fruit coulis. It will brighten up your summer desserts and is wonderful drizzled over a creamy no bake mango cheesecake, a scoop of vanilla ice cream or a fresh fruit salad.
This mango coulee is naturally gluten free and vegan, making it a great option for those with allergies or dietary restrictions. If you have really sweet mangos you could leave out the sugar if you prefer, making these an even healthier sweet condiment for both adults and kids alike.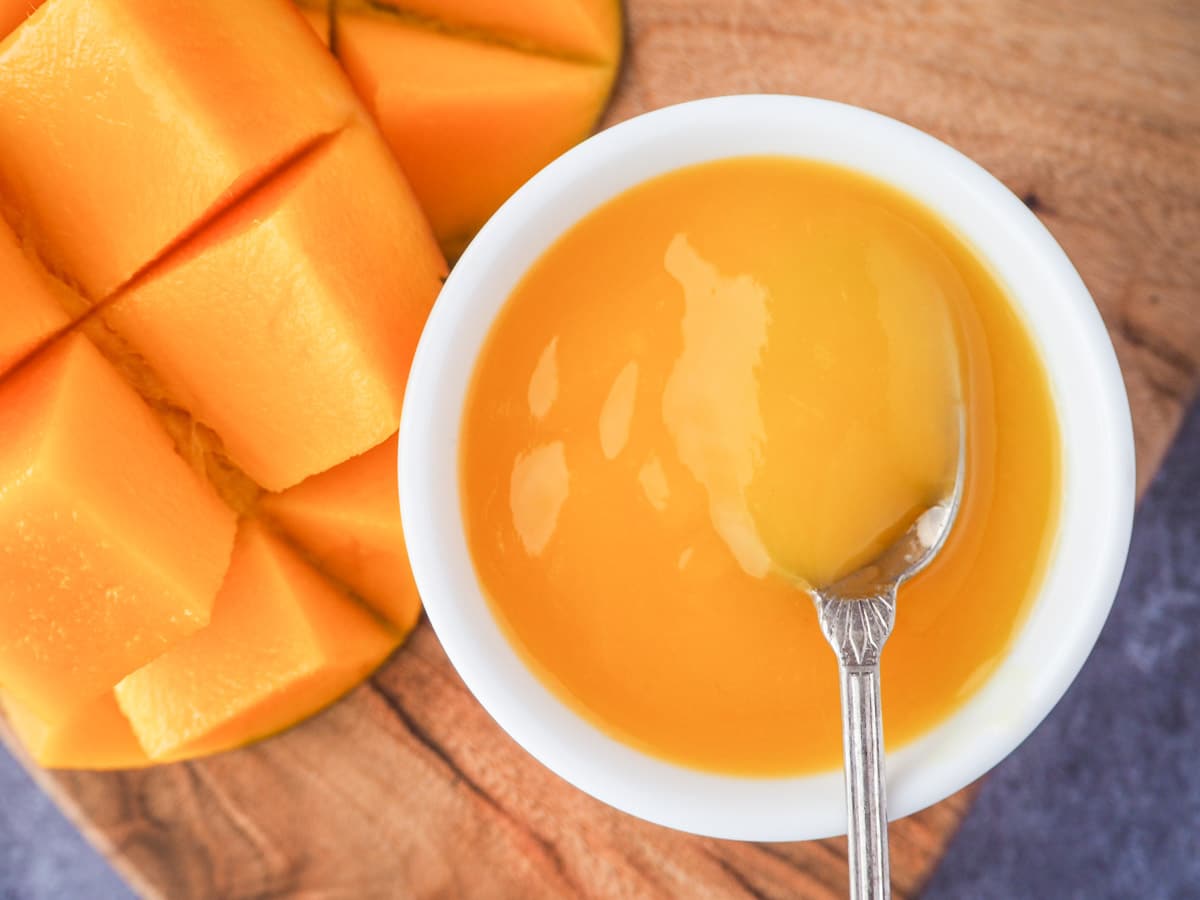 What can be made from mango pulp?
This mango coulis is an easy and versatile recipe to make with mango pulp. You can use mango pulp to make a range of other delicious desserts including mango cheesecake, fresh and easy mango popsicles or wonderfully creamy mango ice cream.
How can I make my coulis thicker?
If your coulis is a bit thin there are a couple of ways you can make you coulis thicker:
- Cook it for longer - simmering on low for longer will help thicken up your coulis.
- Add some starch - you can add a small amount of corn starch or tapioca starch to help your sauce thicken. Add about ½ teaspoon of starch to about two tablespoons of cold fruit pulp or other liquid such as water. Mix well to form a slurry, then add to your sauce.
I don't recommend adding the starch into the hot sauce or adding hot liquid to make the slurry or it will become lumpy and hard to mix in.
If you have already made this mistake you can blitz your coulis carefully with and immersion/stick blender and it should smooth out.
Ingredients
Mangos: You and use whatever type of mango you like, as long as it has a strong mango flavor and its one you would eat on its own. Its important to use really ripe mangos that are almost on the verge of being over ripe for maximum taste and sweetness.
Lime juice: a dash of lime juice helps balance the sweetness of the mango and add some extra flavor to these popsicles. Fresh lime juice is best, I don't recommend using bottled lime juice. It won't taste the same and may add a bitter flavor to your popsicles.
Sugar: regular white sugar is best of this recipe so as not to compete with the fresh mango flavor. You could use castor sugar if you like but I don't recommend using any other type of sugar. Mango can vary in their natural sweetness. I recommend tasting the coulis and adds more sugar if needed.
How to make mango coulis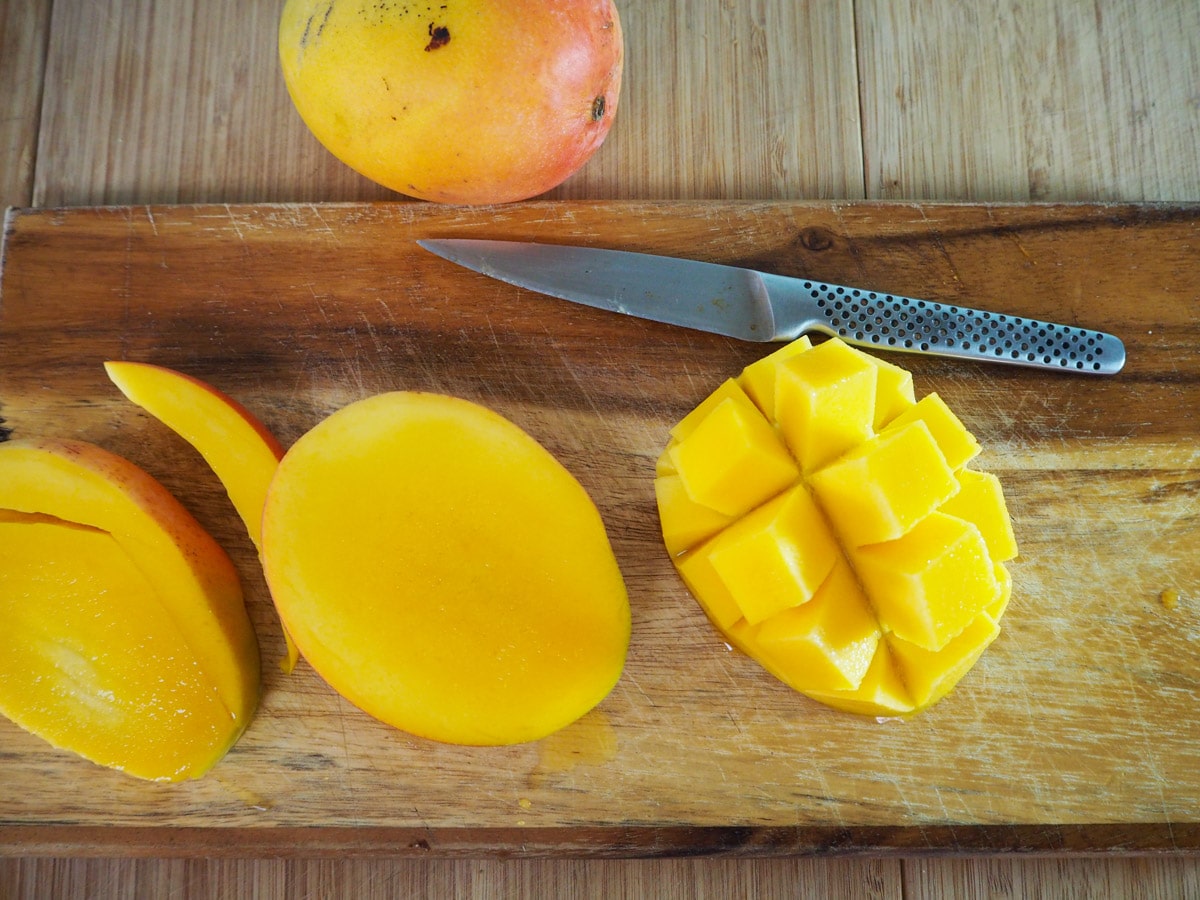 Slice the cheeks of the mango, the large bulbous sides. Score each cheek into a grid pattern and pop out, so the cubes of mango flesh and hanging out. Slice down the sides of each mango and score flesh.
Blitz the mango pieces in the chopping bowl of an immersion/stick blender or food processor. Blitz well to ensure a smooth consistency. Strain the mango pulp through a fine sieve.
Zest the lime with the fine side of box grated. Juice the lime.
Hot tip: the lime zest is optional. It will add some small pieces to the coulis, but it really adds some punch and flavor to this coulis. For a smoother coulis you can leave it out if you prefer.
Add the mango, sugar, lime juice and lime zest to a small pot on the stove. Bring to bubbling, reduce the heat to low and simmer for about ten minutes or until the coulis starts to thicken. It will thicken a little more as it cools.
How to serve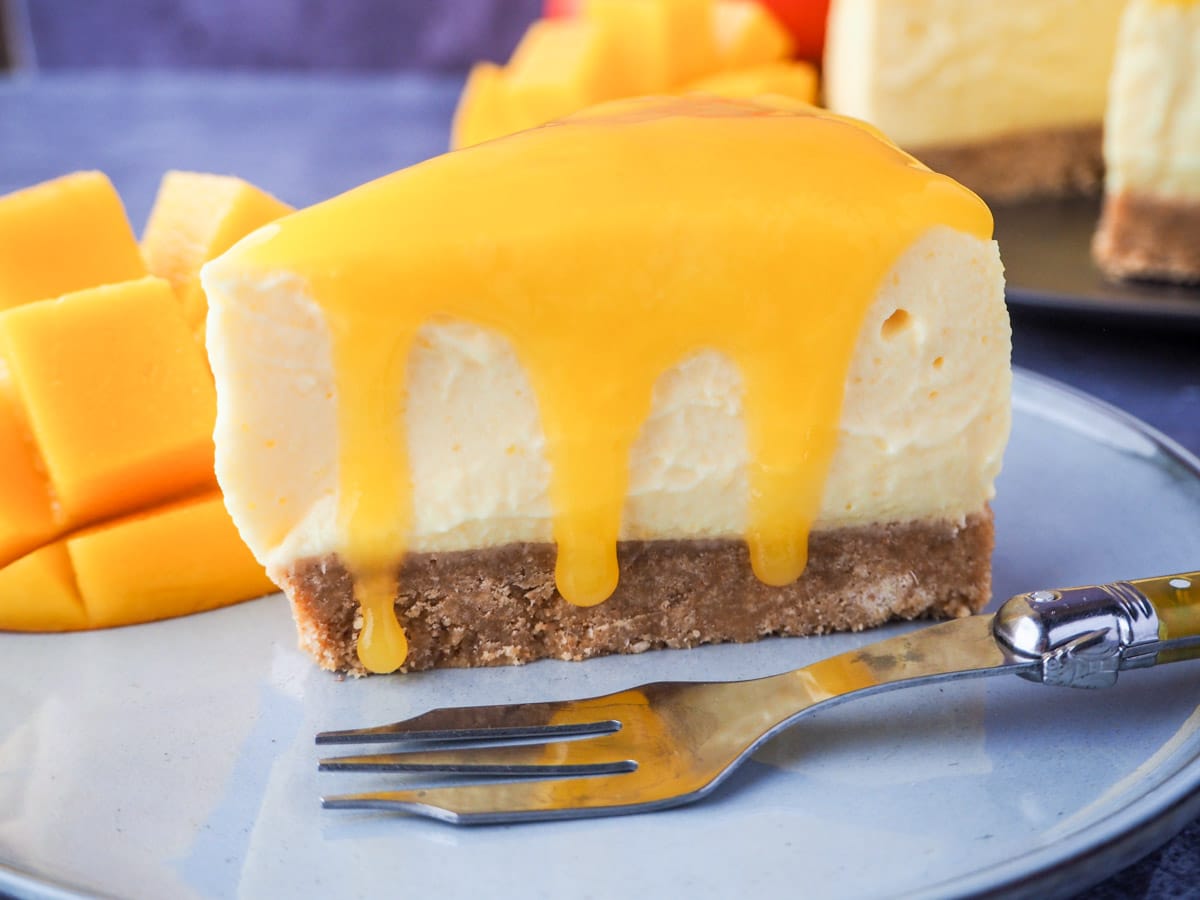 This mango compote is crying out to be poured over something creamy and delicious. Perfect drizzled over a creamy mango cheesecake, a scoop of tropical passion fruit ice cream, over a fruit salad or a pavlova!
How to store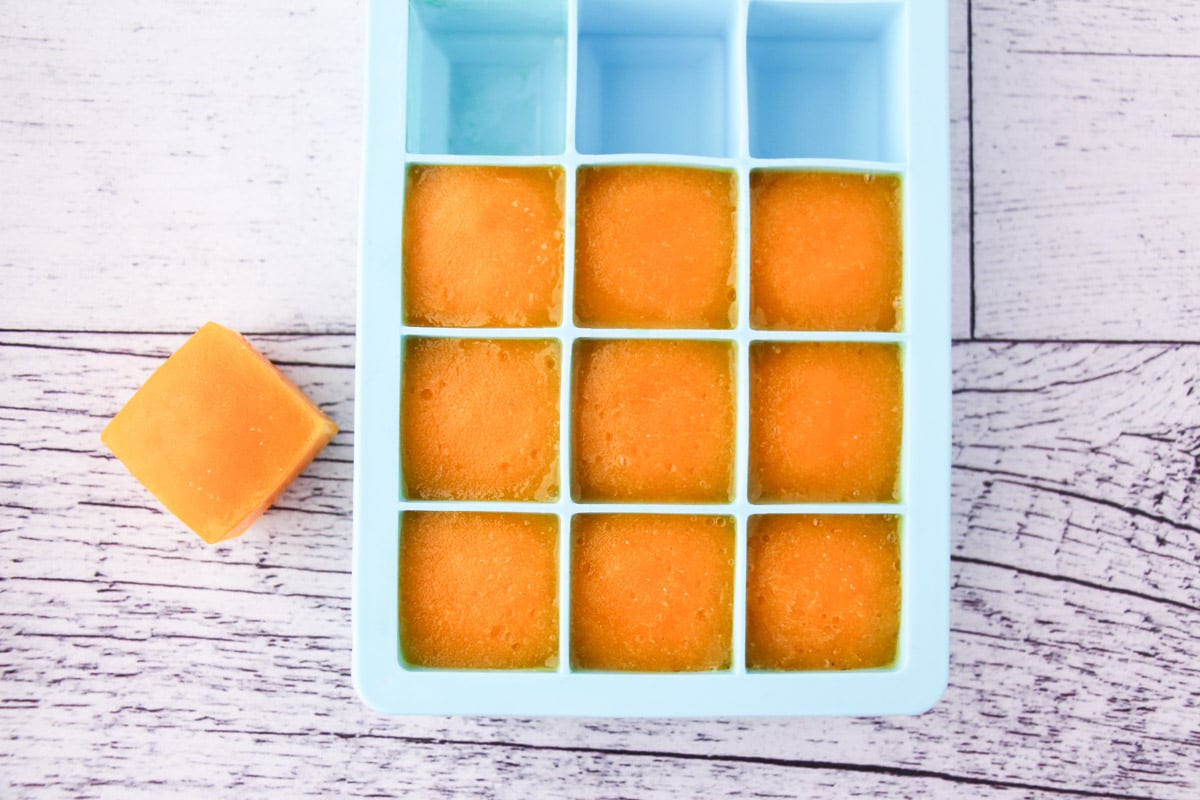 This mango coulis will store in an clean airtight jar or container for up to one week. It makes approx. one cup of mango sauce.
For extended shelf life you can freeze the sauce. Pour it into ice cube trays and freeze in easy portion sizes. Once the compote is frozen you can pop them out and transfer them into another airtight container to save on storage space and re use your ice cube tray. Store for up to three months in the freezer. To use simply put a cube into a small microwave proof bowl and microwave for about twenty seconds, depending on the power of your microwave.
Have you made this recipe? Tell me how it went in the comments below and tag me on instagram so I can see your delicious creations! @keep_calm_and_eat_icecream
Looking for more yummy dessert recipes?
Why not try making
Follow me on Facebook or Pinterest for many more delicious recipes.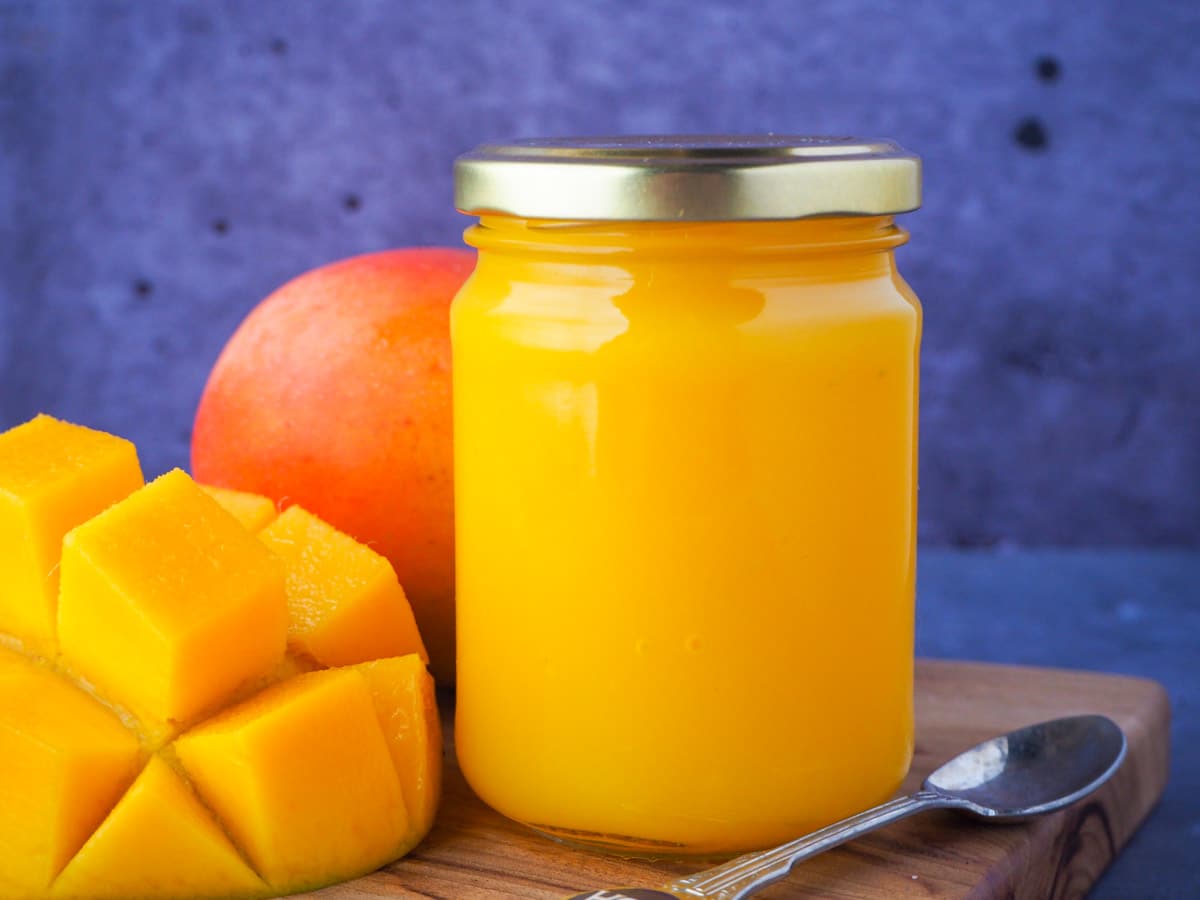 📋 Recipe
Mango coulis
This easy mango coulis has a wonderful natural creaminess and is a cinch to make with just three ingredients. Perfect over cheesecake, ice cream or pavlova!
Equipment
Immersion/stick blender with a chopping bowl attachment OR a food processor
Ingredients
1 & ½

large

mangoes (approx. 1.25 lbs or 550gms)

1

tablespoon

fresh lime

¼

teaspoon

lime zest

1 & ½

tablespoons

white sugar
Instructions
Slice the mango flesh off the internal seed by slicing off each cheek, then scoring to create cubes, popping out, then cutting off the flesh.

Add the mango flesh to the chopping bowl attachment of an immersion/stick blender or food processor and blend well until smooth.

Strain the mango puree through fin sieve.

Zest the lime first, then cut in half and juice.

Add the strained mango, sugar, lime juice and lime zest to a small pot on the stove.

Heat on medium until bubbling, then reduce to low and simmer for about ten minutes until the coulis has thickened, stirring frequently.

Remove from heat, cool and enjoy! Fabulous over a mango cheesecake or a scoop of vanilla ice cream. Delicious!
Nutrition
Calories:
43
kcal
Carbohydrates:
11
g
Protein:
0.4
g
Fat:
0.2
g
Saturated Fat:
0.05
g
Polyunsaturated Fat:
0.04
g
Monounsaturated Fat:
0.1
g
Sodium:
1
mg
Potassium:
90
mg
Fiber:
1
g
Sugar:
10
g
Vitamin A:
561
IU
Vitamin C:
20
mg
Calcium:
6
mg
Iron:
0.1
mg
Nutritional Disclaimer
Nutritional information is an estimate based on an online database. The nutritional content of ingredients may vary by brand. If you require accurate nutritional information, you should calculate this based on the specific brands and products you are using.
Join the community!
Like Keep Calm and Eat Ice Cream on Facebook for more great recipes
Pin it for later!