These piña colada popsicles are fresh, tropical and delicious! With just four ingredients they are a quick and easy way to enjoy your favorite summer cocktail.
Jump to:
Who doesn't love a pina colada cocktail on hot summer's day? These pineapple coconut popsicles have all the flavors you love in a pina colada with just enough rum to make them tasty boozy popsicles, but not so much they don't freeze well!
Pina coladas are traditionally made with coconut cream or milk, making them naturally vegan and dairy free. I've kept up the tradition here by using coconut cream, making these vegan pina colada popsicles everyone can enjoy.
Love coconut but not so much pineapple? Then you'll love my coconut popsicles, fresh easy with no refined sugar.
What is a pina colada?
A pina colada is a type of sweet alcoholic cocktail that's usually made with coconut rum, coconut cream and pineapple juice.
In recent times pina colada flavor is often used to describe foods with a pineapple and coconut flavors which may or may not contain coconut rum.
When is national pina colada day?
The USA celebrates the pina colada with its very own national day on the 10th of July every year, although this delicious cocktail can be enjoyed any other day as well!
Ingredients:
Tinned pineapple: this recipe uses a tin of crushed pineapple. You could use the same amount of tinned pineapple pieces or slices if you can't get crushed pineapple. At a pinch you could try using the same amount of pineapple juice. I don't recommend using fresh pineapple as it will be a lot more fibrous and the pineapple would have to be very ripe. If you try it out let me know!
Coconut cream: full fat coconut milk helps give that characteristic coconut taste to these popsicles. You could try using light coconut cream, but your popsicles will be more icy with less flavor.
Coconut rum: helps gives the characteristic pina colda flavor to these popsicles I use Malibu in this recipe but you could use any coconut rum you like with alcohol volume of about 21%. Don't add more than about one third of a cup plus one tablespoon of rum or your popsicles may not freeze. You could also use a stronger 40% alcohol and reduce the volume by half, but this will reduce the flavor of the alcohol in your popsicles.
You can also leave out the alcohol all together if you prefer and replace it with a teaspoon of rum flavoring/essence and a little extra pineapple instead.
Lime juice: some fresh lime juice helps balance the sweetness of these popsicles and add a extra layer of flavor. I don't recommend using bottled lime juice, it won't taste the same and will add a bitter flavor to the popsicles.
How to make pina colada popsicles
Open the tin of pineapple and add to a deep sided jug or bowl you can use an immersion/stick blender in. Shake the can of coconut cream well and add to pineapple.
Use an immersion/stick blender to blend well until mix is smooth. For smooth popsicles you need to make sure the pineapple fibres are nice and well belended.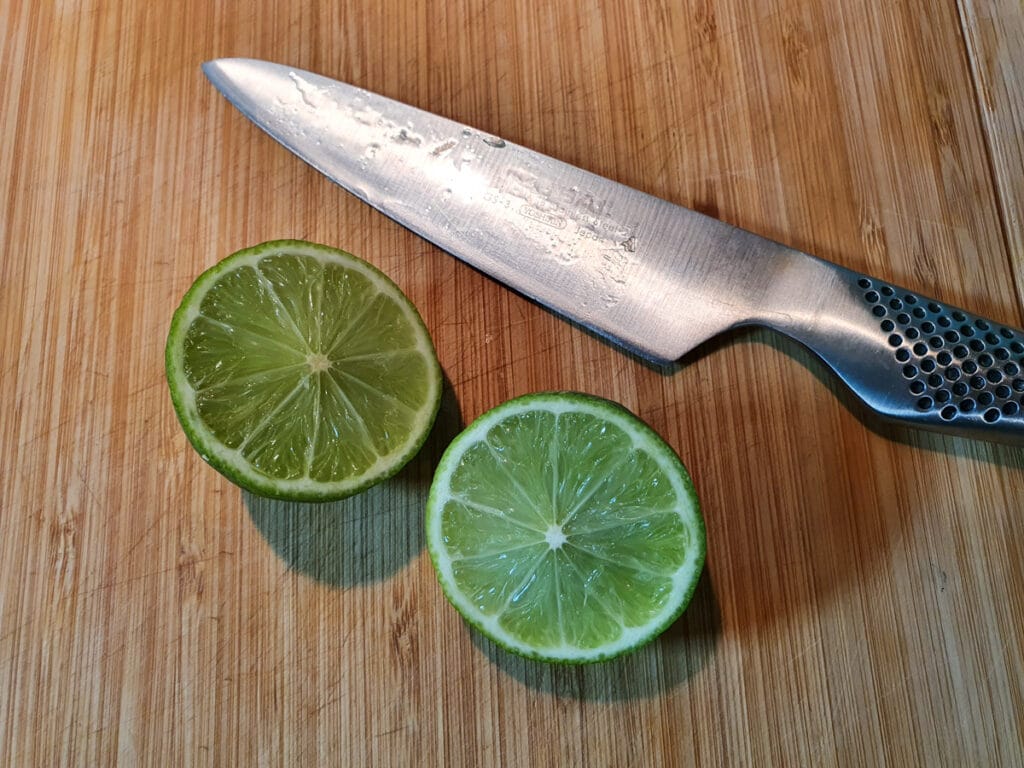 Juice the limes, measure the lime juice and add to mix. Add coconut run and mix well.
Hot tip: make sure there is enough room in your freezer for the popiscle moulds Before filling them or there will be tears!
Pour mix into popsicle moulds. Add sticks and freeze for at least four hours or until firm.
How to serve the popsicles
To serve these popsicles remove from the molds and enjoy!
How to store the popsicles
You can store these popsicles in and airtight container lined with baking paper between them to stop them sticking together, in the freezer for up to a month.
Have you made this recipe? Tell me how it went in the comments below and tag me on Instagram so I can see your delicious creations! @keep_calm_and_eat_icecream
Looking for more yummy dessert recipes?
Why not try making
Follow me on Facebook or Pinterest for many more delicious recipes!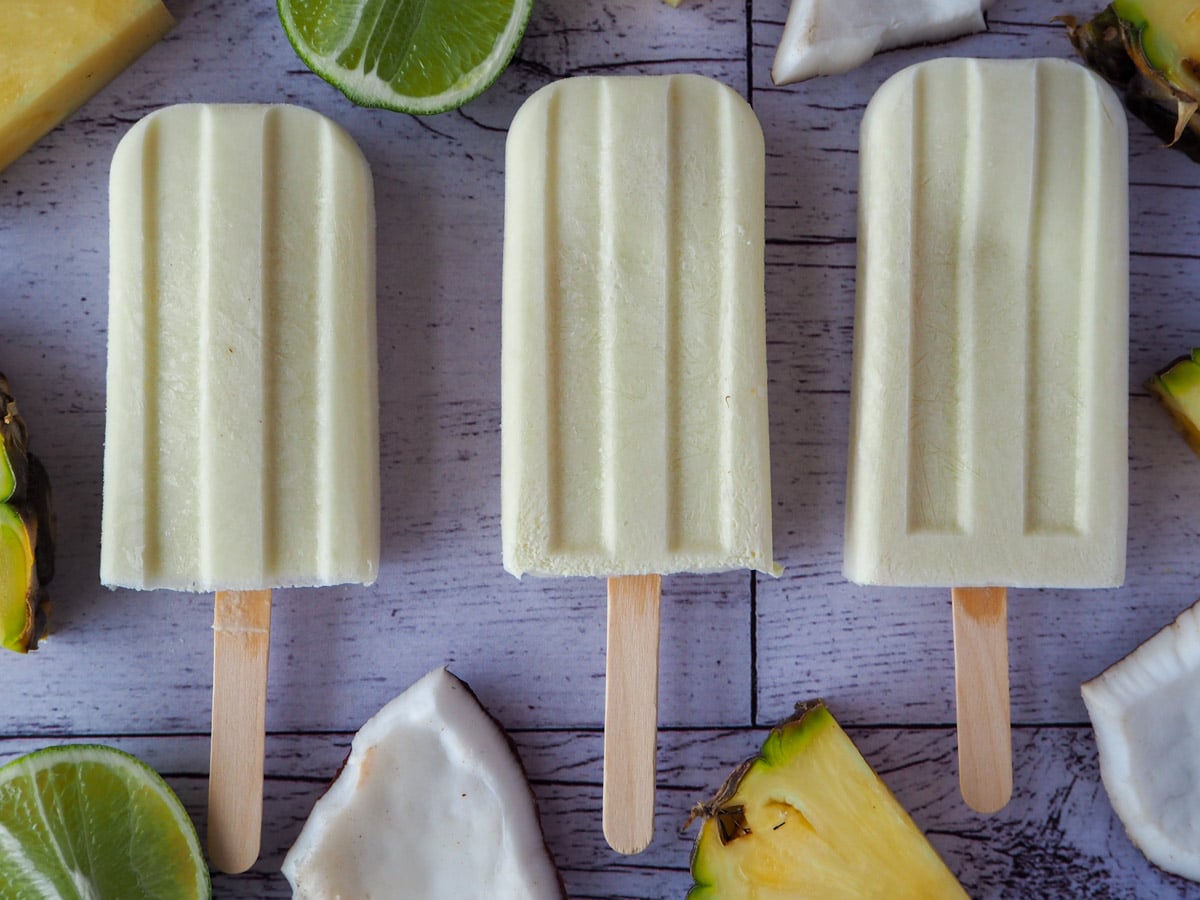 📋 Recipe
Pina colada popsicles
These pina colada popsicles are fresh, tropical and delicious! With just four ingredients they are a quick and easy way to enjoy you favorite summer cocktail.
Equipment
Popsicle molds with sticks

immersion/stick blender or food processor
Ingredients
1

tin (15 oz/432 gms)

crushed pineapple

1

tin (14 oz/400mls)

coconut cream

2

tablespoons (30mls)

freshly squeezed lime juice

⅓

cup plus 1 tablespoon (100mls)

coconut rum, 20%, such as Malibu
Instructions
Open tin of pineapple and pour into a deep jug or bowl.

Shake the can of coconut cream well and add to the pineapple.

Blitz well with an immersion/stick blender

Squeeze the lime juice, measure and add to jug.

Mix well then pour into popsicle moulds.

Add sticks and freeze for at least four hours or untill firm.

To serve remove from popsicle sticks and enjoy!
Notes
This recipe uses coconut rum to help give the Pina Colada taste. You can leave it out if your prefer.
You can use a different alcohol if you prefer but don't all more than one third of a cup plus one tablespoon (100mls) of 21% alcohol or three tablespoons (50mls) of 40% alcohol or your popsicles may not freeze solid.
Nutrition
Calories:
72
kcal
Carbohydrates:
10
g
Protein:
0.2
g
Fat:
0.1
g
Saturated Fat:
0.003
g
Polyunsaturated Fat:
0.02
g
Monounsaturated Fat:
0.01
g
Sodium:
1
mg
Potassium:
57
mg
Fiber:
1
g
Sugar:
9
g
Vitamin A:
23
IU
Vitamin C:
5
mg
Calcium:
7
mg
Iron:
0.1
mg
Nutritional Disclaimer
Nutritional information is an estimate based on an online database. The nutritional content of ingredients may vary by brand. If you require accurate nutritional information, you should calculate this based on the specific brands and products you are using.
Join the community!
Like Keep Calm and Eat Ice Cream on Facebook for more great recipes
Pin it for later!