This refreshing watermelon chilli icy pole/popsicle recipe is perfect for a scorching day and packs a punch to boot.
I was taking a break from the blog one day and decided to fire up Netflix instead. I stumbled on the series Chef's Table, Volume 6 with an episode on Mashama Bailey "Inside a former segregated bus station in Savannah, Georgia, Mashama Bailey pays homage to history as she puts a new spin on Southern food traditions'
The episode takes us on her culinary journey and evolution as a chef, reinventing southern food into fine dinning. Mashama talks about growing up the the black neighbourhoods as a child and getting a Thrill when it was scorching outside. A Thrill is like a icy pole or popsicle, made in a take away cup with a stick poked through the top. She has memories of hot days and going next door to get a Thrill from the Thrill lady "It was a thrill to get a Thrill" In her restaurant in Savanna Mashama serves watermelon habanero Thrills as a pallet cleanser and homage to her childhood.
I've just received my shinny new silicon icy pole/popsicle moulds and was dieing to try these out in the heatwave we're currently having.
You will need about a kilo of red seedless watermelon for the recipe but you could also use yellow if you wanted to.
I use the larger, longer, and milder red cayenne chillies available from the supermarkets in south east Australia. You can absolutely mix things up with other chillies such as jalapeños, birds eye or habaneros. Adjust the amount of chilli to taste. If unsure add a bit, taste and add more if needed.
Cut up the watermelon onto large chunks and cut off the skin and rind. Blend most of the watermelon then strain off the juice. You can do this in batches if you only haver a small food processor.
Cut and deseed your chilli. I highly recommend you use a glove for the hand handling the chilli, its really hard to wash off your hands and can burn burn burn if you get it anywhere on your face or other sensitive parts of your body. You have been warned!
When you get the last bit of watermelon to blend add the sugar, jams-et and a small amount of chilli. Blend until chilli is well chopped and sugar and jam-set is dissolved in the juice.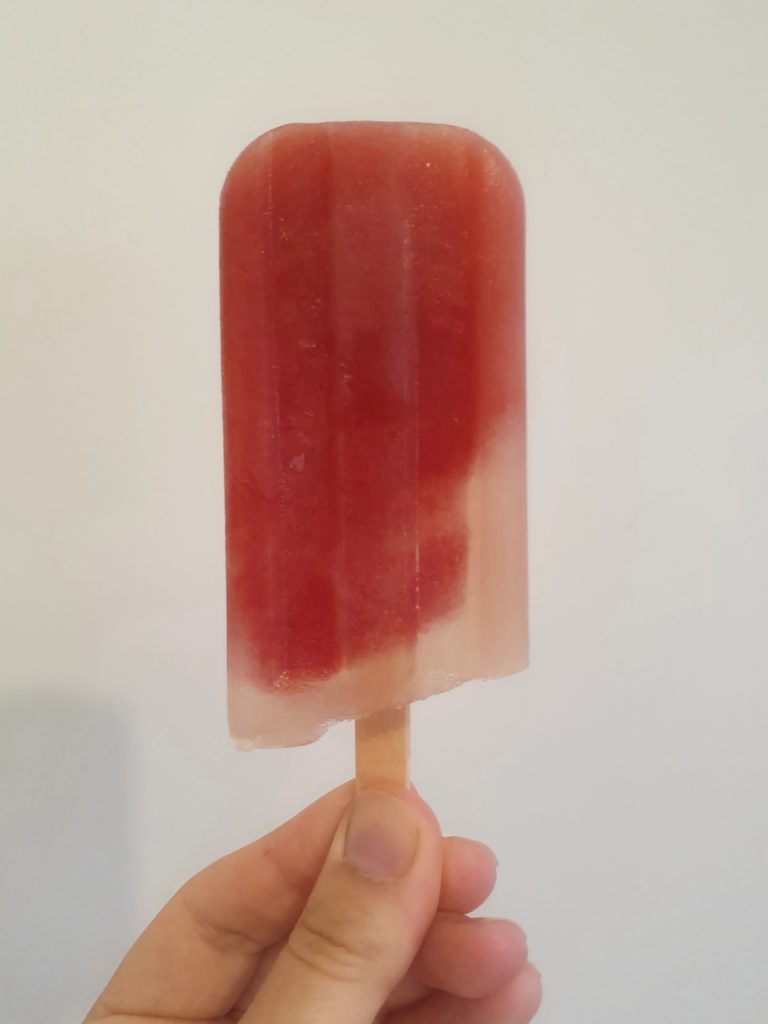 Jam-set is used to set jam, funnily enough. It contains pectin which helps stabilise the ingredients in the icy poles/ popsicles and stop the ingredients separating as they freeze. You can see here a picture I made of watermelon icy poles/popsicles without pectin and the mix has separated a bit. Still tastes good, but not as pretty 🙂 You can make it without the jam set if you prefer.
Strain and add the mix to the rest of the watermelon liquid with the lime juice. Taste the mix. It should have notes of sweet and sour with a punch of heat. If its not hot enough add some liquid back to the blender with more chilli, blend well, strain, return to the mix and taste again. I started with quarter of a chilli the added another quarter, so half a chilli in total. If its not sour or sweet enough add more lime juice or sugar, but I found these ratios are the perfect combination for my taste.
Hot tip: Make sure you have space for you icy pole/popsicle moulds in the freezer BEFORE you pour in your mix, or there will be tears!
Pour the mix into the icy pole/popsicle moulds and add sticks. Leave about a cm at top to allow room for expansion.
Hot tip: if you accidentally overfill your your moulds you can remove some easily with a needless syringe.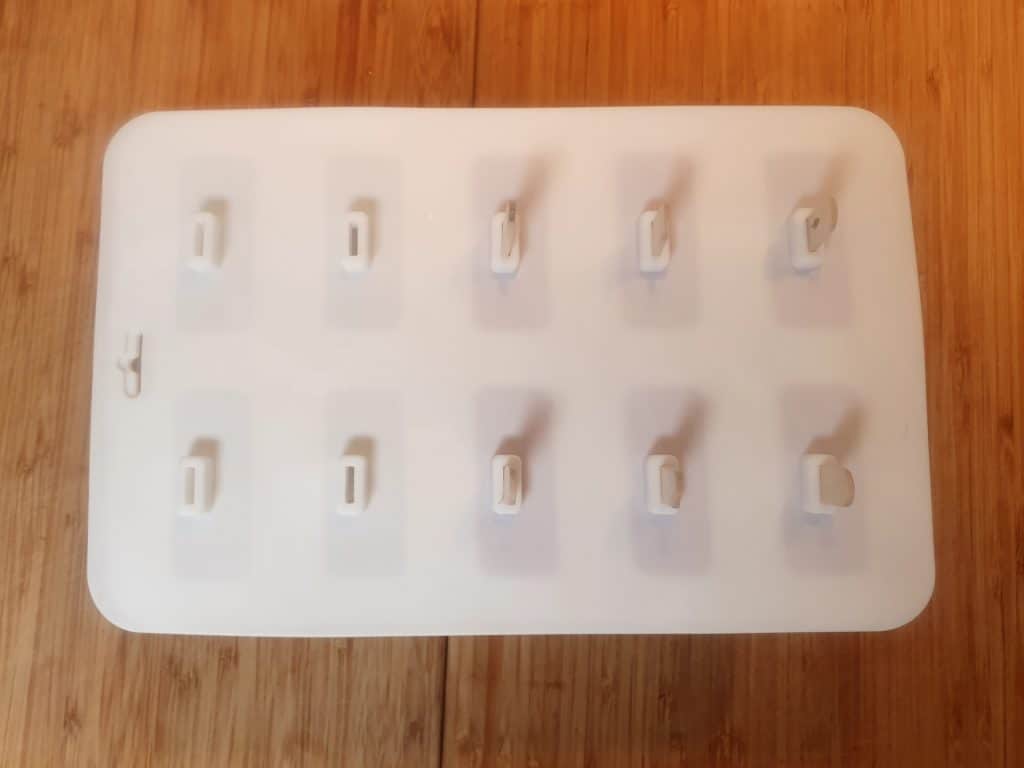 Freeze for 8 hours or until set. Carefully remove from the moulds, eat and enjoy! If you're not eating them all now, put the extras in container in the freezer with layers of baking paper in between to stop them sticking together.
Print Recipe
Watermelon chilli icy pole/popsicles
This refreshing icy pole is perfect for a scorching day and packs a punch to boot
Servings:
6
icy poles/popsicles (100ml ea)
Equipment
Icy pole/popsicle mould with sticks
Ingredients
2.2

lbs (1kg)

red seedless watermelon

½

a whole

red chilli

add more or less to your personal taste

1

tbsp (15 gms)

caster sugar

1

tbsp(15 gms)

jam set

optional but icy pole may seperate without it

3

tbsp (45 ml)

lime juice

approx. 1 lime, more to taste
Instructions
Cut the green skin off the watermelon and cut into large chunks

Carefully cut your chilli in half, deseed and roughly chop. I highly recommend you use gloves!

Blend most of your watermelon then strain liquid.

With the last batch of watermelon add chilli, sugar and jam-set. Blend until chilli is well chopped and sugar and jam-set is dissolved. Strain liquid and add to the rest of the strained watermelon.

Juice lime and add to watermelon mix. You will need 600ml of liquid in total, if you are running short blend and strain some more watermelon.

Taste the mix and add more chilli, lime or sugar to taste

Pour into icy pole/popsicle moulds and freeze for 8 hours or overnight until set

Once set carefully remove from moulds and enjoy! Mind the drips!
Notes
The jam-set is readily available from supermarkets. It contains pectin which helps emulsify the ingredients. You can make the icy poles without it but they may seperate.
I use the larger, less hot cayenne chillies in this recipe. I find half a chilli is enough for these icy poles to pack a punch without blowing your head off. Add more or less chilli to your personal taste, especially if mixing this up with hotter chilli such as habaneros or birds eye.
Have you made this recipe? I'd love to know how it went in the comments below 🙂