These coffee aquafaba meringues are sweet, crunchy and full of coffee flavor. They taste just like regular meringues, you won't believe they are vegan!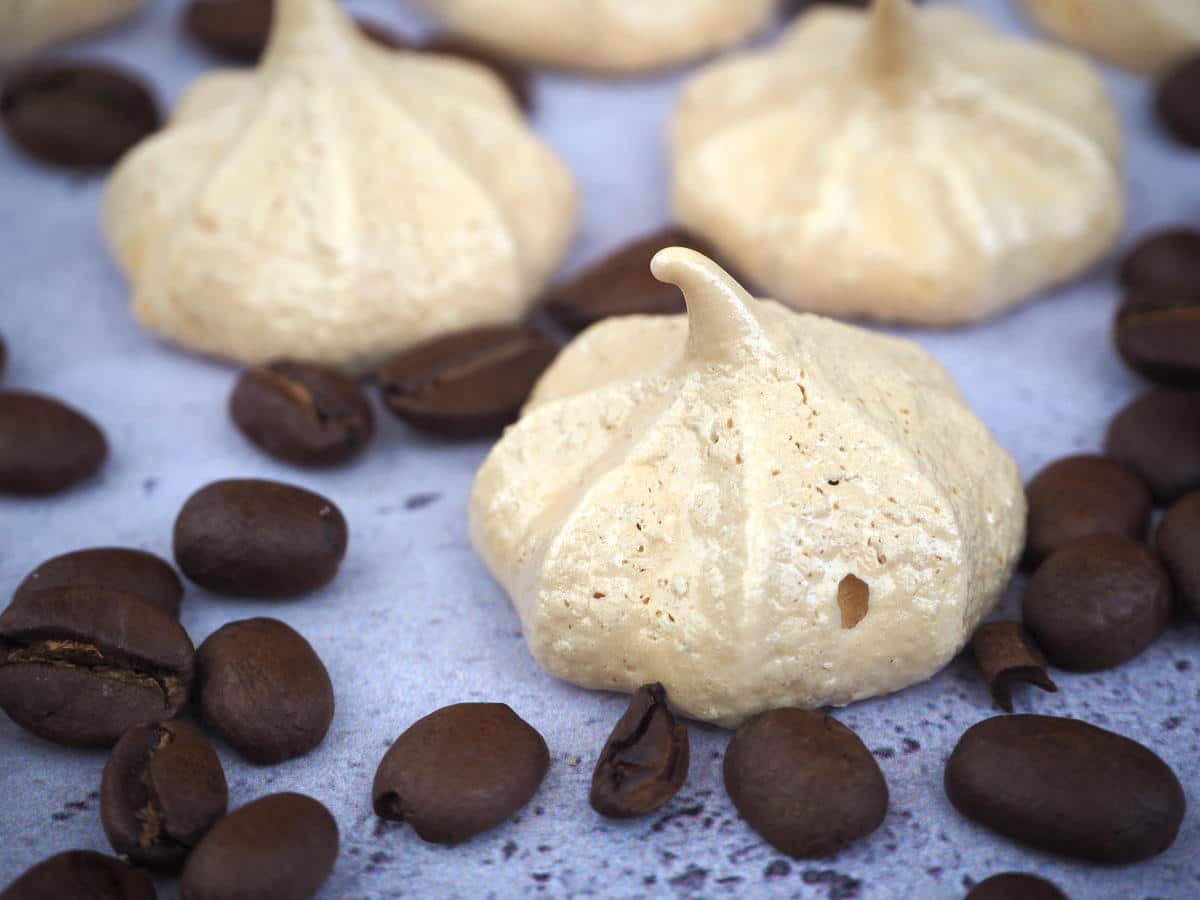 Jump to:
What is aquafaba?
Aquafaba is the liquid that's left over from cooking chickpeas and some other legumes. It's easiest to obtain by saving the liquid after draining a tin of chickpeas. Aquafaba can be used as a direct substitute for egg whites in some recipes, due to its ability to mimic the properties of egg whites.
TIPS AND TRICKS FOR MAKING GOOD VEGAN MERINGUES
As with my egg-based basic meringues there are a number of tips and tricks that will help you making these vegan meringues:
Make sure your bowl and mixing tools are very clean. It has been suggested to rub half a cut lemon over the mixing bowl to ensure all the fats are removed. You probably don't need to go to that length but do make sure your bowl and tools are clean and dry.
Add the sugar slowly a little bit at a time. Do not be tempted to dump it all in one go. A few tablespoons at a time is enough. Make sure you beat well until soft peaks form again in between each addition of sugar.
Low and slow is the way to go when it comes to cooking these vegan meringues. Good meringues take time. Use your lowest oven setting, (mine is 212°F (100°C)) but go lower for longer if you can. Once cooked and you have checked on them close the oven door and leave them to cool completely in the oven for maximum crispness.
Can I make other flavored aquafaba meringues?
Absolutely. You could take out the coffee and make a variety of different flavors. Try adding a teaspoon of vanilla, peppermint or almond essence. For chocolate meringues I recommend dipping the meringues in chocolate or you could try adding chocolate chips to see that that works. Do not add cocoa powder. I tried this and it did not work at all, all the air was knocked out and it turned into a soupy mess that refused to whip.
Ingredients
Aquafaba: is the liquid you get from cooking chickpeas and other legumes in. It's easiest to get by draining a tin of chickpeas and keeping the liquid.
Castor sugar: for both taste and crunch. Castor sugar gives a clean taste to the meringues. You can use regular granulated sugar if you don't have castor sugar. You could also experiment with brown sugar but I recommend measuring by weight as brown the amount of brown sugar can vary wildly if measuring by cup.
Cream of tartar: also known as tartaric acid. It's a common ingredient in baking and helps stabilize the meringues and stop them from deflating.
Instant coffee: use your favorite brand of instant coffee. Make sure you use a brand you would be happy to drink.
How to make the coffee aquafaba meringues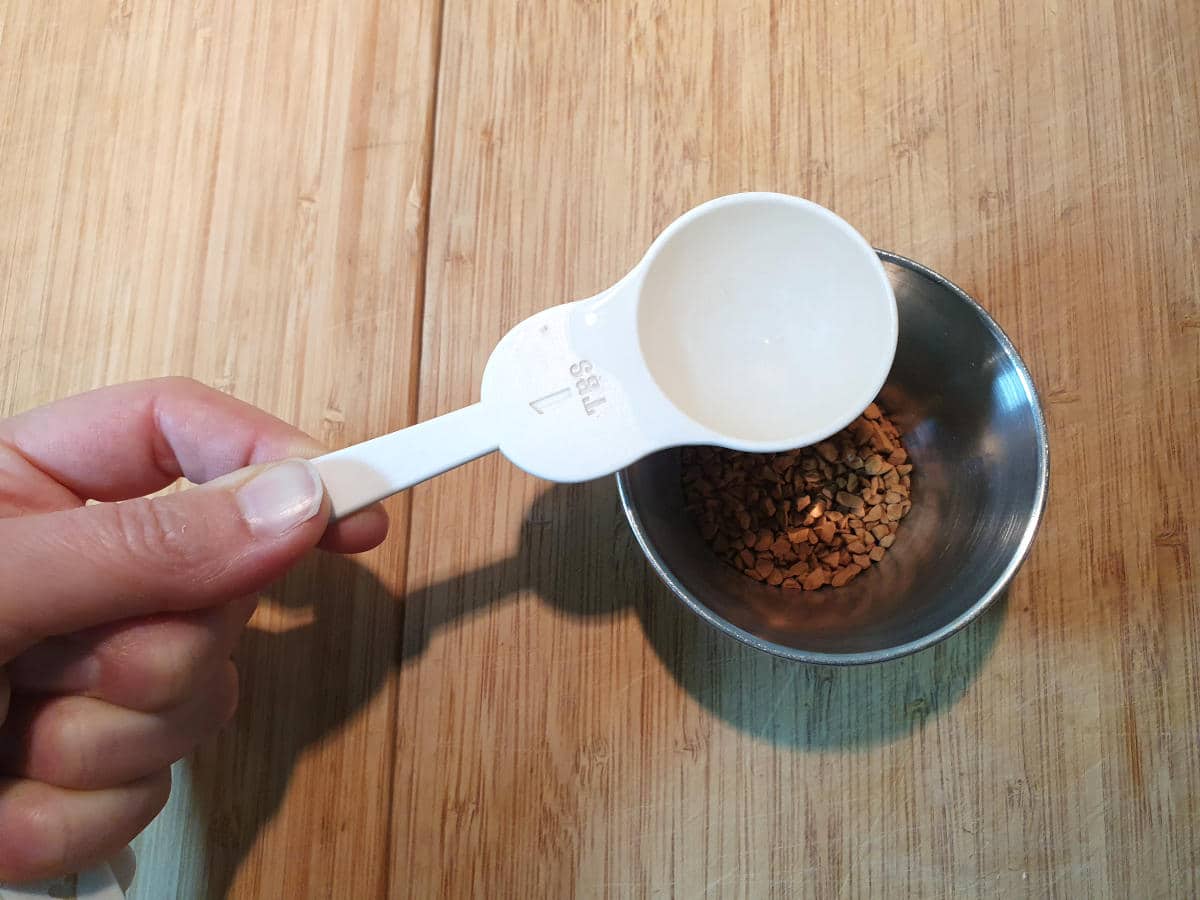 Put your oven on to preheat at 212°F (100°C) or lower if you can. Line at least two baking trays with baking paper. Put the instant coffee into a small bowl and tip in boiling water. Stir well to dissolve and ensure all the lumps are mixed in, or you will get unpleasant lumps of coffee in your meringues.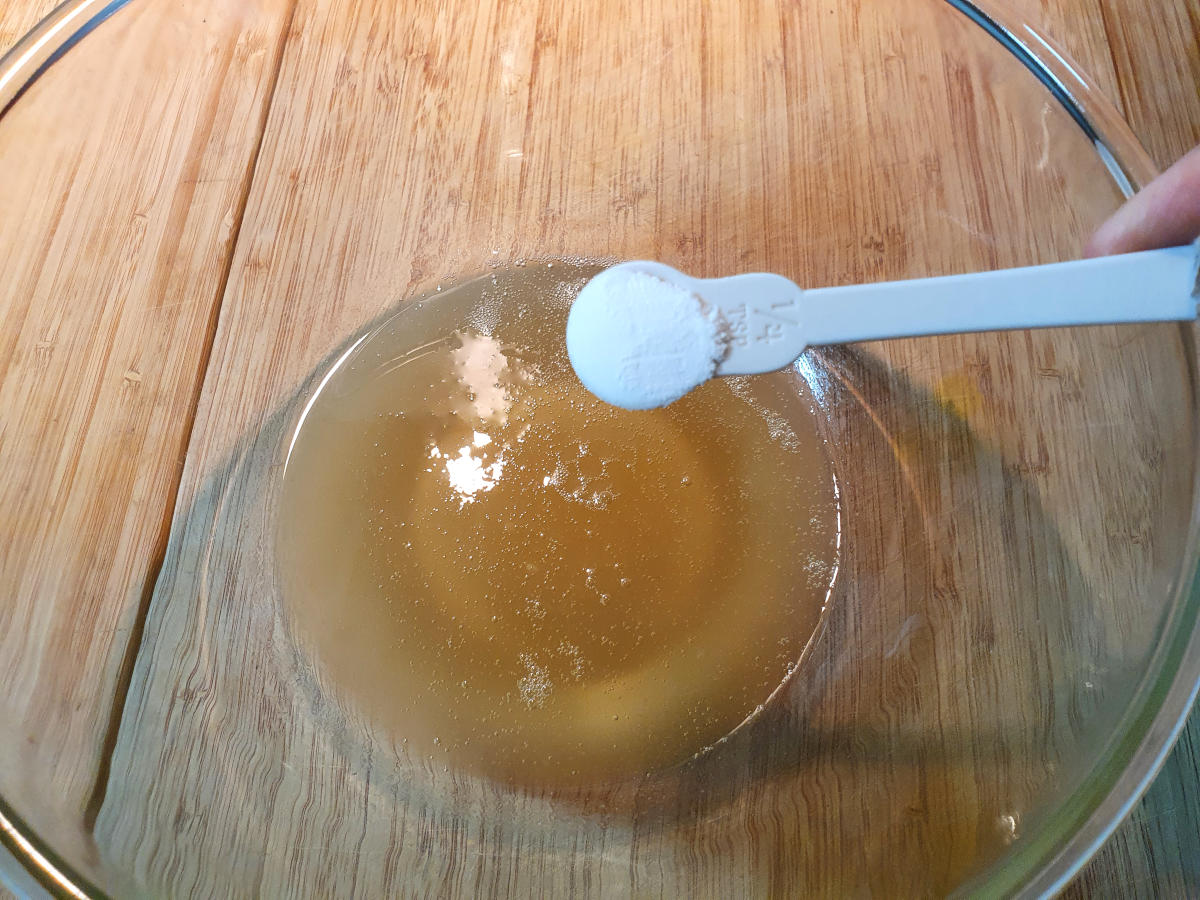 Make sure your bowl is very clean. You don't want any grease or residue in the bowl or it will stop you from getting lovely firm, soft peaks. Drain your chickpeas into a bowl to catch the liquid or aquafaba. Set aside the chickpeas for another recipe (I used mine in pumpkin soup, but as this is a dessert blog you won't find a recipe for that here :D).
Add the cream of tartar and beat well using an electric hand beaters or stand beater. Beat until opaque white, soft peaks form. This will take anywhere from five to twenty minutes, depending on the strength and speed of your beaters.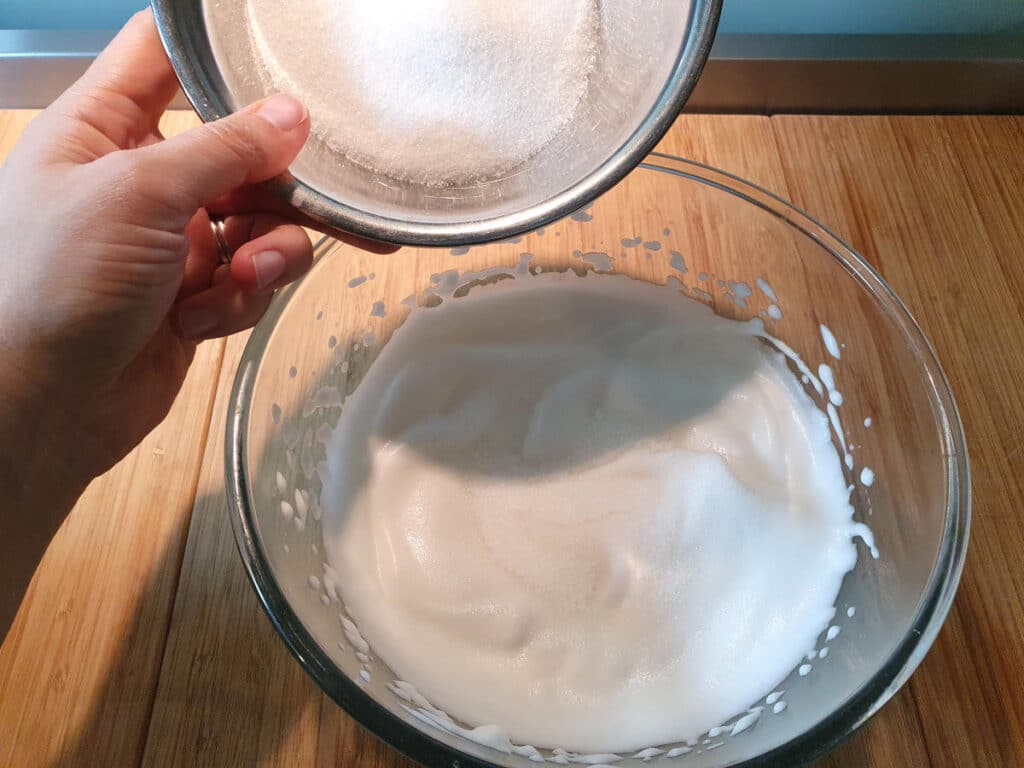 Once you have good soft peaks, slowly start to add the sugar, beating well between each addition. Once all the sugar is beaten in ensure you have stiff, firm peaks again. Add the dissolved coffee mix and beat again. The mix should now be a thick, opaque slightly brown color.
Transfer to a piping bag with a large star nozzle if using. Otherwise spoon the meringues on the baking paper. They will be more rustic but they will still taste delicious!
Pipe the meringues onto the baking paper. I find the smaller meringue kisses are prettier, but the larger ones keep better and take longer to go sticky once cooked, they do spread out more while baking and are less pretty. Up to you how you prefer to do them.
For this amount of meringue mix I found it took about four trays.
Bake the meringues in the oven for one and a half hours, longer if you are able to use a lower temperature. They will have a hollow sound when tapped on the bottom when done. Once they are done turn off the oven and let them cool completely the in the oven with the door shut.
How to serve
These vegan coffee meringues are great on their own, with your favorite cup of coffee or sandwiches together with a little vegan (or regular) whipped cream. Delicious!
How to store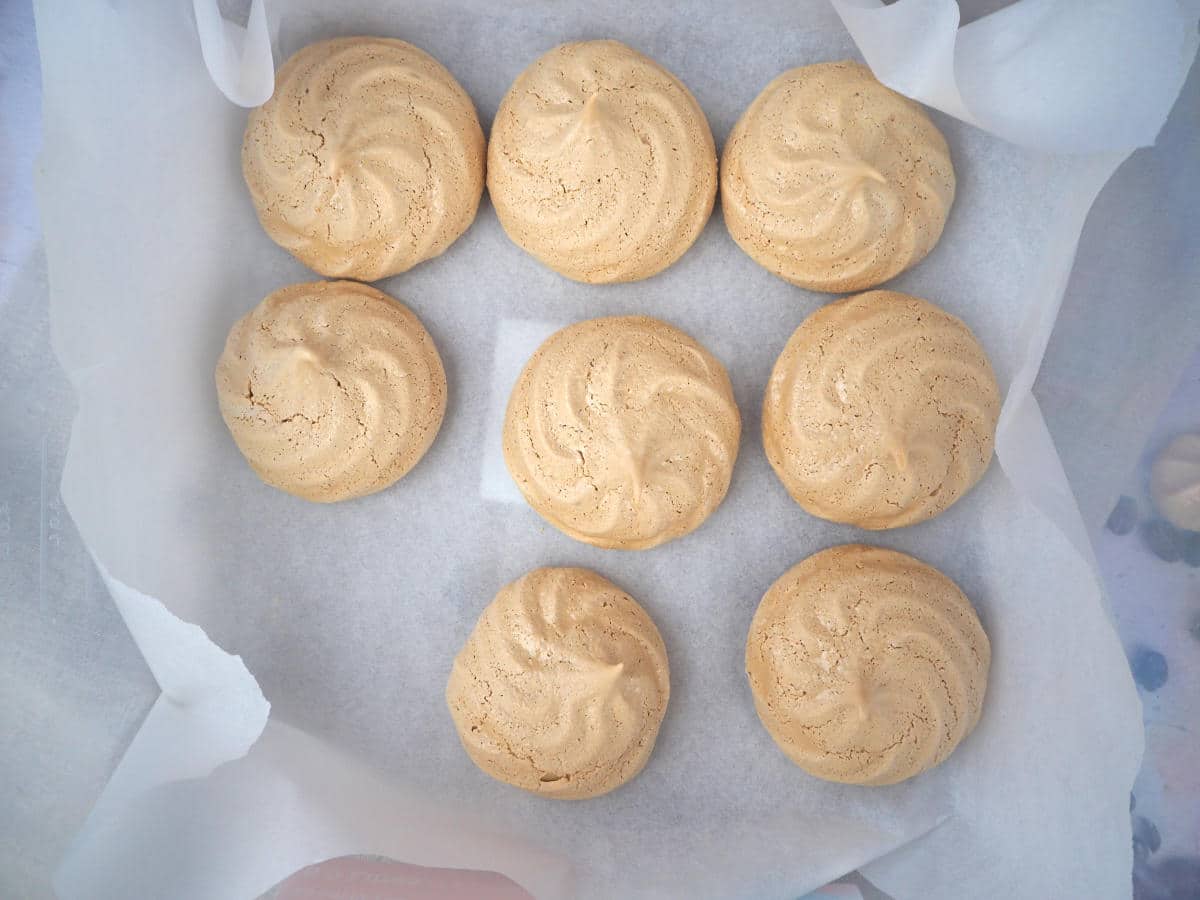 These aquafaba meringues are best eaten on the day they are made for maximum crunchiness. If you have any leftovers you can store them in an airtight container lined with baking paper. They will start to sticky and chewy the longer you leave them, even in the container. Smaller meringue cookies will go sticky and chewy more quickly than larger meringue cookies.
Have you made this recipe? Tell me how it when in the comment below and tag me on instagram so I can see your delicious creations! @keep_calm_and_eat_icecream
LOOKING FOR MORE YUMMY DESSERT RECIPES?
Why not try making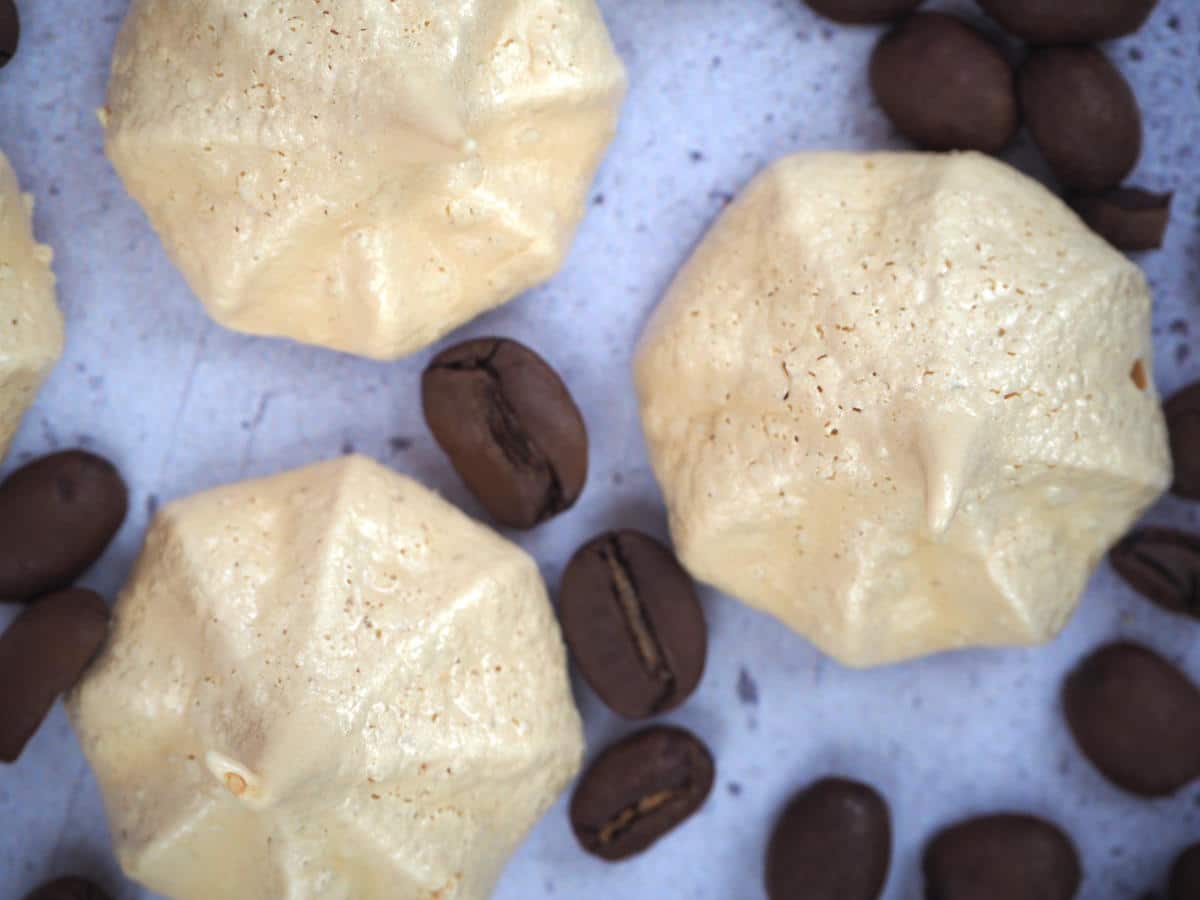 📋 Recipe
Coffee aquafaba meringues
These coffee aquafaba meringues are sweet, crunchy and full of coffee flavour. They taste just like regular meringues, you won't believe they are vegan!
Equipment
Electric hand beaters or stand mixer

Piping bag with large star shaped nozzle (optional)
Ingredients
2

tablespoon (10gms)

good quality instant coffee

2

tablespoon s (30mls)

boiling water

½ cup plus 2 table spoons

(150mls)

aquafaba - the liquid from one tin (15oz/420gms) chickpeas

1

cup (220gms)

white sugar

¼

teaspoon

cream of tartar
Instructions
Put oven on 212°F (100°C) or lower if you can to preheat.

Line at least two large trays with baking paper.

If using, prepare you piping bag with a large star shape nozzle

Put the coffee in a small bowl and add boiling water, mix well to dissolve

Drain chickpea liquid into a bowl. Set aside chickpeas for another recipe. You should have approximately ½ cup plus two tablespoons (150mls) of aquafaba liquid.

Add cream of tartar. Beat well with electric hand beaters or in a stand mixer until firm soft peaks form.

Gradually add sugar, a few table spoons at a time, beating well between additions.

*It is important to beat the sugar in well to form soft peaks again in between adding more sugar. Don't be tempted to dump it all in an once or you will deflate your meringues.

Once all the sugar is well mixed in and you have soft peaks again, add about half the coffee mix. Beat well, then add the rest of the coffee mix. You should have firm, glossy mix that forms distinctive 'peaks' when you run the beaters through it. If not, keep beating.

If using, transfer the mix to a piping bag and pipe onto prepared baking trays. You may need to do this in two batches. If you are not using a piping bag spoon the mix onto prepared trays instead.

Pipe onto trays, you can make small stars or larger cookies as you prefer.

Bake for 1 and a half hours. Turn off oven and leave to cool completely with the door closed for maximum crunch (this can be overnight).

Remove from trays and enjoy! Lovely with a cup of coffee or some vegan or regular whipped cream. Delicious!
Notes
Like regular meringues these vegan meringues will start to interact with the air and go soft and sticky once they are cooked. Best eating on the same day for maximum crunch.
You can store them in a airtight container lined with baking paper, but they will become sticky and chewy the longer you leave them.
Nutrition
Calories:
7
kcal
Carbohydrates:
2
g
Protein:
0.02
g
Fat:
0.01
g
Sodium:
0.1
mg
Potassium:
8
mg
Sugar:
2
g
Calcium:
0.3
mg
Iron:
0.01
mg
Nutritional Disclaimer
Nutritional information is an estimate based on an online database. The nutritional content of ingredients may vary by brand. If you require accurate nutritional information, you should calculate this based on the specific brands and products you are using.