This king cake sprinkles bread is a fun twist on this much loved Mardi Gras dessert. The perfect easy treat to give the kids for Fat Tuesday and Carnival.
Jump to:
What do you feed the kids for Mardi Gras when you don't have time to make King cake? Whip up this fun King cake sprinkles bread instead. With King cake flavors of cream cheese and cinnamon and classic Mardi Gras colors, purple for justice, green for faith and gold (yellow) for power. Ridiculously easy to whip up with just four ingredients, you can have this dessert or snack on the table in minutes.
Ingredients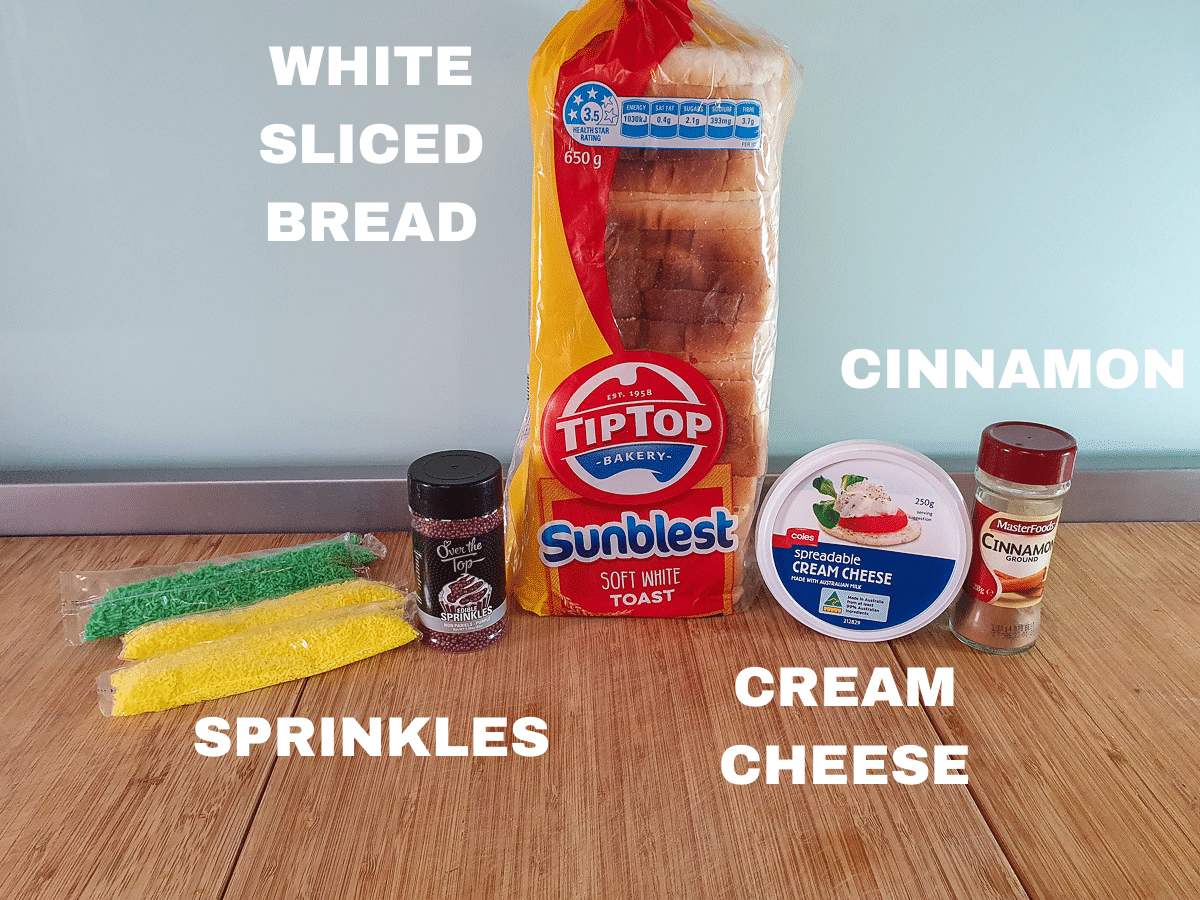 Sprinkles: green, yellow and purple sprinkles give the classic Mardi Gras look to this super simple king cake dessert.
Sliced white bread: this dessert works best with soft white bread. It can be made with the cheapest white square sliced loaf you can get! You could try to make it slightly healthier by making it with wholemeal bread etc. if you like, but then it wouldn't be at yummy or as treat foody!
Cream cheese: the cream cheese keeps with the flavors of a King Cake and gives the sprinkles and cinnamon something to stick to. Plain cream cheese works best with this recipe, I would not use cream cheese with savory flavors added or it will taste weird. For a more budget friendly version you can swap the cream cheese with butter or margarine.
Cinnamon: a little cinnamon adds the King cake flavor of this dessert. You only need a tiny amount or it will interfere with the sprinkles sticking on. You can leave the cinnamon out if you prefer.
How to make king cake sprinkles bread
Make sure your cream cheese is at room temperature. If you haven't had time to leave it out of the fridge you can microwave it for a couple of seconds to soften it up to spreadable softness. If the cream cheese is to hard it will catch the soft bread and make holes in it.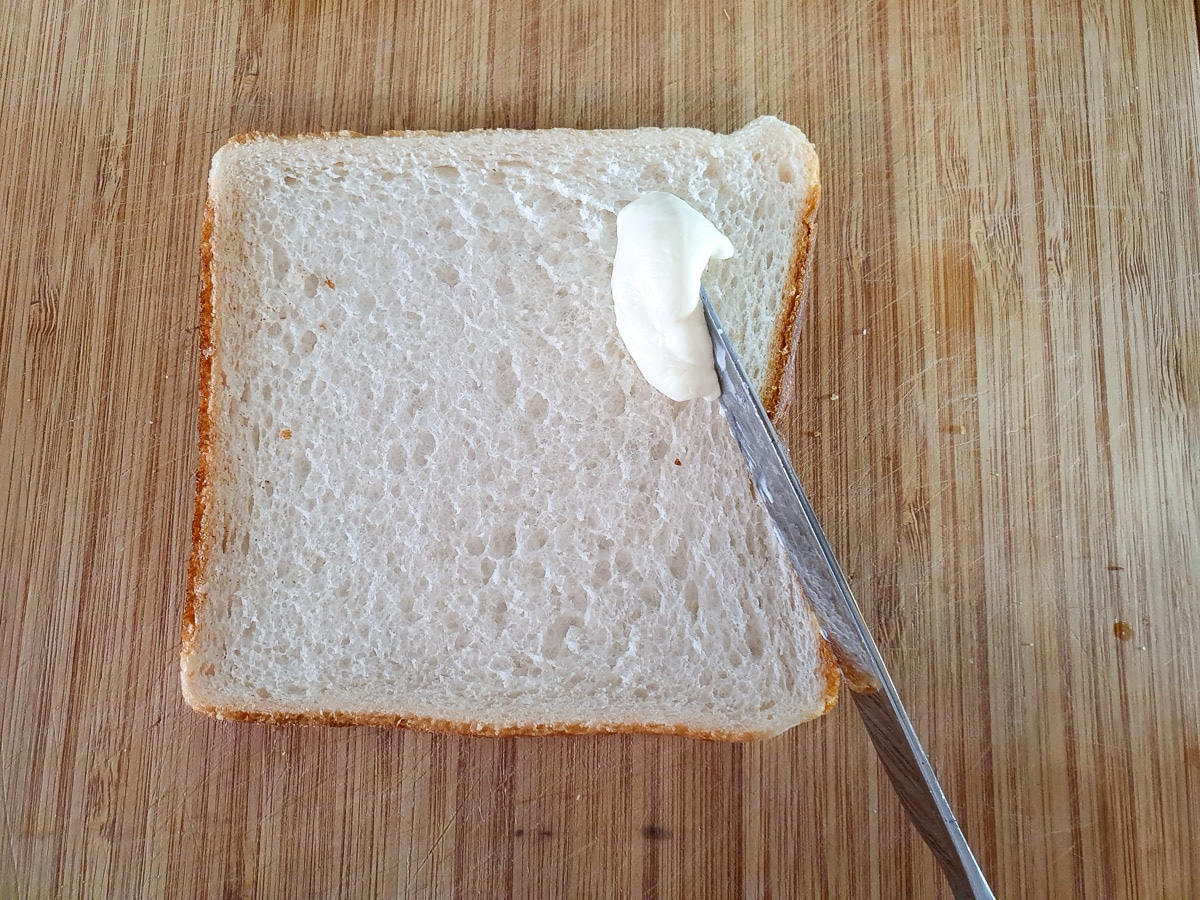 Spread one side of the bread generously with cream cheese.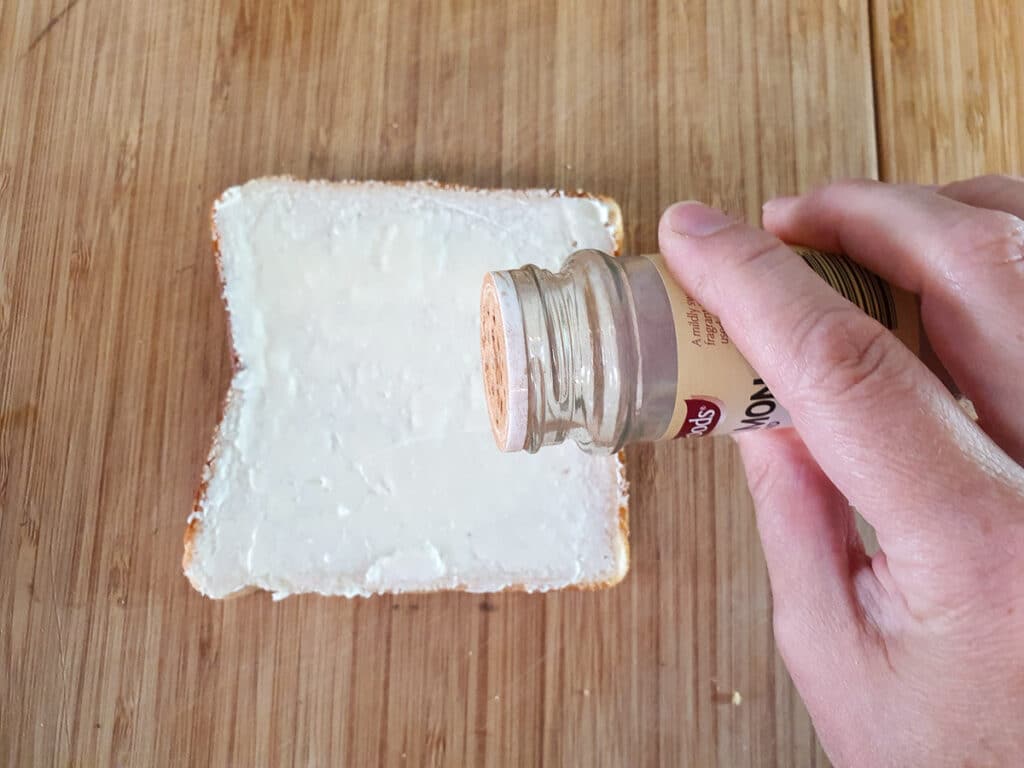 Sprinkle very lightly with cinnamon. To get a lighter, more even spread it helps to hold the cinnamon jar high above the bread while sprinkling.
Add the purple, yellow and green sprinkles. You can either do this in blocks as a traditional King cake is decorated or mix the colors all together for a fun color mash up. Once the sprinkles are on press down lightly with the back of the spoon to make the sprinkles stick better to the cream cheese.
Shake the excess sprinkles lightly off if you like. Cut into triangles or squares as you kids prefer (we all know the toddler tantrums from the bread being cut into the Wrong shape!). You could mix things up by using cookie cutters to cut the slices into fun shapes, such as a fler de lis or even a baby shape!
How to serve
To serve pop onto a serving plate to let the kids (and adults) help themselves and enjoy!
How to store
This king cake bread is best made within a couple of hours of serving. You can store it covered in the fridge for up to three hours, after which is may start to dry out.
Have you made this recipe? Tell me how it went in the comments below and tag me on instagram so I can see your delicious creations! @keep_calm_and_eat_icecream
Looking for more yummy party recipes?
Why not try making
Follow me on Facebook or Pinterest for many more delicious recipes.
📋 Recipe
King cake sprinkles bread
This king cake sprinkle bread is a fun twist on this much loved Mardi Gras dessert. The perfect easy treat to give the kids for Fat Tuesday and Carnival.
Ingredients
12

slices

toast sliced white bread

4

oz (115 gms)

cream cheese

1

teaspoon

ground cinnamon

2 - 3

tablespoons each

yellow, purple and green sprinkles
Instructions
Make sure your cream cheese is nice and soft or it will put holes in the bread.

Spread one side of each slice of bread generously with cream cheese.

Sprinkle very lightly with cinnamon

Cover with sprinkles, either in color blocks or mix in together.

Cut into your preferred shape, pop into a plate and you're done!
Nutrition
Calories:
104
kcal
Carbohydrates:
19
g
Protein:
4
g
Fat:
1
g
Saturated Fat:
1
g
Polyunsaturated Fat:
0.5
g
Monounsaturated Fat:
0.2
g
Trans Fat:
0.01
g
Cholesterol:
1
mg
Sodium:
186
mg
Potassium:
56
mg
Fiber:
1
g
Sugar:
7
g
Vitamin A:
6
IU
Vitamin C:
0.01
mg
Calcium:
88
mg
Iron:
1
mg
Nutritional Disclaimer
Nutritional information is an estimate based on an online database. The nutritional content of ingredients may vary by brand. If you require accurate nutritional information, you should calculate this based on the specific brands and products you are using.
Join the community!
Like Keep Calm and Eat Ice Cream on Facebook for more great recipes
Pin it for later