This vanilla vegan custard could not be easier. With just six ingredients its on the table in under ten minutes and tastes and looks just like regular custard.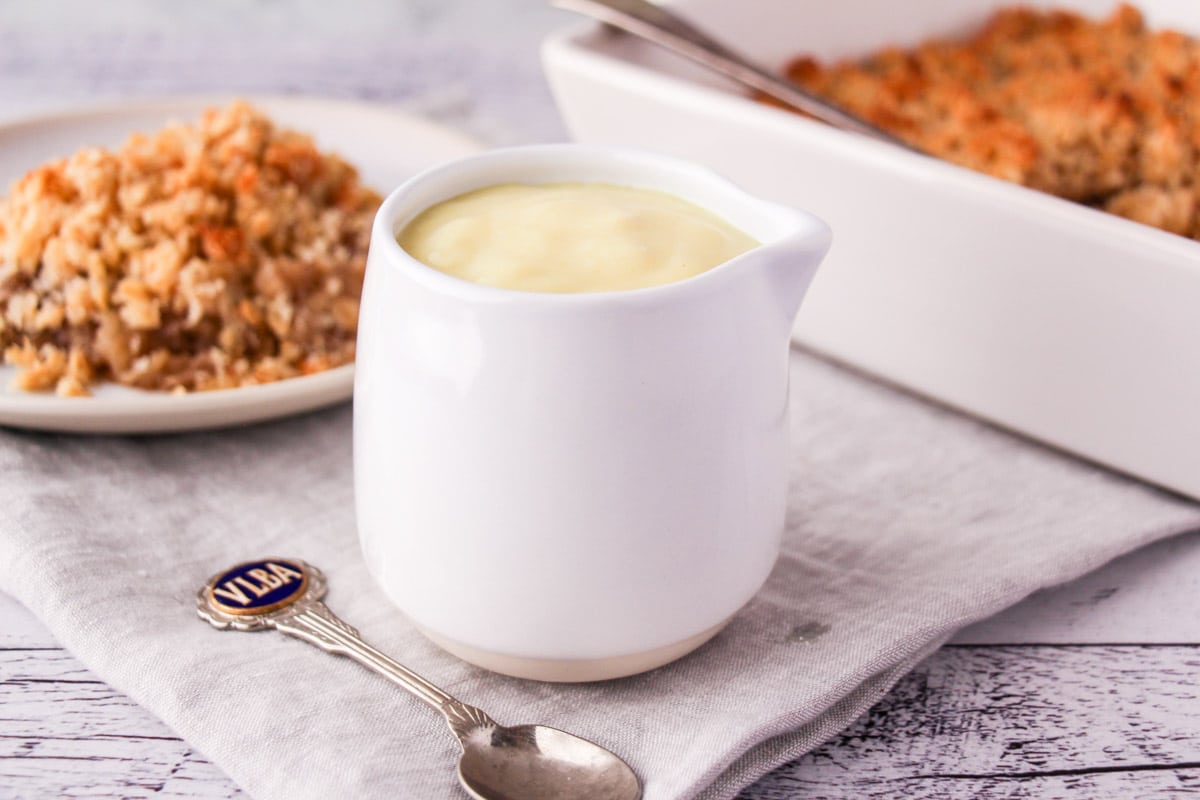 Jump to:
This eggless custard is one of those ridiculously easy recipes you need in your repertoire. Its incredibly quick and uses mostly ingredients you probably already have in your pantry.
When recipes testing this custard I tried a number of different plant milks; soy, oat, almond and coconut. Soy milk by far produced the best tasting, richest and creamiest results. So much so that when I did a blind taste test on my husband he though the soy milk custard was regular custard. Its that good. If you don't drink soy milk you can of course use another plant based milk of your choice.
How do you make custard vegan?
To make custard vegan you need to replace the dairy and eggs in traditional custard. The dairy can be replaced with your favorite plant based milk. Eggs need to be replaced with something to help thicken and bind the custard, such as corn flour or similar. Finally a little extra fats, in the form of healthy plant based oils can help boost the taste and creaminess of your custard.
What is in vegan custard?
This plant based custard contains soy milk, corn flour, sugar, vanilla, turmeric and refined coconut oil. I found this combination gives the richest, best tasting custard. For more information on possible substitutions see the ingredients list below.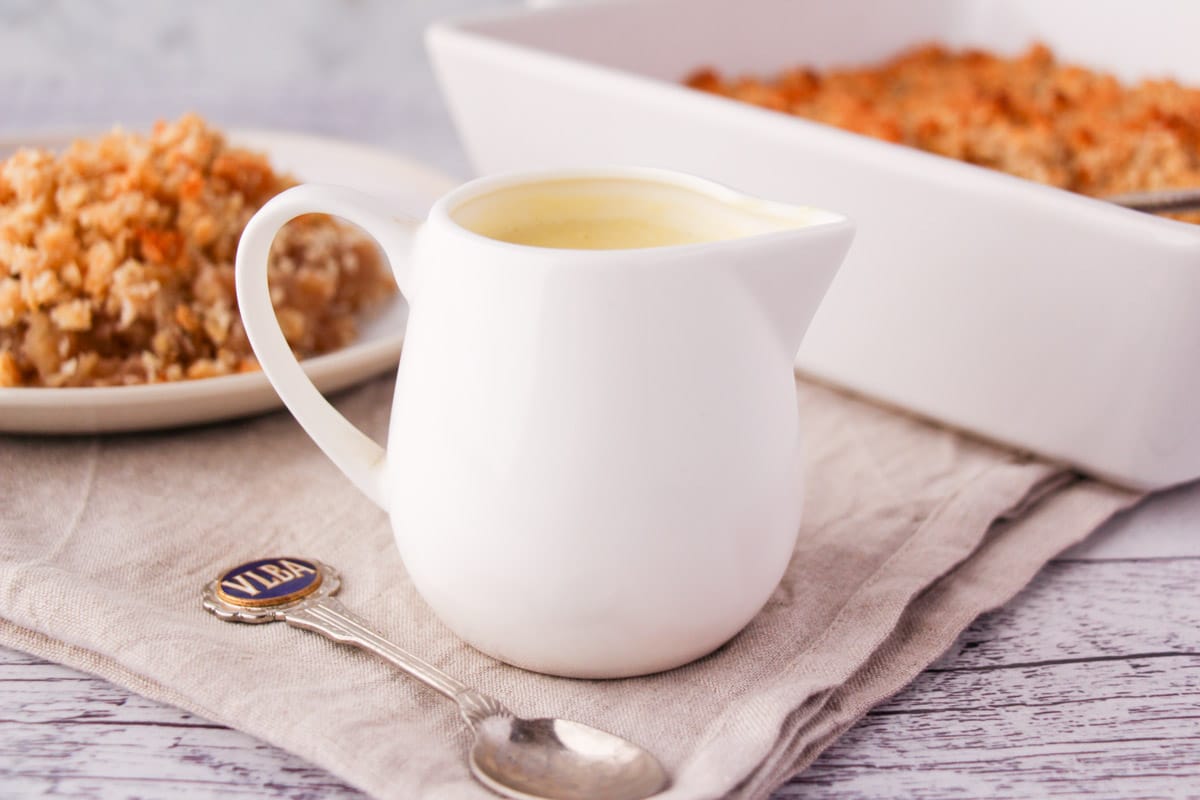 What plant based milk is best in vegan custard?
For the best tasting, creamiest custard I have found that soy milk gives the best results. I tested this recipe with several different plant based milks, almond milk, coconut milk, soy milk and oat milk. Soy milk by far and away gave the best flavor. You can of course use plant based milks other than soy. If so I recommend adding an extra half a tablespoon of refined coconut oil to increase the fats and flavor.
Does oat milk custard work?
Yes it does. You can follow my recipe below with oat milk to make oat milk custard. I recommend using at extra half a tablespoon of refined coconut oil to add some more fats to give a yummier, creamier taste.
How thick is this custard?
This recipe as written gives a pouring custard that will still be pourable once its cooled off. Perfect over crumbles or fresh berries.
You can also use this custard for other desserts that need a thicker, more set custard by increasing the corn starch in the recipe to ¼ cup (40gms). This will give a thicker custard with more stability that's perfect in trifles and layered desserts.
How to use vegan custard
You can use this vegan custard anywhere you would use regular custard, the possibilities are endless! Some delicious pairing include:
Ingredients
Plant based milk: for the best flavor and creaminess I recommend soy milk, but you could use other plant based milks as well.
White sugar: I just used regular white sugar in this recipe to allow the vanilla flavor to shine. You could try using brown sugar which will add some caramel notes or other unrefined sugar such as coconut. You could even try making this with maple syrup or similar unrefined syrups. Keep in mind you you will be able to taste this in the custard and may need to increase the amount of corn flour a smidge to account for the extra liquid.
Corn starch: also known as corn flour or maize starch. It provides a natural thickness this plant based custard without the need for eggs. Its simple and something you probably have in your pantry already. You could try replacing the corn starch with tapioca or arrow root starch instead.
Vanilla essence: you can use real or imitation vanilla essence in this recipe or even vanilla bean as your tastes and budget allows.
Turmeric: a little touch of turmeric gives some natural yellow color to this custard without adding any turmeric flavor (because that would be weird). You can use a little vegan yellow food color instead if you prefer, or embrace the plant based nature of this custard and leave the coloring out all together.
Refined coconut oil: also known as expelliar coconut oil. This type of coconut oil gives a neutral taste a smell with no noticeable coconut flavor left. My husband hates coconut (weird I know) and he can't taste it in this recipe. The coconut oil adds extra flavor and creaminess to this custard the absence of dairy. You could use unrefined coconut oil but you maybe able to taste it in your custard.
How to make vegan custard
Put the milk, sugar, corn starch, vanilla and turmeric in a small pot on the stove and give it good whisk to combine. Heat on medium to high for about five minutes, stirring continuously until it thickens up.
Remove from the heat, add the refined coconut oil and stir well.
Serve immediately or pop it into a heat proof container in the fridge for later.
How to serve
This vegan vanilla custard is incredibly versatile. Its a perfect match with my vegan apple crumble, with fresh fruit or in anywhere else you would use regular custard. Delicious!
How to store
This eggless custard will store well covered in a container in the fridge for upto three days.
I do not recommend freezing this custard. Its so quick and easy you'd be better of making a fresh batch when you need it, you could probably whip one up in the time it would take to defrost anyway!
Have you made this recipe? Tell me how it went in the comments below and tag me on instagram so I can see your delicious creations! @keep_calm_and_eat_icecream
Looking for more yummy dessert recipes?
Why not try making
Follow me on Facebook or Pinterest for many more delicious recipes.
📋 Recipe
Vegan custard
This vanilla vegan custard could not be easier. With just six ingredients its on the table in under ten minutes and tastes and looks just like regular custard.
Ingredients
2

cup (500mls)

plant based milk such as soy milk

⅓

cup (73gms)

white sugar

1 tablespoon and 1 teaspoon

(20gms)

corn flour

1

tablespoon

vanilla extract or essence

1

pinch

turmeric

1

tablespoon

refined coconut oil
Instructions
Add the plant based milk, sugar, corn flour and turmeric to a small pot. Whisk well to combine.

Heat on medium to high for a three to five minutes, stirring constantly until thick and creamy. Remove from heat.

Add the refined coconut oil and mix well.

Serve immediately Fabulous poured liberally on my vegan apple crumble or your favorite vegan desserts. Delicious!
Nutrition
Calories:
69
kcal
Carbohydrates:
10
g
Protein:
2
g
Fat:
2
g
Saturated Fat:
1
g
Polyunsaturated Fat:
1
g
Monounsaturated Fat:
0.3
g
Sodium:
20
mg
Potassium:
66
mg
Fiber:
0.3
g
Sugar:
9
g
Vitamin A:
109
IU
Calcium:
66
mg
Iron:
0.3
mg
Nutritional Disclaimer
Nutritional information is an estimate based on an online database. The nutritional content of ingredients may vary by brand. If you require accurate nutritional information, you should calculate this based on the specific brands and products you are using.
Join the community!
Like Keep Calm and Eat Ice Cream on Facebook for more great recipes
Pin it for later!