This cookies and cream nice cream is creamy, delicious and cinch to make. With just three ingredients you can whip this up before you can say go bananas!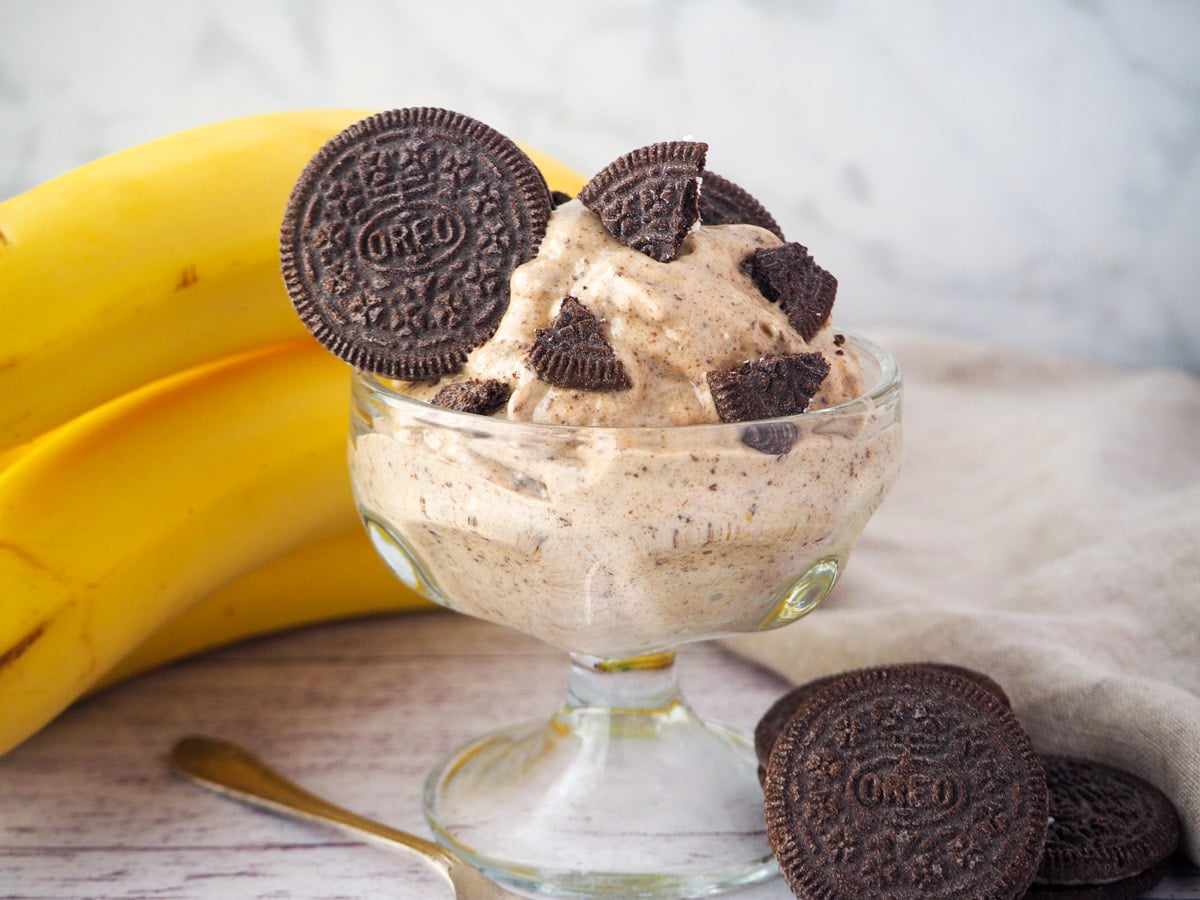 Jump to:
Have you had vegan banana ice cream or 'nice cream'? Bananas do something magical when they are frozen and blended up. They turn into a thick, creamy consistency that's similar in texture to regular ice cream. You often see this as 'one ingredient ice cream', which is basically just frozen bananas blended up.
Yummy, but you can do so much more with them. Adding a few simple ingredients elevates this easy vegan ice cream from something that tastes 'healthy' to something truly delicious.
Looking for more traditional cookies and cream ice cream? Why not try making my homemade Oreo ice cream. Pair it with my Oreo ice cream cake for a heavenly cookies and cream combo!
Or if you're in the mood for more delectable ice cream check out my full collection of Cuisinart ice cream maker recipes (that work well in other brands ice cream makers too!).
Ingredients
Bananas: the riper your bananas are, the naturally sweeter your banana nice cream will be. But this will also make the banana flavor stronger, so it's up to you how much you want to balance sweetness with bananaryness.
Oreos: provide the cookies and cream element to this vegan nice cream. Oreos are what's sometimes called accidentally vegan. They don't contain any animal products themselves but the labels warn they are manufactured in a facility with animal products such as dairy. If you are vegan it's up to you if you're OK with Oreos or not. If not or if you're not a fan of Oreos you can replace them with your favorite cookies, cream-filled or otherwise.
And if you're ok with butter you could make this with my homemade Oreos for something truly special!
Cashew butter: a little cashew butter adds some creaminess to this frozen banana ice cream without any dairy. Look out for 100% pure cashew butter without any additives. You could also make your own cashew butter using roasted nuts but I find it's harder to get the nut butter as smooth at home.
You could replace the cashew butter with different nut butter or even some coconut cream or your plant milk of choice. If using one of these alternatives your nice cream may not be as creamy.
How to make cookies and cream nice cream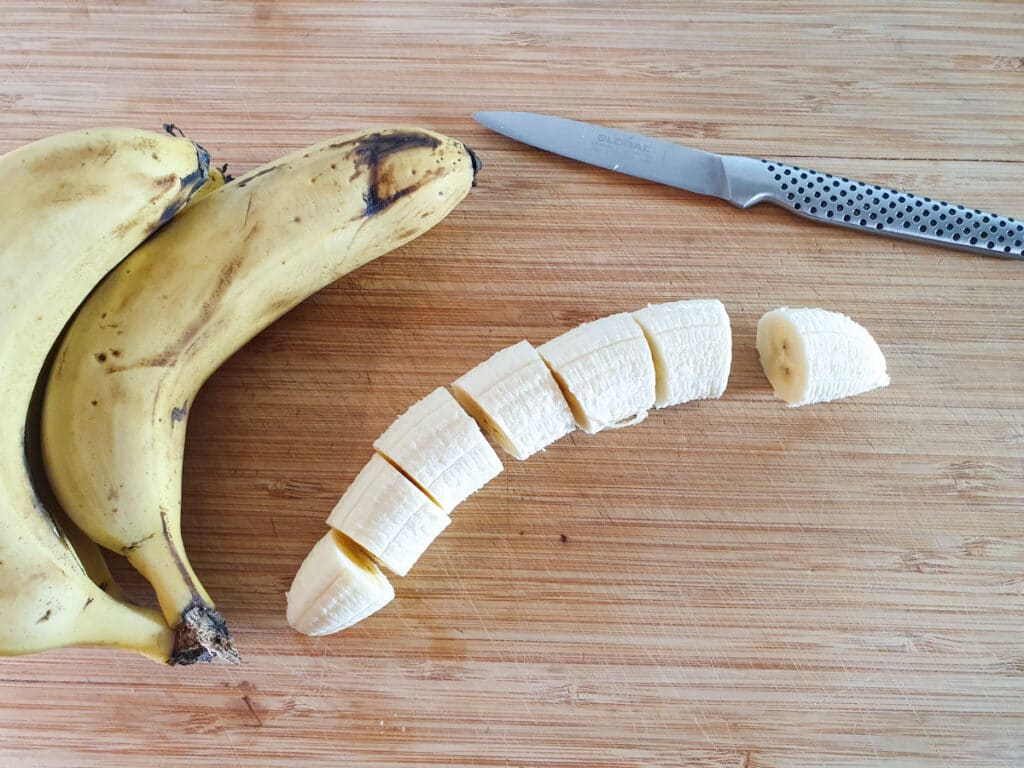 Peel the bananas and slice them into coins. Lay them out on a baking tray lined with baking paper, ensuring they are not touching. Freeze for two to four hours or until frozen solid. Roughly chop the Oreos up into pieces.
Hot tip: bananas left exposed to the air can oxidize and turn brown. It won't affect the taste but can affect the color. To help prevent this you can cover the tray with some cling film before freezing or layer them in an airtight container with baking paper between the layers.
Add the banana to the food process or blender and blend for several minutes until smooth. You may need to stop and push down the bananas several times before they blend together smoothly. You can see in the process shots the bananas first form small pea sizes pieces and may even start to ball up into a lump. Keep stopping, making sure the blender is OFF and giving it a quick stir and blending again until it blends together and becomes smooth and creamy.
Hot tip: even in small pieces the frozen bananas are very hard. You really need a high powdered blender or food processor. Cheaper/weaker models may burn out the motor if you're not careful.
If you're having trouble you can leave the bananas for a min or two to defrost or try adding a splash of plant milk or even water to loosen them up. They do take a while to blend, so if your machine can handle it keep pushing down the bananas and blending. I found it came good after a couple of minute without having to add any liquid.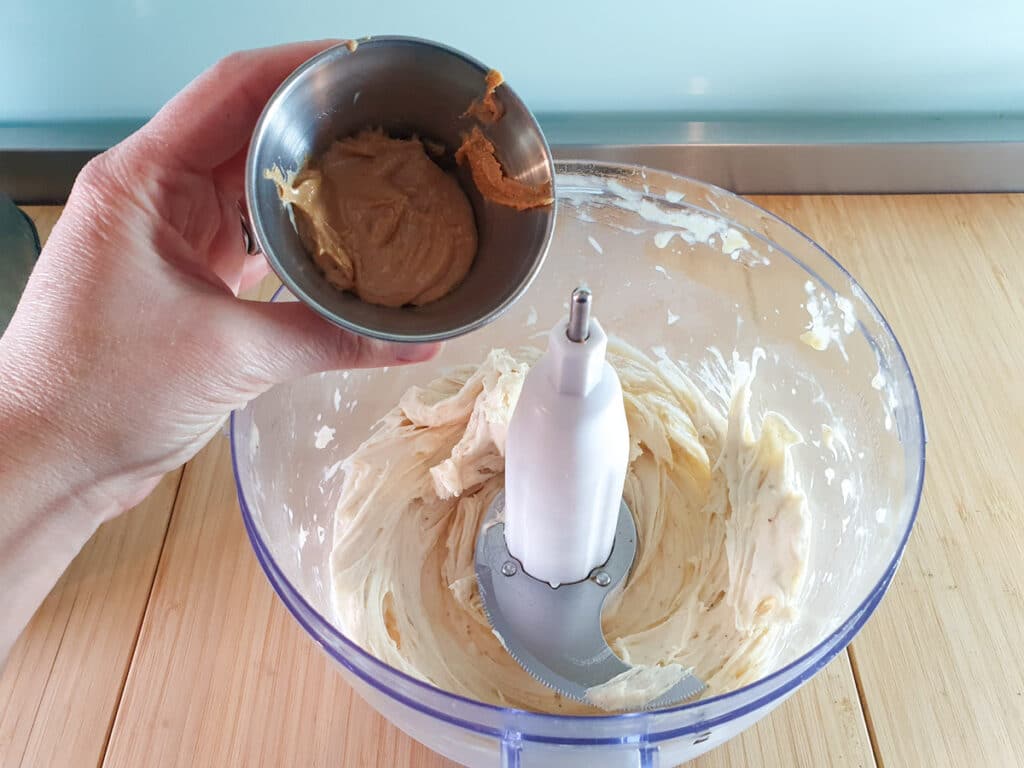 Add the cashew butter and a third of the chopped Oreos and blend until smooth. Add another third of the Oreos and plus briefly to combine.
How to serve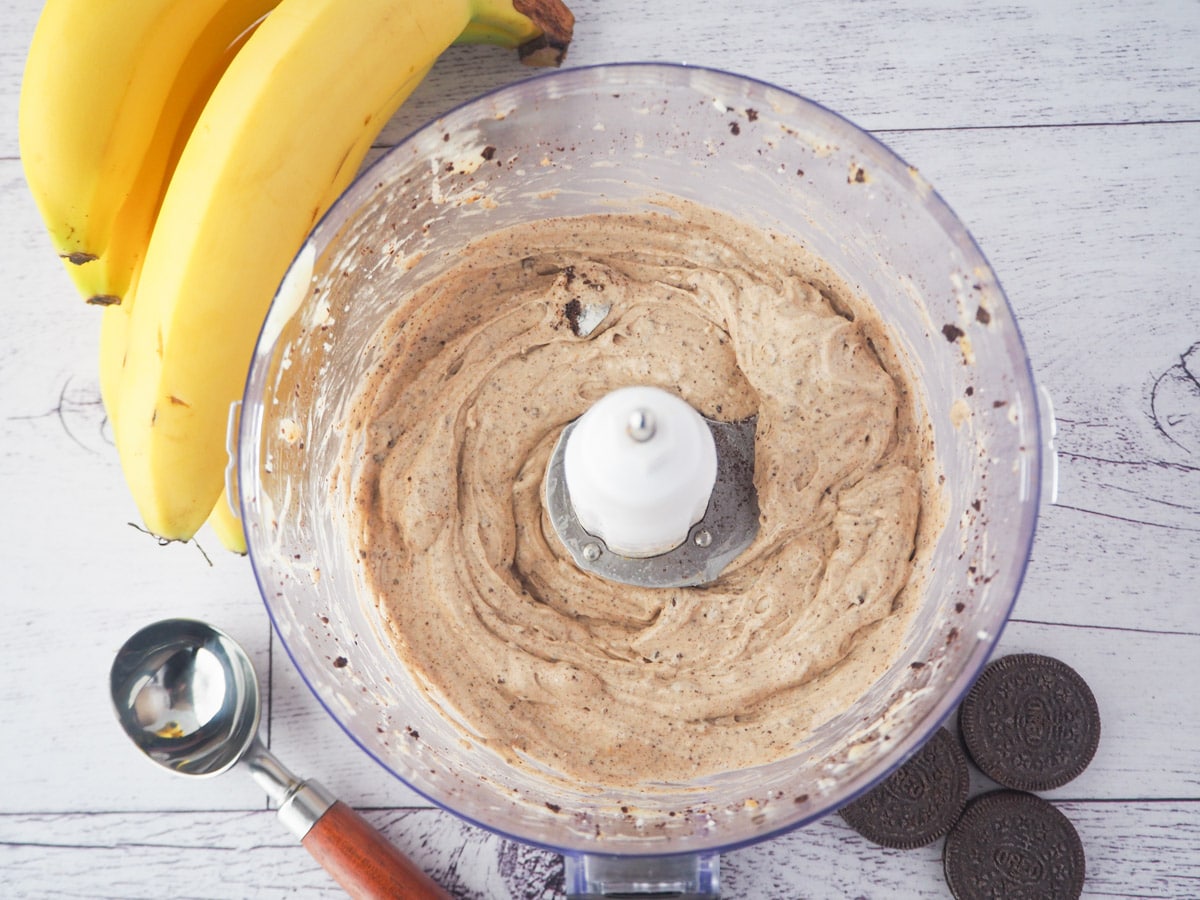 To serve remove from the blender or food processor and transfer to a bowl or pretty ice cream glasses. Top with the remaining Oreo pieces, dig in and enjoy!
How to store
This vegan cookies and cream ice cream is best served straight away after blending. If you want to 'make this advance' you can freeze the bananas, then transfer them to an airtight container and keep them in the freezer for up to three months. Once the bananas are frozen this delicious vegan ice cream takes a matter of minutes to whip up.
Have you made this recipe? Tell me how it went in the comments below and tag me on instagram so I can see your delicious creations! @keep_calm_and_eat_icecream
Looking for more yummy dessert recipes?
Why not try making
Follow me on Facebook or Pinterest for many more delicious recipes.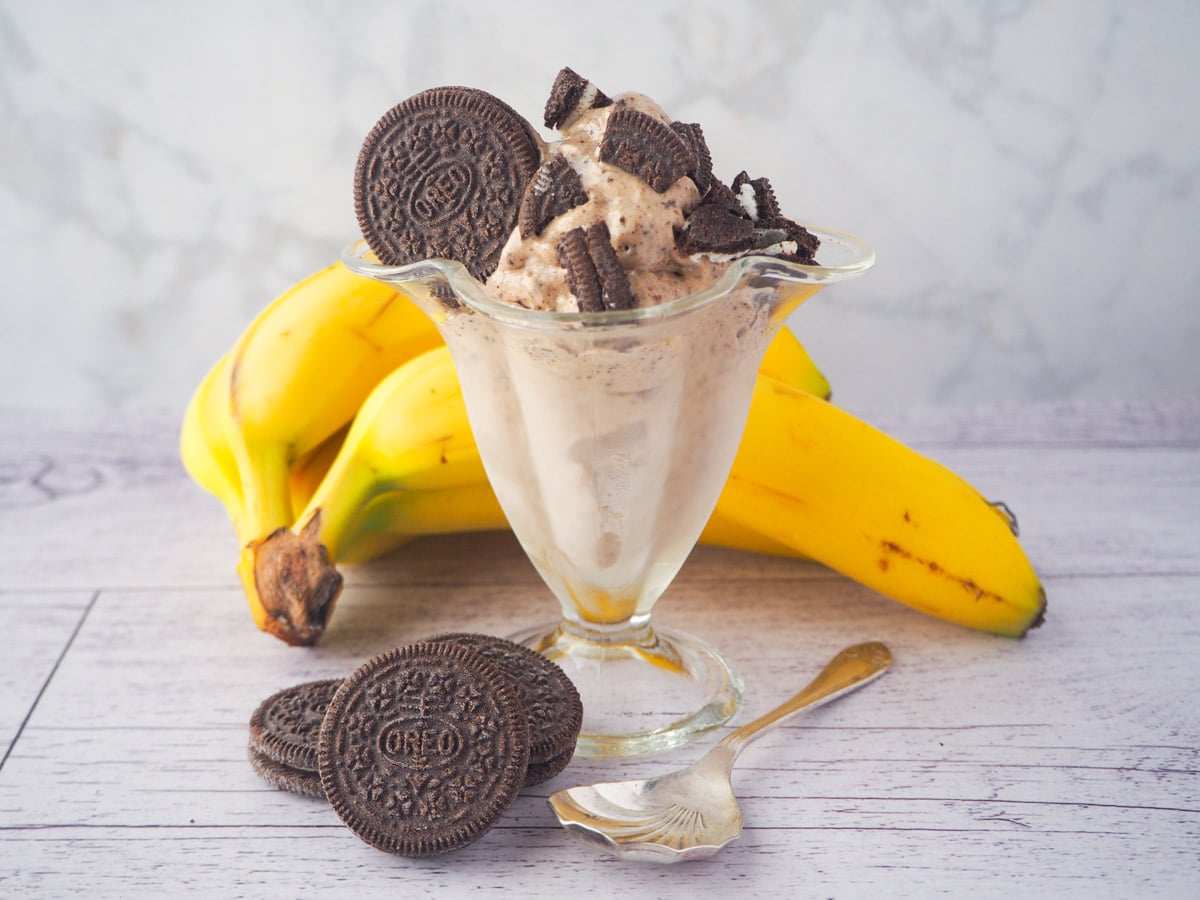 📋 Recipe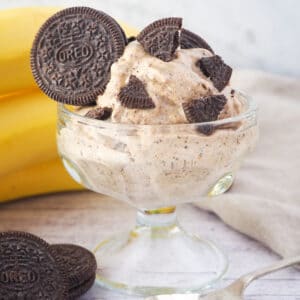 Cookies and Cream Nice Cream
This cookies and cream nice cream is creamy, delicious and cinch to make. With just three ingredients you can whip this up before you can say go bananas!
Equipment
Heavy duty food processor or blender.
Ingredients
4 - 5 small

(1.1 lbs/ 500gms)

bananas

2

tablespoons

cashew butter

8 - 10

whole

Oreos
Instructions
Peel the bananas and slice into coins.

Line a baking tray with baking paper. Spread the banana pieces out on the tray so they are not touching.

Freeze the banana pieces for about four hours or until frozen sold.

Remove the banana slices from the freezer and add to the food processor. Blend for several minutes until smooth and creamy. You will need to stop and carefully scrap down the sides of the processor several times until it starts to blend together and form a smooth consistency.

Add the cashew butter and about a third of the chopped Oreos. Blend until smooth.

Add another third of the Oreo pieces and blitz briefly to combine.

Serve immediately by scooping into bowls and top with remaining Oreo pieces then tuck in!.
Nutrition
Calories:
60
kcal
Carbohydrates:
4
g
Protein:
2
g
Fat:
4
g
Saturated Fat:
1
g
Polyunsaturated Fat:
1
g
Monounsaturated Fat:
3
g
Sodium:
9
mg
Potassium:
58
mg
Fiber:
0.3
g
Sugar:
1
g
Vitamin A:
1
IU
Vitamin C:
0.2
mg
Calcium:
4
mg
Iron:
1
mg
Nutritional Disclaimer
Nutritional information is an estimate based on an online database. The nutritional content of ingredients may vary by brand. If you require accurate nutritional information, you should calculate this based on the specific brands and products you are using.
Join the community!
Like Keep Calm and Eat Ice Cream on Facebook for more great recipes
Pin it for later!